Sanaa Lathan is a famous American actress known for her role in several award-winning comedy and action movies such as Love & Basketball, The Best Man, Brown Sugar, Alien vs Predator and many others. She has garnered a number of awards including BET Awards and Theatre World Awards for Best Actress and Best Female Lead respectively. It is also worth noting that her name, Sanaa, means Artistry.
Besides all these accolades, let's get a little bit personal with this charming and beautiful actress and try to know her more. Let's explore her background, personal life, and life's philosophy.
Sanaa Lathan Biography & Age
Born on September 1971, in New York City, New York, Sanaa McCoy Lathan was raised by her parents along with her siblings, Tendaji Lathan. She practically grew up in a family with careers in the world of entertainment. Her father, Stan Lathan, worked behind the scenes in television for PBS as a television show producer, while her mother, Eleanor McCoy was an actress and dancer who performed on Broadways.
Moreso, her brother Tendaji Lathan is a well-known established DJ. Lathan attended and acquired a bachelor's degree in English from the University of California, Berkeley and went on to earn a master's degree in drama from Yale University.
How Her Career Has Progressed
With her education, training, and qualifications in English and drama, Sanaa Lathan pursued a career in acting. She first started by performing in a number of Shakespeare plays and as she consistently earned recognition both off-Broadway and on the Los Angeles stage, she decided to move to Los Angeles fully and make it her professional base.
Once Lathan got to the home base of Hollywood, she got early TV roles in episodes of shows like Family Matters, In the House, Moesha and NYPD Blue. It wasn't long before her performance in To Take Arms won her a Best Actress nod from the Los Angeles NAACP Theatrical Award Committee.
By the year 1998, Lathan became popular after her role in the vampire movie, Blade, where she was cast as the mother of Wesley Snipes – the film's lead actor. The years that followed, she was getting major roles in top movies such as, Life featuring Eddie Murphy and Martin Lawrence.
In 2000, Lathan got the leading role in the romantic film, Love & Basketball. Her outstanding performance earned her a BET Award for Best Actress in 2001, as well as NAACP Image Award for Outstanding Actress in a Motion Picture.
She was cast in the lead role of 2003 movie, Alien vs. Predator that grossed over $171 million worldwide.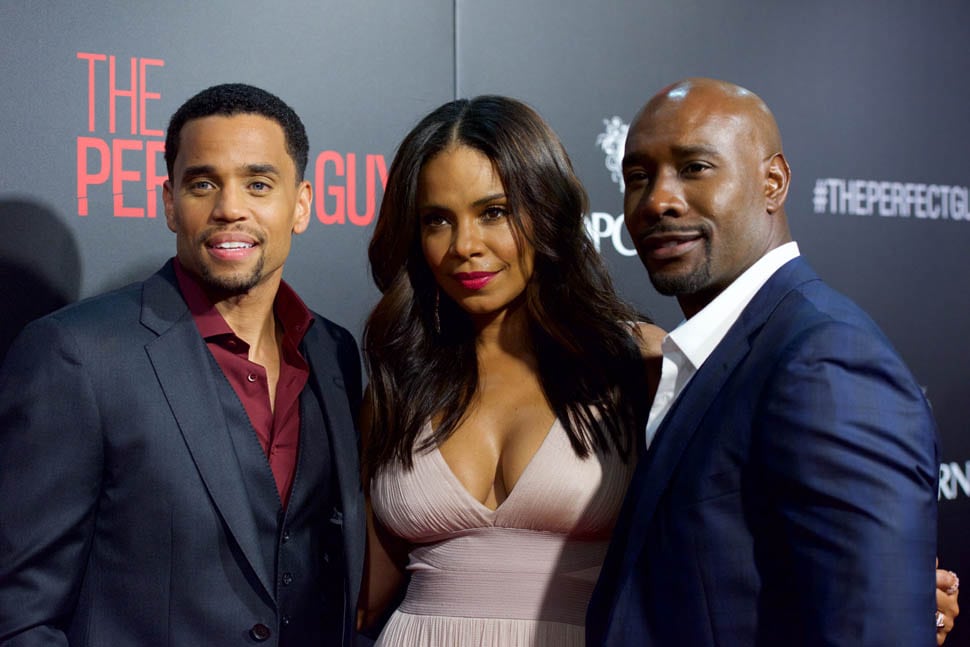 Does Sanaa Lathan Have A Husband?
Currently known as the Nappily Ever After star, Sanaa Lathan is super successful and in her late 40s so we are looking to know who her husband is. At age 46, the actress seems happy being single but ready to mingle. In a recent interview with Health, the actress once said she's not "going to be with somebody because of what it looks like."
She opened up about her dream of having a life partner. But while that phase of her life is still underway, Lathan obviously savour her freedom with the love of family and friends in her life. According to her, "anything less than something that's amazing is unacceptable."
Not one to dwell of wrapped up in the fairy tale, Lathan portrayed that in the movie, Nappily Ever After. She said if there's a partner for her out there, then she is ready to welcome him but notes that she is whole and doesn't necessarily need somebody to make her life complete. Suffice it to say that she is not yet married and there no husband on the side.
Don't Miss: Cate Blanchett Husband, Andrew Upton, Children, Family, Age, Height
Does She Have Any Boyfriend or Kids?
Having kids doesn't seem to be something the actress takes very lightly. While admitting to having been on a couple of dates, there is no distinct evidence she's in any relationship.
Lathan has been linked in high profile celebrities in the past including her Love & Basketball co-star, Omar Epp. She has been spotted out on dates with Tyrese Gibson (both in 2008 and 2014), two former NBA player, Adewale Ogunleye and Terrell Owen, Music entrepreneur, Steve Rifkind, and then pictures of her and Moroccan-American hip-hop recording artist, French Montana has at one time flooded the internet, sparking rumors of an intimate relationship.
However, one thing is clear, with or without a life partner, Sanaa Lathan will always choose herself over an unfulfilling relationship. Yet we're still hopeful she'll find the right man to share her life and have kids with.
What Is Her Net Worth?
With her major movie roles and appearances in TV shows over the years, there is no doubt Sanaa Lathan keeps smiling all the way to the bank. Although not one to flaunt her wealth, she has a net worth of $4 million. With her success and wealth, she also gives back to society.
She runs a self-themed charitable foundation, The Sanaa Lathan Foundation which seeks to help young women who are leaving foster care as adults to better fit into society. Her project also includes creating opportunities for these ladies to gain the proper education that will see them go on to be successful in their chosen fields of endeavour.