Despite being so young, Saquon Barkley has bagged a lot of achievements both during his collegiate career and his professional career. While in college, he was one of the pivotal stars in the game of football as he finished with 5,557 all-purpose yards. With this incredible number, he earned public recognition and also came fourth for the Heisman Trophy.
Saquon was selected as the second overall pick by the New York Giants in the 2018 NFL Draft. Want to learn more about this running back? Come with us…
Saquon Barkley's Early Life
Saquon Barkley was born on February 7, 1997, into a sporty family as his dad Alibay Barkley is skilled in boxing. His mom Tonya Johnson is also fond of sport. That's not all, Saquon is the nephew of renowned America professional boxer, Iran Berkley.
Owing to the things Iran accomplished as a boxer, and Alibay's passion for the combat sport, it was widely imagined that Saquon Barkley would tread the path of his uncle and father. This didn't happen as this chap chose the path of a footballer.
Although Saquon spent most of his teenage day in Bethlehem, Pennsylvania; he was born in The Bronx, New York which was where he was initially raised before his family moved. The African-American footballer has four siblings; two brothers (Ali Barkley and Rashard Johnson) and two sisters (Shaquona and Aliyah Barkley).
Saquon Barkley has proven that he has the thoughts of his family at heart. He bought his parents a house sometime in June 2018.
Career Timeline
White Hall High School was Saquon's Alma Mata, he played football as a student-athlete and pulled off amazing stats that made it possible for him to be rated as the best running back prospects in Pennsylvania. Prior to his days at Penn State, he pledged to have his collegiate career with the Rutgers.
Playing as running back for the Nittany Lions of Penn State was filled with sour-sweet experiences. In his first year, he recorded 115 rushing yards and a touchdown. As sustaining an injury is inevitable for an athlete especially when it comes to contact games, Saquon had his share of injuries which kept him off the pitch for a while.
During his first game of the second year campaign, his team had a 33-13 win against Kent State and he recorded 105 rushing yards in addition to a touchdown. Saquon consequently finished with a 25-yard and a touchdown in his game against Minnesota. Furthermore, he recorded his first 200-yard rushing as he finished with 31 carries for 202 rushing yards in addition to one touchdown in a game against Maryland. Through it all, he earned the Big Ten Offensive Player Of The Year in 2016.
At the 2017 Rose Bowl, he managed a 25 carries for 194 yards attaining it at a pace of 7.8 yards per carries and 79 yards touchdown which led to a 28-27 victory for Penn State.
Saquon Barkley kicked off his professional career in 2018. We could say that proficiency, skill, and zeal are some of the things that enabled the success story. The running back was selected by the New York Giants as the second overall pick in the 2018 NFL Draft. Subsequently, he signed a four-year contract worth $31.2 million. While the amount was fully guaranteed, the pact came with $20.76 million as a signing bonus. From what we learned, he was paid $15 million out of the signing bonus immediately.
Is He in any Relationship?
Saquon Barkley found love during his days as a sophomore at Pennsylvania with Anna Congdon. Their relationship started sometime in January 2017. By March 2018, Anna made a public announcement on Instagram that they were expecting their baby.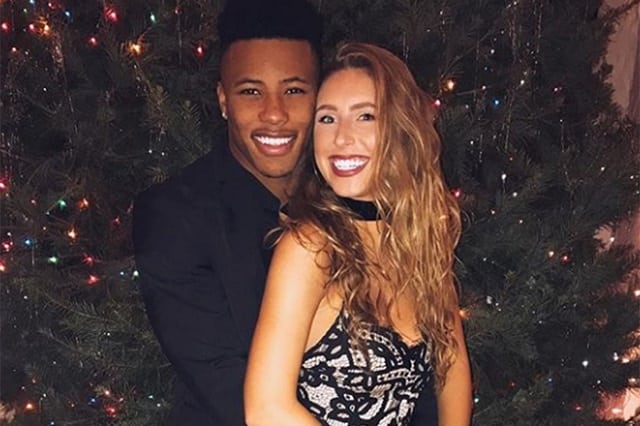 The following month (April 2018), Saquon and Anna welcomed their daughter Jada Clare Barkley. Saquon couldn't hide his excitement, he shared Jada's body measurements at birth on Instagram disclosing that she weighed 8.4 pounds and was 20.5 inches tall.
See Also: Josh Allen Biography, Scouting Report, Career Stats and Girlfriend
How Tall is The NFL Star?
Saquon Barkley possesses an athletic body and you can sure bet he hits the gym regularly and watches his diet. The NBA star weighs 104 kg and stands at 5 feet 10 inches (1.80m).
This footballer was one of the athletes ESPN featured in its June 2018 Body Issue where he posed nude flaunting his abs, packs, and holding a football.