Portuguese actress Sara Martins attained global recognition as Detective Sergeant Camille Bordey, the character she enacted in the British-French Crime Comedy TV series, Death in Paradise. She has featured in a good number of movies and TV series since commencing her professional acting career in 2000. Martins' fluency in French and English has enabled her to achieve a successful career in acting as she has made appearances in many French and British TV series.
Having honed her acting skills at the prestigious French National Academy of Dramatic Arts where she earned a degree in Acting, the beauteous actress began her career in stage productions and have been featured in plays like Race and Le Costume. She has also portrayed various memorable characters in other TV series which has endeared her to many and they include Julie and Nora Abadie in the famous TV series Police District and Détectives respectively. Read on to learn more fascinating details that you never knew about Sara Martins.
Why Did Sara Martins Leave Death in Paradise?
After being cast in 28 episodes of the crime comedy TV series, Death in Paradise, Sara Martins ceased from disappeared since making her last appearance in episode four of the series' fourth season. As a result of this, many eyebrows have been raised concerning her absence from the series.
On the show, the skillful actress' character was written out as moving to Paris. Regarding her disappearance from the series, Martins has gone on to state that she admired everything about the show and that the only way to progress in life is to take risks, even if it causes one to lose something they cherish or leave their comfort zone.
Where is She Now?
Since she left Death in Paradise in January 2015, Sara Martins has been featured in other television series which include American Odyssey (2015), Capitaine Marlene (2017) and Father Brown (2018).
What to Know About Sara Martins
The prominent actress's birthdate is recorded as 19th August 1977 and her birthplace is Faro, Portugal. When Sara Martins was three years old, she gained residency in France. Following her strong ardor for dancing, she enrolled in Lyon Opera in France where she studied ballet. Since she possesses Cape Verdean racial background, Martins became the first African dancer to have enrolled in the dancing institution. As a result of her being the only black dancer in the institution, she was not able to proceed to the Paris Opera where the ballet corps are required to look alike.
Not allowing herself to be discouraged, Sara Martins achieved her diploma certificate upon completion of high school, this is known as Baccalauréat in France. She attended École Des Enfants Terribles situated in Paris after earning a French National Degree, DEUG in Law. The skilled actress eventually completed her acting training at the notable French National Academy of Dramatic Arts where she received a degree in Acting.
After the completion of her high school, Sara Martins headed for the theatre as she began making appearances in stage productions. She had her first acting role in a French play titled Le Radeau de la Méduse – produced at the Théâtre National Populaire. Later on, she was featured in a play, Le Costume held at Young Vic theatre in London Borough of Lambeth, London. She also appeared in Race, a French Language Broadway production, written and directed by David Mamet.
Martins landed her first role on the small screen in 2001, when she was cast as Julie in a French television series, Maigret. Later in 2006, the gorgeous actress bagged two different roles in two French TV series which include starring as Mathilde Forestier in Les bleus: Premiers pas dans la Police and Jasmine Mahé in Les Secrets du Volcan. Similarly, in 2011, she portrayed the character of Barbara Simon in Cain and Hélène in Signature.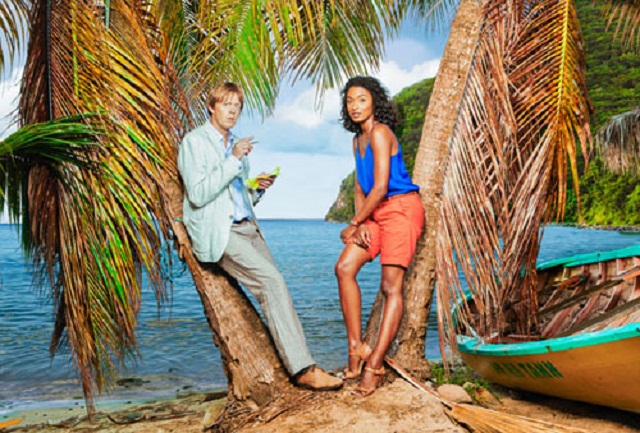 In the same 2011, Sara Martins was cast in the British-French crime comedy television series, Death in Paradise. Her remarkable portrayal of Detective Sergeant Camille sold her to the world as she has gained much global recognition since then. In addition, she became more famous in 2013 for her outstanding performance in the French series, Détectives.
Martins has grown to be loved by many following her striking portrayal of memorable characters over the years, even though her career has been largely limited to the small screen. That said, she has also been featured in a few movies such as Beyond the Ocean, Last Blood, and La Solution.