Notable as a journalist and media personality, Sara Murray became famous as Washington D.C. political correspondent for CNN. She grew to be known following her tactful reporting skills, which she displayed during the 2016 presidential election in the United States. Over the years, she has garnered experience in the field of journalism, having spent over five years at the Wall Street Journal before joining CNN.
When it comes to journalism, Murray is highly regarded as one of the most diligent with a special knack in reporting. Her critical coverage has also established her as a household name in the United States.
Sara Murray Studied Journalism In College
The tactful reporter who is of white ethnicity was born in Maryland, United States of America, on the 31st of March 1985. Sara Murray holds an American nationality and was raised in Mt. Pleasant, Michigan. However, information about her parents, siblings and childhood experiences are yet unavailable in the media space.
She completed her higher education from the University of Maryland College Park where she graduated with a Bachelor of Arts degree in Journalism. Afterwards, she began her professional career as a journalist at the Wall Street Journal.
She Worked At WSJ For 7 Years Before Joining CNN
After graduating from the university, Sara Murray kicked off her career as a journalist at the Wall Street Journal, a New York City-based daily newspaper that focuses on business activities. She joined the news agency in the year 2008 and there, she worked for their digital network as a reporter. From 2008 to 2013, she covered political happenings, including the 2008 election. In the latter two years she spent at the news network, her role got expanded as she served as an anchor, reporter, and producer for WSJ Live Video, a live digital news show.
In the studios w/ @WSJLive and famed chef @DanielBoulud is here to talk shop about the release of his latest cookbook pic.twitter.com/hxhiKLVeyi

— WSJ Communications (@WSJPR) October 17, 2013
Prior to working as a digital network anchor, the adept reporter was responsible for the coverage of Mitt Romney's 2012 presidential campaign. During this time, she leaked Romney's private conversations with the high-dollar donor. She also went on to reveal the campaign's inward workings and strategies made by their superior command. While with the Wall Street Journal, Murray spent a good number of years monitoring the 2008 financial crisis and the imminent economic fallout that occurred.
The notable political reporter also showcased her unique reporting prowess when she covered the United States Congress' failed attempt to change the U.S immigration systems in the year 2013. After spending seven years at the news network, Sara Murray joined CNN.
Her Reporting Skills Has Been Critically Acclaimed
Sara Murray became a CNN reporter in 2015 and was assigned to extensively cover political issues mainly within the Republican field. More so, as a CNN political correspondent in Washington, D.C., she primarily covers Russia probing along with CNN's Justice Department team.
However, Murray is presently known as one of the major reporters covering Donald Trump's administration. As such, her coverage of most of Trump's events has been heavily criticised on many occasions by the US president who labelled her a terrible reporter back in 2015. Nevertheless, some media personalities came to Sara's defence at the time including former Fox News anchor, Megyn Kelly and former White House press secretary, Dana Perino.
& I especially want to thank @megynkelly @DanaPerino @HowardKurtz for taking the time to examine my reporting + for their kind words on Fox

— Sara Murray (@SaraMurray) November 5, 2015
They critically acclaimed her reporting style, having gone through her stories after Trump called her out in November 2015. More so, her works in the political arena have thus far, garnered praise from the public and her fans as well.
Constant Issues With Donald Trump And His Supporters
Following her role as a White House correspondent, Murray covered the majority of Trump's events during the election cycle. In November 2015, when the then-presidential candidate's book signing event took place in New York, Sara provided live reportage from Trump Tower. Donald Trump, however, blasted her coverage, citing that she didn't report accurately the number of people that attended the book signing, as she never flipped the camera to show the lines.
As a result, Trump called her a terrible reporter and later in 2017, Sara Murray faced his vicious attack once again. Based on many sources, it was reported that on January 17, 2017, the political reporter disclosed that the U.S President made a speech which breached one of the equivocal limits of political speech. She went on to reveal that the President's speech which likened the United States Intelligence agencies to the Nazis was against the rule of Washington. She stated that the rules of Washington do not put up any comparison to Nazis and also do not connect anything to rape.
Well, as we all know, Donald Trump has a great number of ardent admirers and Sara Murray's report didn't go down well with them. They eventually made it known to her through a series of attacks and insidious chants. As a matter of fact, the American reporter's car was keyed by Trump's supporters and they also went on to cut her production truck cables on two different occasions. The U.S President, on the other hand, described Sara Murray as a total novice reporter.
With all these, the tactful journalist further made it known to the public that she was only carrying out her duties as a journalist. Following her ground experience in journalism and excellent reporting skills, Sara Murray has evidently leapt into the next level of her career as CNN's White House Correspondent.
Sara Got Acquainted With Her Haake In 2011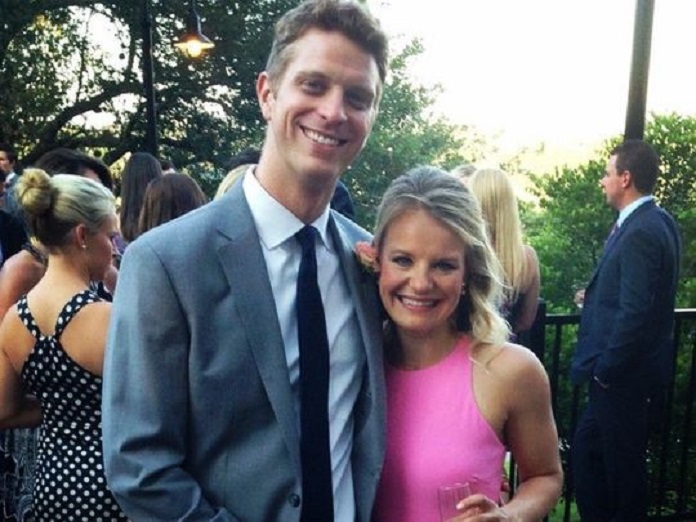 Sara and Garrett Haake are reported to have met for the first time in 2011, on Candidate Mitt Romney's tour bus. Haake was covering Romney's presidential campaign for NBC during such time. Going through the stressful assignment together for several months, the two bonded as they had long days on a campaign bus. During the 2015 Thanksgiving, Garrett popped the question at a dinner held at the famous media personality's family home in Michigan.
The Couple Exchanged Vows Two Years After Their Engagement
In addition to being a journalist, Sara Murray is a happily married woman. She and Garrett Haake solemnized their union on 22nd April 2017 at Austin, Texas, in front of their family and friends. The wedding ceremony was graced by widely-known media personalities such as Ashley Parker, Katy Tur, Maeve Reston and Evan Perez. The two then travelled to Australia for their honeymoon and explored scuba diving during their 10 days stay in the country.
They made the nuptials known to the public by uploading their wedding pictures on some of their social media accounts. The duo currently resides in Washington, D.C., and according to reports, they have expanded their family with the arrival of a baby girl.
Her Husband Is An Award-winning Reporter
Murray's husband is an Emmy Award-winning reporter who works as a Washington correspondent for MSNBC. He was born on 14th April in 1985 and completed his high school education in 2003, from Klein High School. He graduated with a Bachelor's degree in Journalism from Southern Methodist University in the year 2007. The next year, Garrett began his journalism career at NBC, working as a desk assistant at the NBC Nightly News.
While he was there, he provided reportage on topics ranging from politics to crime and weather. Following his work ethics, Garrette Haake is a recipient of two Emmy Awards. He became a member of staff of MSNBC in 2017, after working as a fill-in anchor and reporter at KSHB-TV.