Undeniably talented actress, Sarah Hyland is a natural and true thespian. From commercials to the theatre, TV shows, and movies, the actress has warmed her way into the hearts of many since she was a child. Her appearances in works like Modern Family, The Lion Guard, Annie, Vampire Academy, and Satanic have shot her star meter to high heavens.
Though a child star, Hyland had an unusual childhood that was plagued with life-threatening health issues. But with a good family support system, she was able to conquer the obstacles and has now risen to become one of the most promising young talents in Hollywood.
Sarah Hyland's Early Life as a Child Actor
A native New York, Sarah Jane Hyland was born on 24th November 1990, to Melissa Canaday (an acting coach) and Edward James Hyland (a theater and film actor). As a result of her parents' careers, she was exposed to the entertainment industry quite early. She not only embarked on theatre trips with her father but also enrolled in both dancing and voice training classes even before her teenage years.
When everyone else was getting through their childhood years, Hyland was already in front of the camera. She made her acting debut at the age of four, appearing in commercials and taking voice-acting roles. Her first scripted role then came when she was around the age of seven as Howard Stern's daughter in Private Parts.
In the same year, Sarah Hyland appeared in an episode of Another World, as Rain Wolfe. She made subsequent appearances in works like A Tall Winter's Tale, The Object of My Affection, Trinity, Cradle Will Rock, and As the World Turns. Although none of them set her world alight with stardom, they provided the foundation for a lifelong career in the industry. And so did her education at the Professional Performing Arts School in Manhattan.
Hyland attended the school as part of her high school education before committing herself entirely to professional acting, starting with her role in Modern Family.
She Has Appeared In More Than 50 Projects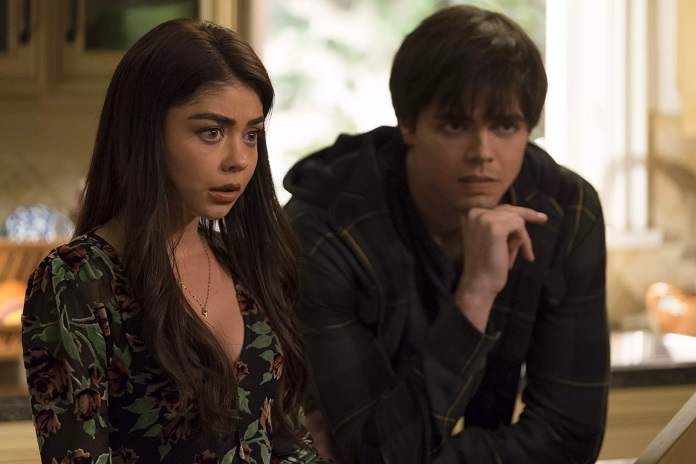 Before starring on Modern Family, the magnum opus of Sarah Hyland's career so far, she appeared in a couple of projects. They include 1998's The Audrey Hepburn Story, All My Children (2000), Touched by an Angel (2002), Law & Order (2001 – 2009), One Life to Live (2007), and Lipstick Jungle (2008 – 2009). She also made her debut appearance on Broadway, playing Jacqueline Bouvier in Grey Gardens in 2006.
The New Yorker began to appear in Modern Family in 2009 when she joined the impressive cast list of the show that includes icons like Sofia Vergara and Ed O'Neill. Along with the cast, Hyland has received eight SAG Awards nominations, winning four of them. She has appeared in a total of 245 episodes throughout the show's run from 2009 to 2020.
In between her appearances on Modern Family, Sarah Hyland expanded her filmography with starring roles in different films and TV shows. She has notable credits in films such as Monster Heroes, Conception, Scary Movie 5, Vampire Academy, See You in Valhalla and The Wedding Year among others. Her works on television include Dimension 404, Hot in Cleveland, Bonnie & Clyde, and Children's Hospital. She appeared in an episode of Veronica Mars in 2019 and two episodes of Shadowhunters: The Mortal Instruments in 2017.
Her Other Works and Acting Accolades
Sarah Hyland has also lent her voice to several animated works. From 2012 – 2015, she was the voice behind the character Theresa Fowler on Randy Cunningham: 9th Grade Ninja. She is also the voice of Tiifu in The Lion Guard: Return of the Roar, and Lena Luthor in Robot Chicken DC Comics Special 2: Villains in Paradise.
Hyland's numerous contributions to the creative industry have earned her some accolades. Outside of the shared award with cast members of Modern Family, she also received a nomination for Best Supporting Actress in a Comedy Series by the Critics Choice TV Awards.
Additional accolades include a Blimp Award win for Favourite Family TV Actress, OFTA Television Award for Best Supporting Actress in a Comedy Series, and five Teen Choice Award nominations for her role as Haley Dunphy. As a voice actress, she shared a BTVA Television Voice Acting Award with cast members of The Lion Guard.
Sarah Hyland Has Been Battling Kidney Dysplasia Since Her Childhood
Considering the bubbly nature of her character, one might find it hard to believe that for the majority of her life, Sarah Hyland has been suffering from kidney disease. Her kidney dysplasia was first diagnosed when she was a child, and by the age of 22, she needed a kidney transplant.
Her father, Edward James Hyland, provided her with a kidney. But it failed after a few years, forcing her to undergo another transplant in September 2017, this time with a kidney donated by her brother, Ian. The organ has yet to fail, and she is on anti-rejection medicines and steroids to make sure it doesn't.
Because of the nature of the disease, Sarah Hyland has trouble gaining and maintaining muscle mass. She has also spent a lot of time on bed rest, which surprisingly, thanks to her work ethic, has done little to affect her fledging career.
She Has Had Sixteen Surgeries Since Birth
A lot of Sarah's necessary bed rest has come after undergoing surgery as part of a permanent solution to her condition. Some of the operations include laparoscopic surgery to treat her endometriosis. Expectedly, it has taken its mental toll on the actress.
In an interview in December 2018, she acknowledged she has considered suicide, having felt like a burden to her family. She also felt responsible after her body failed the initial kidney transplant.
Sarah's Younger Brother is Also a Thespian
As earlier mentioned, Sarah Hyland is the daughter of veteran actors Melissa Canaday and Edward James Hyland. Her father is primarily a theatre actor who has appeared in more than 28 plays, on and off-Broadway. His theatre credits include The Man Who Had All the Luck, Electra, White Christmas, The Invisible Man, and several others.
James Hyland also has a handful of roles onscreen, with more than 42 credits to his name. His filmography includes projects like Bull, Elementary, Bridge of Spies, and Mr. Robot.
Sarah's mother, Melissa Canaday, also has onscreen roles in Float, Green Apples & Wannabes, and Stop the Bleeding! Compared to her husband and daughter, she has a smaller footprint in theatre. She did, however, produce a couple of shows, including the Dedalus Lounge at Interart Theater. She then spends the rest of her time as an acting coach.
Finally, the last actor in the Hyland family is Ian Donovan Hyland. He is four years younger than Sarah and has a budding onscreen career. Ian has appearances across movies and television that include Spanglish, Elsewhere, The Merry Mercenaries, 30 Rock, The Ex, and Weeds.
See Also: Is Sami Miro Black, What Is Her Ethnicity And Relationship With Zac Efron?
Sarah Hyland Has Been in a few Bad Relationships
Sarah Hyland has had an interesting dating history, most of which revolve around her colleagues in the industry. Long before she landed her role in Modern Family, she dated Max Ehrich for a year from 2007 to 2008. She was then romantically linked to actor Matt Prokop from 2009 to 2014. The pair worked and lived together while the relationship lasted before breaking up as the actress revealed that she was verbally and physically abused by him. She later secured a permanent restraining order against the actor.
Another famous person she dated was actor Dominic Sherwood from sometime in 2015 to August 2017.
Sarah Hyland Has Found Love in the Hands of Wells Adams
In July 2019, Sarah Hyland and Wells Adams, a former radio DJ and The Bachelorette alum announced their engagement to the world. The pair began dating in 2017 after Wells slid into Hyland's DM on social media. The two of them exchanged a series of flirty messages that later resulted in them becoming a couple.
They made their relationship public in October of the same year around Halloween. The cute celebrity couple found love in each other's arms as they are all lovey-dovey about their romance on social media.