Laughter they say is like medicine to the soul and it relaxes every tensed nerves and muscle. So we can all agree that it is a tedious task to ply this trade and attain the celebrity status as a comedian. Well, it was the path Sarah Millican chose for herself when she signed up for the observatory brand of comedy.
Sarah Millican is not just a stand-up comedian who has toured the United Kingdom extensively; she is also a writer and an actress who has featured in quite a number of television shows. Lady Millican has authored quite a few materials and a book titled How To Be A Champion; it was published in 2017.
Her endeavors in the industry have earned her about 9 different nominations, a few of which she went home with such as the 2008's Best Newcomer if.comedy award, 2011's British Comedy People's Choice Awards for Kings or Queens, and a handful of other prestigious accolades. Did you know that Sarah was once listed among the 100 most powerful women in the United Kingdom by Woman's Hour on BBC Radio 4? Let's learn more about her…
Sarah Millican Biography
The British born Comedienne sprouted from the loins of Philip D. King and Valerie Prince. Her place of birth was in South Shields, Tyne and Wear, England. And, she was birthed on the 29th of May, 1975.
Sarah Jane Millican had her education at Mortimer Comprehensive School which is now known as Mortimer Community College. After her graduation, she took up a job as a civil servant but would later abandon the job in order to pursue a career in comedy.
While recovering from the disappointing break up of her 7 years marriage to her first husband, she dug through the mess with humor. Kicking off her career in 2005, she wasted no time in establishing herself in the industry. Her fame touched the skies in the years that followed.
Sarah Millican released a good number of her works on DVDs from 2011 to 2016 and they were well received. Her Sarah Millican Television Programme made it to the BBC 2 station in 2012. She also featured in a few comedy series which went a long way to entrench her status as a fine comedian. She participated in the Deal or No Deal television game show in 2012 where she carted away a handsome sum of £20,000 for charity.
This Comedienne has been married twice. She met and married her first husband, Andrew Millican at the age of 22 but their marriage ended suddenly, he walked out of her life in 2004.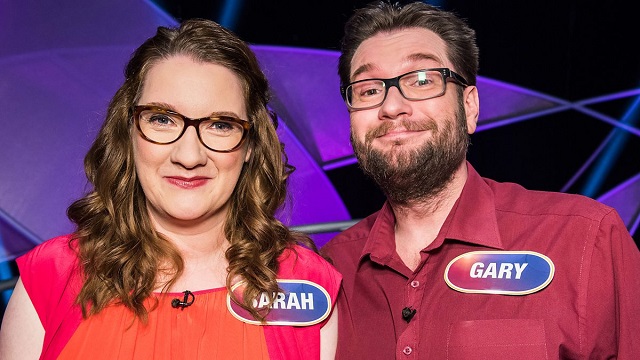 She later hooked up with fellow English stand-up comedian, Gary Delaney in 2006 and they moved in together in 2013. Shortly after, they signed the marriage register and have been together since then, living with their 2 cats and a dog in Manchester, England.
Interesting Facts About The Comedian
1. She Doesn't Like Children Very Much 
The humor merchant has expressed that kids do make her uncomfortable. Obviously, this is why she's yet to have any. Anyway, she's happy with the two cats and dogs she shares with her husband.
2. What's Her Net Worth?
Sarah Millican's net worth is estimated to be $3.3 million. She earned the wealth from her over 13 years career, largely from the sales of her comic DVDs, CDS, her autobiography, and from her tours.
3. Her Weight Loss Journey 
In April 2017, the Brit shared pictures and tales of her weight loss journey. Showing off her new slim figure, she related that she changed her bowls of snacks to bowls of fruits. Sarah hinted that she's now more conscious of the things she eats, stressing that that's how she attained her new slim figure.
Read Also: Is Ellen DeGeneres Married, Who Is The Brother – Vance DeGeneres and Family Members?
4. Sarah Millican's Height
Even though her weight and body measurements are not known, it is believed that the comedian is 7 inches taller than 5 feet (1.70 m). Sarah has a lovely, light-brown colored hair and eyes.
5. She Learned How To Drive In Her 30s
She had issues staying in a car for long drives as a kid. As such, she was never interested in learning how to drive until it became necessary. When she eventually decided to learn how to drive and passed her driving test, she felt truly independent and out of excitement, drove for many hours until her hands were tired.