When rumor first got out that South African actress Cindy Mahlangu and Bafana Bafana midfielder Bongani Zungu were an item, many swore it was just one of those rumors and that it wouldn't go beyond that. However, the duo shocked many when they took to Instagram to confirm that they were really a couple.
It has been over a year since they made their relationship public and it seems all hell had been let loose since the revelation as the relationship has been laced with so many scandals and allegations. Fans were recently thrown into doubt about the state of the relationship after numerous reports suggested Zungu had cheated, resulting in the couple splitting. Well, the couple has come out to say they are still going strong.
Cindy Mahlangu and Bongani Zungu Have Been Dating For Over A Year
While we do not know exactly when Cindy and Bongani began dating, they got on our radar when word went around in June 2020 about them being in a relationship. By August 2020, they confirmed our suspicions and made their relationship official through their Instagram page. However, sometime in February 2021, another round of rumors came up yet again that they may have split up. The reason behind it was that Bongani was said to have cheated on her following a video showing him in a compromising situation with another woman.
This is not the first time Bongani has been accused of cheating by his girlfriend. He had just broken up with his fiancé, Cele Khanyi, for the same reason and within a span of roughly 2 years, he is facing similar allegations from yet another lady.
Khanyi Cele's Reaction To Zungu's Relationship With Cindy
Khanyi Cele was Bongani's girlfriend for a while before they had a massive fall out which Khanyi did not take quite well. She is reported to have made a video where she spoke ill about her ex, mentioning that he was a womanizer and an easy one at that. It was so bad that she put up a challenge, asking women to make a move at him just to prove how an easy target he is. She also requested that they put their findings on video.
Khanyi went ahead to make other vulgar comments in the video against Bongani and although some sources have it that she was clearly intoxicated while making the video, we all know that she has passed a message to both fans and foes alike.
It was reported that Bongani had paid Cele's lobola in 2014 but the couple later split up before the wedding could even take place. We also heard that Bongani asked her parents for a refund at some point and although we do not know if they actually refunded the lobola, we do know that barely a year after they split up, the couple were back together again, serving as couple goals for their fans and admirers. But despite the fact that they were widely admired, they had several other breakups which were usually a result of Bongani's alleged cheating habits.
Once again in 2018, Bongani proposed to Cele and he took to his social media handle to post pictures of the proposal and as usual, fans waited eagerly for a wedding date to be announced. This, we all know never happened because Bongani was accused yet again of cheating. On one occasion, he was said to be caught red-handed while in bed with another woman. All these no doubt led to the bitterness that erupted in Cele's fragile heart which made her send out the video, challenging women to have sex with him and make a video of the act.
As a result of all the drama that was served in Bongani Zungu's relationship with Khanyi Cele, fans were skeptical about the footballer's relationship with Cindy Mahlangu. While many were happy for his supposed newfound love, others felt he was really unfair to Cele, but in whatever way, the duo has since moved on with their lives.
Cindy Mahlangu and Bongani Zungu's Relationship Has Been Laced With A Handful Of Scandals
Cindy and Bongani have been together for over a year now and within this period, they have had their fair share of scandals that will haunt them for a lifetime. First, we have Bongani breaking Covid 19 rules by attending a party amidst the lockdown. It didn't just end there, as a picture of him making out with a girl during the party also surfaced online, leading to speculations of a break-up between him and Cindy. Besides the breakup speculations, his football career was also affected as he got suspended from his football club for breaking the Covid 19 lockdown rules to attend the party.
Next, we have it from unconfirmed sources that in March 2021, Cindy hooked up with the Nigerian boyfriend of beauty influencer and YouTube blogger Vicky Vee Jonas, popularly known as Vicky. Vicky took to her social media handle to vent concerning the alleged snatching of her boyfriend by Cindy Mahlangu. This venting was, however, short-lived as just a few days later she was forced to publicly apologize to Cindy after she was issued a letter of Demand to retract her Tweet which was said to have contained false information.
On the flip side, fans did not take Bongani's cheating escapades lightly as he was called out on Twitter for cheating. Many believed that Cindy was right to have moved on with someone else's man, considering she just lost hers to another woman. Others were, however, of the opinion that Bongani deserved to be cheated on too.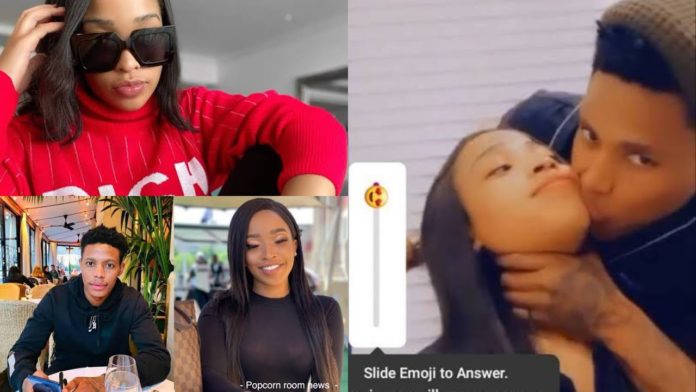 Many Thought The Two Went Their Separate Ways But They Might Still Be Together
With all these cheating allegations, it is not surprising that both Cindy Mahlangu and Bongani Zungu are rumored to have gone their separate ways. However, they have both refused to give any official title to the current status of their relationship as they continue to tease their fans by posting cozy pictures and flirty messages to themselves on social media.
This leaves both their fans and the general public with mere guesses and speculations as to what really has become of their relationship.