Dumi Mkokstad joined the list of South African's best gospel musicians when his self-titled album hit the music stand in 2003. Hit tracks like "Nang'ujesu", "We Are Marching", "Mdumiseni", and many more, catapulted the singer to prominence and he has been growing in leaps and bounds. Since then, the music artist has become a household name as every tidbit about his life attracts public attention. However, the one that takes the cake is his love life which has been fraught with several scandals.
Since he gained national consciousness, so many tales of soured love relationships have been surfacing about him, more especially since he tied the nuptials with his wife, Dr. Ziphozenkosi Mthembu-Ndzimande. From a 21-year-old girl named Nomfundo Ngcobo to another who goes by the name Amanda Bhengu, the singer has weathered it all as non seems to rock the foundations of his marriage.
Dumi Mkokstad's Marriage Sparked Mixed Reactions From Fans
There is no denying that the highlights of 2019 in all of South Africa's gospel and entertainment scene included Dumi Mkokstad's marriage to his heartthrob, Dr. Ziphozenkosi Mthembu-Ndzimande. However, the couple faced a lot of backlash from fans.
The initial reaction from fans when the news of their wedding went public was that Dumi allegedly jilted another lady to tie the knots with Zipho, tagging it a betrayal. Another speculation soon burst, claiming that the popular gospel musician never had any prior relationship with his wife. His bride, according to rumors, popped out of nowhere and he married her out of the blues.
The duo's wedding just threw social media into a frenzy following the release of their wedding photos which were quite breathtaking. You didn't have to look far before you can find someone talking about their union. Even with the unanticipated surprise, some still spoke well of the duo while sending congratulations and well-wishes. However, the trolls were not just going to accept it without explanations.
The Gospel Artist Explains Why He Kept Their Relationship Away From Prying Eyes
Even though Dumi Mkokstad and his wife never allowed the hate from social media trolls to disturb their newlywed glow, the gospel singer deemed it necessary to make explanations. According to what Dumi told Move, he dated his wife for eight long months before they tied the knot. In further defense of his relationship, the artist said keeping their dalliance under lock and key was his choice and was done in a bid to keep Zipho's privacy away from the penetrating eyes of the public. Besides, considering all the trash he had to deal with because of his celeb status, many commended him for safeguarding his woman from a similar experience.
On what the trolls were throwing at him, Dumi maintains that he wasn't bugged since his Makoti knows him more than anybody and wouldn't allow such assertions to sway her judgment. The singer who prefers public attention to be on him rather than his wife took to social media to make it unequivocally clear that he is committed to Zee and on her own part, the love of his life reciprocates his love and doesn't give a damn about what people say or write about him. Dumi concluded by saying that his wife just trusts the God in him.
Dumi Mkokstad's Marriage Was Soon Hit By Controversies
It was not long after Dumi exchanged marriage vows with Zipho that a woman he was ostensibly engaged to surfaced. However, she seemed to be operating undercover and never really showed her face to the public. Amanda Bhengu, in her alleged promise-and-fail tale, claimed Dumi gave her his word that he would marry her but instead, he went ahead to tie the knot with Zipho. Amanda said she was kept in the dark even a few days before his wedding. Dumi allegedly told her he was going for the shooting of his music video only for her to see the videos from his wedding ceremony circulating on social media. This report hit the airwaves the day following Dumi's wedding to Zipho.
In an interview session on Afternoon Express with Jeannie D, the former Gospel Music most eligible bachelor denied even knowing the said lady. According to him, the lady he supposedly promised to marry went to one of the tabloids to make claims of things that he confirmed were false and going by his gut feelings, he suspected it was Amanda Bhengu. Even though he confirms being related to the Bhengus, Dumi maintained he didn't know the woman.
What Bhengus sent to the tabloid to prove her claim was a WhatsApp conversation apparently between her and the gospel artist but Dumi was able to debunk all by proving he does not even operate a WhatsApp account. He said, due to reasons surrounding his privacy, he ceased using WhatsApp in 2014.
The Scandal Didn't Harm The Singer's Marriage
In his attempt to weather the scandal, Dumi Mkokstad tried his best to make amends by making every possible effort to get hold of Amanda, but he wasn't successful. Apart from leveraging the tabloid, the Mbize crooner also enlisted the help of the public to get the woman to come open. According to what he told the newspaper, If Amanda thinks she is saying the truth, then the onus is on her to meet with him at the offices of the newspaper so they can publish the outcome of their meeting. But the lady never surfaced to date.
Even in the face of the serious controversy, Mkokstad remains grateful for one thing; the allegations did not rock the boat of his union with Zipho. He credits this with being frank about his feelings from the beginning. Dumi later confessed how to hurtful it felt, especially as he wanted his wife to enjoy their married life to the fullest, each and every moment.
Dumi Is Not A Stranger To Scandal
Though Dumi Mkokstad's marriage survived the scandal, Amanda's case was far from the first time his name has been associated with controversies, and being a popular celebrity, such is expected. The first scandal that hit the gospel artist is comparable to this one and may even be considered to be more jaw-dropping.
Previously, a lot of reports surfaced, claiming that Mkokstad hooked up with a 21-year-old girl who goes by the name Nomfundo Ngcobo. According to the reports, he got the young lady pregnant. Nomfundo later came up with claims that their relationship was a clandestine affair that started on social media and turned intimate after exchanging a few chats.
Going on in her narration, Nomfundo alleged that the award-winning vocalist took her to his house where he proceeded to have carnal knowledge of her. The 21-year-old also insinuated that she was sexually untouched prior to meeting Dumi Mkokstad and came to him as a virgin the first time they made love. The girl equally revealed how she would pay regular visits to his music studio.
However, the story changed for Nomfundo when it was confirmed that she had conceived. On contacting her lover, Dumi who felt highly embarrassed persuaded the girl to opt for an abortion, paying for the procedure with the sum of R700. The singer was really persuasive while convincing Nomfundo to abort the pregnancy but as soon as she obliged and got rid of the baby, he promptly cut all ties with her and stopped picking her calls.
This development according to the girl made her decide to come open with her story, calling out the gospel artist to pay for damages. As expected, several media outlets tied reaching out to the Dumi for confirmation or rebuttal, but he chose to keep mute on the matter. This led many to take the girl's tale with the proverbial pinch of salt. However, that is all part of his past and the singer just can't thank fans enough for not taking all the news and assertion about him seriously.
Dumi Mkokstad Has Known His Wife Since They Were Kids
Even though Dumi Mkokstad claimed that he dated Zipho for eight months before exchanging the forever commitment, the relationship between the duo dates back to their juvenile days when they used to attend the same church as kids.
The award-winning gospel vocalist was about eight when his path crossed with the Dr. in their church and being kids, they were only interested in playing together as friends. However, the story changed in October 2018 when the duo took their relationship a notch higher as they commenced courtship. Barely four months down the line in February 2019, Mkokstad decided to pop the big question to which he received an answer in the affirmative.
In an interview session with Afternoon Express, the singer's Makoti said the proposal came as a huge surprise as she was not expecting such. According to Dr. Zipho, they were in Eastern Cape enjoying an Easter weekend trip, and even with knowledge about his plans to pay lobola in two days' time; she never expected a formal marriage proposal. Dumi, however, defied expectation by putting on the full works; the gospel singer went down on one bended knee to ask for the Dr.'s hand in marriage.
Their Wedding Happened on the 6th of June 2019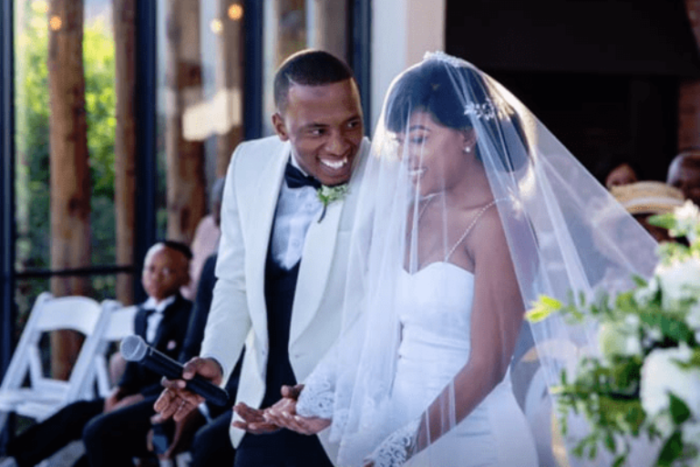 The lovebirds were both in their twenties when they exchanged wedding rings. A 25-year-old Ziphozenkosi Mthembu said I do to 27-year old Dumi Mkokstad on the 6th of June 2019. This happened barely four months after she agreed to spend the rest of her life with the gospel vocalist. Needless to say, the ceremony which was held in the form of a white wedding was as showy as it was lavish. In fact, people who were opportune to grace the occasion couldn't help but describe it as one fairytale wedding.
A Pietermaritzburg premium venue well festooned with the most beautiful of fresh flowers served as the wedding venue. That apart, the main sparkle was brought on by a superbly arranged set of gold chairs, white sparkling linen, in addition to snow-white draping. Zipho who is the daughter of a clergyman had her dad Bishop Sifiso Mthembu as the officiating priest. The bishop came from Power of God Assemblies where the gospel singer is among the church members.
In attendance were about 250 guests which would have been more if not for the Corona Virus regulations. Outstanding on the guest list are personalities like His Royal Majesty – King Goodwill Zwelithini, event organizer – Zanele Mbokazi, radio host – Dudu Khoza, and a host of others.
Life After Wedding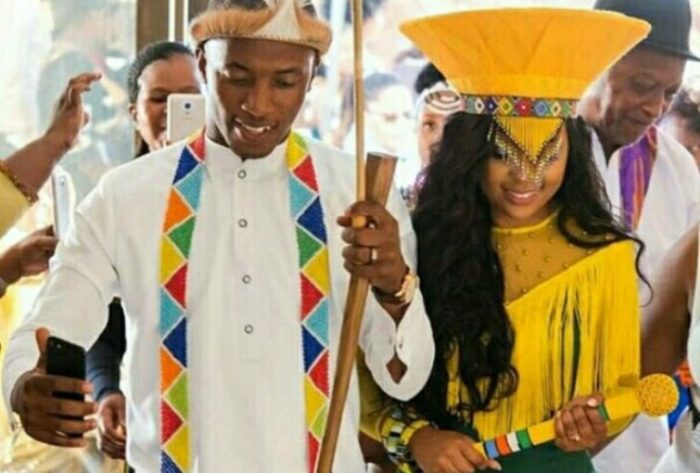 A couple of days after they were declared man and wife, Dumi Mkokstad and his wife Zipho went ahead to conduct an Umembeso ceremony. Thus, their relationship has remained cemented to date and despite all the numerous attacks they seem not to be bothered. On her own part, the Dr. has showered her new family with loads of gifts and it is glaring that they accepted her with open arms.
The couple's life seems to be full of celebrations as they came all out to mark their one year together as husband and wife. This time, they chose to do it in the native South African way by hosting a traditional wedding. Mount Ayliff, Eastern Cape, the gospel artist's hometown, was the venue and it was well attended by family and friends.
The couple's marriage has endured for a couple of years and still counting. Besides, being married at a very young age sometimes creates illusions of a tumultuous relationship but the reverse is the case with Dumi and Zipho who despite the two years age gap between them seem to be managing their affairs perfectly well. Dumi is super proud of his spouse and never hesitates to say it loud.
Who is Dumi Mkokstad's Spouse – Ziphozenkosi Mthembu?
As already mentioned, Ziphozenkosi Mthembu is the daughter of a clergyman. She was born to the general overseer of a South African church known as Power of God Assemblies. Bishop Sifiso Mthembu, who functioned as the officiating priest at his daughter's wedding, is one of the popular pastors in SA. Zipho's mother has been identified as Gugu Mthembu, a strong woman of God who helps her husband in shepherding the church.
With that said about her background, it is worth knowing that ZiphozeNkosi Mthembu-Ndzimande has glowing credentials. She is not just a medical practitioner but takes the credit for establishing the Dr. ZiphozeNkosi Foundation.
Though we can't lay our hands on the details of her early education, it is on record that she joined Nelson R Mandela School of Medicine after her secondary education in 2009. The wife of Dumi Mkokstad earned her Bachelor of Medicine and Bachelor of Surgery in 2013. Her medical internship took up the next one year between 2014-2015 and in 2016, the physician then went for the completion of the SA compulsory community service.
Since her graduation from medical school, the good doctor has worked in several health facilities. She has put in several years with a non-governmental organization called MaCH (Maternal Adolescent and Child Health) whose major aim is to reach out to HIV and TB patients in hospitals and health homes across the country. Zipho's work specification there is to provide them with valuable clinical advice as well as assist in coordinating the NGO's team of medical practitioners. Currently. She is practicing with the Department of Health and National Health Insurance in SA.
Dumi Mkokstad's wife is one medical doctor with vast emergency and general medicine experience. She also runs a social media program called My Dr.& Me.
Dumi Mkokstad Has One Daughter Who is Suspected To Be Adopted?
After they became man and wife, people naturally expected Dumi and Zipho to start having children. The couple does have one child; a beautiful daughter named Likuwe Mkokstad. However, the girl's very existence is surrounded by a lot of mystery. The first time the girl surfaced on the gospel singer's social media account was in 2019 when he celebrated her birthday on the 19th of November. What is more mysterious is the fact that Likuwe was already seven years old and naturally, this sparked a lot of questions.
From what is obvious, the girl was born on the 19th of November 2012, even before Dumi and Zipho started dating. Now the big question borders on the identity of the girl's mother. The couple doesn't seem to be helping matters as they decided to keep mute on the issue. But then, fans have also considered another angle to the mystery; Likuwe may have been adopted.
Adopted or not, Likuwe is believed to be following in her dad's footsteps in gospel music even though she is yet to hit ten years old. Meanwhile, Dumi and Zipho who are yet to welcome a baby since their 2019 wedding have been enjoying raising their daughter, giving the young lady all their love and care. Besides, the couple seems to downplay having their own child since they still have the advantage of youth. Their major focus for the moment is pursuing their different career goals with the strong belief that the children will come when the time is right.