Achieving fame as a child actor can be problematic. You can go on to become an accomplished and award-winning superstar, just like Leonardo DiCaprio, or end up not taking your career any further than your glory teen years. Luckily, one man who has been able to strike a decent balance between these two extremes is Scott Baio.
Baio became a teenage sensation in the 80s, thanks to a series of popular sitcoms such as Happy Days, Joanie Loves Chachi, and Charles In Charge. His career suffered a lull with the dawn of the new millennium before he was able to revive it. Since then, the teen star has continued to land a steady stream of work and has even tried his hands at directing.
His Breakthrough Came With The Bugsy Malone Musical Comedy
Scott Vincent James Baio was born on the 22nd of September 1960 in Brooklyn, New York. His parents, Mario and Rose, were migrants from the Italian town of Sicily and he has two siblings, a brother named Steven and a sister named Stephanie.
Baio spent his formative years in the Big Apple and dabbled into showbiz as a child. His parents had witnessed the success that some of his paternal cousins achieved in sitcoms and commercials and decided to send him for auditions. He excelled at these auditions and before long, was appearing in commercials for different companies.
By the age of 16, Scott Baio landed the first big break of his career; he got hired to play the lead role in the 1976 children musical, Bugsy Malone. Bugsy Malone parodied the various gangsters that held sway during the prohibition era, a time when the sale and importation of alcohol were legally prohibited in America (1920 to 1933). The comedy film was a major success. Nominated for the highest prize at the Cannes Film Festival, it is now regarded as one of the greatest films of all time and served as a launching pad for not only Baio but for his co-star, Jodie Foster (who would go on to become a multiple Oscar winner).
An Overview of His Filmography
Following that impressive debut, Scott Baio went on to play small roles in a string of TV series until 1977 when he was cast as Chachi Arcola in the sitcom, Happy Days. He featured in over a hundred episodes of the show between 1977 and 1984, before moving on to another sitcom, Joanie Loves Chachi, in 1982. Since his days as Chachi, Scott Baio has gone on to appear in other TV series such as Who's Watching The Kids, Blansky's Beauties, Charles in Charge, Baby Talk, Diagnosis Murder, and See Dad Run.
The New York native has also appeared in several movies such as Skatetown U.S.A, Stoned (TV movie), Very Mean Men, A Wedding for Bella, Dumb Luck, Cursed, and Super Babies: Baby Geniuses 2. He has also tried his hands at directing. Baio has directed several episodes of different TV shows including Out of This World, Charles in Charge, Shaky Ground, The Jamie Foxx Show, and The Wayans Bros.
Works That Solidified Scott Baio's Teen Idol Status
Having spent more than four decades in the movie industry, Scott Baio's best-known works remain the sitcom roles that he played from the 70s to the 90s, starting with the role of Chachi in the ABC sitcom, Happy Days.
Happy Days debuted in 1974 and revolved around the adventures of Richie Cunningham, an innocent teenager who winds up with some more worldly friends. In the series, Baio portrayed a love interest for Richie's sister named Joanie Cunningham. Even though he only joined the show in season five of 1977, his character proved to be quite popular. It propelled the show to the number one spot on American TV and he also became a national figure. Magazines such as Bop, Teen Beat, and Tiger Beat interviewed him and teenage girls all over the country happily cut out his pinups and tagged them to their walls.
Given how well-received the Chachi and Joanie story arc was, ABC unsurprisingly decided to give the two their spinoff show titled Joanie Loves Chachi. Joanie Loves Chachi debuted in March 1982 and followed the young couple's relocation to Chicago as well as their attempts to break into the music industry. The show equally proved quite popular with viewers in the first season and was renewed for a second season. It was however canceled after that second effort due to a steady decline in popularity.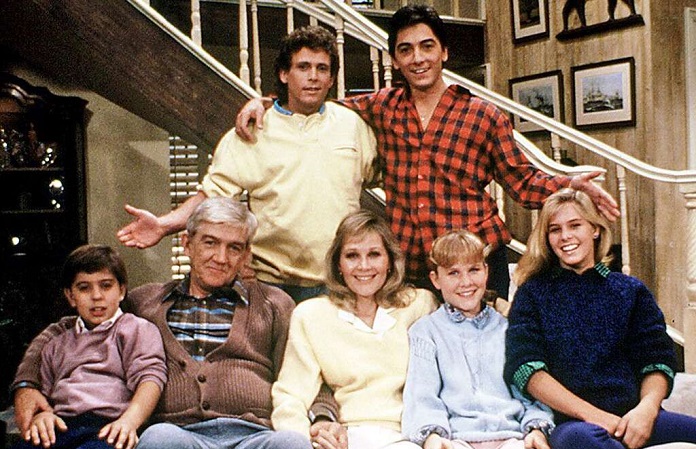 Following the end of Joanie Loves Chachi, Scott Baio went on to land a leading role in a CBS sitcom, Charles in Charge. In the sitcom, the native New Yorker played the lead role of Charles, a college student who nannies for a family of five in exchange for room and board. Charles in Charge debuted in 1984 and ran for about five years during which Baio appeared in about 126 episodes. His excellent leading performance made the show a national success. It further helped to consolidate the fame he gained during the Happy Days era and in 2005, TV Guide named him one of the greatest teen idols of all time.
How The Actor Met and Got Married to Peaches Renee
The man who once cultivated the lifestyle of a serial bachelor is now married to Peaches Renée Baio (nee Sloan). Peaches is a native of Tennessee born in 1972. She has worked as a professional model and served as a stunt double on the set of various productions including Baywatch, High Tide, Pacific Blue, Renegade, and Silk Stalkings. Peaches also scored acting roles in slasher films such as Murder Set Pieces and Nutbag.
Scott Baio and Peaches first bumped into each other at the Playboy Mansion in the 90s. They started dating in the late 90s and broke up several months down the line. The breakup was however without acrimony, so they remained good friends.
Fast-forward to the mid-2000s, the pair rekindled their romance and eventually tied the knot on the 14th of September 2007. The couple now has a daughter together. Her name is Bailey DeLuca and she was born in November 2007. Baio also has a step-daughter named Kalyn from Renée's past relationship.
The Couple Has Lived Through Some Health Challenges 
The actor and his wife enjoy a stable marriage but have encountered some issues in the form of Peaches' health challenges. The former stuntwoman has dealt with breast cancer scare as well as a meningioma brain tumor. In 2018, she was diagnosed with moderate to severe chronic microvascular disease, a condition that can cause dementia and strokes.
Unfortunately, this is true. Renee is forever my rock, my life & my soulmate! Toughest person I know. @MrsScottBaio https://t.co/fyMtMl8MGX

— Scott Baio (@ScottBaio) March 10, 2018
Renee remains resolute in the face of these challenges and believes that God will not give her a burden that she cannot carry. She takes measures to sustain her health and continues doing what she loves best which is charity.
The former stuntwoman and her husband have a foundation known as the Bailey Baio Angel Foundation. It assists children suffering from metabolic disorders. She also makes frequent goodwill donations. In November 2019, she donated a wheelchair and a trailer to some survivors of the California wildfires.