Scott Frost is a former football player turned coach who is pure of heart in his job. With his square jaw and rugged good looks, Frost believes in nothing less than physical intimidation. A coach who is confident he knows the formula, Scott Frost's portfolio is very, very appealing to a lot of people, thus elevating his lofty status. Here are interesting facts about the Nebraska Cornhuskers coach including how he effectively handles the red-hot spotlight.
Scott Frost's Biography & Age
A Nebraska native, Scott Andrew Frost's birth date is the 4th of January 1975. Born and raised in Wood River, Nebraska, Frost attended Wood River High School. His athletic abilities were evident from a young age and he actively played various sports including football and track and field while in school.
Scott Frost continued with his stellar sports performances to college at Stanford University. But after two years as a letterman, he transferred to the University of Nebraska in 1995. After his transfer to Nebraska, Frost became one of the teams' all-time great quarterbacks. As a starting quarterback, he was part of coach Tom Osborne's Nebraska Cornhuskers team that co-won the 1997 national championship. The player turned coach ended his college career as a Johnny Unitas Golden Arm Award finalist.
Career
Frost's outstanding performance during his collegiate career did not go unnoticed. His chance to make it as a pro came in 1998 when he was drafted into the NFL as the 67th overall pick by the New York Jets. He played as a safety mostly on special teams with the Jets for two years before joining the Cleveland Browns in 2001. Other teams where Scott played professional football include the Green Bay Packers from 2001 to 2002 and the Tampa Bay Buccaneers (2003).
After a six-year career in the NFL, Scott Frost switched roles from a player to a coach. He first served as the offensive coordinator for the University of Oregon and later the head coach for the University of Central Florida (UCF) where he recorded a perfect 2017 regular season.
Twenty years after playing college football with the Cornhuskers, the native son from small-town Wood River, and former national-champion quarterback became the head coaching replacement for his alma mater Nebraska.
Having seen his former team crumble before his eyes, the feisty, former Husker was honored and privileged to return to Nebraska to lead the Husker football program. As the head coach of the Cornhuskers, Scott Frost hopes to engineer a turnaround. For the coach who believes that many of the problems at Nebraska over the past two decades were "self-inflicted", Frost's expected healing powers may have a combination of the best traits of his other recent predecessors.
Frost's return to Nebraska was viewed in no uncertain terms as the second coming of former legendary coach Tom Osborne. With the burning hunger from Nebraska fans to return to the old ways and winning program, Nebraska's current football coach is now charged with advancing Osbourne's legacy.
Following his experience as a player at Nebraska, Frost has modeled his goals in practice efficiency and player support. With objectives such as character, integrity, discipline, hard work, unity and fun, Scott Frost's current tenure at the University of Nebraska is sure a reclamation project.
Scott Frost's Wife, Son, and Family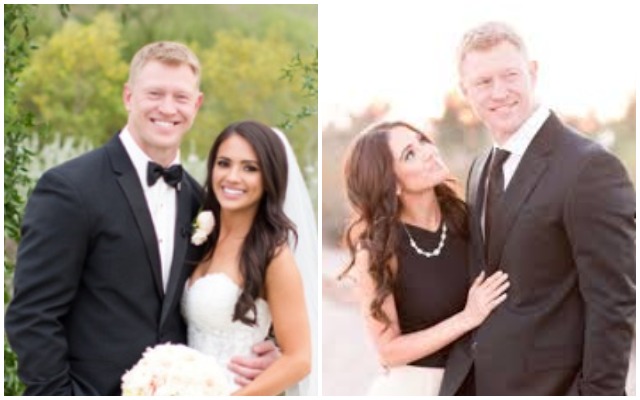 Scott Frost is happily married to Ashley Neidhardt, a 2015 graduate of Grand Canyon University. Ashley first met Scott in 2013 and the pair quickly established a romantic relationship that has lasted for two years. Thereafter, Frost decided to take their romance to the next level by proposing to Ashley in October 2015. By the next year, precisely on the 11th of March, the lovebirds tied the knot at El Chorro, in Paradise Valley, Arizona.
Despite being married to a statuesque figure, Ashley seemingly prefers to keep a low profile. While the couple has so far succeeded in shielding some details about their personal life away from the public, we do know that Ashley and Scott have expanded their family. They are proud parents of a son who was born on November 9, 2017. Details of the baby's name are yet to be made public knowledge. Scott and Ashley who have apparently found love in each other's arms are going strong and show no signs of discord.
Salary
Scott Frost makes a decent living from his career. Having signed a seven-year, $35 million contract in December 2017, the Nebraska head coach can sure afford to live a comfortable life.