Up and coming American country musician, Scotty McCreery is most popular for winning the 10th season of American Idol. His captivating strong and deep baritone vocal has inked his music in the hearts of millions. Among his popular songs are "Five More Minutes", "See You Tonight", "Southern Belle", "I Love You This Big", and so on.
On March 16, 2018, at the very young age of 24, McCreery released his fourth and latest album, Seasons Change. So far in his career, he has won several awards for his outstanding performances. They include the American Country Award for New Artist of the Year (2011), CMT Music Award for USA Breakthrough Video of the Year (2012), Academy of Country Music Award for Best New Artist (2012), American Country Award for Breakthrough Artist of the Year (2013), among others. Read on to find out more about the fast-rising country singer.
Scotty McCreery's Age and Early Life
Scotty was born Scott Cooke McCreery on October 9, 1993, in Garner, North Carolina, United States. He is Hispanic with a bit of Puerto Rican origin through his father who was born in Puerto Rico by an American father and a Puerto Rican mother. His parents, Judy Cooke and Michael McCreery initially wanted to name him Evan but decided otherwise on their way to the hospital for his delivery. While his father worked as a systems analyst for Schneider Electric, his mother worked as a real estate agent for Fonville Morisey Realty alongside running a tanning salon.
Scotty grew up alongside his older sister Ashley in Garner where he attended the Timber Drive Elementary School. He developed a passion for music around five or six after his grandmother gave him a book on Elvis Presley. Before turning ten, he had already started taking classes in guitar. After his elementary education, he enrolled at the West Lake Middle School in Apex after which he attended the Garner Magnet High School, graduating in 2012. In all three schools, Scotty was a member of the choir. He also joined his church (First Baptist) choir during his second year in high school and subsequently led the youth praise band. Later on, he became a member of Die Meistersingers, a singing ensemble formed by his high school choirmistress. In addition to music, he played as a pitcher in his high school baseball team.
Scotty McCreery kick-started his music career while still a high school student. In 2009, he emerged the winner of WQDR-FM's singing contest, Clayton Idol during the Clayton Harvest Festival in North Carolina. He used the position to raise money for ailing kids through local shows. Following the exposure, McCreery participated in several other shows in North Carolina including Rip the Hallways (2009), Gift 4 (2010), and Boots, Bands, and Bulls (2010).
Professional Career
Scotty McCreery auditioned for the 10th season of American Idol in 2010. He made it to the finals alongside fellow teenage singer, Lauren Alaina who was sixteen then. The duo became the youngest finalist match-ups in the history of American Idol. On winning the show at seventeen, McCreery became the series' all-time youngest male winner as well as the second overall youngest winner. Owing to his age, he had to live with his mother throughout the competition.
American Idol became Scotty McCreery's breakthrough as it earned him a juicy deal with Mercury Nashville, with a $250,000 recording advance. Scotty soon released his debut single, "I Love You This Big" which peaked #32 on Billboard Hot Country Songs and later received a gold certification on August 25, 2011. On October 4, 2011, he released his debut studio album titled Clear as Day. The album turned out a hit, receiving platinum certification and selling up to 1 million copies in thirteen weeks. It also reached #1 on Billboard's Top 200, making Scotty McCreery the first country musician, as well as the youngest to have his debut album top the chart.
The next year being 2012, McCreery graduated from high school and subsequently released his second album, Christmas with Scotty McCreery on October 16 of the same year. The album also did very well, receiving gold certification. Scotty then enrolled to study Communications at the North Carolina State University in Raleigh. As a freshman at NC State, he came out with his third album, See You Tonight on October 15, 2013. The album's lead single, "See You Tonight" became Scotty's first song to make it to Billboard's Top 10 Country.
In May 2016, McCreery published his autobiography titled Go Big or Go Home: The Journey Toward the Dream. The following year (2017), North Carolina state governor, Roy Cooper honored him with the state's highest civilian award – Order of the Long Leaf Pine. He received the award at the Grand Ole Opry, a weekly country music stage concert that holds in Nashville, Tennessee.
His Net Worth
Scotty McCreery's net worth is estimated between $3 and $5 million. The major sources of his wealth are proceeds from album sales, concerts, and endorsements deals.
Does He Have A Wife Or Girlfriend?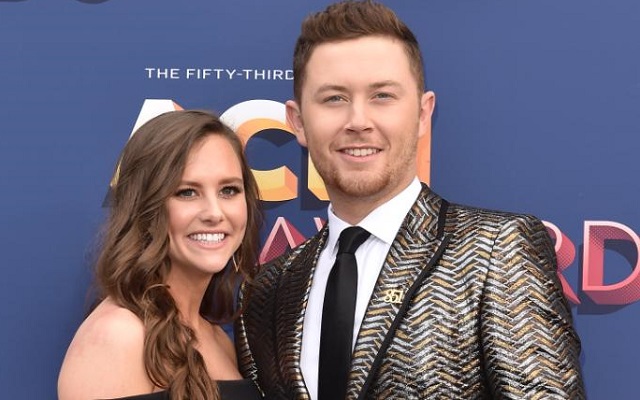 Scotty McCreery and his former girlfriend, Gabi Dugal have known each other for almost their entire lives. The duo met in Garner, NC while they were in kindergarten. They, however, started dating in 2011 during their senior days in high school.
Six years later, the pair engaged. McCreery popped the big question to Dugal in September 2017 while they were hiking on the Grandfather Mountain. They subsequently married on June 16, 2018, in a classy ceremony held at the Twickenham House & Hall in the NC mountains. Scotty's wife, Gabi is a pediatric nurse at the Duke University Hospital in Durham, NC. She attended the University of North Carolina.
Scotty McCreery's Height
Scotty McCreery is 5 feet 10 inches (1.78 meters) tall and known for his elegant dressing sense. His well-trimmed body, light brown hair, and blue eyes contribute to his good looks.