Sean Hannity became a household name in America as a result of his self-titled radio program; The Sean Hannity Show, which has gained nationwide recognition as it is aired on over 500 stations across America. In addition to his radio show, he is well known for his work as a conservative political pundit on Fox News Channel, where he has gained a reputation for peddling falsehoods and conspiracy theories, as well as making controversial comments. More so, the media personality is a huge supporter of US President Donald Trump.
However, in spite of having a successful career, the popular American radio and television host has faced widespread criticism. He has most especially received several negative reviews for his antics that have targeted top political figures in the United States.
Sean Hannity Has Concorted Various Conspiracy Theories About Hilary Clinton
Alongside people like Rush Limbaugh and Bill O'Reilly, Sean Hannity has to be one of the most controversial journalists of his time. He is known to often promote conspiracy theories without verifying them and there is no doubt that a significant amount of people approve of this as he does have a huge following given that his show with Fox News continues to be successful.
One of such controversies the media personality has championed includes several conspiracy theories about former US Presidential aspirant, Hilary Clinton, during the 2016 presidential election. Hannity claimed that she had a serious medical problem that was being covered up by the media. He also peddled an unsubstantial report that she was drunk at a rally before promoting another theory that said that Hilary and the Democratic Party had Democratic National Committee (DNC) employee Seth Rich killed due to the leaking of thousands of DNC emails on WikiLeaks.
Controversial Stand on WikiLeaks
In 2010, Sean Hannity criticized the Obama administration for failing to apprehend WikiLeaks founder, Julian Assange, who he claimed was putting the lives of Americans in danger. However, several years later in 2016, Hannity praised the same Assange for showing how dishonest, phony, and corrupt their government was after he leaked emails from the DNC.
While many were still trying to understand his switch of allegiances, the media personality shocked many of his fans in February 2017 when he retweeted a tweet by WikiLeaks which said that John McCain was a 'globalist war criminal'. A couple of months later in May 2017, Hannity extended an invite to Assange to appear on his show.
Hannity Believes in the 'Deep State' Theory
Sean Hannity was a staunch supporter of Trump during the 2016 election. He has since remained one of the president's closest advisers and confidants. According to claims, the two men speak on the phone several times a week, discussing his show, various issues affecting the country, and even evaluating White House staff.
Trump has often talked about the deep state – a network of government officials that are said to be working to hinder his administration. Hannity has gone on to become one of the advocates of the deep state theory. In 2017, he called for a purge of all bureaucrats and other government appointees from the Obama-era.
Another notable controversy that Hannity has not been shy to propagate includes claiming that the Coronavirus pandemic was a hoax.
Sean Hannity Has Recivied Several Awards For His Work as a Journalist Despite His Antics
Sean Hannity received a Marconi Award in 2003 and 2007 as the Network Syndicated Personality of the year. Talkers Magazine gave him the Freedom of Speech Award in 2003 and named him #2 on their 100 most important radio talk show hosts in America list in 2009. Prior to that in 2005, he was awarded an honorary degree by Jerry Falwell, chancellor of the evangelical Liberty University.
In November 2017, the prolific radio talk show host was inducted into the National Radio Hall of Fame. All these achievements have reflected in his financial status as Hannity is well paid for his job. It was reported by Forbes Magazine in 2020 that he earns about $43 million per annum. His net worth is then estimated to be well over $200 million.
The Media Personality Forged a Career in Showbiz Even Though His Parents Had No Link To The Industry
Sean Hannity was born into the family of Hugh and Lilian Hannity on December 30, 1961, in New York, USA. Although he has gone on to establish a very thriving career as a media personality, none of his parents were in that line of business. The popular radio host actually came from a family of disciplinary officers as his father worked as an officer in a family court while his mother was a County jail correction officer who also worked as a Stenographer.
For his academic pursuit, Sean received his basic education from two seminary schools; Sacred Heart Seminary in Hempstead and St. Pius X Preparatory Seminary High School in Uniondale, both situated in New York. Soon after graduating from high school, he enrolled at New York University, then UC Santa Barbara, and later Adelphi University. He was, however, unable to complete his higher education due to financial constraints.
Hannity went on to start a house painting business before becoming a general contractor and a few years later, he switched professions to become a radio presenter which has paid off well over the years.
Sean Hannity Has Been Able To Keep Things Private About His Family Until Recently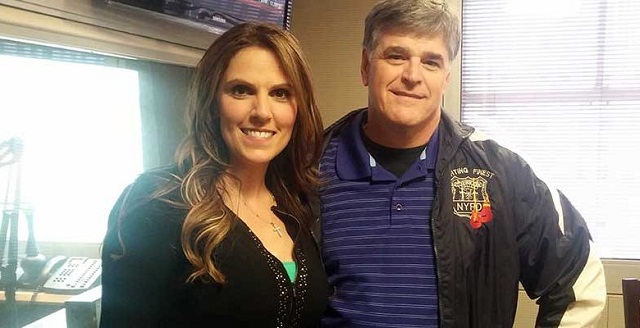 Aside from having a flourishing career, Hannity was a happily married man for over two decades. He was married to journalist and former book editor, Jill Rhodes. The duo first met in 1991 but didn't begin a relationship until 1993. After just after a few months of a serious relationship, the two decided to take their relationship to the next level by tying the knot.
A couple of years later, their first child and son, Patrick, was born in 1999 and three years later, they welcomed their daughter Merri Kelley. However, what seemed like a match made in heaven met its sad end sometime in 2016 as the couple confirmed that they had been separated for more than 4 years and divorced for over a year in June 2020. While close friends and family were already aware of the fact, it still came as a surprise to the general public as their relationship had remained close and cordial which implies that the split was amicable.
In recent times, it has been reported that the media personality is in a relationship with fellow Fox host, Ainsley Earhardt, a claim that both parties have vehemently denied.