Sean Hannity became a household name in America as a result of his self-titled radio program; The Sean Hannity Show, which as of 2019 has gained nationwide recognition as it has been aired on over 500 stations across America. In addition to his radio show hosting, he is well known for his work as a conservative political pundit, where he gained a reputation for the peddling of falsehoods and conspiracy theories, and controversial commentating. He is also known to be a huge supporter of US President Donald Trump.
Despite having a successful career, the popular American radio and TV host has faced widespread criticism and have received several negative reviews for his antics, most especially following his controversial comments that include questioning Barrack Obama's birth certificate to speculating false information about the health of Hillary Clinton among others.
Read on as we unveil to you more facts you need to know about the talented but controversial American media personality.
Biography (Age)
The famous TV personality was born into the family of Hugh and Lilian Hannity on December 30, 1961, in New York, USA. He came from a family of disciplinary officers as his father worked as an officer in a family court, while his mother was a County jail correction officer who also worked as a Stenographer.
Sean Hannity received his basic education from two seminary schools; Sacred Heart Seminary in Hempstead and St. Pius X Preparatory Seminary High School in Uniondale, both situated in New York. Soon after graduating from high school, he enrolled into New York University, then UC Santa Babara and later Adelphi University, but as things would pan out, he was unable to complete his higher education due to financial constraints.
He went on to start a house painting business before becoming a general contractor. A few years later, Hannity moved to become one of the most prominent media personalities in America after beginning his radio career at the volunteer college station at UC Santa Barbara, KCSB-FM. He went on to work in different radio stations, including WGST, Atlanta and WABC, New York before moving on to television, appearing in shows such as Fox News Channel's Hannity and Colmes and The Sean Hannity Show. The latter was his major breakthrough as it fetched him a five-year deal valued at $25million with ABC radio station. Meanwhile, the same show landed him the Network Syndicated Personality of the Year at the 2003 and 2007 Marconi Award. His other show is Hannity's America and Hannity.
Sean Hannity's has also penned down his conservative ideologies and beliefs in three books, most notably Deliver Us from Evil: Defeating Terrorism, Despotism, and Liberalism released in 2004, and Conservative Victory: Defeating Obama's Radical Agenda, released in 2010. In addition to his television career, he made an appearance in the 2017 movie; Let There Be Light and was also the executive producer of the film. All his work has bagged him multiple awards and honors such as his inauguration into the National Radio Hall of Fame in 2017.
Family – Is Sean Hannity Married, Who is His Wife? And kids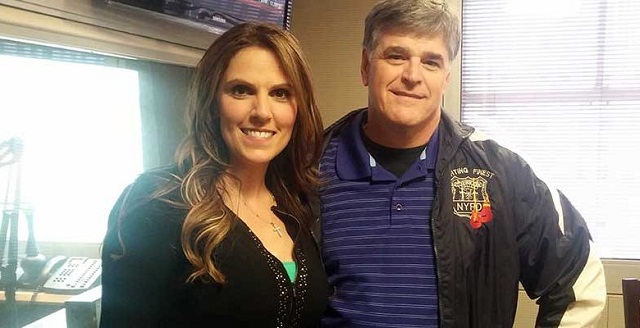 Aside from having a flourishing career, Hannity is a happily married man. He's been married for over two decades to his soul mate; journalist and former book editor Jill Rhodes.
Just after a few months of a serious relationship, the two decided to take their relationship to the next level, as Rhodes exchanged vows with her husband in 1993. Thereafter, the pair went ahead to welcome two children of their own. Their first son, Patrick was born in 1999 and three years later, they welcomed their daughter Merri Kelley.
Despite being the target of divorce rumors at some certain points, the couple has managed to settle their differences and continued living together, as their love grows stronger every day.
See Also: Is Chris Jansing Of MSNBC Married? Who Is Her Husband – Robert Jansing?
Net Worth
It's actually not a bombshell to find out that the American media personality has amassed enormous wealth from his bloomy career. Having been reported by Forbes Magazine in 2018 to earn about $36 million as his annual income, the same year he reportedly acquired $86 million worth of residential properties, Sean Hannity's net worth was estimated to be around $200 million.