Having made headlines playing for the Oakland Raiders of the National Football League (NFL), Sebastian Janikowski was recently on the news again what with his recent deal with the Seattle Seahawks after being loyal to the Raiders for 18 years. It is quite difficult to believe that he lasted this long in the game considering the many illicit behaviors he indulged in. Nevertheless, his stay with the Raiders could best be described as one of the most beautiful tales he would tell whenever he talks about his career.
Taking a look at Sebastian's achievements in the past years, there is no doubt that he put in a lot of hard work despite his truancy. Now with the Hawks, a lot of people are looking out to know how his performances would be, but it is apparent that Sebastian has no record of disappointing when it comes to football.
Sebastian Janikowski's Bio
He was named Sebastian Paweł Janikowski when he was born on March 2, 1978, in Wałbrzych, in southwestern Poland. 'Seebas' as he is popularly called by his fans was born into a sports family; his father, Henryk Janikowski played soccer during his heydays but after he relocated to the United States of America, he called it quits with football as his career was not seeing much progress. Sebastian's mother is Halina Janikowski. His father's relocation brought a disarray to the bond his family shared, with his parents eventually getting divorced and his father Henryk getting remarried to an American woman.
While Henry was away, Sebastian Janikowski became inquisitive about everything that concerned soccer, he began playing the game which he largely taught himself, and within a short time perfected his skills. He got a spot to play for the Poland soccer team at 15 and joined the Under 17 team.
Henryk's union with the white woman got him a green card, and after he was settled in the US, he decided to bring Sebastian Janikowski over. Upon his arrival to the States, the young lad couldn't express himself in English language but as the days went by, he learned from his environment and other television programs and also attended an evening class in order to master English.
While doing that, Sebastian was recruited by the Orangewood Christian Soccer team, he played in five games with the team and also helped them qualify for the Class A State Championship game. He got his fill with the team and opted to join the Orlando Lions. Soon, he proved his worth with the team and his then coach; Angello Rossi, couldn't let him waste his talent within that confined area and suggested to his dad that it would be wise for Sebastian to transfer to Seabreeze High School.
With the strength he had as a soccer player, he was a perfect fit for the position of a placekicker when he arrived the high school. An exceptional attribute of Sebastian Janikowski in high school was his ability to balance the two games (soccer and American football). Playing as a placekicker in the later, he was noted for his skills and was the third-best placekicker in Florida.
He furthered his education at Florida State University and of course was very active with the school football team after deciding to let go of soccer. All through his days with the team, the Polish-born footballer played well and later declared his intents of going pro in 1999, thereby forgoing the remaining years of his collegiate career. With his intents known, NFL scouts team were satisfied with his performances on the field but not with his behavior off the field.
Many thought this would disqualify him from going pro but the following year, he was selected by the Oakland Raiders with the 17th overall pick in the 2000 NFL Draft. His first year with the team wasn't one of his best but in his second season, Sebastian Janikowski improved a lot. On and on, he has fallen short in a few games but has also made incredible counts as well. On April 13, 2018, the footballer entered a one-year contract with the Seattle Seahawks.
Family – Is He Married, Who is His (Wife)?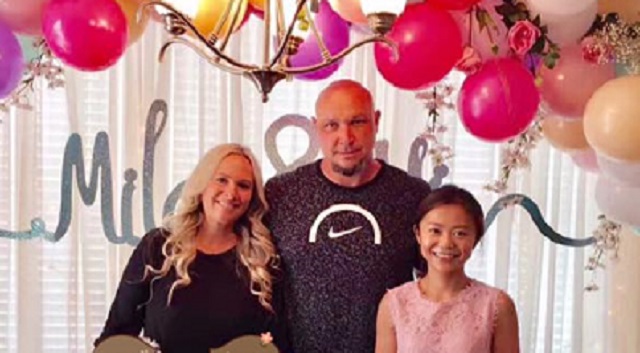 Sebastian Janikowski is a married man. He walked the aisle with his longtime girlfriend, Lori in 2008. Their union is blessed with three children. The two seem to be happily married as there has been no fishy news regarding their ill ordeals or any sign of divorce.
See Also: Shaquill Griffin Brother, Family, Height, Weight, NFL Career
Weight and Height of Sebastian Janikowski
An athlete's body mass and height are considered especially when it comes to recruiting anyone into the big league. For Sebastian Janikowski, he has not only become one of the league's reliable and prolific kickers but is also among the many who are solidly fit. He stands at 6 feet 2 inches and weighs 240 lbs.