There are many sports played around the world that used to be composed mainly of male players and one of these sports is wrestling. Today, wrestling is also played by women and one of the renowned female wrestlers around the world is Seiko Yamamoto. She is a Japanese wrestler who has won almost every tournament she has graced including clinching four consecutive World Championship titles and two Asian Games titles within her short stint in the game. Yamamoto is also known as the wife of the MLB franchise, Chicago Cubs pro baseball pitcher, Yu Darvish. For an overview and all that you need to know about Yu Darvish's wife, scroll further.
Seiko Yamamoto's Biography
The proficient wrestler was born on 22nd August 1980 in Kawasaki, Kanagawa, Japan. She is the youngest of the three children born to the former Japanese Olympic wrestler, Ikuei Yamamoto, and wife whose identity is yet unknown. Regarding her educational achievements, there are no details concerning that as the retired wrestling world champion has not disclosed such to the media.
Being the daughter of the former Olympic wrestler, Seiko Yamamoto began her wrestling training at the young age of three as she followed in the footsteps of her father. She grew up to become one of the recognized female wrestlers in Japan. She has virtually won every major competition she has participated in since the inception of her wrestling career. Her achievements include emerging the winner of the 1999, 2000, 2001 and 2002 World Wrestling Championships and two Asian Games tournament. However, the adept wrestler failed to qualify for the 2004 summer Olympics when she lost to Saori Yoshida at the Japan Queen's Cup as Yoshida went on to clinch the 2004 Olympics gold medal in wrestling.
Everything To Know About Yu Darvish's Wife
-Seiko Yamamoto's Marriage
Seiko Yamamoto first tied the knot with a handball player from Japan, Hideaki Nagashima in 2006. The union was blessed with two sons. Unfortunately, they separated in 2014.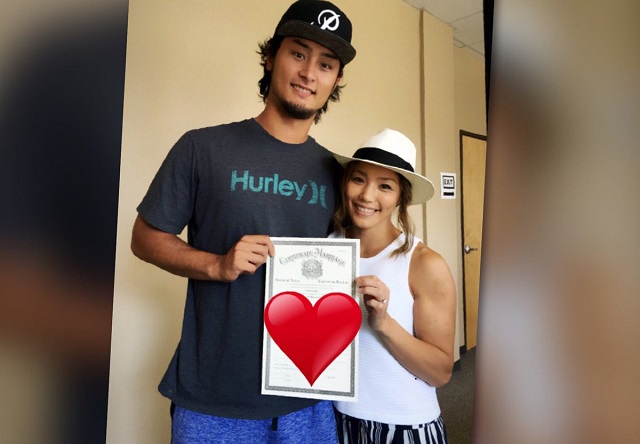 Yamamoto exchanged marital vows with the pro baseball starting pitcher of MLB franchise, Chicago Cubs, Yu Darvish in 2015. The couple is well-known for being stingy in releasing information regarding their personal lives as they have not disclosed any of their marriage details to the public. However, her husband revealed through social media the arrival of their son on 30th July 2015. So far, the duo shares two sons as their second child was born in 2017.
-Seiko Yamamoto's Coaching Career
Following her retirement from wrestling, Seiko Yamamoto resumed duty coaching of the United States women's freestyle wrestling team. Under her guardianship, one of her wrestlers Helen Maroulis won the first United States wrestling gold medal at the 2016 Rio de Janeiro Olympics by overcoming the Japanese multi Olympic gold medalist, Saori Yoshida.
-Her Father
Her father, Ikuei Yamamoto is an ex-Japanese wrestler who participated in the 1972 summer Olympics and clenched the seventh position. He is a professor at Nippon Sport Science University and trained all his children in the field of wrestling.
-Her Sister
Seiko Yamamoto's elder sister, Miyuu Yamamoto is a prominent mixed martial artist and wrestler in Japan who goes by the stage name, Fighting Queen Bee. She has made a name for herself in the wrestling world by winning 7 All-Japan Women's Championship titles, 4 All Japan Women's Open titles, 3 World Women Wrestling Championship titles, 1 Asian Wrestling Championship title and 1 Nordhagen Classic Contest title. Her other records in the Mixed Martial Art includes 5 wins and 3 losses.
-Seiko Yamamoto's Brother
Yamamoto's brother, Norifumi Yamamoto was also a mixed martial artist and a kickboxer who contended in the bantamweight branch of UFC before his death. His kickboxing record comprised of 1 win and 3 losses while his pro mixed martial art record consist of 18 wins in which 13 is by knockout, 2 is by submission, and 3 is by decision. His other achievements include winning the Hero's 2005 Middleweight Grand Prix Tournament, All Japan Amateur Shooto Tournament, 2005 Featherweight Fighter of the Year, registering the fastest knockout (0.04) in K-1 Hero's, among many others.
See Also: Randy Orton – Bio, Age, Wife, Kids, Dad, Height, Net Worth, Weight
Sadly, he was diagnosed with stomach cancer in 2016 but he kept it under the wraps at that time. He eventually made it known to the public on 26th August 2018 through his Instagram handle. Unfortunately, he died on 18th September 2018.
-Her Height
Seiko Yamamoto stands at an average height of 5 feet 5 inches (1.65 m). The details of her weight and body measurements are unknown to the media.