On Saturday, during the Madaraka day celebration, Nairobi Senator Mike Sonko cleared hospital bills of several families, relieving them of the burden of having to pay stockpiled hospital bills.
While other politicians took Madaraka day too seriously as a chance to campaign for the next elections, this senator walked into hospitals with bundles of cash to clear bills for stranded patients.
Among the hospitals he toured was Kenyatta National Hospital's Burns Unit where he cleared bills for patients who had been seized at the facility for months due to inability to settle bills.
He also visited other hospitals, making patients and their families shed tears of joy.
One that got social media awash with talks was the case of an 89-year-old grandmother, Ruth Njeri, who had been detained by a Thika hospital for three months.
Ruth Njeri was seized at St Mulumba's Hospital in Makongeni for not being able to pay a bill of Sh220,000 until lady luck smiled on her.
The Nairobi Senator said he learned about granny's story after one Ruth Gathigah had commented on his earlier post on Facebook that depicted how he had paid bills for detained patients at Kenyatta National Hospital on Madaraka day.
This is because the senator hadn't paid for everybody indiscriminately while at the hospitals.
Mr Sonko wrote on Saturday.
"I wish to thank one of my Facebook friends by name Ruth Gathigah. In her comments, she drew to my attention a case of a 89-Year old Grandmother Ruth Njeri who had been admitted at St. Mulumba's Hospital in Makongeni Thika and had been discharged three months ago but unfortunately detained by the hospital's administration over a Sh.220,000 hospital bill".
Besides settling the pilled-up hospital bills of the granny, the Sonko Rescue Team also shopped household goods for the frail woman.
Mike said the woman went home a happy granny, adding that a few people who go about saying "I'm campaigning or I like showing off when I help people, (they) are wrong, this is where my blessings come from, to me its like a testimony,".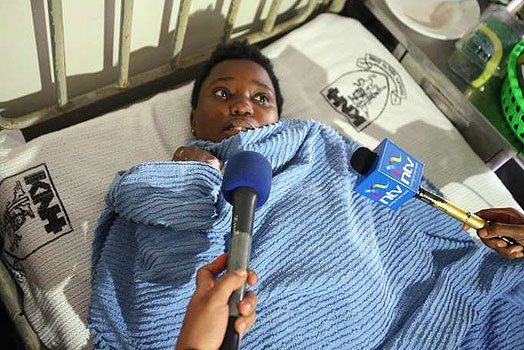 Also, during the exercise, Sonko cleared hospital bills of several other people, particularly those of one Mary Kibwana Kamango, a Kenyan house help who is nursing serious burns sustained while working in Jordan.
After his hospital tour, the senator wrote on his Facebook:
"I was shocked that a big number of patients at the hospital had been discharged, some even two months ago, but had been detained by KNH due to non-payment of hospital bills."
" I therefore dedicate today (Madaraka Day) to assisting individuals and families at the ward that houses patients with burns from various sources of fire such as electricity, stoves, gas".
"I managed to pay medical bills to all the patients who had suffered from severe burns but had been discharged but were detained over non-payment of bills. This I did without considering their religious, ethnic or political affiliation."
Campaigning or not, we say kudos to the senator for being a knight in shining armour. Sonko cleared hospital bills and put a smile on many faces.