Seth Green is a multi-talented American actor who came into the spotlight with the scintillating performance he displayed as Scott Evil in the 1997 Mike Myers movie titled Austin Powers: International Man of Mystery. He has also done some works as a writer, director, and producer; most notably, the award-winning animated comedy series Robot Chicken, which he directed and co-produced.
As a professional actor, Green has been featured on a vast number of movies, TV shows, and video games. The actor who is well known for his unique acting skills has garnered worldwide fame through his recurring appearances on the Austin Powers series. His acting brilliance along with his outstanding body of works have earned him numerous awards including the Young Artist Award.
Seth Green's Earliest Career Roles as a Child Actor
The sensational actor was born and named Seth Benjamin Gesshel-Green on February 8, 1976, in Philadephia, Pennsylvania, the U.S. His parents are Hebert and Barbara Green. He is of Polish, Scottish and Russian ancestry. He has two siblings – Kaela and Doreen. Green proceeded to legally change his name to Seth Green in order for him to have a perfect reflection of his professional stage name.
He kicked off his career at a very young age. At the age of seven, his uncle who was a movie director paved way for him in the industry by securing minor commercial works for him. From this, he became associated with brands like Burger King. Soon after that, at the age of 10, he bagged his first movie roles in The Hotel Hampshire and Billions for Boris portraying Benjamin "Ape-Face" Andrews and "Egg" Berry respectively.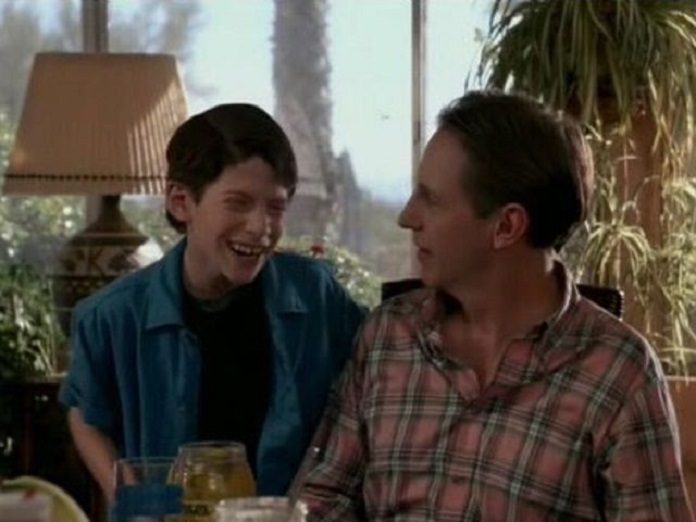 Then in the following year, he appeared in one episode of ABC Afterschool Special, followed by minor roles in other TV series such as Tales from the Darkside (1985), Spenser: For Hire (1986), Mr. Belvedere (1989) and It (1990); as well as films, Can't Buy Me Love (1987), and My Stepmother Is an Alien (1988). Still in his teens, Seth Green further landed many acting gigs in the early 1990s. He was cast as Chip in The Double O Kid and David in six episodes of Good & Evil.
He additionally featured in The Wonder Years, Beverly Hills, 90210, Ticks, Arcade, Airbone and The Day My Parents Ran Away, during such time.
Gaining Prominence with His Role as Scott Evil in Austin Power Movies
Before gaining worldwide recognition for his character, Scott Evil in the 1987 film, Austin Powers: International Man of Mystery, Green had over five acting gigs between 1995 and 1997. His portrayal of Dr. Evil's son in Mike Myers' Austin Powers subsequently helped him establish a budding acting career, as he featured in other of his best-recognized works afterward.
His character of Daniel "Oz" Osbourne in Buffy the Vampire Slayer was among the most memorable characters of the series, as the actor was cast in 39 episodes of the supernatural drama TV series from 1997-2000. While still on the show, he reprised his role of Scott Evil in Austin Powers: The Spy Who Shagged Me in the year 1999 and later, in Austin Powers in Goldmember (2002). Seth Green played a fascinating role in the blockbuster movie, Italian Job (2001), where he featured alongside popular Hollywood actors like Jason Statham, Mark Wahlberg, and Charlize Theron.
He further landed roles in Married to the Kellys (2004), Without a Paddle (2004), Will & Grace (2005), The Best Man (2005), Four Kings (2006), Grey's Anatomy (2007), How I Met Your Mother (2012), Dads (2013-14), Crazy, Ex-Girlfriend (2017), and A Futile and Stupid Gesture (2018). In the year 2019, Seth featured in the series Historical Roasts and equally starred in the film Changeland. He is among the cast of the 2020 film Wednesdays, which is still in the post-production stage.
His Voice-over Roles has Been Recognised with Many Accolades
In 1992, Green put a start to voice over acting as he provided the voice of Wizard in one episode of Batman: The Animated Series. Then in 1999, he landed the main role of Chris Griffin in the hit animated series, Family Guy which he still plays to date. Beyond lending the voice of Chris Griffin, the talented film director also provides various voices in the series. In the same year, he voiced the characters of Nelson Nash and Dempsey in eight episodes of Batman Beyond from 1999-2000, followed by another voice role in The Trumpet of the Swan in 2001.
He additionally voiced Eddie McDowd in thirteen episodes of 100 Deeds for Eddie McDowd during such time. Later in 2005, Seth Green established himself as one of the famously known voice actors in the US with his various roles in Robot Chicken which he has been playing since then. Following his performance, the actor has received Annie Awards, Primetime Emmy Awards, as well as numerous nominations in the aforementioned award shows and Teen Choice Awards.
In 2006, he reprised his role as Chris Griffin in the Family Guy Video Game! and this earned him a Spike Video Game Award for Best Cast. He later provided diverse voices in the web series, Seth MacFarlane's Cavalcade of Cartoon Comedy and has also featured in a good number of video games including Playtoons (1994), Watch Dogs (2014), Call of Duty: Infinite Warfare (2016) and Teenage Mutant Ninja Turtles (2016).
Other of his voice acting credits include Whatever Happened to Robot Jones? (2002), American Dad! (2005-16), Hulk and the Agents of S.M.A.S.H (2013-15), Yellowbird (2014), Teenage Mutant Ninja Turtles (2014-17), Guardians of the Galaxy Vol. 2 (2017), Crossing Swords (2020), among several others.
The Highlights of His Works as a Writer, Director, and Producer
Beyond his works as an actor and voice actor, Seth Green has additionally contributed to the film industry with his writing, directing and production works. He first proved his mettle as a writer, director and producer in the multi-award-winning animated TV series, Robot Chicken in the year 2005. Four years later, he served as the executive producer of another animated series titled Titan Maximum.
He further worked as the director of the web series, Saber 2: The Body Wash Strikes, and equally served as the executive producer of SuperMansion (2015-present), as well as Buddy Thunderstruck (2017). In 2019, Seth Green made his film directorial debut in the comedy-drama movie, Changeland which he also wrote. The multiple award-winning-actor has acquired huge wealth through his acting, directing, and production works. Thus, Green's net worth is estimated at $40 million.
The Accomplished Actor is Enjoying a Flourishing Marital Relationship with His Best Friend, Clare Grant
Seth met his actress wife, Clare Grant, for the first time in 2006, where she was photographing the reopening of Golden Apple comics, which is their favorite book shop. In the next year, the two ran into each other at the Comic-Con held in San Diego. Noticing their mutual appreciation for comic books, television, and fast food, the two love birds bonded and started dating proper.
The man couldn't wish for more than to kick off 2009 with the beautiful actress remaining by his side, as he proposed to Clare on 2009 New Year's Eve. The couple eventually tied the knot in the following year, on May 1st, in Northern California. They have gone ahead to work together in movies like Robot Chicken and Warren the Ape.
The Austin Powers star is a married man who has remained with his wife since 2010 and, there have not been stories associating him with having relationships with people of his own gender in any media platform.
What His Wife is Known For
Seth Green beauteous spouse was born Clare Camille Johnson on August 23rd, 1979 in Memphis, Tennessee, and there, she grew up and attended college. She first began her career in the entertainment industry by working as a model. She got associated with Elite Model Management and afterward, made appearances in many ad campaigns for brands such as L'Oréal.
In 2004, Clare had her first acting role in the film, Resolutions of the Complacent Man and two years later, she scored a lead role in Masters of Horror: Valerie, on the Stairs. Eventually, she was cast in many other films and TV series such as The Graves (2009), $5 Cover (2009), Warren the Ape (2010), CSI: Miami (2011), The Insomniac (2013), Holidays (2016), Castle (2016), and Changeland (2019).
In the past years, Clare Grant has garnered much popularity for her works as the co-founder of a multi-media production team called Team Unicorn that has produced several parody songs such as 'Geek & Gamer Girls', and 'All About That Bass'. Alongside Rileah Vanderbilt, she worked as the producer of the viral online series, Saber and also produced the Team Unicorn web series. Additionally, Green's wife has lent her voice in many animated TV series including Robot Chicken (2008-18), Mad (2011-13), Star Wars: The Clone Wars (2012-13), and Hulk and the Agents of S.M.A.S.H (2013-15).