Seth Rogen is a Canadian-American stand-up comic, actor, producer, writer, and director known for his quirky wit and his humorous roles in movies. He has been in the movie industry for over a dozen years and has appeared in several movies and TV series. He has become a staple face for comedy in the scenes of Hollywood and the mention of his name amongst the cast of a movie almost guarantees that the viewers would watch through the movie with several laughs given. Learn more about Seth Rogen below.
Seth Rogen's Age and Bio
Seth Rogen first came into this world on the 15th of April, 1982 and his birth took place in Vancouver, British Columbia, Canada. The actor was born into a Jewish family and spent his childhood days in Canada and the United States. He possesses dual citizenship of American and Canadian while his ethnicity is white. Seth developed an interest in becoming a comedian when he was very young. He was inspired when he found out he has the ability to make people laugh.
At the age of 13, he performed his first standup comedy gig at the Lotus Club, a lesbian bar in Vancouver. However, due to the fact that he was underage Seth was kicked out as soon as he finished his set. Undeterred, he teamed up with his friend Evan Goldberg to write the script for the commercially successful movie Superbad. The movie was loosely based on their 12th-grade experience in Vancouver and the main characters in the movie have the same given names as Seth and Evan.
After that, the upcoming star went on to finish second in the Vancouver Amateur Comedy contest at the age of 16. The following year, he landed a role in the teen comedy series Freaks and Geeks. During this period, his family fell on hard times and thanks to the role he got he was able to relocate his family to Los Angeles and started paying the bills in the house.
Although the comedy series Freaks and Geeks got positive reviews, the show was canceled after its first season due to low viewership. However, Rogen's improvisational skills impressed Judd Apatow (creator of the show). Apatow would go on to carry Seth along and have him as a writer. Their close relationship helped Seth land a role in the movie The 40-Year-Old Virgin alongside Paul Rudd and Steve Carell.
He got his first lead role in the 2007 movie Knocked Up where he starred alongside Katherine Heigl. With the movie becoming commercially successful, the actor started receiving favorable reviews. Seth would go on to lend his voice to the animated movie Kung Fu Panda for the character Master Mantis, reprising his role in Kung Fu Panda 2 and 3.
The comic star also made his directional debut in 2013 and his first movie was This is the End. His impressive performance fetched him an MTV Movie Award and two American Comedy Awards. The following year, he co-wrote and directed the action-comedy, The Interview. While Seth has been enjoying a blossoming career, the comic actor has garnered several other nominations and awards.
How Much Is Seth Rogen Worth?
Seth Rogen has made huge wealth for himself and is currently enjoying a luxury lifestyle. The actor has amassed a net worth estimated to be worth $55 million. His plethora of writing, producing, directing, and acting credits lend credence to this such a huge net worth.
Is He Gay?
Seth Rogen has undoubtedly joined the list of actors whose sexuality has been a thing of public interest. There were initial speculations that the actor is gay. However, Seth has revealed that he has a straight sexual orientation. Meanwhile, he has been an active supporter of the LGBT community. He appeared in a commercial celebrating the LGBT Pride Month after the US Supreme Court ruling on same-sex marriage.
Details of his parents, wife, and kids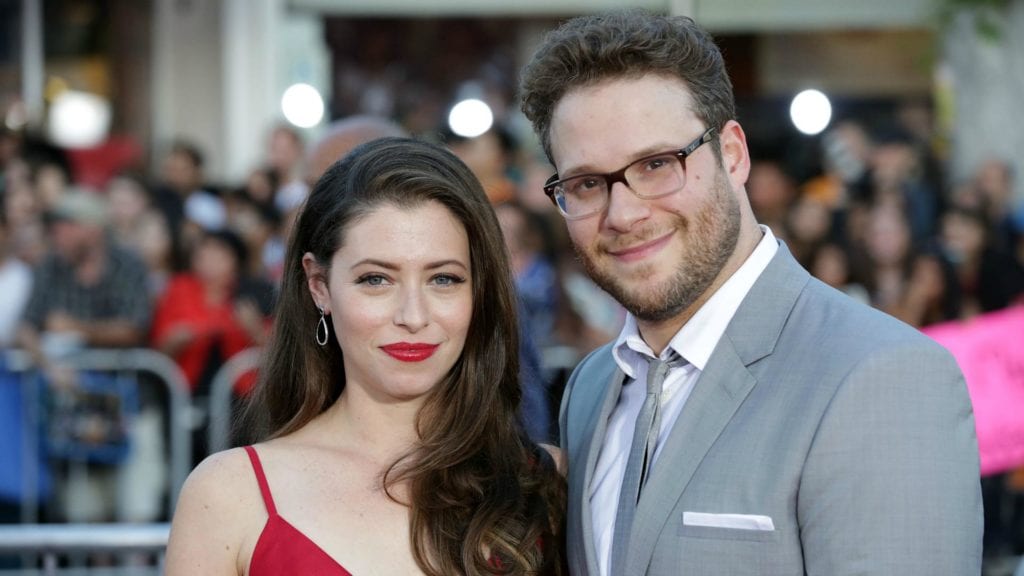 Like we earlier stated, the multi-talented actor was born into a Jewish family. His father, Mark Rogen worked as an assistant director of the Workmen's Circle Jewish fraternal organization and for non-profit organizations. His mother, Sandy Rogen (nee Belogus) works as a social worker. Amazingly, the actor isn't the only child of his parents, he has an older sister called Dayna.
While working on the set of Da Ali G Show in 2004, Seth Rogen met an actress named Lauren Miller. Seeing the connection they shared, the two decided to kick-start a relationship. Six years later, the couple announced their engagement in September 2010. In October of the following year, they tied the knot in a lavish wedding held at Sonoma County, California. Since then, they have been enjoying a wonderful union over six years and counting. Although they don't have any kids yet; Seth has mentioned that he and Lauren are open to having kids down the line. However, they do have a Cavalier King Charles Spaniel dog named Zelda.
Height and Other Information
Height: 5 feet 9 inches (180 cm)
Full Name: Seth Aaron Rogen
Place of Birth: Vancouver, British Columbia, Canada
Date of Birth: 15th of April, 1982
Siblings: 1
Marital Status: Married
Kids: None
Hair color: Light Brown
Eye color: Light Brown
Favorite color: Blue
Debut movie: Donnie Darko (2001)