Shannon Bream is a 52 year-old American journalist, attorney, and host of the Fox News Sunday with a net worth of $10 million. Shannon Bream is married to her college sweetheart, Sheldon Bream. The couple wedded in 1995, having met at Liberty College, and they now have no kids.
Who is Shannon Bream of Fox News?
Shannon Noelle Depuy was born to Marie Norris and Ed Depuy on 23 December 1970. Being the only child, Shannon was very attached to her parents as a child. Her mother Marie worked as a teacher and her dad was a Leon County Commissioner.
The journalist had her primary school in her hometown, Tallahassee, Florida. She continued her high school education in North Florida Christan High School also based in Tallahassee. She completed her stay there with the class of 1988 at the age of 17.
Career Begining 
The Fox New's Supreme Court journalist developed a great passion for journalism and reporting at a very young age.
Her major inspiration to dabble in the field came from the good-looking female journalists and show hosts she saw on TV. However, her parents didn't see much prospects in the career she was eyeing. Going by her parents' advice, Shannon enrolled at Liberty University in Lynchburg, Virginia and majored in business studies.
There Shannon contested in Miss Virginia 1990 and won the pageantry. She also contested for Miss America 1991 but things didn't go her way. In 1993, she bagged a degree in Business from Liberty University which she attended on a scholarship that covered almost her full tuition fee.
After graduation, she went back to her hometown Tallahassee to further pursue a career in law. For this reason, she joined a law school at Florida State University. As part of the requirements, Shannon served Florida Congressman Bill McCollum in the US House of Representatives as an intern.
As well, she joined Miss Florida USA contest in 1995 pageant and won the crown. Shannon tried Miss USA once again 1995 but this time came fourth.
In 1996, Shannon's time in Florida State University College of Law came to an end and she moved to Tampa, Florida to focus on her career. With all her qualifications and experiences, the nudge to begin her childhood dream didn't stop. The passion kept growing even as time passed. As a result, she made a quick career change from law to chase television reporting.
She made another relocation to Charlotte, North Carolina in 2001 for her television debut as a show host on WBTV, a CBS affiliate.
In 2004, WRC TV an NBC affiliate located in Washington DC gave her an offer to work as a weekend anchor and she accepted. She also covered general assignments at her new place.
A bigger door opened for Shannon Bream while still at WRC when she met Brit Hume. Hume who was the managing editor of Fox News Channel's Washington bureau appreciated her works and motivated her to submit audition tapes to Fox News. After a successful auditioning, Shannon Bream won a spot in Fox News Channel in 2007. She has been with them ever since then and hosts Fox News Night. She sometimes appears on Special Report with Bret Baire Fox News Sunday as a substitute anchor.
He also became a substitute anchor of Kelly File and also Special Report with Bret Baier.
Who is her husband and does she have any children?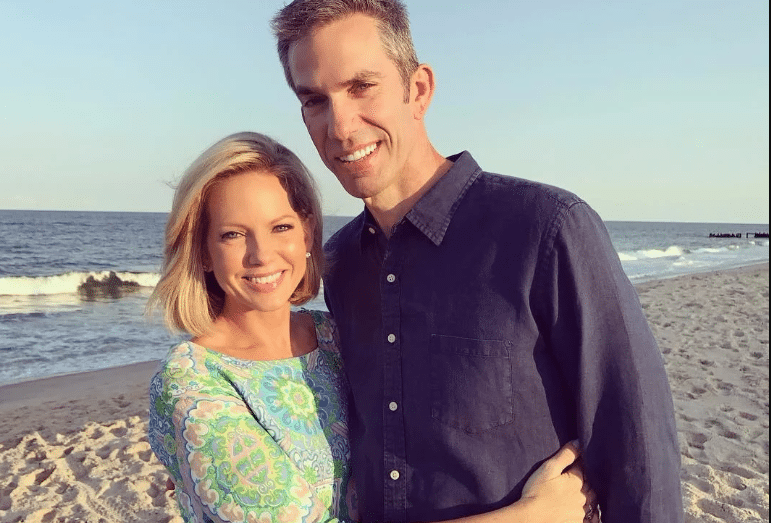 Shannon changed her name from Shannon Noelle Depuy to Shannon Bream after her marriage to her university sweetheart Sheldon Bream. The two met while attending Liberty College and started dating immediately. They wedded soon after their graduation in 1993 although nobody is sure of the exact date.
Far from what his wife studied at Liberty University, Sheldon Bream obtained a Bachelor's Degree in Sports Management and Business. He was born in Carlisle, Pennsylvania and is related to former Major League Baseball player Sid Bream. The American national who is of white descent has been working at the Washington Speakers Bureau since 2005 as Director of Bureau Relations based on the information on his LinkedIn.
The couple who have been married for almost 25 years is still stronger than ever They always find comfort in each other despite the ups and downs that they have seen in their health with Sheldon undergoing brain tumor surgery while Shannon had cornea surgery. One time Shannon revealed that prayers and their faith in God have kept them going throughout the years.
The 5 feet 7 inches journalist and her husband have no children at the moment, they seem to be more focused on their career and appear to be very much contented with having each other.
Shannon Bream's Net Worth
There is less than a handful of people who have been able to work their way to the top of the game in the field of journalism without any prior experience. One such person is Shannon Bream. The fact that she was never trained in journalism during her school days and yet she is among the best reporters in America is enough to tag her successful. The TV personality has on this account created a reputable image for herself as one who is persistent, hard-working, and competent. She has also grown fortune for herself earning around $800,000 as salary. Also, her net worth is estimated at $10 million.