If you've explored gospel rock music well enough, then you've probably stumbled upon Bart Millard's songs. The gospel musician has enjoyed a successful music career albeit his troubled past that led him to change his path from professional football to becoming a Christian musician. Today, his songs—with the MercyMe band—have been widely listened to, even inspiring a movie released in 2018. But with so much known about him, the same can't be said about his amiable wife and partner; Shannon Millard.
Since they first met in high school, Shannon has watched her once dreamless husband morph from a rookie rock gospel singer into a Grammy-worthy personality. In addition, they have happily raised five beautiful children. This post discusses the bio, family, and everything there is to know about the unsung hero of Bart Millard's life. Enjoy!
Shannon Millard's Bio
Shannon Millard is best known as the spouse of the renown gospel rock singer and songwriter, Bart Millard. Her incredible support to her husband's career has made her the object of his praise many at times, but that hasn't made her venture into the spotlight by herself. We wouldn't start by telling you about her date of birth because, technically, that's not known. But we might just have a clue. Judging from the fact that she and Bart were high school mates, it's safe to say that Shannon Millard, like her husband, was also born in the '70s. It's also proper to assume she was born or at least raised in Greenville, Texas. However, these are mere guesses as there are no verifiable facts with details about her childhood, early and later education, siblings, parents or what they did for a living.
Family: Husband and Kids
Shannon and Bart met in 8th grade. Back then, Millard's dreams were to become a renown football player someday. And he was following through with it; playing on the school's team. However, things went awry when Bart got fatally injured on both ankles during a high school football game. Faced with a shattered dream, he grudgingly turned to music; taking choir as an elective. For Bart, it wasn't all rosy from the start. His father, Arthur Wesley Millard Jr., had died when Bart was just a college freshman.
At the invitation of his youth pastor, he began work with the church's youth group worship band as a video and audio systems operator for the group. Perhaps Bart's most inspiring moment for music came when the church music group took a trip to Switzerland. After that trip, he had no doubt about going into music full time. On their return, Bart Millard and two of his friends moved to Oklahoma City and formed the music band, MercyMe. They mostly majored in Christian rock music. Since 1994, the band has recorded nine studio albums, two exclusive, six independent, two Christmas songs, and one compilation album.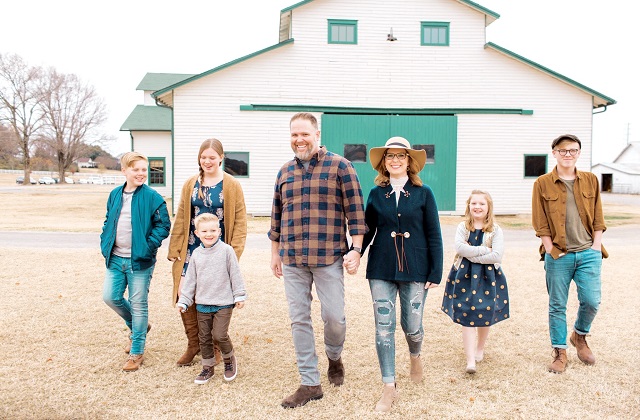 All this time, the silent figure supporting young Bart was his girlfriend who later turned wife, Shannon Millard. It would've been really understandable had she dumped Bart for another from the start. But not one to give up, she stuck all the way. Although details of the events leading up to their wedding or their wedding date are not known, we know they are both married. Shannon is the mother of their five children, three sons, and two daughters by the names— Sam Millard, Charlie Millard, Miles Millard, Gracie Millard, and Sophie Millard. The Millard's currently live in Greenville, Texas.
Other Facts/Everything You Need To Know About Bart Millard's Wife
1. Net Worth
Although we've had no wind about what exactly Shannon does for a living, however, we know her husband travels the United States holding Christian concerts and ministering to crowds of Christian faithfuls through rock music. Shannon Millard, to the best of our knowledge, is a housewife. This makes it quite a heck of a challenge putting an exact number to her net worth, but considering her marriage, she automatically shares in the net worth and salary of her husband too. In other words, mine is yours and vice versa. Going by that, Shannon Millard is worth over $5 million. Her husband's single I Can Only Imagine has successfully sold 2.5 million copies since its release.
See also: Robyn Krauthammer – Bio, Facts To Know About Charles Krauthammer's Wife
2. Height and Body Measurement
As far as specifics go, there are no published figures detailing her height, weight, her bra, shoe or dress sizes. However judging from pictures taken with her husband, it's safe to put her height below 6 feet 2 inches (1.88 meters). She has blonde hair and blue eyes.
3. Social Media Following
Unlike her husband, Shannon Millard is anything far from active on social media. Although there's an account carrying the name @skmillard, it's been quite inactive for a while.
4. A Staunch Christian
If there's anything so obvious about Shannon, it is her deep Christian values. It's a faith that permeates through her life and family. We believe it goes beyond being raided in a Christian family. While it may have been a borrowed beliefe from her growing up, it's now hers to own.