Shannon Sharpe is an outstanding former NFL star turned sports analyst. From battling with losses and poverty as a child to working on farms and tobacco fields, Sharpe eventually grew to become a pacesetter in the league as well as one of the most incisive people in sports media. Moreover, Shannon, who is also known for his good sense of humor, has inspired several memes which have become an impactful piece of pop culture. Find out interesting facts you never knew about the former NFL player, living meme, and elite analyst.
Biography and Age
Shannon Sharpe is an Illinoisian who was born on the 26th of June 1968. He is one of three children born to Pete Sharpe and Mary Alice Dixon. The former NFL star had a rough childhood as his parents divorced when he was only 3 months old. Consequently, him, his older brother, and sister were raised in Glennville, Georgia, by their grandmother, Mary Porter. More so, they lost their father to lung cancer while Shannon was in 8th grade.
Growing up, Sharpe had to make ends meet by working on a farm and in tobacco fields. His academic records show he attended Glenville High School and later Savannah State College where he bagged a degree in criminal justice. His athletic abilities were evident from a young age and he was active in various sports, including basketball, football and track and field. Though he played all these sports while in school, Sharpe eventually turned his focus fully to football, a decision that has since paid off.
Shannon Sharpe had impressive records in high school and college. Notably, for three years (from 1987 to 1989) he was named to the All-Southern Intercollegiate Athletic Conference team. He was also named the Conference Player of the Year.
Given his outstanding collegiate career, Sharpe's skills on the field could not go unnoticed. His golden chance to become a professional came in the year 1990 when he was drafted by the Denver Broncos into the NFL in the seventh round.
He played as a tight end with the NFL side for 10 years before transferring to the Baltimore Ravens as an unrestricted free agent in the year 2000. In 2001, while playing for the Ravens, Sharpe again made history as the tight end with the highest number of receptions and receiving yards. However, his stint with the team was a brief one which lasted for just two seasons. He thereafter returned to Denver and played his two final years with the Broncos.
After a professional career in the NFL that spanned 14 years, Shannon Sharpe retired as the tight end leading all-time in catches, yards, and touchdowns. With a pro football career statistics of 815 receptions, 10,060 yards, 62 touchdowns, eight Pro Bowl selections, and three Super Bowl rings, Shannon sure made his presence felt in the league. More so, he was named first-team All-Pro and All-AFC for four years (1993, 1996, 1997 and 1998) and was selected to the NFL's All-Decade Team of the 1990s.
After his retirement, Sharpe became a sports analyst renowned for his genuine and incisive commentaries. He currently serves as the co-host of FS1's debate show Skip and Shannon: Undisputed with Skip Bayless.
Family – Meet His Wife and Kids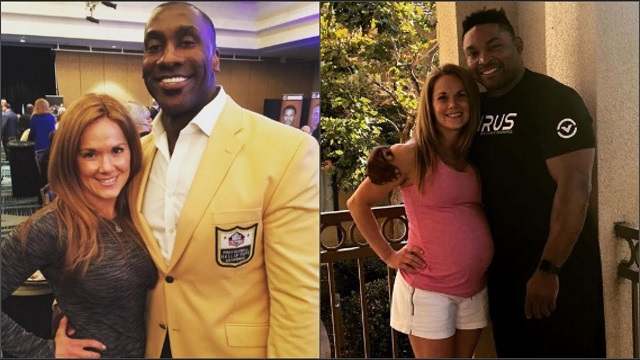 Though most of his professional life has been under the spotlight, Shannon Sharpe prefers to keep his private life under the radar. However, he is known to have never been married and may possibly be single. The former NFL star was in a long term, interracial relationship with Katy Kellner, a Flywheel fitness instructor. The pair were seen together severally around Los Angeles and after dating for quite a while, the two got engaged in 2016.
Many believed Shannon and Katy were still an item until sometime in 2018 when the fitness instructor revealed that she was pregnant with another man's baby. According to Katy, her baby daddy is a fitness instructor named Marlon Byrd. The news was an obvious pointer to the fact that Shannon and his longtime girlfriend had parted ways. While it lasted, the pair's relationship produced no children but they shared three dogs together.
However, Sharpe is the father to three children; daughters Kayla and Kaley, and a son named Kiari. All three kids, who are from different and previous relationships, live in Georgia and Florida with their respective moms.
Brother
As mentioned above, Sharpe has an older brother. His brother is Sterling Sharpe, a former NFL wide receiver and five-time all-pro receiver who played for the Green Bay Packers. In fact, the former NFL star credits his career success to his older brother and ever doting grandmother who died in 2016 at the age of 89.
Shannon Sharpe's Net Worth
Hall of Famer Shannon Sharpe enjoyed a very lucrative NFL career while it lasted. During his active football days, he reportedly earned about $900,000 as salary and also enjoyed a good number of endorsement deals. While his current salary as a sports analyst is unknown, Sharpe's net worth is estimated to be around $8 million.
What Is His Height?
Former NFL star Shannon Sharpe towers at a height of 6 feet 2 inches (1.88 m). As is evident by just looking at him, the muscular body built analyst weighs about 103 kg (227 lbs).