Shante Broadus is a celebrity spouse whose profile should not escape your attention. Besides her fame as the other half of one of Hollywood's longest-running couples, Broadus has an impressive résumé. She was sprung to the spotlight more than two decades ago following her marriage to the legendary rapper, songwriter, record producer, singer, actor, and reality TV star Snoop Dogg.
While hip-hop fans may be well informed about the rapper's life and career, it is uncommon knowledge that his wife is more than just a homemaker but also an entrepreneur and a philanthropist. Besides, apart from several onscreen appearances, she has equally earned a place behind the cameras as a producer.
Shante Broadus and Snoop's Marriage First weathered a Storm In 2004 After the Rapper Filed For Divorce
Shante Broadus and Snoop Dogg have been married for more than two decades but their love story hasn't been without its own challenges. Worthy of note is the 2004 scandal when the rapper claimed he was done with their marriage and filed for divorce on the grounds of irreconcilable differences.
Dogg who was at the time caught up with the Hollywood lifestyle later admitted that the real reason for his decision was infidelity on his part during music tours. According to the rap artist, he was losing sight of his marriage and focusing more on girls and partying. But after realizing that his wife was irreplaceable, the rapper who claimed the music industry can blur someone's vision withdrew his petition, went back home and fell back in love with his wife and kids.
Daughter, Cori's Health Condition Shed A New Light On The Situation
More so, their daughter Corri Broadus' health condition at the time was a uniting factor that held the couple back from parting ways. After Shante Broadus and Snoop's only daughter was diagnosed with Lupus, the rapper admitted that the reality of his little girl's situation showed him that they needed to keep a united front. In fact, he admitted to doing some begging for Shante to take him back which she did after realizing how much they needed each other. In an interview, the rapper's wife said that the turnout of events was really amazing, they were set to get a divorce one moment but realized they wouldn't have gotten through with it the next moment.
Shante and Snoop soon found their spark again, and on the 10th anniversary of their marriage, the rap artist surprised the mother of his children with a vow renewal as advised by his friend Charlie Wilson. The party which took place on the 12th of January 2008 was hosted at Wilson's 20-acre ranch in California. Shante Broadus who was clueless about the party was really surprised to encounter 200 guests at the venue.
In another interview, Snoop Dogg said that marriage is not easy at all, and to succeed, you need a lot of help and must be willing to receive it, and also be willing to get checked. They also celebrated their 19th wedding anniversary, sharing throwback photos.
The Couple's Union Faced Two More Difficult Challenges
In 2008, the Gin and Tonic rapper discovered that he fathered a son from his relationship with Laurie Holmond while married to Shante. At that time, the story made the headlines bringing another round of controversies with it. The couple later got the situation under control but not without a huge struggle. Shante Broadus had to come to some certain agreements with the rap artist regarding his illegitimate son; that he won't try to initiate or maintain a personal relationship with the boy but can only pay child support.
Again in mid-2018, Shante Broadus' husband was embroiled in another infidelity scandal after a lady identified as Celina Powell alleged that she and the rapper were having an affair. Despite the backlash Snoop and Shante faced following the allegations, they have continued to wax strong together and show no contrary signs in the near future.
Shante and Snoop Have been Married 23 Years With Three Children
Shante and Calvin Broadus – Snoop Dogg were high school sweethearts who enjoyed a wild romance. Convinced that their destiny was tied together, Shante and Calvin began procreating even before their relationship was made official.
The couple's first son Cordé was welcomed in August 1994 while the second Cordell came in February 1997. A few months later, the duo exchanged marriage vows on June 12, 1997, in a beautiful ceremony at Marina Del Rey's The Ritz Carlton. After two years, their daughter Cori joined the family. At age six, Cori began shedding weight and hairs. The condition was later revealed to be Lupus but thankfully, she was effectively treated and now lives a healthy life.
Cordé Broadus – Oldest Son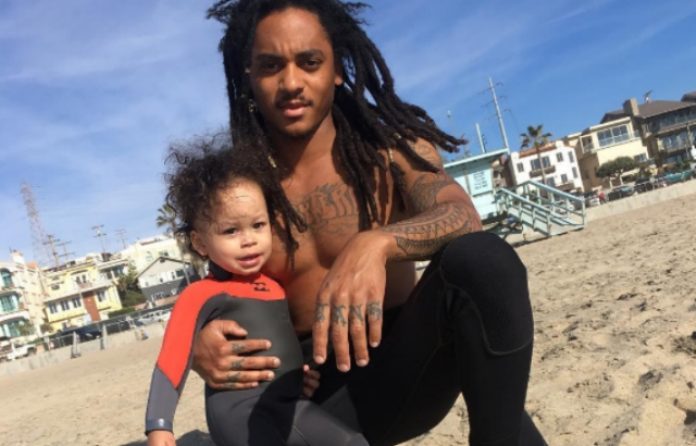 Cordé is the oldest of the couple's children and has gone past his mid-twenties. Though he is yet to be married, Snoop's first son is a three-time father, his first son Zion, is a product of his relationship with Jessica Kyzer. Cordé Broadus had his daughter, Eleven Love, with girlfriend Soraya Love, but his attempt to have a third child ended in disappointment after the new baby Kai died 10 days after birth in September 2019.
Son, Cordell Broadus Played College Football
He is a former football player for ULCA; Cordell Broadus claimed he used to play to make his father happy, but presently, the rapper's second son who is in his early twenties works as a streetwear designer and fashion model, and has walked the runway for top brands like Tommy Hilfiger. He has starred in campaigns for the likes of Kenneth Cole and MCM Worldwide. Though Cordell is still, as of 2020, a student at ULCA studying film, he has become a father, welcoming his first child in April 2019 with model girlfriend Phia Barragan.
Daughter, Cori Broadus Has Followed In Daddy's Footsteps
Shante Broadus' only daughter Corri born on 22 June 1999, has apparently inherited her father's musical genes. Besides featuring on Snoop Dogg's album No Guns Allowed, Cori who is inclined towards the R&B genre has at least three singles to her credit under the moniker CHOC. Cori has also become an example to other girls as she embraces her natural beauty, sharing pics with her natural short hair on Instagram. A budding star to watch out for, Cori was once nominated for the MTV Video Music Award under the Best Video with a Social Message category.
Snoop's Son Julian Broadus Is Also An Aspiring Musician
Last but not least, Julian Broadus Snoop's illegitimate child is a student at the University of California majoring in Biology but seeking to switch to Business. His promising career in basketball was cut short by a broken hand and led him to explore his other passion: music. Like Cori, Julian is also an R&B singer.
Save From Being A Celebrity Wife Shante Broadus Has A Career Life
Having been a long-running celebrity spouse to a statuesque figure, Shante Broadus has some screen credits. Besides featuring on her husband's reality TV series Snoop Dogg's Father Hood, Shante has appeared on popular TV shows such as The Mo'Nique Show, E! True Hollywood Story, as well as the documentary Reincarnated, among others.
The wife of the Gin and Tonic rapper has also proved her proficiency behind the camera as she takes the credit for the production of a couple of projects. The mother of three leads an entertainment company called Boss Lady Company and has a purse line as well as a dance studio.
Shante Has Amassed A Fortune In Excess Of $5 million
Though her annual remuneration has never been specified, Snoop Dogg's wife has accumulated quite a tidy sum as net worth. As at the last review, her wealth was pegged at $5 million by reliable sources like Celebrity Net Worth. Shante made her fortune from business as well as her gig in entertainment.
On the other hand, her spouse is doing just great with a jaw-dropping net worth of $150 million. Thus, even in the absence of her own wealth, Shante Broadus entertains no financial worries as she is comfortably buoyed by her husband's massive wealth.