Sharon Horgan and Rob Delaney hit our screens at the dawn of 2015 with Catastrophe! And it was "catastrophe" indeed as the duo landed themselves into the highly unexpected and unwanted. American comedian, actor, and writer, Rob Delaney together with a colleague from Ireland, Sharon Horgan created a television situation comedy show titled Catastrophe in which the duo co-starred. The series follows Delaney (starring as Rob Norris) and Horgan (as Sharon Morris) who started off as single people on a fun fling in London. Contrary to their plans, Sharon unexpectedly became pregnant, forcing the two to start a family together.
The highly received 4-season show which first aired on January 19, 2015, ran on Channel 4 until February 12, 2019. It also featured other popular actors and actresses including Mark Bonnar, Ashley Jensen, Carrie Fisher, Jonathan Forbes, and others in supporting roles. The British TV sitcom has since earned Horgan and Delaney numerous award nominations out of which they both won the BAFTA TV Craft Awards for Best Writer in Comedy. It also earned the two comedians their first Emmy nomination in 2015.
Meanwhile, owing to their onscreen chemistry and wedlock, many began to think that Horgan and Delaney are man and wife in real life. But…
Are Sharon Horgan and Rob Delaney Married?
The answer is a straight NO! Sharon Horgan and Rob Delaney are not married in real life. A look at Rob and Sharon behind the cameras reveals that the duo met on Twitter several years before the birth of Catastrophe. They had developed their friendship online as the years went by, while co-writing the comedy script. The comedians picked the title of the show from a quote from the 1964 movie, Zorba the Greek wherein a character referred to his family as "full catastrophe". By the time they finally met in person to put finishing touches to what would become Catastrophe, the two had already built a mutual bond which facilitated their naturally-occurring compatibility on the TV show.
Meanwhile, each of the two has a real-life husband and wife; but not without actual similarities to the characters on Catastrophe. Let's get down to knowing them better.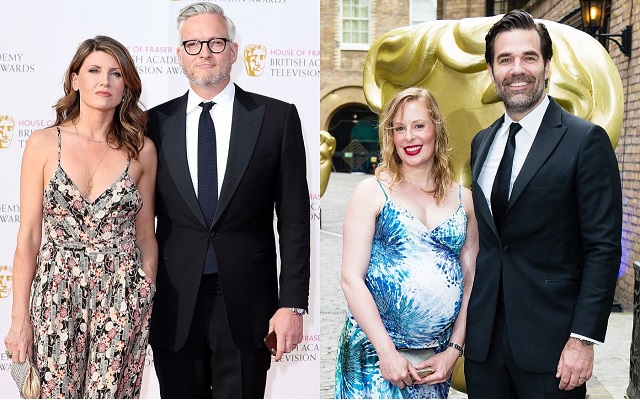 Sharon Horgan's Real Husband
Sharon Horgan (b. July 13, 1970) is an award-winning Irish actress, comedian, writer, producer, and director who started her professional career in the early 2000s. Aside Catastrophe, she is popular for writing and starring in several screen works such as Valiant (2005), Pulling (2006-'09), Angelo's (2007), Dead Boss (2012), Divorce (2016), Game Night (2018), and so on.
Sharon Horgan's husband is Jeremy Rainbird. Just like Rob Norris, Jeremy Rainbird is a business executive, precisely a media and property entrepreneur. Horgan and Rainbird had a legal marriage at the Chelsea Register Office, London, England on the 16th of October, 2005. Similar to what happened in Catastrophe, Horgan unintentionally became pregnant just six months after she started dating Rainbird. The duo consequently tied the knot straightaway, three months before their first baby's arrival. They now have two daughters – Sadhbh Rainbird (b. 2004), and Amer Rainbird (b. 2009). The couple live in their native town of Hackney, London; precisely in Victoria Park with their children.
Also See: Rob Lowe's Bio, Wife, Sons, Family, Age, Net Worth, Height, Brother; Is He Gay?
Rob Delaney's Real Wife
Rob Delaney (b. January 19, 1977) is an American comedian, writer, and actor. Just like Horgan, Delaney also kicked off his career in the early 2000s. He later made his screen debut in Wild Girls Gone (2007). He, however, only gained popularity after he began sharing his jokes on twitter in 2009. Rob later appeared in small roles on the blockbuster films, Deadpool 2 (2018) and Hobbs & Shaw, (The Fast and the Furious 2019 spin-off).
Rob Delaney is married to Leah Delaney. Coincidentally, Leah is also a teacher just like Sharon Horgan on Catastrophe. Leah however, also works as a stylist. Rob and Leah started their relationship sometime in 2004 after meeting while volunteering with people with disabilities. The couple, unfortunately, lost their third son, Henry aged around two in January 2018 after he suffered from a brain tumor diagnosed in 2016. They are now left with three sons, the last of whom arrived some months after Henry's death. Together with their children, the family has their abode in London, England.