Sharon Reed is no new face in the broadcasting field. For nearly two decades, the Atlanta-based journalist has been an outspoken and dominant force in the newsroom. More recently, she found more fame after making comments about the Atlanta mayoral race.
The courageous comments made Reed one of the most recognized personalities on CBS46. It also spread her fame nationwide as she earned a mention on popular late-night shows, including The Daily Show with Trevor Noah. Since then, Reed has never looked back and continued to breach new horizons in her career. This includes an interesting dip into the world of movies and TV shows.
Her Time At Various Local Stations In The City Of Cleveland
One can hardly delve into the journalism industry without some form of professional training and Sharon Reed is no different. She first studied English and Government at Georgetown University before proceeding to bag a Master's in Broadcast Journalism from Northwestern University. She subsequently landed her first job in front of the camera in 2002, working as an anchor for two Ohio-based stations, WOIO and WUAB.
Reed didn't work directly with the networks but through a syndicated station named Cleveland 19 WOIO. During her time with them, she appeared as an evening anchor for various programs. She also had a brief stint as a sports reporter, covering games and interviews of NBA side, The Cleveland Cavaliers, between December 2005 and June 2006. In all, Sharon Reed spent a total of ten years in the city of Cleveland. She then moved on to St Louis, where she worked as an anchor/reporter for KMOV, before joining Atlanta-based station, CBS46, in June 2015.
The Sterling Contributions She Made To The Growth Of CBS46
At CBS46, Sharon Reed continued her role as an evening news anchor; taking charge of the 4 pm, 5 pm, 6 pm, and 11 pm newscasts on weekdays. She also joined the CBS46 Investigates Team. This was an award-winning unit that followed up on tips about companies, individuals, or government agencies and dished out exclusive investigations, hard-hitting reports, and the latest breaking news.
Reed would spend a total of four years at CBS46 during which she actively contributed to the network's unprecedented growth. She helped her employers take ownership of the coverage of several local events, including the Atlanta Pride Parade and the SEC championships. She also co-anchored their praise-worthy coverage of the Super Bowl LIII in February 2019.
Another area where Reed made a great impact was the CBS46 news-at-9 program on Peachtree TV. This was a first of its kind in the Atlanta market and offered an improvement on traditional newscasts. This was because it was quite opinionated and allowed the anchors to hold deeper discussions. Reed not only helped to launch this revolutionary newscast but also served as one of the anchors. Ironically, it was during her time on the show that the infamous racist incident that propelled her to nationwide spotlight occurred.
The Racist Email That Sharon Reed Confronted On-air
To fully understand what went down, it is important to get some background information on the whole incident. During the December 2017 mayoral race in Atlanta, the competition was between two female contestants. One white and the other black and this naturally made the issue of race a focal point of the conversation. Another fact that also made it racially-charged was that Atlanta had never had a white mayor since 1969.
Sharon Reed and her fellow CBS46 anchors naturally covered the racial dynamics that played out during the election and made several comments in that regard. Some of her comments irked one of the viewers who then wrote her a scathing email. In the mail, the woman identified as Kathy Rae accused Reed of making race-baiting comments. She also berated Reed for implying that white people can't talk about racial issues and went on to call the reporter the "n-word".
A bold and courageous Reed read out the mail live on-air and clapped back in a more classy way. She stressed that the woman mischaracterized her words and viewpoint and concluded by stating that Rae's negative words had exposed her as the true racist. Such a classy takedown immediately went viral on both the mainstream and social media. It was also featured on popular programs such as Trevor Noah's The Daily Show. Reed later revealed that she received overwhelming support from both white and black people alike and that this warmed her heart.
She Has Joined The Cast Of Ambitions With Plans To Become A Producer
After four eventful years at CBS46, Sharon Reed bade the network farewell upon the expiration of her contract in May 2019. According to the news anchor, it was a difficult decision but she had some exciting projects which she needed to explore full-time.
One of those interesting projects is production.
The Philly native hopes to produce her own content one day. It could be in the area of sports, pop culture, or even politics as these are all fields that she is quite passionate about. Reed is hard at work making all the underground moves that would make her dreams a reality. In the meantime, she is keeping busy by trying her hands at acting.
The former CBS46 anchor can be seen in the OWN drama, Ambitions – a multigenerational family saga that explores love, power, and politics in the city of Atlanta. The series debuted in June 2019 and Reed cameoed as herself, a passionate journalist who gets to exclusively interview the main protagonists. She described the whole filming experience as wonderful and fun. She also described her fellow castmates as beautiful and kind. Such warm descriptions were also reciprocated as the shows co-creator, James Giddens, described Reed as a natural at acting.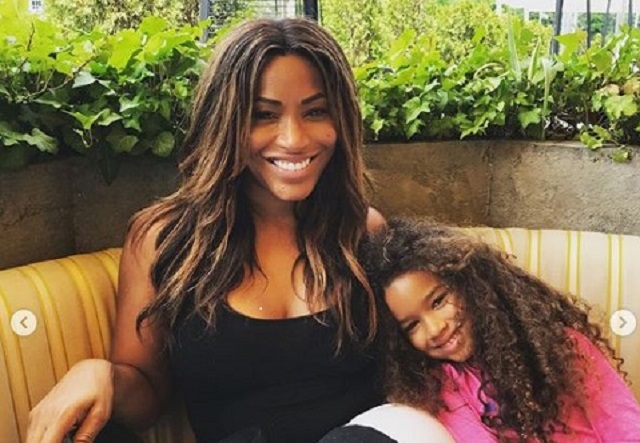 Truths About Her Rumoured Entanglement With LeBron James
Sharon Reed is one of those public figures who prefer to keep details of their personal life discreet. She has therefore not been generous enough to share aspects of love life, past or present, with the media. It is however obvious that she must have been in a relationship at some point, given that she is the proud parent of a daughter named, Eva. Like most of her other personal details, Reed has also been quite discreet with information about her child. However, the Atlanta-based journalist is presumably living her best life and has often been publicly spotted with her daughter in town.
Due to Reed's reticence to unveil details about her baby father, there have been lots of speculations with some claiming that it is NBA superstar, LeBron James, who fathered her daughter. According to the rumour mill, Reed and James became entangled during the time he was playing for the Cleveland Cavaliers and she was covering the team. She eventually got pregnant for him and the whole situation caused a nightmare for the Cavaliers as James was already married to high school sweetheart, Savannah. The team, therefore, reached out to Reed's employers, WIOI, to ax her from covering their activities.
The organization allegedly acquiesced and later fired Reed for violating their morals clause. These rumours gained quite a bit of traction in 2012 and were covered by several reputable news outlets. It also went viral online but Reed refused to directly address it. She instead preferred to share some inspirational quotes on her timeline. The news anchor later spoke out during an appearance on V-103 in August 2017. She told host, Ryan Cameron, that there was no baby with LeBron and that she refrained from fighting the rumours too hard as that would make her look guilty.