Shawn Killinger is a prominent TV personality who has worked her way to the top. Though not initially a journalist by training, she defied the odds and today has established herself as a household name, as well as, worked alongside some industry legends. More than just being a reporter, newscaster, and anchor, here's all you need to know about the QVC TV host and why she appears increasingly endearing to fans…
Shawn Killinger Bio
The Michigan native was born Shawn Elizabeth Killinger on November 2, 1972. Though born in Detroit, Killinger's family moved a lot and she was consequently raised in different towns including Mexico and Pennsylvania. Shawn had her elementary education at the American School Foundation, Mexico after her family relocated to the Latino country. She then proceeded to study marketing at Penn State University.
Shortly after her graduation in 1997, Shawn relocated to New York and kicked off her career in journalism with CBS. During her two-year stint with the popular media outlet, Killinger served in different capacities and gradually rose through the ranks. Some of her roles in CBS include running scripts for the Evening News with Dan Rather, also working behind the scene for The Late Show with David Letterman and then the Assistant Producer on Foreign Desk.
Next, Killinger made the big leap by working in front of the camera. She worked as a reporter and anchor for FOX Channel and CBS stations in New York and Florida. Shawn's next big move was in the popular reality TV show The Apprentice by Martha Stewart. But Killinger was not so successful on the show as she became the third of sixteen contestants to be evicted following her popular mantra "Fake it till you make it."
While Killinger's pop phrase did not initially sit well with the show host, prompting her eviction, fate later brought Killinger and Stewart together after the show as they worked together to promote her QVC apparel line. Shawn joined QVC in 2007 as a host for the e-commerce and TV Shopping giant. Since she joined them, the retail company has recorded tremendous success and sales boost.
Net Worth
With over two decades in the industry, Killinger has done well for herself and earned a decent financial portfolio. Her salary as a QVC host is about $47,026, which makes up the bulk of her earnings. Shawn's current net worth is estimated at $1 million.
Meet Her Husband
Shawn Killinger has not only enjoyed success in her profession but also in her marriage. She is happily married to Joe Caretta, a consultant. The lovebirds who met online through a dating site soon established a magical connection and officially tied the knot on the 13th of April 2013.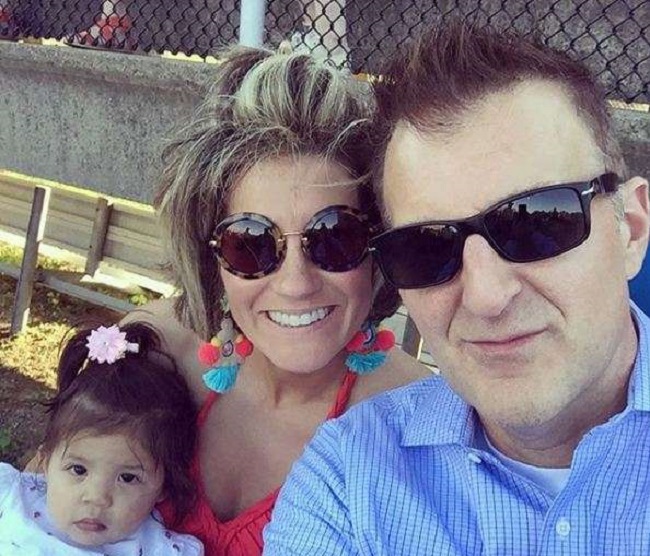 Shawn and Joe are parents to three kids – two boys and a girl. Interestingly, all three kids are not biologically hers. The boys are children from her husband's previous relationship while the girl is adopted. Shawn and her husband Joe have not had it easy while trying to expand their family. The prominent TV star once revealed that she got pregnant in 2014 but unfortunately miscarried the pregnancy at five months. It was after the miscarriage that the couple opted for the adoption of their baby girl Jagger Jude in the summer of 2017.
A doting wife and mother, Shawn has been quite generous in sharing details of her personal life with the public. She often shares some of her special family moments with her fans on different social media sites. Killinger and her husband Joe have apparently been going on strong and show no signs of any discord anytime soon.
Cancer
Unconfirmed sources have claimed that Killinger is suffering from cancer. But the TV personality who is known to be open about her personal life is yet to confirm nor deny the reports. However, the speculations may have stemmed from the fact that her father is a cancer survivor who once battled with the terminal disease. Until proven otherwise, we can safely say Shawn Killinger is cancer-free.
All You Must Know About The QVC Host
1. Moving with trends, Killinger is not just confined to the traditional media but has an active social media life. She has a huge following on various popular online platforms such as Instagram, Facebook, and Twitter.
2. Killinger who is known for her slim build stands at an average height of 5 feet 5 inches (1.68 meters) and weighs 50.3 kg (111 lbs).
3. Shawn Killinger is bilingual, thanks to her childhood years in Mexico. Besides English, she also speaks fluent Spanish.
4. The iconic TV personality is a self-proclaimed wanderlust traveler. Besides her family's frequent travels as a child, she has also made personal global travels. One of such is her visit to Geneva, Switzerland during her undergrad years and while working with prominent international organizations.