Sheri Moon Zombie is an American actress whose career and horror inclinations have established as a household name. The ravishing scream queen is a loyal wife and partner renowned for sharing her acting career with her rocker/filmmaker husband. As Rob Zombie's music and movie muse, Sheri has long been pivotal in her husband's career, preferring mostly to work on his projects. Discover amazing facts about the modern era scream queen, model, fashion designer, and blogger.
Sheri Moon Zombie Bio (Age)
Sheri Lyn Skurkis is a Californian born on September 26, 1970. She and her younger brother were born to William and Carol Skurkis. Though her birthplace is San Jose, Sheri was raised in Torrington, Connecticut. Her academic records show she attended Plainville High School and later the Connecticut School of Broadcasting. Her choice of the tertiary institution was inspired by the long term dream of becoming a famous media personality and VJ, however, for reasons unknown, Sheri did not graduate from the career college. She later relocated to Los Angeles in pursuit of other interests.
Sheri Moon Zombie made her acting debut playing Vera-Ellen "Baby" Firefly in the 2003 movie House of 1000 Corpses which was directed by her husband Rob Zombie. Given her outstanding performance in the movie, Zombie not only won the hearts of many but also established herself as a leading horror actress. She has subsequently featured in all horror-themed movies directed by her husband and several others.
Some of her notable features include starring roles as Daisy Rain in Toolbox Murders (2004), a reprisal role as Baby Firefly in The Devil's Rejects (2005), as Deborah Myers in Halloween (2007) and Halloween II (2009), as Eva in Grindhouse: Werewolf Women of the SS (2007), as Heidi Hawthorne in The Lords of Salem (2012), and as Charly in 31 (2016). On the small screen, Sheri Moon Zombie has made guest appearances in TV series such as Californication and CSI: Miami.
Her Husband and Kids
Sheri Moon Zombie's better half is the musician and film director Robert Cummings who is now known as Rob Zombie. The couple's love journey dates back to 1993 when they first crossed paths at a Connecticut club. Interestingly, their story is not one of love at first sight as Rob had to work his way into Sheri's heart. They soon established a romantic connection and began co-habiting.
After courting for about nine years, Rob and Sheri decided to make their relationship legal. Their proposed wedding date was the 9th of November 2002, but in an interesting turn of events, the unusual and spooky couple eloped before that date on the 31st of October that same year.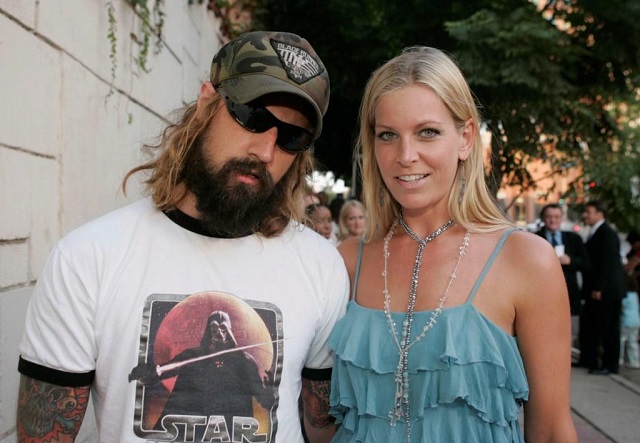 Considered the first couple of modern horror, the Zombies support each other both personally and professionally and prefer to work together as a unit on most of Rob's projects. Sheri and Rob who have been together for over two decades are going strong and show no signs of discord in the near future.
The Zombies are not family-oriented and have no kids. In fact, Rob once stated that he doesn't really like kids and the feeling is apparently mutual for the couple. Given their repeated insistence about not wanting to start a family, many people doubt that it would ever happen.
See Also: Gia Casey – Bio, Family, And Facts About DJ Envy's Wife
Facts About Rob Zombie's Wife
1. Robert Cummings legally changed his surname to 'Zombie' in the year 1996. His wife followed suit in the same year, first changing hers to 'Moon' and then after marriage, she officially changed it to Sheri Moon Zombie.
2. It is worthy to note that the scream queen did not originally plan to make acting her career. Her preferred interest was to become a voice artist for cartoons/animations. However, it was while training as a voice actor that she met her future husband Rob who was part of the White Zombie band and later a solo artist. Sheri first worked with her husband as a choreographer and dancer on the band before they broke away.
3. In addition to being an actress, Sheri has added fashion designer and blogger to her résumé. She has a clothing line (Total Skull) and runs a food blog that dates back to October 2014. On her Eat Me blog, Sheri shares some of her vegan recipes and challenges with fans.
4. Sheri Moon Zombie's outstanding horror roles have earned her some prestigious recognition. She won the Scream Award by Spike TV for the iconic character Baby Firefly in The Devil's Rejects. Again in 2007, Sheri was crowned the modern-era scream queen by USA Today.