Fans of the popular Wheel of Fortune game show would undoubtedly be familiar with details about Pat Sajak's professional and personal life. But not much is known about his first wife Sherrill Sajak who despite her separation from the famous TV personality still takes credit for being part of Sajak's success journey. Here's an insight into the life of the ultra-private former celebrity spouse.
Sherrill Sajak's Bio
Going by public records before and after her erstwhile relationship with Pat Sajak, it is safe to say Sherrill has mostly led a reclusive lifestyle. Apart from her relationship with the famous TV personality, there is little or no information readily available regarding her birthplace, parents, siblings, family background, childhood, and education. Besides the common knowledge that Sherrill was born in 1945, her exact birth date is unknown. In fact, prior to marriage, she bore the middle name James but her maiden name still remains a mystery to the media.
Moreover, her career endeavors are unknown. Sherrill was sprung to the spotlight following her relationship with Pat Sajak and enjoyed fame for only a short while before things went awry. It is uncertain if she was a full-time homemaker or had other ventures through which she earned a living.
She Was Married to Pat Sajak for 7 Years Without Having Kids
Sherrill Sajak was once a happily married woman. There is little or no information about when, where and how the media-elusive former celebrity spouse met her ex-husband. Nonetheless, the former lovebirds made their romance official in 1979 by exchanging nuptial vows. But just when many thought the couple was fully settled in forever, news emerged that their relationship had gone south. Unfortunately, after seven years together as husband and wife, Sherrill and Pat Sajak parted ways sometime in 1986 and the reason for their divorce has never been disclosed to the public. Moreover, their union produced no kids while it lasted.
She Went Quiet After their Divorce
Since she does not have any claim to fame on her own, Sherrill Sajak totally disappeared from the limelight after her divorce. Consequently making it difficult to ascertain what she has been up to thereafter. Given her ultra-discreet lifestyle, it remains uncertain if she found love again or later had any other kids of her own.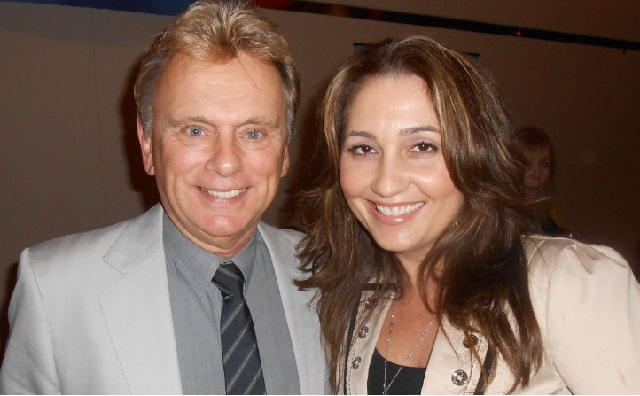 Her Ex-Husband, Pat Sajak, Found Love in Lesly Brown
On the other hand, the same cannot be said of her famous ex-husband. Three years after their divorce, Pat Sajak found love again in the arms of Lesly Brown. After dating for a while, Pat and Lesly officially tied the knot in 1989 and have remained inseparable for nearly three decades. Together, the couple who live in Maryland has two children – a son Patrick Michael James Sajak and a daughter Maggie Marie Sajak.
Pat's daughter seems to have inherited her father's entertainment genes. A fast-rising country music singer, Maggie has a few recorded songs under her belt. She is also a talented lyricist, vocalist, and instrumentalist who plays the guitar, piano, and ukulele. Besides her music career, Maggie is also a model currently pursuing a degree at Princeton University and has made it to the cover of some prestigious magazines including Teen
Vogue.
Unlike Sherrill Sajak, whose professional background is unknown, her ex-husband's second wife, Lesly Brown-Sajak is a professional photographer and actress. Though best recognized as Pat Sajak's long-term wife, Lesly also has impressive career accomplishments.
Sherrill Sajak's Net worth
As earlier hinted, there are no public records of Sherrill Sajak's career endeavors before and after her marriage to Pat. She has since disappeared from the limelight and is more comfortable living her life under the radar. Thus, it is uncertain how she currently makes a living.
However, Sherrill is believed to have enjoyed part of her ex-husband's fortune before they went their separate ways. Though he was already a DJ and a TV show host, Pat Sajak found fame in 1983 when he began hosting the popular show Wheel of Fortune and was still married to Sherrill at the time. In addition to dishing out good fortunes to others, Pat Sajak has also successfully accumulated his own fortune.
The Wheel of Fortune star who reportedly earns about $15 million annually currently has a net worth estimated at $55 million. It is, however, worthy to note that Pat's financial portfolio wasn't this robust at the time he was still married to Sherrill. With his earthy demeanor and quick wit, the TV personality gradually amassed his enviable wealth from hosting the popular Wheel of Fortune game show and from other endeavors over the years.
Other Details About Pat Sajak's Ex-Wife
Religion/Beliefs
There is little or no information about Sherrill Sajak's personal life and beliefs. Nonetheless, since she was once Pat's better half, it is believed the couple may have shared a few common interests. Besides being known as an avid supporter of conservative political parties, Pat Sajak is also a very religious man and is one of the members of 'Churches of Christ.
Iconic Accomplishment
It is no news that Sherrill Sajak's career endeavors are unknown. While details of her personal and professional life after Pat remains uncertain, she still takes credit for being part of Pat Sajak's long journey to fame. Pat is not just a successful TV personality but has sealed his name in history as one of the iconic entertainers in the Hollywood Walk of Fame.