Sidney Poitier is a legendary Award-winning Bahamian-American actor and director who is best known for starring in films like 'Lilies of the Field' and 'The Defiant Ones'. His film directing catalog includes movies like 'Let's Do It Again' and 'Ghost Dad' which both feature Bill Cosby.
In addition to winning various awards for his exemplary work and being one of the people who helped break the color barrier in the movie industry, Poitier has also been recognized by some of the greatest world leaders. In 1974, Queen Elizabeth II made him a Knight Commander of the Most Excellent Order of the British Empire (KBE) and later on in 2009, former U.S President Barack Obama awarded him with the highest civilian honor, the Presidential Medal of Freedom.
Sir Sidney Poitier, as he is now addressed, spent most of his days in the early 2000s as a diplomat. He first served as ambassador of the Bahamas to Japan from 1997 to 2007. He also concurrently served as ambassador to Unesco from 2002 to 2007.
Biography
Sidney Poitier was born as the youngest of eight sons to Evelyn and Reginald James Poitier on February 20, 1927, in Miami, Florida. There are, however, a few reports that say Poitier was born on Cat Island in the Bahamas on his father's tomato farm.
Poitier spent most of his childhood on Cat Island before moving to Nassau, the capital city of Bahamas, at the age of 10. By the age of 15, he was sent to Miami to live with one of his brothers. He spent a year there before moving to New York City where he taught himself how to read English and began auditioning for roles at the North American Negro Theater.
It took Poitier sometime to get the hang of things before he was given a leading role in the Broadway production 'Lysistrata'. He later transitioned to movies with his first film being 'No Way Out' (1950). His breakthrough role, however, came in 1955 when he featured in 'Blackboard Jungle'.
From then onwards, Poitier became a sensation in the movie industry. His performance in 'The Defiant Ones' (1958) earned him a nomination for an Academy Award, making him the first male actor of Bahamian origin to achieve it. He went on to win the award in 1963 for his performance in 'Lilies of the Field', becoming the first actor again of Bahamian origin to win an Academy Award for Best Actor.
With him being the only major actor of color being cast in leading roles at the time in Hollywood, Sidney Poitier continued to feature in a lot of movies including 'The Bedford Incident' of 1965, followed by 'Guess Who's Coming to Dinner' (1967), and 'In the Heat of the Night' of the same year 1967.
His directorial debut came in 1972 in the western film 'Buck and the Preacher' which he also starred in.
Net Worth
Sidney Poitier is said to have an estimated net worth of around $25 million which he has earned through his various roles in the movie business over the years and he continues to receive royalty payments from and also from his appointment as Ambassador.
Read Also: Is Morgan Freeman Dead? His Wife, Son, Height, Religion, Is He Gay?
Is Sidney Poitier Dead?
Sidney Poitier is very much still alive and kicking. The Hollywood veteran may not be as strong as he used to due to his age but however still continues to keep up with his huge extended family and from time to time can be spotted at a film-related function.
He has in the past been a victim of the online celebrity death hoax series which has proven to be false.
Who is Sidney Poitier's Wife?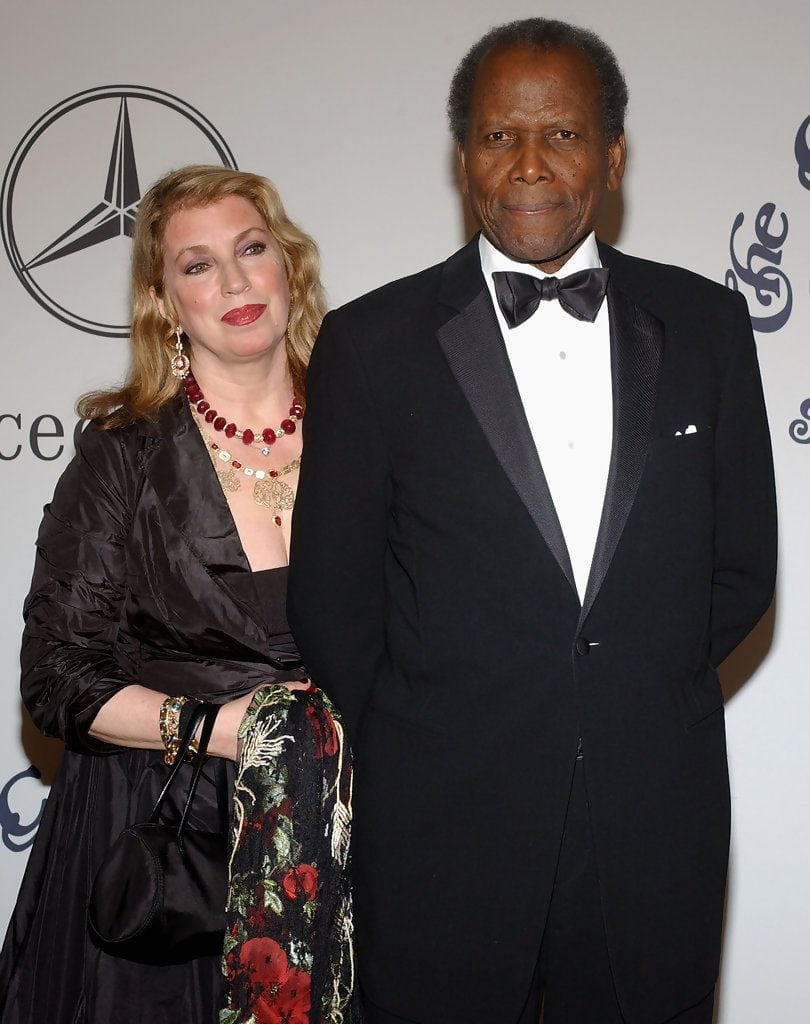 Sidney Poitier is married to Canadian actress Joanna Shimkus who is best known for her roles in movies like 'The Lost Man' (1969) and 'The Virgin and the Gypsy' (1970).
Shimkus, who is of mixed Lithuanian-Jewish, and Irish ancestry, became the renowned actor's second wife in 1976 after he divorced his first wife, Juanita Hardy, in 1965.
Who Are His Children?
Sidney Poitier has a total of six children from his two marriages, of which all of them are girls. Their kids are Beverly Poitier-Henderson, Pamela Poitier, Sherri Poitier, Gina Poitier-Gouraige, Anika Poitier, and Sydney Tamiia Poitier-Heartsong.
Poitier's youngest daughter, Sydney Tamiia who was born in 1973, followed in her father's footsteps to become an actress. She got a bachelors degree in acting from NYU's Tisch School of the Arts and also studied at Stella Adler Studio of Acting before landing her first roles in the late 90s. She continues to feature in movies and television series till this day.