They were popularly known as Alex & Sierra, the indie-pop duo that gained wide prominence after outstandingly winning the American music competition, The X Factor US in 2013. Sierra Deaton and Alex Kinsey happened to be the first and all-time music group that ever emerged winners of the show. The win had earned them a $1 million contract with recording giant, Sony. Moreover, two of the songs they used for the competition also broke records by becoming the first ever from The X Factor to top US iTunes charts.
Sierra Deaton and Alex Kinsey's Career
Sierra Deaton and Alex Kinsey's career as a music group officially kicked off in 2013 soon after they graduated from the University of Central Florida. In 2014 shortly after winning The X Factor show, Alex & Sierra released their debut album, It's About Us featuring their debut and lead single, "Scarecrow", and promotional singles "Little Do You Know" and "Just Kids."
Mid 2015, Sierra Deaton and her partner, Alex Kinsey were abruptly dropped by their record label, causing them to create their own independent label, The A&S Partnership. Earlier in the year, they toured major cities of the U.S with "The Good Guys & A Girl Tour" alongside Andy Grammer and Paradise Fears.
In 2016, the duo released an Extended Play titled As Seen On TV. The EP featured their X Factor songs alongside other new tracks. Prior to dropping their EP, Alex & Sierra had featured on the "We Were Young" track of Gareth Emery's 2016 album, 100 Reasons to Live. They also released their own version of Britney Spears "Toxic" on Yahoo! Music same year.
2017 saw the duo embark on "The Take Me Tour" around California alongside Canadian animator, JOHN.k.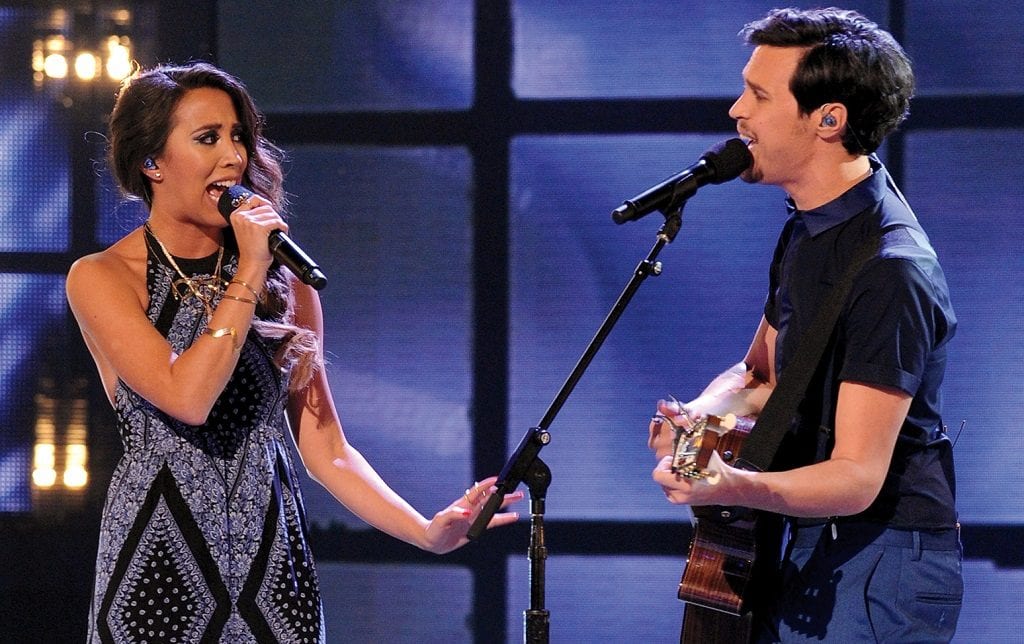 Is Sierra Deaton and Alex Kinsey Married or Still in a Relationship?
Sierra Deaton and Alex Kinsey were not only music partners, but they were also lovers. The duo met way back in 2009 on a beach in Florida while still high school students. They immediately became friends and started dating. The duo also started making music together since they had similar career interests. They subsequently created the self-titled music group Alex & Sierra in 2013 under which they performed and released songs.
Also See: 5 Key Facts You Need To Know About Above and Beyond Music Group
Unfortunately, on September 1, 2017, Alex & Sierra announced to the public via their twitter handle that they have ceased being a music group and a couple. That was after about 8 long years of dating and working together!
According to the long tweet, a lot of things had changed over the years which caused them to end their romantic relationship sometime in 2016. They however, kept on as friends because they wanted to keep Alex & Sierra alive. However, their continuing to work together caused them emotional strains and affected their music output negatively. And so a year later, they decided to end everything and entirely go their separate ways.
Sierra would later release a single all by herself, titled "Don't Hurt". She now goes by the professional name, Essy. As for, Alex he joined the music band, BoTalks comprising himself and Swedish musician Johan Lindbrandt.
And so the conclusion of the whole story is that Sierra Deaton and Alex Kinsey did not marry. They are also no longer in a relationship neither are they even friends!
More About Sierra Deaton
Sierra Deaton is an American singer, dancer, music recorder and instrumentalist. She was born on February 11, 1991, in Philadelphia, Pennsylvania to an English father and Vietnamese mother. Sierra is the second of two daughters of her parents, Vu and John Deaton. She grew up in Orlando, Florida from where she attended the Lake Howell High School in Central Florida. After high school, Sierra proceeded to the University of Central Florida for her Bachelors.
Sierra Deaton loved music performance right from her childhood. She started dancing at the very tender age of two. Growing up, Sierra trained in various kinds of dance including ballet, tap, jazz, hip hop, modern and Irish dance in which she won three international titles. Deaton also possesses expert skills in playing the piano.
More About Alex Kinsey
Alex Kinsey is an American singer, songwriter, born in New Smyrna Beach, Florida on September 8, 1991. Kinsey grew up in New Smyrna Beach where he attended the New Smyrna Beach High School. He also loved music from his childhood and started playing the guitar in middle school. Just like Sierra, Alex also earned his degree from the University of Central Florida.