Sihle Ndaba (born 13th of June 1989) is a South African television actress, voice-over artist, and singer who gained prominence after depicting the character of Smangele Maphumulo in SABC1's Uzalo. Since she left Uzalo, the 34 year old has been featured in a good number of television shows, though many of them were in supporting roles.
The actress, who was born in Ermelo in the Mpumalanga area of South Africa, is also into philanthropy. Ndaba established a foundation through which she assists primary school students with necessities. Presently, her focus seems to be on her home town Ermelo but she may still touch other areas in the future.
Profile Summary of Sihle Ndaba
Full Name: Siphe Sihle Ndaba
Gender: Female
Date of Birth: 13th of June 1989
Sihle Ndaba's Age: 34 year old
Zodiac Sign: Gemini
Nationality: South African
Education: Studied Musical Theatre at Tshwane University of Technology
Religion: Christian
Sexual Orientation: Straight
Marital Status: Single
Famous For: Her Role in SABC1's Uzalo
Instagram: thesihlendaba
Sihle Ndaba is a Native of Ermelo in Mpumelenga
The beautiful South African actress was named Siphe Sihle Ndaba at her birth on the 13th of June 1989. Her place of birth is Ermelo in the Mpumalanga area of South Africa. The entertainer has never brought detail about her father to the public place but Ndaba has let the world know that she was brought up by a single mother.
Describing her mother, Sihle Ndaba referred to her as a hard-working woman who didn't allow her to go one day without food. Her mum, she said, equally ensured she had the best education, as long as it was within her financial reach. According to the South African star, it was her kind of upbringing that triggered the inspiration to reach out to the less privileged in the South African society and make a difference in their lives.
Unfortunately, the actress didn't have her mom for long as the woman was shot in her presence. The time and place of this gory incident have never been mentioned, but Sihle Ndaba has mourned her mum and moved on. Since she was left without parents, Mkhulu stepped in as a father figure – a gesture that Ndaba receives wholeheartedly. She wrote him a heartwarming Twitter message on Father's Day celebration to show gratitude.
Happy Fathers Day Mkhulu ❤️ I have no doubt as to why God specifically allocated you to assume the role of Dad in my life. You've taught me everything I know about courage, sacrifice, faith and unconditional love. Ngiyabonga Nyambose ❣️ #RaisingChampions #ChampionDad pic.twitter.com/ZWvyVqNJJ3

— Sihle Ndaba (@thesihlendaba) June 17, 2018
Sihle Studied Musical Theatre to National Diploma Level
She spent a better part of her formative years in her place of birth Ermelo, Mpumalanga, it is believed that the actress cum reality television star acquired her basic academic qualifications in that region. However, when it was time for the rising star to go in pursuit of higher education, she choose the Tshwane University of Technology. Sihle Ndaba joined the citadel of learning in 2007 to study Musical Theatre, graduating in 2009 with a National Diploma. There seems to be no other record of further academic qualifications for the Uzalo actress.
Sihle Ndaba's Uzalo Role is Her Best Known Performance
When the SABC1 soap opera Uzalo debuted on the 9th of February 2015, South African movie and television actress, Sihle Ndaba was on hand to join its original cast. Sihle started appearing on the show as a recurring character which was maintained throughout the first and second seasons. However, with the advent of the 3rd season, the producers of the soapie saw the need to promote her to a series regular, giving expression to the character of Smangele Maphumulo.
Sihle Ndaba was so good in her depiction of Maphumulo, bringing her amazing acting skills to play. Soon, Uzalo became her best-known project and Smangele Maphumulo replaced her real name. Fans would rather call the actress Smangele instead of finding out her given name and Sihle just had to get used to that.
While she was breathing life into the character of Smangele Maphumulo, the authorities were also watching, and from what is obvious, they were highly impressed. Consequently, in 2018 the Sabela Awards bestowed the television star with Best Supporting Actress during that year's Durban Film Festival.
This is Why Ndaba Left Uzalo
On its own, Uzalo as a soapie made history in South Africa, emerging as the first TV show ever to challenge and beat Generations: The Legacy in the TAMS ratings for more than a decade; this happened in June 2015.
Unfortunately, as season four of Uzalo was about to take off, Sihle Ndaba was written out of the script alongside the character of MaNzuza portrayed by Leleti Khumalo. Sihle was last seen at the funeral of her character that aired on the 16th of February 2018 and this saw her end on the set of the most-watched soapie, Uzalo.
However, fans did not take her exit lightly as they were devastated that it may be the last time for Ndaba on TV, but their fears were allayed when she surfaced on the set of The Herd, playing Sbahle Xulu in seasons one and two, but that was just the smallest part. Sihle Ndaba also joined another of South Africa's popular shows, Isibaya playing the significant role of the high-spirited Cebisile Mkhize. She joined the cast of Isibaya in the sixth season and stayed through seasons seven and eight.
The Actress Has Been Featured In Other Notable Roles
It is common knowledge that playing Smangele Maphumulo on the set of Uzalo has remained Sihle Ndaba's biggest role to date, however, the SA star soon widened her horizon, appearing in other notable productions on TV.
The Mzansi Magic telenovela entitled Inkaba started featuring Ndaba as Pru during its first season. The actress was spotted on the set of Room 8 – an SABC1 drama series where she essayed the role of Qiniso. As the year 2013 was ushered in, the entertainer was featured as a guest actress in the 9th episode of Room 9 – the SABC1 supernatural drama series that aired on the 17th of January 2013. She showed up during the debut season of Gomora as Manzi.
Sihle Ndaba's TV Show Appearances
• Idols – Season 8
• iNkaba – Season 1 as Pru
• Isibaya – Season 6 & 7 as Cebisile
• Room 9 – Season 1 as Qiniso Kaleni
• The Herd – Season 1 & 2 as Kayise
• Uzalo – Season 1 – 5 as Smangele Maphumulo
• Zaziwa – Season 5
Her Voice Roles and Stage Productions
For her first voice role, Sihle Ndaba joined the Broadway musical, The Lion King from the stables of Walt Disney. There, she became an ensemble player – an understudy for the role of Symba's wife Nala. Back in 2011, the cast of The Lion King toured Singapore and on returning to South Africa, Ndaba entered for the eighth season of the M-Net reality competition series, Idols in 2012. The actress made it to the top 18 before she got eliminated. Durban singer, Khaya Mthethwa later emerged winner of the show.
Ndaba appeared as a guest actress on episode 28 of Zaziwa (season five) – the SABC1 talk show that aired on the 31st of January 2018.
Apart from onscreen roles, Sihle Ndaba has equally been active in stage productions. She showed up at the Market Theatre, Johannesburg, as part of the cast of Kwela Bafana. Ndaba was seen at Cape Town's The Fugard Theatre with the Freckle Face Strawberry and King Kong ensemble. She is also a capable hand behind the sage, functioning as the assistant director in Under the Baobab – the production was staged at the National Children's Theatre and had its run in 2014.
Sihle is associated with a good number of corporate clients – she has done commercials for the likes of Ford and Joko Tea. The actress' voice-over skills have been displayed in her work with Ponds, M-Net, Telkom, Vodacom, SA Home Loans, and more
Sihle Ndaba Foundation
On a Friday the 26th of October 2018, South African actress Sihle Ndaba proved that she has the milk of human kindness running in her veins. The Ermelo-born entertainer went to the primary school in her hometown (Kwandisamfuyo Primary, Ermelo ) to launch The Sihle Ndaba Foundation.
The foundation which has its main focus in primary education made donations of 100 pairs of shoes to pupils of Kwandisamfuyo Primary School. Ndaba didn't achieve this alone, she had help from several donors and partners. It is true the actress already won the hearts of many through her acting skills, the work done by The Sihle Ndaba Foundation has endeared her to even more people, especially lovers of education.
Ndaba is Active on The Love Scene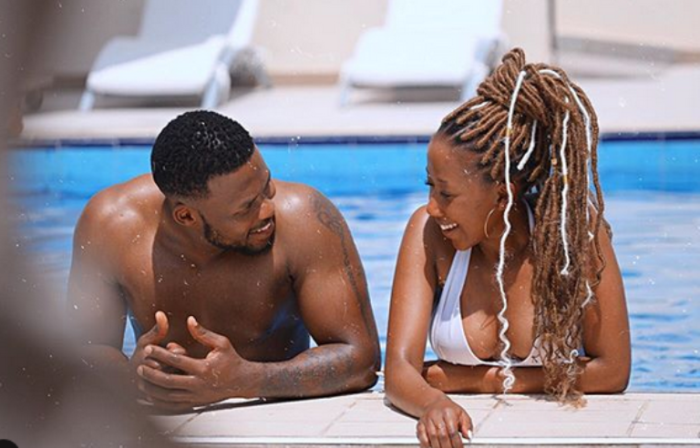 From what is obvious, Sihle Ndaba is the type that has no fears about bringing the identity of the man in her life to the public arena. The Uzalo actress seems to live on social media and when she is not sharing stuff about her foundation and acting roles, Ndaba will be caught gushing over her bae.
Her boyfriend is none other than the popular South African fitness trainer who goes by the name Matthew Stone. Matthew is a hunk of a man and it comes as no surprise that Ndaba loves to flaunt his photos on social media.
The actress is yet to become a mother but she treats her car like a child. Ndaba cruises around town in a BMW droptop which she has called Mercy. The actress is one who never misses a holiday as she obviously loves to enjoy the good life.