Simphiwe Ngema is an actress, presenter, reality TV star, musician, choreographer, MC, and businesswoman. The South African star is best known for depicting the character of Thuli Nkosi on the set of the most-watched soapie, Muvhango. Simz, as she is popularly called, recorded other roles in productions like The Queen, Bone of My Bones, Broken Vows, Isidingo, Greed & Desire, and the reality show known as PKs.
The actress was all set for a happily ever after relationship with her spouse, Dumisani Masilela, however, this fairytale love barely started before it was cut short. The Joburg native has since moved on to other relationships and is a mother of one.
Summary of Simphiwe Ngema's Biography
Full Name: Simphiwe Ngema
Nickname: Simz
Gender: Female
Date of Birth: 29 August 1989
Simphiwe Ngema's Age: 34 years old
Ethnicity: Black
Nationality: South African
Zodiac Sign: Leo
Sexual Orientation: Straight
Religion: Christianity
Marital Status: Widowed
Simphiwe Ngema's Husband: Dumisani Masilela
Simphiwe Ngema's Children: Tiyani Kemorena Michael Chinyani
Simphiwe Ngema's Parents: Given Ngema
Siblings: Baxolile
Simphiwe Ngema's Height in Inches: 5 Feet 6 Inches
Simphiwe Ngema's Height in Centimetres: 168 cm
Simphiwe Ngema's Weight: 65 kg
Body Measurements in Inches: 36-28-36 inches
Body Measurements in Centimeters: 91.44 – 71.12 – 91.44 cm
Famous For: Acting Career
Simphiwe Ngema's Instagram: @simzngema
What is Simphiwe Ngema's Age?
Being born on the 29th of August 1989 makes Simphiwe Ngema 34 years of age. The multi-talented South African lady's place of birth is captured by the records as Klipspruit, Soweto, Johannesburg. Simz is obviously of Black ethnicity with both parents from South Africa.
Simphiwe's mum and dad are ministers in the vineyard of the lord. In fact, her father who goes by the name Given Ngema floated his own church named Christ is Lord church (in 1998) in Zuurbekom, Johannesburg, where the actress spent her formative years. Simz shares a very close bond with her father who is also her namesake. Given brought her up with strong Christian ethics which explains the lack of scandal in her life, even in the world of showbiz.
Far from being the only child of pastor Given, Simphiwe shared her childhood with two sisters – a younger one and an older one with Simz as the middle child. Notable among the actress' siblings is her big sis, Baxolile. The actress is quite close to Baxolile who is a mother to a baby girl named Khumo.
Simphiwe Ngema once took to the picture-sharing platform to say that Khumo was among the reasons she succeeded in living through the trauma and heartbreak of losing her spouse at the age of 28.
Though none of her immediate family members is in showbiz, Simz has a great uncle who is one of the pillars of the South African entertainment industry.
Is Simphiwe Ngema Related to Mbongeni Ngema?
The name Ngema is quite common in South Africa as many families answer it as their surname. However, that did not stop South Africans from wondering if Simphiwe Ngema has blood ties with the entertainment industry's legend, Mbongeni Ngema, who is renowned for producing Sarafina.
To set the records straight, Simz does have family relations with the iconic producer as Mbongeni is an uncle to Pastor Given Ngema, making him Simphiwe's great uncle. Even though South Africans recognize the movie maker as a force in the industry, his marriage to Leleti Khumalo (Sarafina lead actress) took him to another level of fame, making him a household name in the country and beyond.
Simphiwe and her great uncle have collaborated on minor production which saw Simz introduce herself to Leleti Khumalo, the star of Sarafina. However, the two are not really close in real life.
The Story Behind Simphiwe Ngema's Name
According to Simphiwe Ngema, her birth was a difficult one for the family as she was far from what they were looking for. When the pastor's wife conceived for the second time, the couple were expecting to get a baby boy since their first child turned out to be a girl. They already had a boy's name for the baby and were highly expectant. Thus, when they received another girl, the couple just decided to give her the name even though it is supposed to be a masculine name.
The actress' given name has a beautiful meaning – it can be translated to mean "Our Gift" or "we have been given". From what is perceivable, Simz doesn't see anything wrong in answering a boy's name. In fact, the multi-talented star has a great relationship with both parents, crediting them for being the secret of her success in the entertainment industry.
Simphiwe Ngema Is an alum of the Boston Media House
Talking about the academic history of Simphwe Ngema, the actress achieved all her educational qualifications in South Africa. She did her early education in Sandton Joburg in a combined academic institution, Chinese Kuo Ting School. Simz's high school days were quite memorable for the upcoming entertainer as she developed her love for acting and started seeing the performing arts as a possible career path for the future.
Even with her mind fixed on the performing arts, the blossoming entertainer opted to study journalism. To achieve this, she joined the Boston Media House. Simz started her journalism course in 2018 but her year of graduation is not specified.
She Started Her Career While She was in High School
Simphiwe Ngema's acting career kick-started as far back as 1994 when she was still a high school student. The Johannesburg-born star went for her first audition for a role in the stage adaptation of The Lion King – the 1994 American musical animation from Disney. The stage performance came from the production portfolio of Lebohang Morake.
Though Simz never succeeded in scoring the role, a positive twist brought her into contact with the organizer of the audition, Duma Ka Ndlovu, who would later create the SABC 2 soapie, Muvhango. Meanwhile, the TV drama known as The Game was already airing with Ndlovu as its producer, and he suggested that Simz try auditioning for a part in the play.
After the up-and-coming actress heeded Ndlovu's advice and attended the audition, her effort was crowned with success and she was soon cast in the role of Pretty Khumalo. The role was quite an interesting one as Khumalo happens to be a loose woman. The plot portrayed her as a prostitute that went to jail for the murder of her own father.
As a debut for Simz, the TV drama helped in horning her talent since she had to share the screen with some of the big names in the South African entertainment industry such as Sindi Dlathu, Lucia Mthiyane, Leleti Khumalo, Mary Twala, Jo-Anne Reyneke, and many others. Note that Simz was still a student of journalism at the time The Game was having its run, thus, she had to go back to her studies at the end of the play.
Even after spending quality time depicting the character of Pretty Khumalo in The Game, The Joburg native still graduated from the Boston Media house with a journalism degree. To date, Simz still gives credit to Ndlovu for starting her off in the entertainment industry.
Muvhango Series Marked Simphiwe Ngema Rise to Fame
Simphiwe Ngema has always had her eyes on the Muvhango TV series, thus, she commenced auditioning from 2008 till 2009. Talking to Bona Magazine in 2014, Simz revealed that the first role she sought was that of the receptionist. She later tried her luck with scoring the part of Vuyiswa; Phila's sugar mommy to no avail. Simz even auditioned for James' girlfriend Juby but at the end of the day, Muvhango production teams created the character of Thuli Nkosi and handed it over to her.
It is true that having a role on the set of the most-watched Muvhango did more than open several in-roads for Simphiwe Ngema, the movie and television star still reiterates how hard it was for her to score the role. According to Simz, it was no mean feat. With that said, she went ahead to record an outstanding performance that made her a fan favorite.
Following its premiere run in 1999, Muvhango earned pride of place as the show on television with Venda as its primary language. However, the plot unfolds to accommodate other South African languages; the producers decided to make the soapie multilingual to showcase the wonderful cultures and languages thriving in the country.
Apart from being critically acclaimed, Muvhango was also a commercial success, making it a nominee for the 2006 SA Film and Television Award in the category of Best Soap Opera.
Though it has remained one of her best-known roles, Simphiwe Ngema didn't stay long with the cast. They wrote off her character in 2015, freeing the actress to make bids for other roles.
Her Other Roles on TV
In 2016, Simphiwe Ngema joined the cast of Mzansi Magic telenovela entitled Greed and Desire in a recurring role as Noni. Broken Vows, the e.tv telenovela had been running for a while before Simz joined the cast. The Joburg-born star recorded her first appearance in Episode 191 of the drama's first season; this aired on the first of January, 2018 and Ngema was featured in a recurring role as Dudu.
Before the year ran out, the actress scored another recurring role, this time it was in the Mzansi Magic soap opera, The Queen where she first appeared in Episode 164 of the second season (this aired on the 15th of March, 2018) as Slay Queen Buhle
The year 2018 seems to have been a productive one for the actress as that was also the year she joined Isidingo – the SABC3 soapie where she was featured as Phindile. Her role started in November.
Luck smiled on the actress in 2020 when she landed another good role in Bone of My Bones – the popular SABC2 drama series that she joined in its second season. There, Simphiwe Ngema breathed life into the character of Ruth – a music producer and Kgotso's (played by Solomon Sebothoma) high school sweetheart.
Simphiwe Ngema's Filmography
Broken Vows
Bone of My Bones
Muvhango
The Queen
Isidingo
Greed & Desire
PKs
Simphiwe Ngema is Known For Appearing in Reality TV Shows
Apart from real acting roles, the South African actress has also made her mark on reality TV. She was first seen in Preachers Kids or PKS – a Vuzu reality live show that featured some prominent South African preacher's kids like Pinky. There, Simz appeared as the second daughter of Pastor Given Ngema in 2017.
More recently in 2020, she appeared in Tropika Island of Treasure – as one of the celeb contestants during its ninth season. The show airs on SABC3 and is known as an advertiser-funded reality competition series.
She Has Two Presenting Roles Under Her Belt
Simphiwe Ngema has recorded a couple of roles as a presenter. Her first time was in 2014 when the Muvhango actress presented the 20th SAMAs (South African Music Awards). This aired on the 28th of April on SABC1.
Another presenting gig came the actress's way the next year in 2015 when the eKasi+ documentary series known as Isiko chose her to be its presenter. The docu-series which aired on e.tv is a show of culture, exploring a wide variety of SA's cultural rituals, including chieftainship, traditional music, polygamy, and initiation rituals.
Simphiwe Ngema Started A Business Enterprise With Her Sister, Baxolile
Ngema appears to be a lady with unending talents as the Joburg-born star is also a shrewd businesswoman. Collaborating with her big sister Baxolile, she launched a company, Still, We Rise (SWR) Trading. Though SWR started small, the firm grew fast, becoming an incredibly diverse enterprise.
SWR is a service provider and covers areas such as Software and Stationery Supplies, Project and Events Management, IT, Hardware provision, Construction, Cleaning Services, and Civils & Fleet Management. Baxolile currently functions as the chief executive officer of SWR, leaving Simz free to explore other fields of her multi-faceted career.
Simz Ngema Produces Dumi's Music Posthumously
Though she was hit hard by the death of her husband, Dumi Masilela, Simz still managed to work on the musician's unfinished business. Dumi was working on some music before death struck and after his demise, Simphiwe Ngema took it upon herself to compile the songs into an album named Eternal Crush.
The album hit the music stand on the 6th of December, 2018. The tracks in Eternal Crush include;
Dear Fear
Destiny (feat Gzy Falour)
Hamba
Dreams
Yena (a heartfelt track Dumi wrote for Simz)
Smomoza
Uphushiwe (feat Global Decaphfe)
Diphiri (feat Gzy Falour)
Shona Phansi (feat Global Decaphfe)
The next year being 2019, the multi-talented artist dropped a single titled "Thanda Ngempela" and dedicated it to Masilela, her late spouse.
In addition to the aforementioned, the actress is known for MCing events and occasions and she regularly functions as a choreographer. Also, she recently claimed to be a sangoma and has the power to communicate with her late husband, Dumi.
Simphiwe Ngema was Once Married
As earlier mentioned, Simphiwe Ngema is the type of actress that loves to update fans and the general public with details of her personal and professional life. Thus, it was common knowledge that she was an item with SA footballer turned actor and musician, Dumisani Masilela.
How they met and when they hit it off is not captured in the public space as the duo initially kept things off social media. However, fans got wind of their dalliance in 2015, exactly at the time of Simz's exit from the soapie, Muvhango. By then, the duo was already cohabiting with plans to take their relationship to the ultimate conclusion.
Though no one knows when the two started, reports said they dated for three years and six months, following which Dumi popped the big question. Their nuptials soon followed in May 2017 and it was a beautiful traditional wedding ceremony well captured by the media. However, it is sad to note that such a beautiful union lasted for barely two months before Dumi was snatched by the cold hands of death.
Who was Dumisani Masilela, Simphiwe Ngema's Husband?
Dumi Masilela is a South African celeb who first tasted fame as a football player. Dumi who was born on the 31st of May 1988 was really doing great in the field of play until his soccer career was cut short by an unfortunate automobile accident. However, the mishap did not douse the former player's light one bit as he then channeled his interest into music.
Armed with his singing skills, Dumi tried his luck at the 8th season of Idols SA where he made the top 18 before being eliminated. Though he never emerged the winner of that particular competition, Masilela had this distinguishing easy-going disposition that announced him to the world. Before long, it opened other inroads for him and acting was one of them.
Before his demise, Dumi recorded one major role on the set of the SA television series, Rhythm City. While playing his acting roles, the former footballer didn't let go of his singing career as he continued with music production. Unfortunately, he had a lot of unfinished songs that were produced posthumously after he was long gone.
Fans will forever remember Dumi for the role he played in Rhythm City as Sifiso Ngema – a simple guy hustling his way through life
What Happened to Simphiwe Ngema's Husband?
Dumi Masilela passed on in 2017, precisely on the 2nd of August. The heartbreaking incident happened the year he tied the nuptials with Simphiwe Ngema. Dumi was behind the wheels of his Golf 7 with a friend in the passenger seat when they encountered an attempted hijacking. Though the effort of the hijackers was botched, they shot severally at his jeep before running away.
Unfortunately, the SA artist already sustained multiple injuries and even after he was rushed to the hospital by his friend, he couldn't survive the experience. Dumi died at the age of 29 survived by his new wife and other relatives.
The artist's death made Simphiwe Ngema a widow at the age of 28 after a couple of months in matrimony. Describing the loss of her husband, Simz said it was her worst nightmare. Opening up to Macgyver MacG Mukwevho on the popular Podcast and Chill, Ngema talked about the pain she felt and all the horrible experiences she passed through. Going on, she gave credit to her music and faith in God for making it possible for her to cope with the grief.
Simphiwe Ngema's Pregnancy Rumors
A short while after her husband's death, rumors that Simphiwe was already ten weeks pregnant started making the rounds. This news was prompted by the Muvhango actress who fainted after her late husband's memorial service and ended up in the hospital. However, the rumors were later dismissed by the family of her deceased spouse who confirmed she wasn't expecting any baby.
Who is Simphiwe Ngema's Son?
It was three years after Dumi's death that Simphiwe Ngema became pregnant. The South African television actress was over the moon as she took to her Instagram handle to let fans in on the latest happenings in her life.
The initial shot of her baby bump came with a sweet message proclaiming that indeed God exists in heaven and has wiped her tears away, bestowing her with joy in abundance. The multitalented entertainer also made reference to her baby daddy, @tino_chinyani whom she said brought both hope and purpose back into her life. Going on, Simphiwe Ngema expressed her gratitude to Chinyani for teaching her how to love again and for the beautiful gift. "I love you both with all my heart" she concluded.
Simz's bundle of joy landed on June 23rd, 2020 – a beautiful baby boy called Tiyani Kemorena Michael Chinyani.
Who is Simphiwe's Baby Daddy?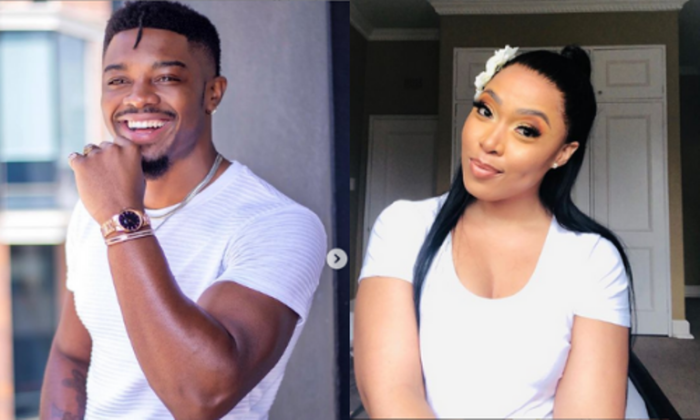 After the IG post about her baby bump went viral, fans wasted no time digging up the real identity of Simphiwe's baby daddy. It soon came to light that the new daddy is a Zimbabwean who earns a living in the showbiz industry as an actor, presenter, television host, and model. In fact, the man whose name is Tino Chinyani is as talented as Simphiwe Ngema. According to ensuing reports, the duo hooked up before 2020, almost three years after Simz lost her husband.
Recent reports said the duo has already broken up. The news of their separation hit the airwaves a few weeks after they shared heartwarming birthday messages on the internet space. Their breakup notwithstanding, the former lovers have decided to maintain a cordial friendship in a bid to co-parent their son.
The actress seems to be single at the moment as her name hasn't been linked to any other man. Besides, while speaking in an interview session, Simz said she wasn't the dating type and is not ready for any man to come and toy with her emotions.
Simphiwe Ngema's Height and Weight Measurements
The SA actress is of average height standing at 5 Feet 6 Inches or 168 cm. Weighing 143 lbs or 65 kg, Sims has general body stats of 36-28-36 for bust, waist, and hips respectively. A true African, the actress' hair color is black but her eyes are dark brown. Simphiwe Ngema wears a shoe size of 6 US but her dress size is not known.
She is on Social Media
Simphiwe Ngema does not just have a presence on social media, the South African actress has grown to become an influencer on the internet space. Her handle on the picture-sharing platform is @simzngema and going by her most recent records, the entertainer has shared 1,802 posts. Her page is inundated with snapshots of her daily life as Simz is not one to shy away from sharing intimate details of her personal and professional life with fans and the general public.
Simz's following keeps growing in leaps and bounds and presently, the South African actress can boast of over 2.2m followers and still counting.
Frequently Asked Questions About Simphiwe Ngema
How Old Is Simphiwe Ngema Now?
Simz is 34 years old
Is Simphiwe Ngema a Sangoma?
News surfaced recently claiming the actress is now a sangoma.
Does Simphiwe Ngema Have Sisters?
Yes, the actress has two sisters; an older one and a younger one
Who is Simphiwe Ngema's Baby Daddy?
Her baby daddy is a Zimbabwean entertainer called Tino Chinyani.