Disney might be evolving to become the singular owner of every form of onscreen entertainment in Hollywood, attracting suspicious eyes from the skeptics, but there is no denying that it has been one of the industry's biggest and greatest supporters of new talents. The array of television and film production houses ranging from Disney Channel to ABC Studios has churned out a lot of talents who have gone on to take over the world in their profession. Selena Gomez has gone on to become one of music industry's most commercially successful artiste, so has Miley Cyrus and Zac Efron emerged as two of the most popular actors in the industry, featuring in multiple blockbusters. One talent who looks set to graduate from the Disney talent school of entertainment is Sofia Carson. Sofia is one of the main cast of the Disney Channel TV movie trilogy, Descendants. She is also an accomplished singer. Learn more about Sofia Carson below.
Sofia Carson's Biography (Ethnicity)
Before racial and sexual diversity became a revolution in Hollywood, Disney has been setting the pace in diversity, especially in racial diversity. It is a philosophy that still exists till date when Sofia Carson was cast as a guest star on the Austin & Ally show on the Disney Channel as her debut onscreen performance. Since then, she has been building a solid filmography including the spinoff of the popular show, Pretty Little Liars: The Perfectionists.
It is a journey that all began on the 10th of April 1993 in Ft. Lauderdale, Florida when she was born to Jose F. Daccarett and Laura Char Carson. Her birth name is Sofia Daccarett Char. She did, however, choose to go with Sofia Carson because of its artistic simplicity. Although she was born in Florida and is an American citizen, Sofia Carson is ethnically a Latino as a result of her parents who have Columbian roots.
Before she began her career as an entertainer full time, Sofia Carson attended St. Hugh School briefly before graduating from the Carrolton School of the Sacred Heart, Miami. While she was in high school, she joined the In Motion Dance Studio, becoming a part of the IMPAC Youth Ensemble Program. As a member of the program, she traveled around the United States competing in various dance competitions. After graduation and completion of the program, she applied and attended the University of California, Los Angeles (UCLA), where she majored in Communications with a minor in French.
After graduation from UCLA, Sofia got signed on to Broadcast Music Inc (BMI) as a singer-songwriter in 2012. While she continued her musical development under BMI, trying to perfect her dance and singing skills she had fallen in love with since she was 3 years old, she gave acting a shot and was cast in her first role in 2014 as Chelsea on Austin & Ally. After Chelsea, she played Soleil on MTV's Faking It before she got her big break as Evie on Descendants.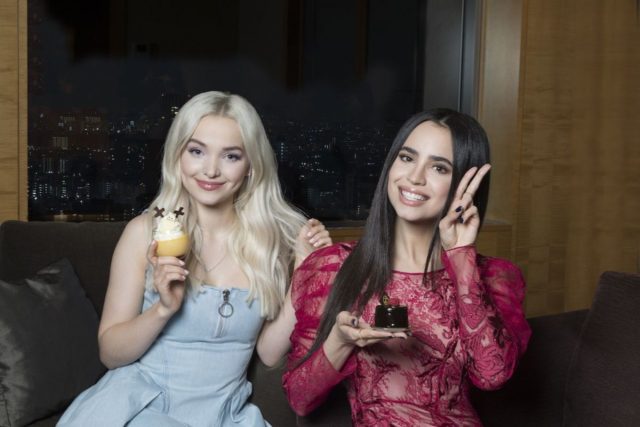 Since Descendants, the direction has been nothing but up in her acting career. She has secured lead roles in other Disney Channel productions like Adventures in Babysitting, and A Cinderella Story: If the Shoe Fits.
In her music career, Sofia Carson was signed on to Hollywood Records in 2015 and she began working on her first album. In 2016, her label contract expanded to include Republic Records when both companies announced she had signed a joint worldwide record deal with the record companies. After taking care of the business side of her music career, she got back to music itself, releasing her first single in 2016, titled Love is the Name. Another single was released in August 2016, I'm Gonna Love You. One of her most popular singles till date, Back to Beautiful was released in 2017 and its music video has garnered over 19 million views.
See Also: Jodelle Ferland Age, Height, Measurements, Ethnicity, Parents
Sofia Carson has released eight singles till date, while also featuring in three soundtrack albums for her Disney films. She has performed at the NBC 2015 Thanksgiving Parade, Disney Parks Christmas Celebration and at the United States Capitol in 2017 in celebration of the US Independence Day.
She is expected to appear in the third installment of Descendants and on Pretty Liars: The Perfectionists, both in 2019.
Body Measurements, Height and Weight
Sofia Carson is a beautiful woman whose body features stand out elegantly on a body frame that stands at 5 feet 4 inches and weighs 51 kg. She has a body measurement of 33-24-36 inches being 33 inches for her bust, 24 inches waistline and hips of 36 inches.
Sofia Carson's Family: Parents, Sister
Her mother's family are descendants of the famous Char political family in Columbia. Her parents, Jose Daccarett and Laura Carson have been big supporters of her career. She is the eldest of the two daughters born to the family. Her younger sister's name is Paulina Char, who recently obtained a second degree from The Fashion Institute of Design and Merchandise.
Boyfriend – Who is She Dating?
As a pretty woman, Sofia is never short of admirers and she has returned the admiration only to Manolo Vergara so far in a relationship that ended in 2016. Since then, the young actress and singer is focusing on her career.