Sona Movsesian is a beautiful Armenian television personality who has attained worldwide recognition as the assistant of an American television figure, Conan O'Brien the renowned comedian, writer, and producer. O'Brien is popularly known for being the host of several late-night talk shows. Movsesian became a television personality when she started featuring on the late-night shows of Conan O'Brien which includes Conan and The Tonight Show with Conan O'Brien.
Initially, the beautiful TV figure preferred to work behind the scenes but on one certain occasion, Movsesian showcased her humorous nature which caught the attention of the popular American comedian and since then, Sona Movsesian has been appearing on the small screen. In addition to achieving a successful career as a television celebrity, Sona Movsesian is also in a blissful union with her Armenian husband, Tak. Read on as we uncover more facts about the TV personality's life, career and family life.
Sona Movsesian Biography (Age)
Conan O'Brien's assistant was born to her Armenian parents who emigrated from Turkey to the United States of America. There is no available detail concerning her age as she has kept such detail private. Sona Movsesian is the only daughter of her parents and was raised in Hacienda Heights. While in high school, the gorgeous celebrity was very active in her school's sports events as she was a member of both the volleyball and football teams
She furthered her education at the University of Southern California and earned a degree in Communications and Media studies in 2005. Being the only daughter, Movsesian has a special bond with her mother and according to her, moving to the university was a difficult time for her mom which prompted her to spend most weekends with her parents while at the university.
A year after her graduation, the popular TV figure landed an internship at NBC Entertainment, working precisely as NBC page for one year before rising through ranks to become the Events and Operations Coordinator from January 2007 to January 2009. In that same year she left NBC Entertainment, Sona Movsesian began her work at Conan. There, she was working behind the scene until the day she displayed her humorous nature while looking for her American Gigolo's coffee mug.
As a result of her witty display, Movsesian caught the attention of Conan O'Brien the host of his several late night shows such as Conan, Late Night with Conan O'Brien and The Tonight Show with Conan O'Brien, he instantly promoted Sona Movsesian to his official assistant. Since joining Conan in 2009, the elegant looking media personality has featured in at least 17 episodes of Conan TV shows and at least 7 episodes of The Tonight Show with Conan O'Brien.
Having worked together with the award-winning comedian and television personality, Conan O'Brien who has claimed several awards including the 64th Primetime Emmy Awards in 2012 and the 70th edition of the same award in 2018, Sona Movsesian has gradually risen to superstardom and has captured the attention of millions of viewers of the TV show with her impeccable humorous personality.
In addition, Conan O'Brien's assistant has gone ahead to reveal that her boss is like her close relation who she adores. She has also narrated how Conan O'Brien has pranked her on several occasions which she has described as one of the craziest things that have ever happened to her at work. One, for instance, was when Conan O'Brien asked her to make an arrangement for him to view Michael Jackson's body one week after his death.
See Also: Savannah James – Bio, Height, Net Worth, Facts About LeBron James' Wife
Movsesian took the task seriously and while she was still making plans on how to execute the task, her boss gave her another job of arranging for him to adopt the children of the deceased American pop star, Michael Jackson and that was when Sona Movsesian realized that she was being pranked. However, the television celebrity has been a good compliment to Conan O'Brien as evident on Conan's TV shows.
Family Facts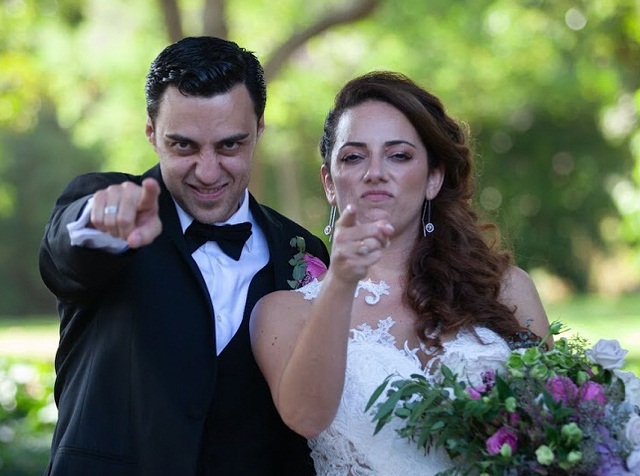 The gorgeous assistant of Conan O'Brien is a happily married woman. She walked down the aisle with her husband, Tak on 25th August 2018 in an Armenian wedding. Artak who is well-known as Tak emigrated from Armenia to the United States in 1989. He is currently working in Animation and Graphic design industry. The couple, as of this writing, is yet to welcome any child together.