Sorcha Cusack is an Irish television and stage actress born on 9 April 1949 in Dublin, Ireland. Although she shares the same surname with John Cusack, the American actor, producer, and screenwriter; However, they have no biological relationship whatsoever. 
When your parents are actors, it seems almost predestined that you would become one as well. How far, after all, can the apple fall from the tree? Bubbly screen actress Sorcha Cusack is someone who followed in her parents' footsteps to make a career in front of the camera. She is a familiar face on British television who is most noted for her roles in the TV series Father Brown, Coronation Street and Casualty.
Biography
Sorcha Cusack was born to actors Cyril and Maureen Cusack in Dublin, Ireland on the 9th of April 1949. Cyril Cusack was a well-established actor whose career spanned over 70 years, with appearances in more than a hundred films and TV series. Maureen Cusack, on the other hand, was also a fine actress who appeared in numerous films and stage productions.
Sorcha Cusack grew up with two sisters; Sinead and Niamh, who like her went ahead to become actresses. She has a brother named Padraig who is an international theatre producer. Older sister Sinead is married to English actor Jeremy Irons, and the couple's son Max Irons is also an actor. Her half-sister, Catherine, who her father had from his second marriage following the death of their mother, is also an actress.
While growing up, Cusack's initial plan for her life was never to go into acting. In fact, she resisted the pressure from family and instead decided to study English and French at university, after which she trained as a teacher. She worked as a teacher for a year and a half before quitting when she realized that it was hard work.
In her early twenties, she was constantly offered acting jobs and finally decided to try her hand in it. In an interview, she admitted that she found acting hard and that it didn't come naturally to her. The admission comes as a surprise because the actress always seems to deliver her roles with flawless ease.
Sorcha Cusack's first acting role came at the age of 24 when she played the character of Jane Eyre in a 1973 onscreen adaptation of the novel of the same title by novelist Charlotte Bronte.
Cusack's entire acting career has been spent mostly in theatre and stage productions, and TV series. However, she has starred in several movies including Snatch alongside Brad Pitt and Jason Statham, and Mrs. Brown's Boys D' Movie, adapted from the TV series, Mrs. Brown's Boys.
In 1990, Cusack and both of her sisters were cast as siblings in Chekhov's Three Sisters alongside their father Cyril, who also played the role of the girls' father in the play. It was an experience that she described as "fraught", and that it was never to happen again due to the strain it put on the family at the time. The tension it created was so great that the sisters afterward had to take a two-year break from each other.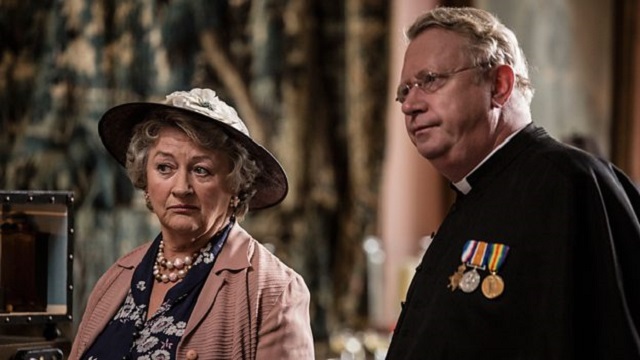 Family – Husband, Children
Sorcha Cusack is married to actor Nigel Cooke and they have two children together. Their first child, a son named Liam Cooke, born in 1984, completely abandoned the family profession to become a furniture maker. Their second child, a daughter named Beth Cooke, born in 1986 followed the family tradition.
Cusack has continuously praised her daughter's acting skills, describing it as natural and "like a fish in water". She and her husband currently live in London, but Cusack hopes to retire to her native Donegal in Ireland, where she fantasizes about owning a property by the sea, and where she could watch her grandchildren run wild.
Is Sorcha Cusack Related To John Cusack?
It seems like the name 'Cusack' and a family profession of acting, are synonymous. John Cusack is an American actor and producer whose family is also involved in the film industry one way or the other. His sister Joan Cusack is a popular actress and the two have had a dynamic brother-sister duo in Hollywood for more than 30 years. John Cusack has three other lesser known siblings, Ann Cusack, Bill Cusack, and Susie Cusack, all of whom are actors as well.
Their father, Dick Cusack served for many years in advertising and film productions and also appeared in fifteen films in the latter part of his life.
If you are wondering what the link is between the Cusacks of Illinois, USA and the Cusacks of Dublin, Ireland. There is none! Just pure coincidence, and what a coincidence at that.
Now, upon further research, we have found that the name 'Cusack' is of Irish origin. Dick Cusack himself is of Irish descent, so it could mean that he and the Cusacks of Ireland are long lost cousins, or that they just coincidentally share the same last name. Whatever the case, we've checked and there seems to be no direct relationship, and both families probably just find it as bizarre as we do.