Sotho traditional dresses have become very popular in recent times. This is largely due to the fact that the traditional attires have been revamped to suit modern trends. Both ladies and guys can now rock various Sotho prints in fashionable ways. More so, it has become trendy to blend the Sotho prints with modern fabrics to produce flattering wedding outfits as well for both males and females.
Sotho Traditional Attire For Females
The Sotho people have a very rich culture which they flaunt at any given opportunity whether in their hairdo or dresses. Sotho traditional attire for women also comes in various designs and various Sotho prints can be used to make women dresses that can be rocked with matching headgear and other accessories.
The list below includes stylish Sotho traditional attire for females that can be rocked for various functions:
1. Multi-Layered Mermaid Style Dress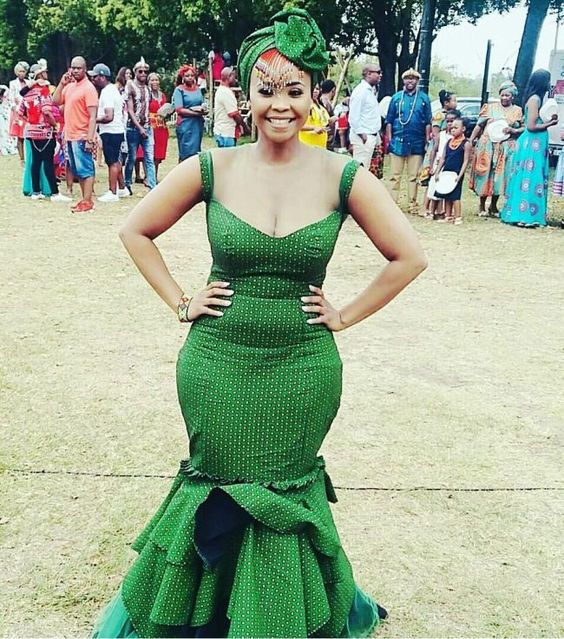 This dress is made from the traditional green Sotho fabric and is cut in a flattering mermaid style. Perfect as a wedding guest attire, it's very suitable for curvy women as it will enhance their curves effortlessly.
2. Sotho Strapless Wrap Dress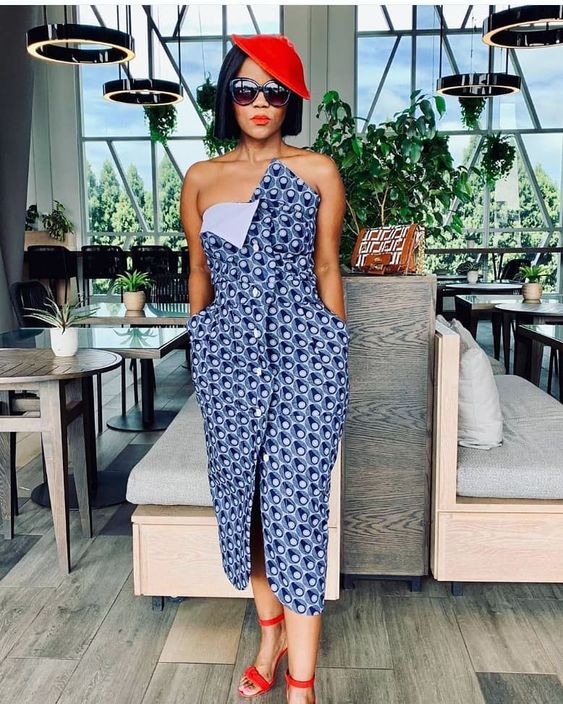 This dress is made from the classic Sesotho blue patterned fabric. With an overlap in front, buttoned-down and high slit in the middle, the dress is a true definition of classy. Paired with the red hat and red shoes to match, it is an eye-catching outfit.
3. Off-shoulder Peplum Dress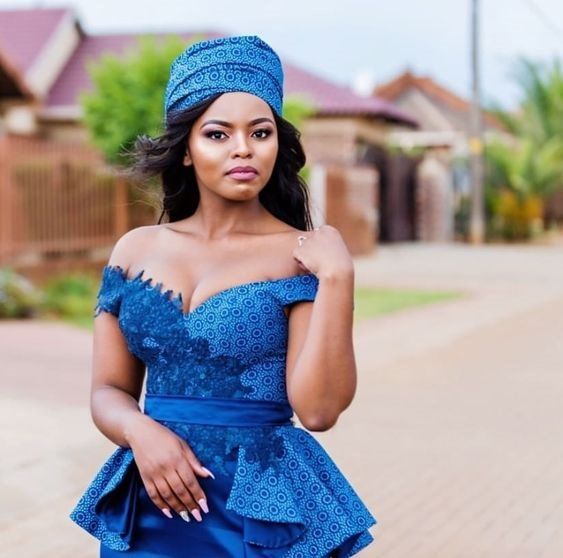 This dress is cut with the classic sweetheart neckline and off-shoulder sleeves. Laid over with lace on the bodice, it gives it a rich look. The peplum accentuates the waistline. With the headwrap made of the same fabric, this outfit is perfect for traditional weddings.
4. Green Two-Piece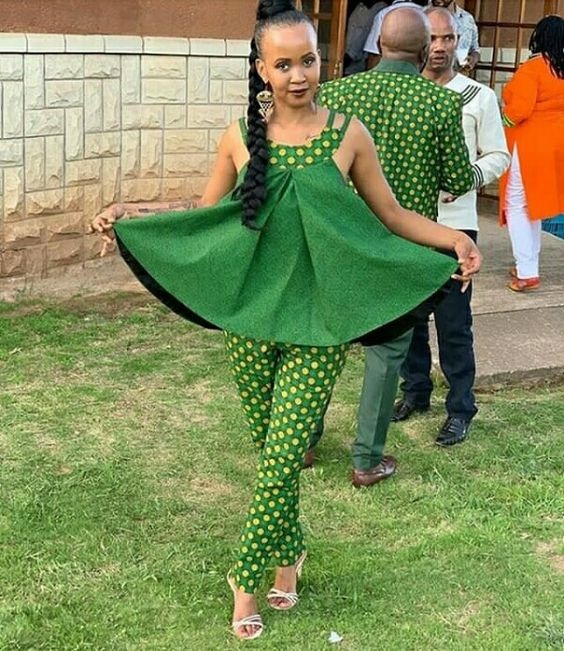 This green traditional fabric is paired with a plain green fabric. The top is a free top cut in a flared style with sleeveless hands. The trouser is a straight cut style and made of patterned fabric. Paired with strappy heels and costume earrings, this is perfect for casual outings. This style will also be perfect for ladies with petite body frames as it will give them a full-figured appearance.
5. Single Shoulder Asymmetrical Dress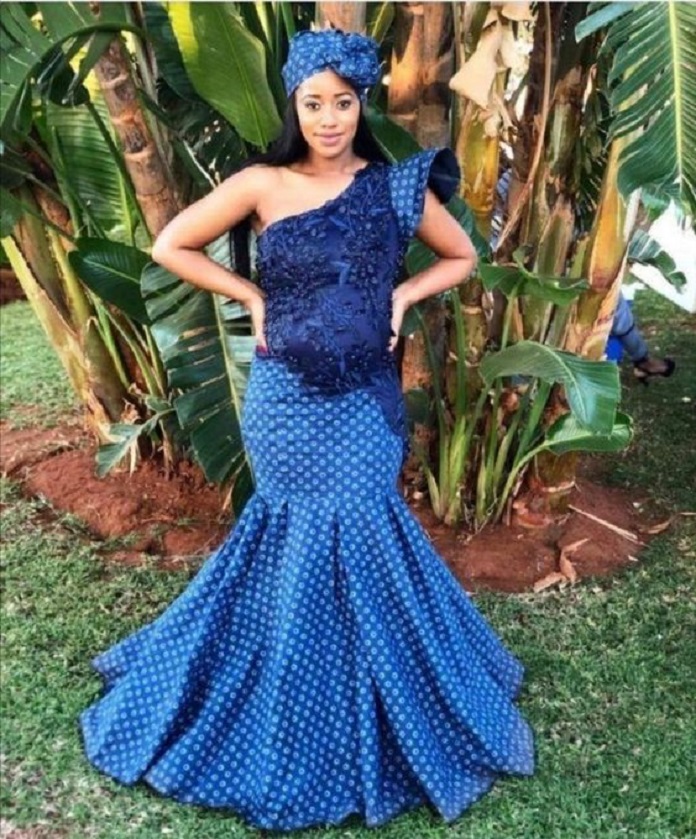 The blue fabric is layered over with dark blue lace for a more detailed look. This dress comes with a dramatic pleated flare from the knees and is topped off with a head tie.
6. Tea Length Ball Gown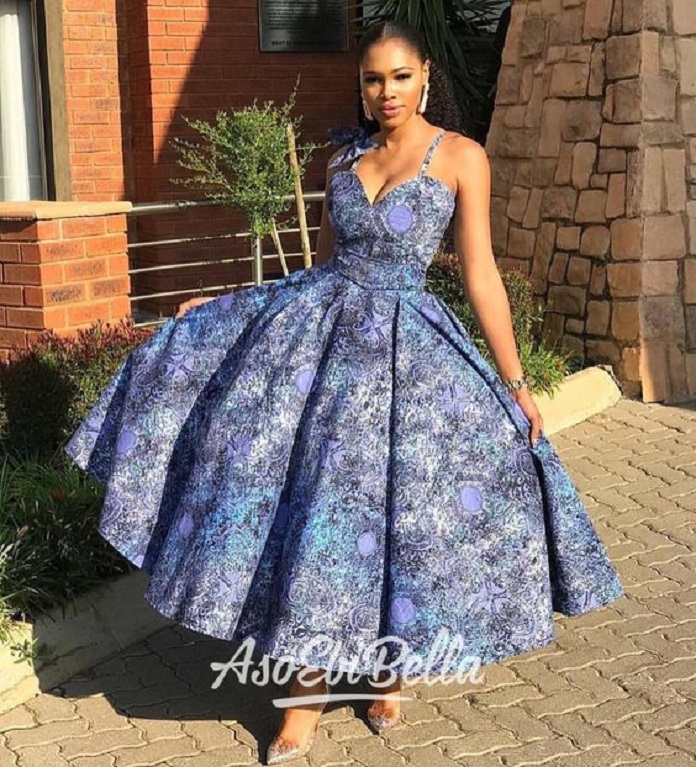 This pleated ball gown is exquisite. Made with marbled blue fabric, it is snatched at the waist and has a sweetheart neckline with strappy sleeves. Paired with transparent pumps and silver dangle earrings, this look is fit for any high-class event.
7. Three-layered Simple Dress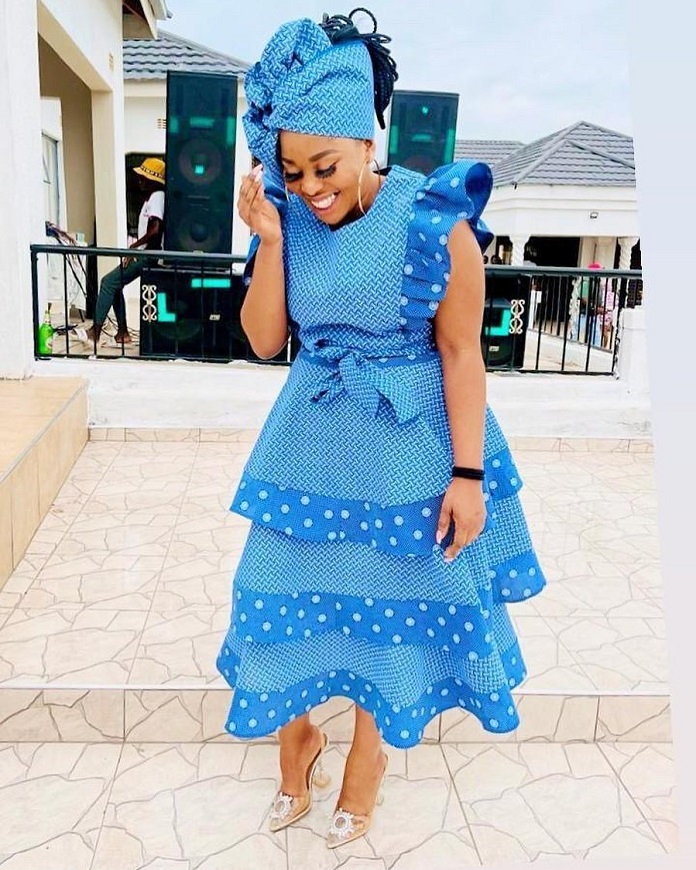 This dress sports a full-bodied three-layered skirt, belted waist, and fringe sleeves. Topped off with the full head wrap, it exudes simplicity, and it is a classy outfit that can be rocked at any traditional Sotho function.
8. Midi-Length Pleated Dress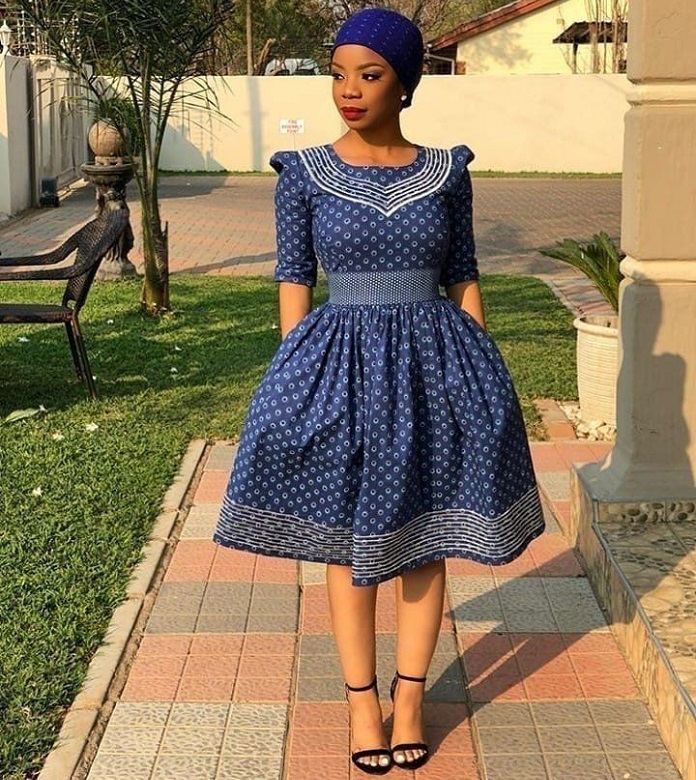 This is a pleated dress done to give a chic and elegant look. The gown is made with deep blue patterned fabric and the waist is designed with white thread to enhance the look. The neck is also designed with white thread to make it stand out. The lady completes the look with black high heel shoes and a blue head wrap. This is basically a simple outfit that does not need too many accessories to make a statement.
9. Sotho Cape with Dress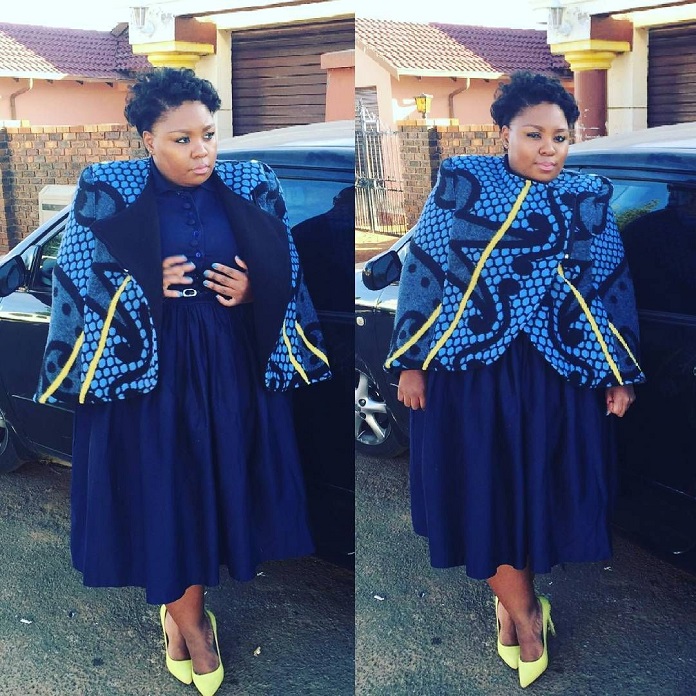 This exquisitely structured cape is made from the Basotho fabric and it's worn over a navy blue midi dress. Embellished with yellow, the lady also pairs it with yellow shoes to give her appearance a sleek finish.
Sotho Traditional Attire For Couples
Modern couple goals now include the lovebirds wearing matching outfits to events. With the Sotho fabrics, couples can make designs from simple to flamboyant outfits. Below are several classy Sotho Traditional attires couples can give a try:
10. Blue Patterned Design For Bride and Groom
The couples' outfits are made from the traditional blue patterned Sotho fabric mixed with blue. The Groom's short-sleeved shirt is a combination of patterned blue and plain blue which he pairs with plain blue trousers.
The bride on the other hand is wearing a dress made from blue patterned material, it features a flair down at her knees which is made with both the patterned material and plain blue material. The neckline of the dress is finished with a chic turtle neck design.
11. Elegant Polka Dot Outfit For Couples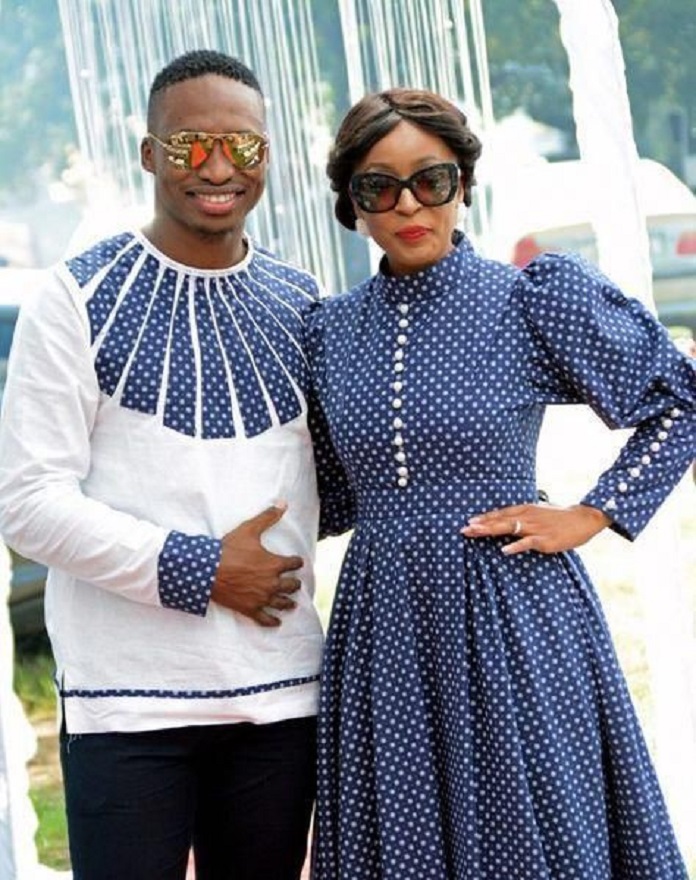 The man's traditional top is made from a combination of plain white fabric and a polka dot. The polka dot features on the neckline, hem, and wrist line. He wears his elegant white designed shirt on black trousers. The lady's dress is a turtlenecked, puffed long-sleeved long dress. Embellished with tiny white buttons down the bodice and the sleeves.
12. Couple in Sotho Fabric and White Based Attire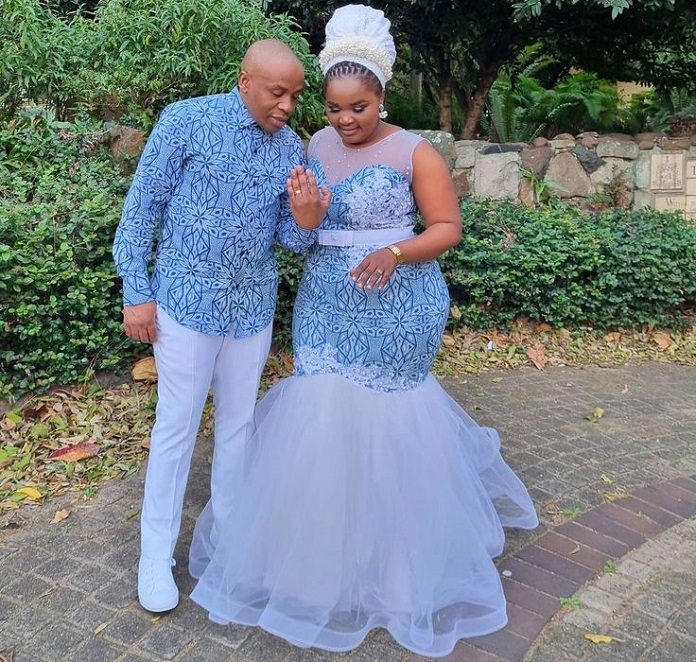 The couple's outfit is a blend of white with light blue Sotho fabric. The groom's attire is made with the safari top and a scarf made of the traditional fabric around the shoulders. The bride's dress is a sleeveless bodice that is joined to give a beautifully flowing mermaid theme style with flowing white material at the bottom.
Sotho Makoti Attire
This is also another name for Sotho outfits for a couple that expresses their traditional roots. For Sotho Mkoti attires, the groom and his bride will have to finish off their look with a  traditional Sotho piece of adornment. For the men, it is usually a traditional hat and the ladies can use a similar headgear or one made from the Sotho print. The Basotho blanket is also used by many couples to finish off their look:
Below is a list of various ways a Sotho groom and his bride (or couple) can rock a traditional look together:
13. Couple in Stylish Blue Sotho Makoti Attire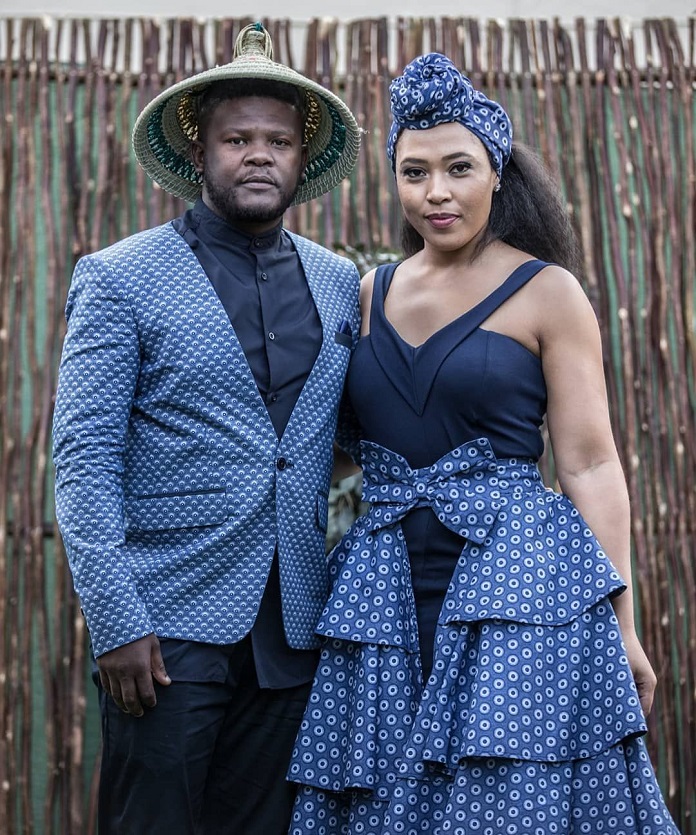 The man is in a tailored fabric jacket. He wears it over a navy blue shirt and dark trousers.
The lady's outfit is a dress made from navy blue fabric, with a v necked strappy sleeve and overlaid with a layered skirt made from the blue patterned Sotho material. She completes the look with a headwrap made from the same fabric.
14. Colourful Green and Yellow Sotho Makoti Outfit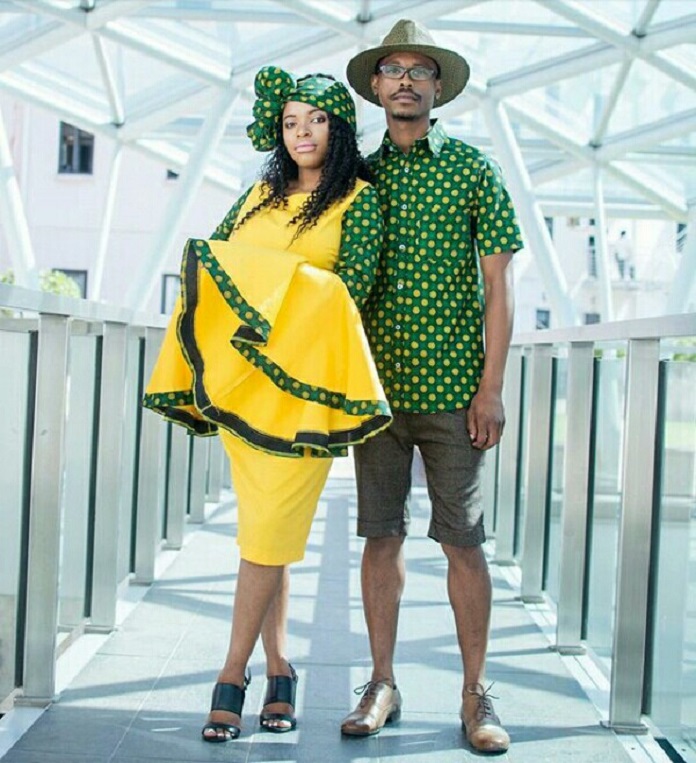 This couple's outfit is made from the traditional yellow and green Sotho fabric. The man's hat is conically-shaped to look like the traditional Sotho headgear. His short-sleeved shirt is made from the colorful green and yellow Sotho fabric. He pairs it with short trousers and fine leather shoes. The woman's outfit on the other hand is a fitted dress made of plain yellow material with elaborate sleeves. She finishes the look with a head wrap of the same fabric.
15. Couple in Basotho Blankets
This couple's outfit is a casual blend of traditional and modern designs. They are both sporting the special Basotho blanket in different shades of blue. The woman combines hers with a colorful orange skirt and statement beaded neckpiece while the man wears his with chinos trousers and Mokorotlo headgear.
Sotho Traditional Attire For Males
Who says Sotho men cannot express themselves in some stylish outfits? Over time, Sotho traditional attires for males have also been given a facelift and this has generally made Sotho attires for men quite popular. With the recent revamp, men can choose to wear the Sotho print, the Basotho blanket, and the Mokoroltho in various stylish ways:
Below are some of the many ways a man can style himself with traditional Sotho attires:
16. Basotho Blanket On Man's Kaftan Outfit
This is a simple outfit of a Kaftan, a Basotho blanket over one shoulder, and the Mokorotlo headgear. The man finishes his look with white sneakers and holds a classy walking stick to give him a sleek appearance.
17. Tribal Print Shirt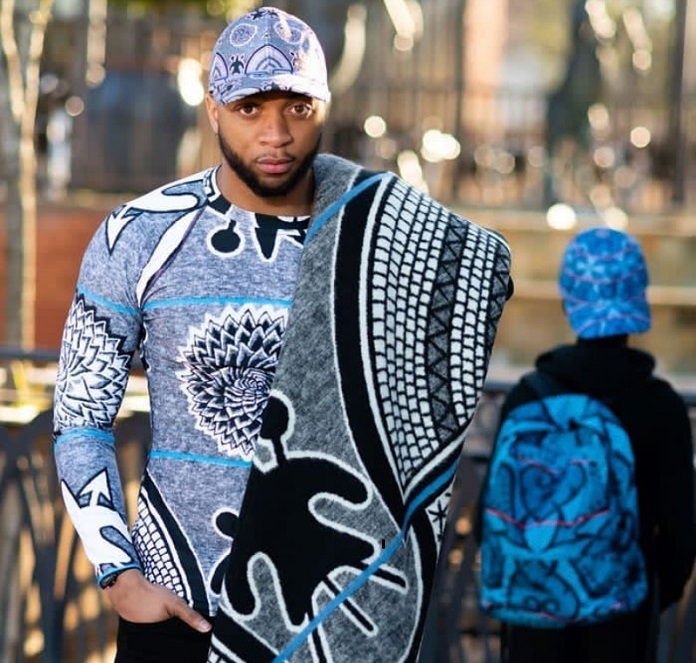 The man's shirt is a tribal print fabric and he pairs it with a black and white themed Basotho blanket and tops it off with a face cap made with the same tribal print.
18. Traditional Print Cape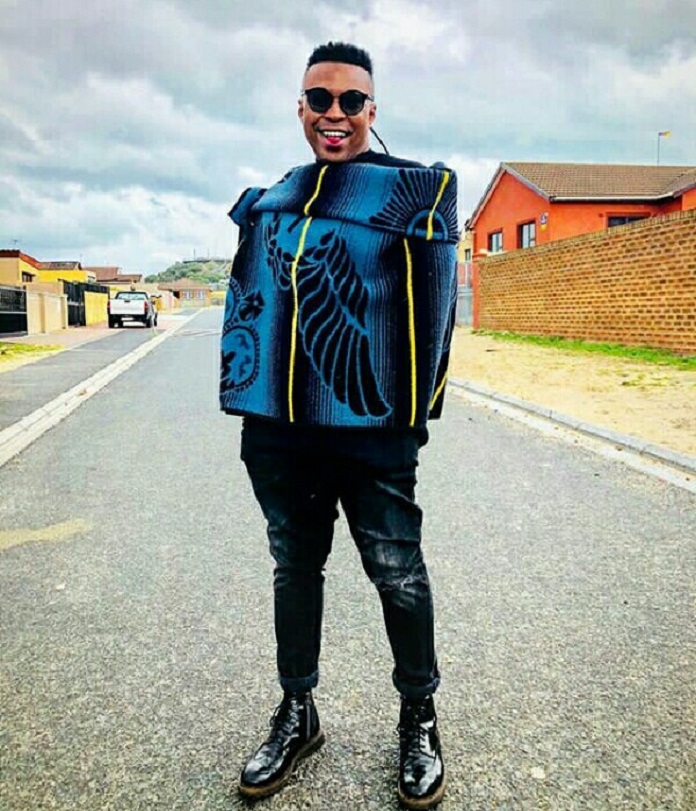 This is a unique traditional fabric cape top for men. Paired with skinny jeans and boots, it's high fashion.
19. Sotho Men's Matching Shirt and Shorts
This is a simple men's top and shorts that are made from the Basotho blue fabric. It can be paired with a pair of sneakers for a casual look. It is a perfect outfit for those who want to wear a Sotho-inspired outfit to the gym.
20. White and Blue Designed Men's Two-Piece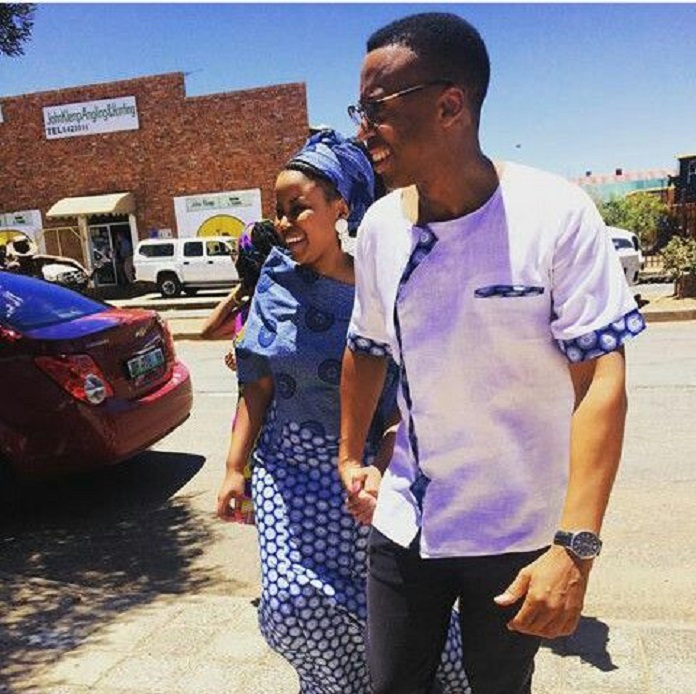 This two-piece is made by combining white with the blue patterned fabric for the short-sleeved top. This is combined with plain black trousers to give it a sleek appearance. It's suitable for attending formal events.
21. Traditional Sotho Themed Suit
The man's suit jacket is made from the Sotho fabric and he completes it with a white shirt underneath, blue trousers, and a bow tie for that elegant look.
22. Sotho-Themed Male Kaftan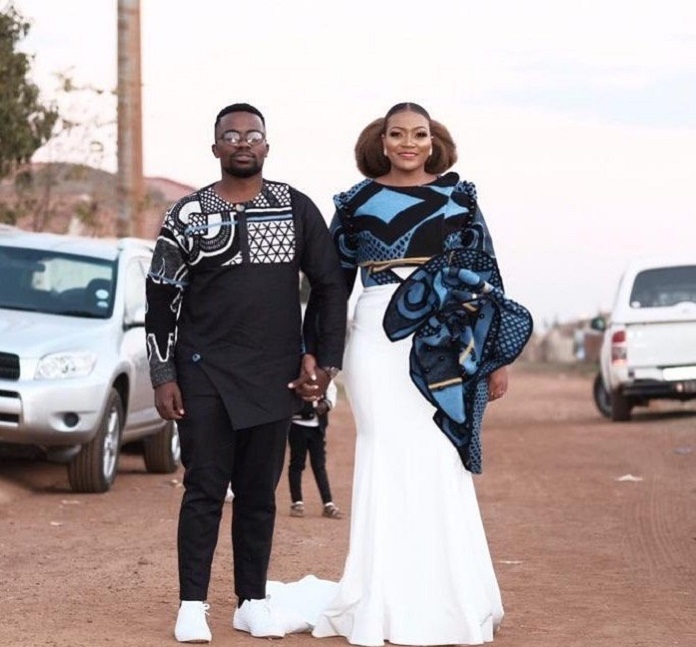 This long-sleeved black kaftan set is designed with cutouts from tribal print material. It can be paired with white sneakers for that casual look but spectacular look.
Sotho Traditional Wedding Dresses
Sotho-themed wedding dresses are becoming quite popular and they can now be used not just for traditional Sotho marriage ceremonies but for modern Sotho weddings as well. While some people will still blend the Sotho fabric with a white one to make a ball gown, other brides will totally ditch the white fabric and go for complete Sotho-inspired ball gowns.
Below are some lovely Sotho themed wedding gowns for your big day:
23. Blue and White Sotho-Themed Wedding Gown
This bride's dress is a stunning vision of blue and white. The bodice is made of blue Sotho print mixed with a plain blue net. From the waist down is a lush ball patterned skirt which is attached to the bodice and it flows seamlessly to the ground. The look is topped off with a simple up hairdo that comes with silver embellishment.
24. Green and Yellow Bride's Dress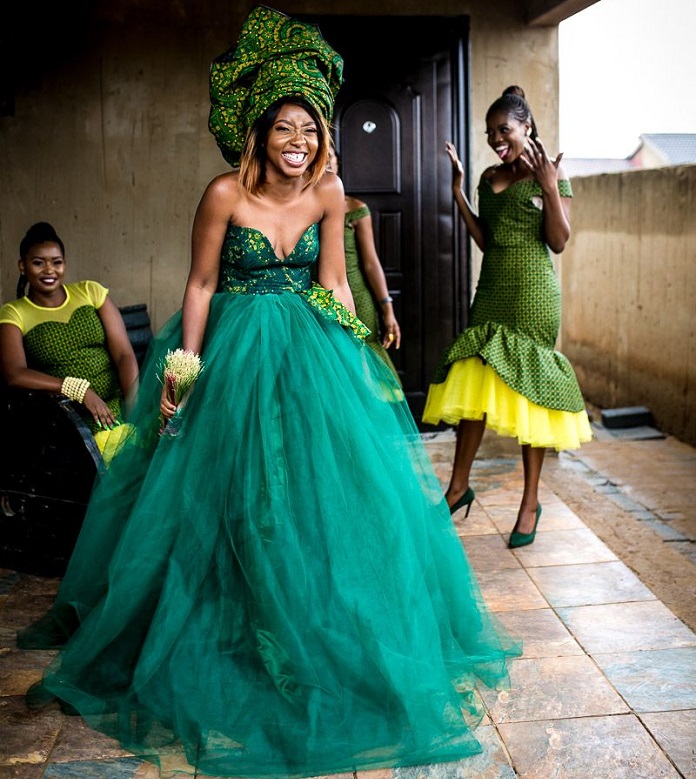 The hem is sewn with the green patterned fabric and has feathered sleeves while the skirt of the dress is a full-bodied skirt in green. The bride completes the look with a green and yellow headwrap and matching bouquet.
25. Sotho Pocket Style Wedding Gown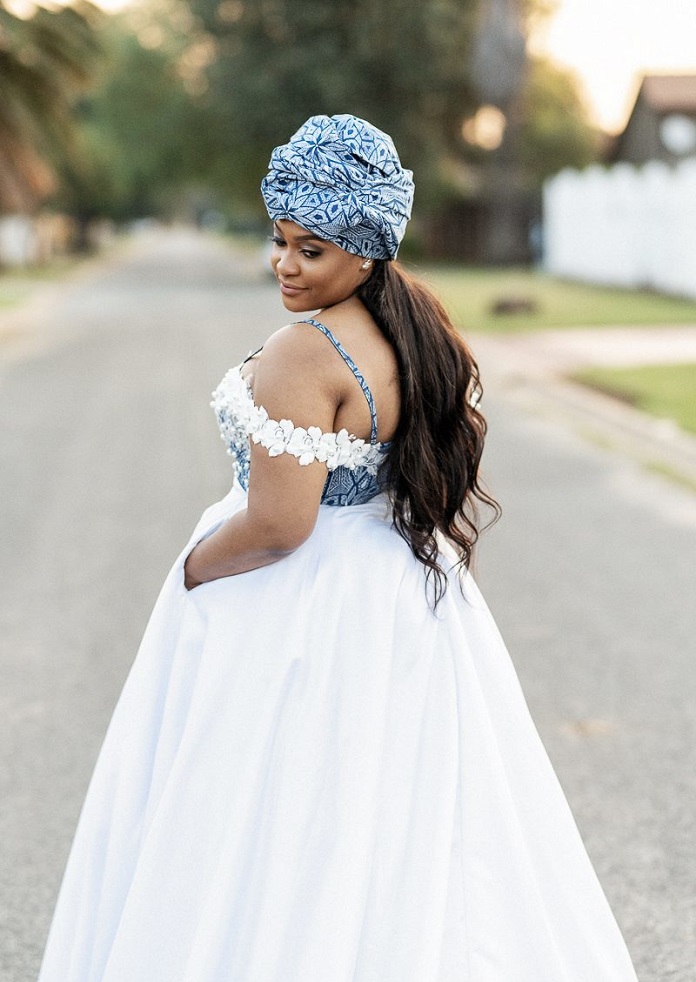 This pocket-styled wedding dress is overlaid with the blue patterned fabric on the bodice down to the waist. The rest of the dress is made with white organza which flows down to the feet and it comes with pockets in which you can comfortably slide your hands in case you want to strike a pose for the cameras. Its sleeves are one-off shoulder and there is a strap to make the bodice hold firmly. The bride completes her look by using the blue and white print to make a notable headwrap.
26. Double Layered Traditional Wedding Dress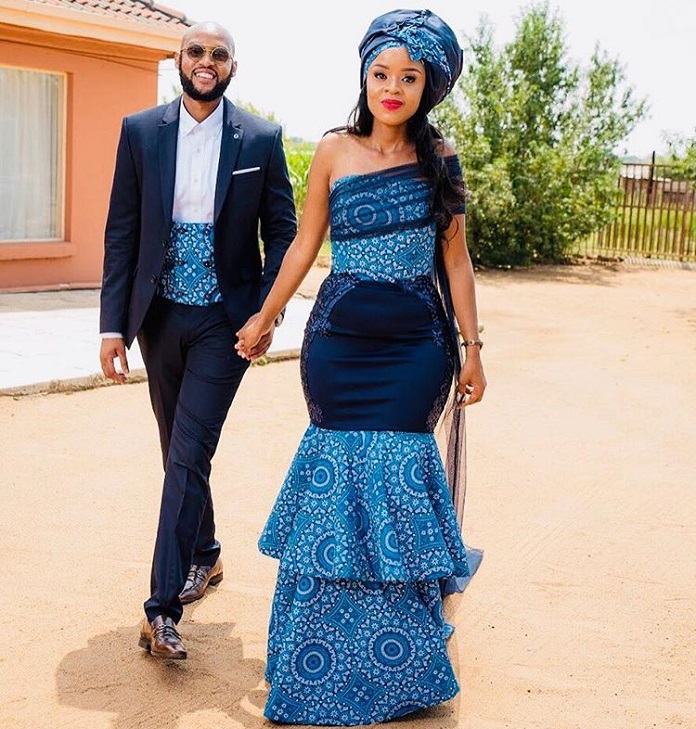 This silhouette cut dress is stunning with its single shoulder asymmetrical sleeve overlaid with lace. With two full layers in the skirt, it's form-fitting and suitable for curvy ladies. The combination of navy blue and blue patterned fabric is exquisite.
27. White Lace Bridal Wear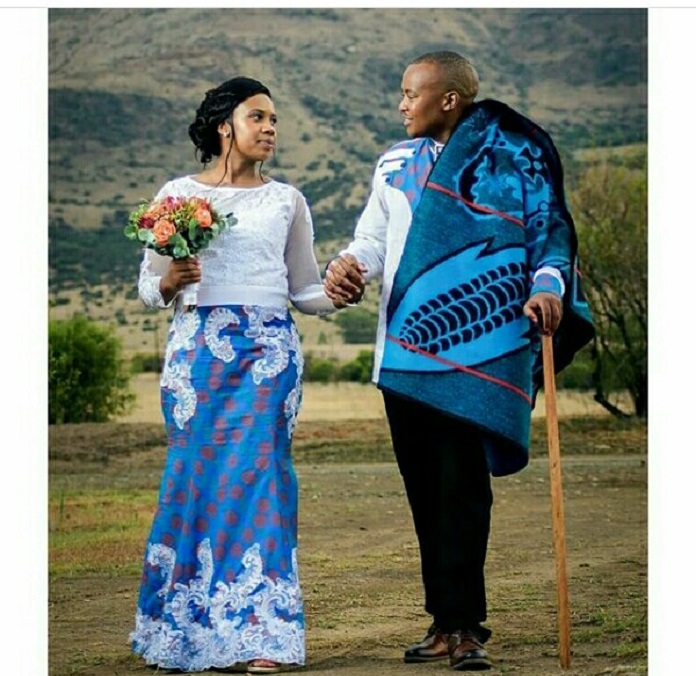 This outfit is a perfect definition of simplicity. A white lace and tulle top paired with a full-length patterned skirt embellished with lace cutouts.
28. Bride in Basotho Blanket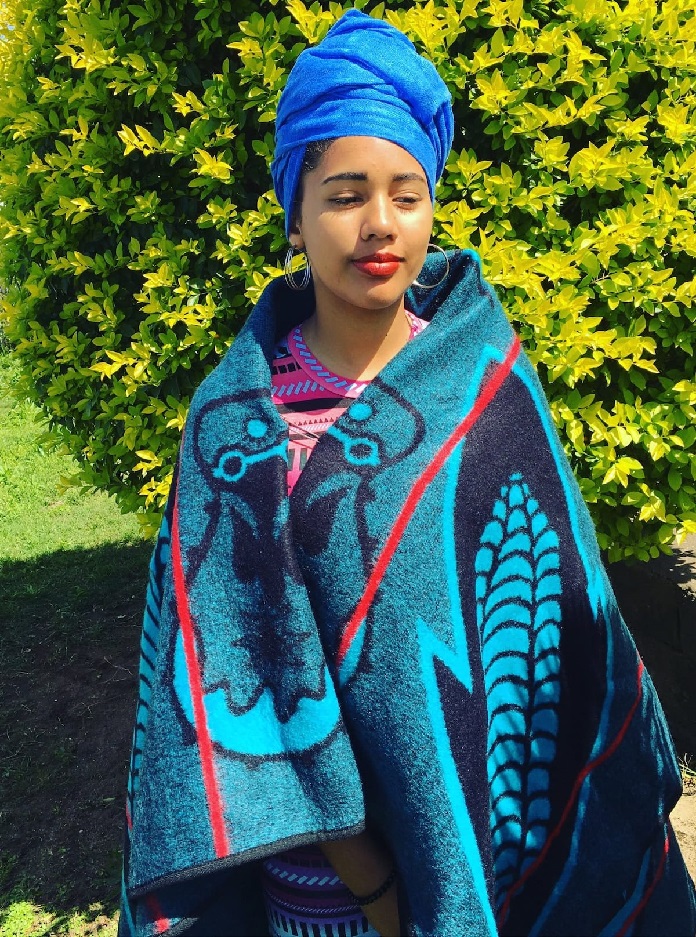 This is a full-on traditional Sotho bridal outfit with a full-length dress and a blanket held over the shoulders and a headwrap to match.
29. Sotho-Themed Ball Gown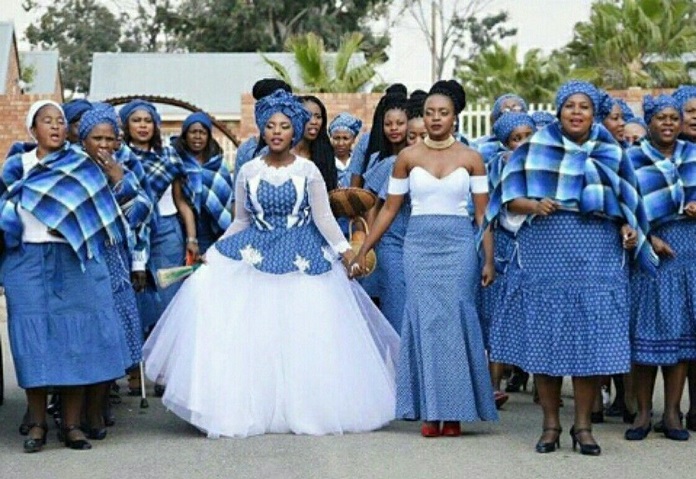 This is a traditional take on the classic ball gown. With a bodice overlaid with the Sotho fabric and a full body skirt, this bride looks like a princess.
30. Tulle Wedding Dress with Ruffles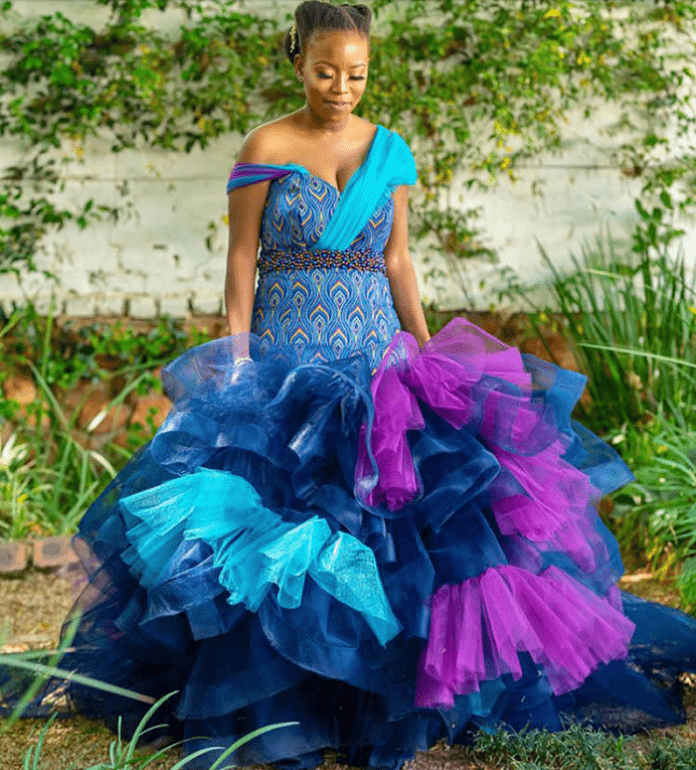 This dress is made with a blue Sotho print with off-shoulder sleeves. The bodice is covered with plain blue net material to form a strap-like hand. There is also intricate beadwork done at the waist and the gown is finished with massive ruffles to give it a full-figured appearance.