Linda Ikeji's net worth is estimated at $75 million (N28.6 billion). She is a Nigerian blogger, writer, entrepreneur and former model .
When it comes to blogging in Nigeria and Africa as a whole, Linda Ikeji has grown to become a force to reckon with. The trailblazer has had unprecedented success in an uncharted field due to her foresight and love for everything entertainment. Asides from having the pleasure of doing what she absolutely loves, Linda has also made a whole lot of money from blogging which she has used to expand her activities into several other spheres of the entertainment industry.
Blogging Is The Major Source Of Linda Ikeji's Net Worth
Although several figures have been circulating as Linda's net worth, one cannot dispute the fact that she is already a billionaire. As of now, she is estimated to have a net worth of $75 million which translates to about N28.6 billion.
This phenomenal lady who has come to change the face of blogging in Nigeria has been able to monetize her hobby. Even while in the University, Linda has never been the type to sit idle. She had several side hustles which fetched her good money including writing and modeling. Two years after her graduation (in the year 2006), she started her blog using the free Google platform blogspot.com. Being an English graduate and one who loves writing, it didn't take time for her to start publishing juicy content on her blog. Her blog basically thrived on gossip and she had a unique way of pulling in her audience.
Over time, this blog grew to the point that several mobile browsing apps including Opera Mini and UCWEB started including her site in their default bookmarks or speed dials alongside other Nigerian sites. Linda then strategically drew traffic to her blog by doing several giveaways to her most active followers. She had daily, monthly and yearly giveaways which again increased the traffic to her site. As the years went by she grew to a completely different level and got her own domain lindaikejiblog.com.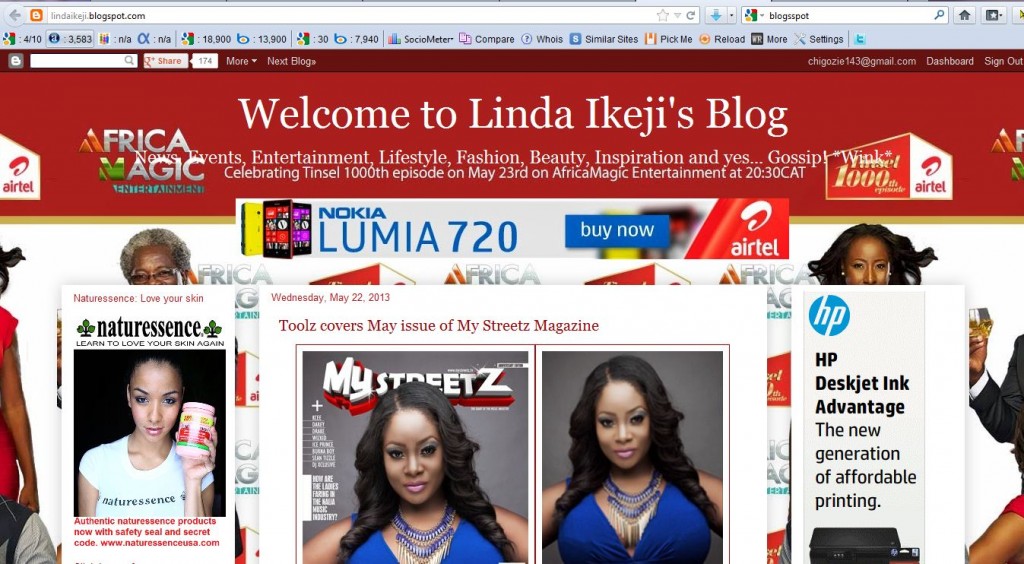 Linda Ikeji's blog soon became one of the most visited websites not only in Nigeria but all over the world. As her traffic grew, she attracted high-paying advertisement deals from several local and multinational companies, political parties, and even non-governmental organizations. More so, Linda is definitely not a person who discriminates as she has placed adverts for several companies in competition on her blog. She is definitely all about the money! No hard feelings!
According to reports, she is said to make an estimated ₦72 million ($200,000) monthly from both google ad sense and local ad placements. For several years, Globacom Limited (Glo) and Guaranty Trust Bank are said to have placed a sidebar ad on her blog worth N1 million monthly.
She Has Launched Several Other Entertainment Platforms
Although the bulk of her wealth has been from advertisement revenue from her blog, Linda as a smart businesswoman has diversified into other areas and ventures in the entertainment industry over the years. In May 2010, her first book titled, 'It takes you -A book of Inspiration' was launched at the Genesis Deluxe Cinema in Lekki. This was a huge success and it is believed to have fetched her a good amount as income for her effort. A couple of years later in 2016, she launched Linda Ikeji TV where she airs a variety of programs. She has also ventured into online radio broadcasting. In the same year, she opened LindaIkejiMusic (a music platform) even though it became dormant shortly after.
In addition to the above, she launched her own social networking platform named Linda Ikeji Social on the domain name LindaIkejiSocial.com. On these platforms, Linda also rakes in massive income through advertisement deals which are usually in the form of sponsored posts or banners. According to several sources, she charges anything from N50,000 to N300,000 to promote a song, video, product, or service on her platforms.
Brand Endorsements Also Contribute To Linda Ikeji's Net Worth
With the number of traffic and unique visitors that visit her blog on a daily basis, Linda Ikeji has caught the attention of several big companies as no business with an interest in Nigeria will let go of such a huge opportunity to reach such a large audience of young people. She has advertised for government and private organizations, fashion brands, beauty brands, music, movies, smartphones, and just about anything.
Some of the companies she has endorsed over the years include telephone companies and other establishments like:
MTN, Airtel, Glo
HP (the global computer giant) Naturessence (a popular hair-care product)
Nokia
MerryBet
Guinness Stout
Origin
UBA
Hyundai
Dettol
Jumia
Konga
Dealday
OLX
Gidi Agents
Paxful
This list is not exhaustive in any way considering how much money she has been able to make from her blog. The companies are bound to be more.
To recap, Linda Ikeji'sm main sources of wealth are –
Adverts on LindaIkeji's blog
Book publication – 'It takes you – A book of Inspiration'
Linda Ikeji TV
LindaIkejiMusic (now dormant)
Linda Ikeji Social
Various brand endorsements
She Is A Recipient Of Several Awards & Recognitions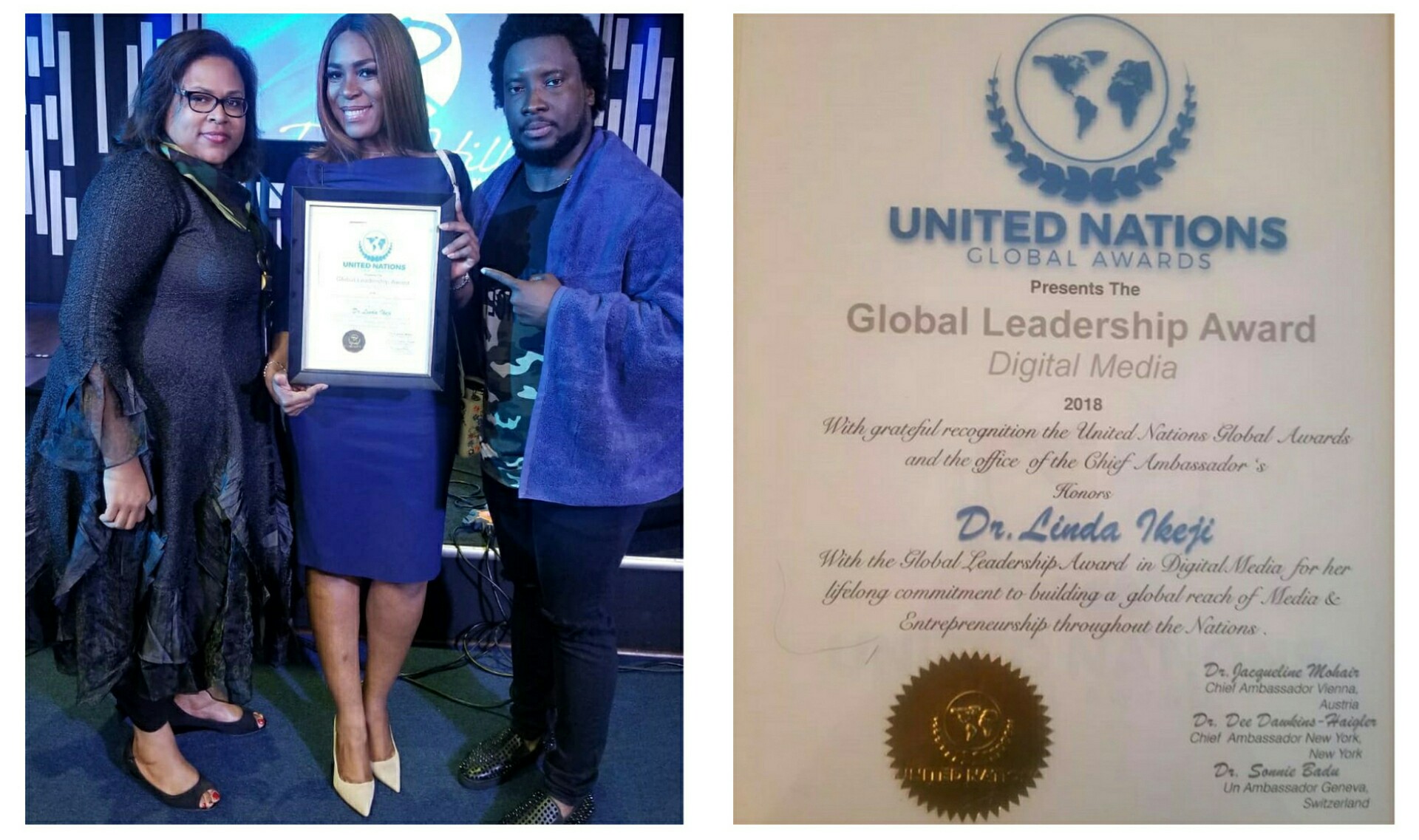 Linda has received lots of recognition over the course of her blogging career. She was profiled in Forbes Africa's "Africa's 20 Most Prominent Women" in their August 2012 monthly issue which was dedicated to celebrating African women. The next year, her blog won the "Best Entertainment Blog" award by Nigeria Blog Awards (NBA) and was also named "Website/Blog of the Year" by Nigerian Broadcasters Merit Awards that same year.
By 2014, her popularity had grown tremendously to the extent that the name, 'Linda Ikeji' was the most searched term by users of Google in Nigeria. This eventually set her on the stage of success not just locally but internationally as well. She was among eminent personalities drawn from countries all around the world and across multiple disciplines who were conferred with Honorary Doctorate Degree by Trinity International University, Georgia in 2018. This honor was given to her because of her outstanding accomplishments in Media and Business in Africa. Later on, in June 2019, Linda graced the cover page of Forbes Africa magazine "Content Is Queen". She has also been recognized by the United Nations Global Awards which gave her an award in recognition of her contribution to enhancing the global reach of media and entrepreneurship in Africa.
In summary, Linda Ikeji's award list boasts of –
Best Entertainment Blog (2013) by Nigeria Blog Awards (NBA)
Website/Blog of the Year (2013) by Nigerian Broadcasters Merit Awards
Honorary Doctorate Degree by Trinity International University, Georgia (2018)
Global Leadership Award (2018) by the United Nations Global Awards
Linda Ikeji's Houses & Cars
As she has made money over the years, Linda has been able to fund a very luxurious lifestyle. She owns several houses including a choice one in Banana Island which is said to be worth over half a billion naira when she bought it n 2015. Apart from owning this N500 million mansion in Banana Island, Lagos which is now said to be worth N2 billion, she is also the proud owner of an N75 million 6-bedroom mansion that she built in her hometown (Nkwerre) in Imo State. Linda Ikeji actually built the duplex for her parents and it was done in less than 12 months.
The blogger cum businesswoman is also notable for her love for cars which has made her purchase some of the finest automobiles money can buy. Currently, she is the owner of a Bentley Mulsanne which she bought for about N108 million. The purchase of this car coincided with the birth of her son and it was a way to celebrate his arrival. Linda also owns a very classy Land Rover Autobiography which she purchased for N70 million back in 2016. A Range Rover Sport worth N25 million, a 2011 Toyota Camry as well as an Infinity FX 35 are all part of her car collection.
Controversies Linda Ikeji Has Courted Over The Years
Even though Linda's blog started out as a go-to place for the latest gist, her success soon began to draw attention to her personal life and family. All her efforts to maintain her privacy proved futile as her followers were very curious to know what was happening in her life. This in itself afforded some less popular bloggers to write truths and half/truths about her life which brought traffic to their blogs. However, in the midst of all this chaos, Linda has found a way to curtail this by owning her story and sharing with her followers first hand whatever is happening in her life. Some reasons she has been criticized for include the following:
She Has Been Sanctioned For The Contents On Her Blog
With the type of stories Linda posts on her blog, it's no wonder her family has remained her closest ally over the years. The reason is not far fetched as it is difficult to remain friends with celebrities after exposing their dirty linen on your blog and during the course of her career, she has come under fire for several controversial posts about celebrities like Wizkid, Richard Mofe Damijo, Funke Akindele, Tonto Dikeh, and Djimon Honsou to mention a few. She has also dealt with controversial posts like the #SaveMayowa Campaign and controversial publications about Doyin Okupe who described it as defamatory.
More so, her blog was closed for 2 days by Google in October 2014. According to the search engine's West Africa representative, Taiwo Kola-Ogunlade the decision to close Linda Ikeji's blog on October 8th, 2014 was because she violated the Terms of Service and by so doing, she was diminishing the experience of Google users. Fortunately for the blogger, the issue was resolved and her blog was back online on October 10th, 2014.
The Circumstances Behind Her Son's Birth Was Very Controversial
At some point in her life, Linda Ikeji chose to become celibate and shared her reasons with her followers. Her decision inspired several of her followers to choose celibacy as they saw her as a mentor and role model.  However, there was a twist in the whole gameplan as she eventually turned on her own words and became pregnant before marriage.
When the news of her pregnancy began to spread in 2018, a lot of criticisms began to circulate with only a handful of persons sharing in her joy of becoming a mother. To salvage the situation, Linda had to release an official statement in which she apologizes to her followers for how she got pregnant pointing out that it was not intentional, rather it was actually done out of fear as she did not want to have fertility issues by the time she clocked 40.
She Has Been Criticized For Her Flamboyant Lifestyle
Linda who has since come out of her shell is no longer shy to flaunt her wealth on social media. She is known to show off her exotic cars, designer wears, shoes, and bags on her social media pages. When she purchased her Banana Island mansion, she went ahead to give her fans a tour of her exotic home in a post on her blog.
Many people have however criticized her for showing off and spending senselessly on trivial things. However, Linda has taken all this criticism in good strides and continues to own up to her mistakes and glory in her many successes.
Linda Ikeji's Self Made Woman Conference Is A Way For Her To Give Back To The Society
After she became successful, Linda has shared her story with millions of people all over the world and reiterated that she worked hard for all the successes she enjoys today. This her dream and reality of being self-made is what birthed her non-profit organization – "I'd Rather Be Self Made; No Thanks,"
With the money pouring in, she decided to give back by starting this empowerment program that trains and assists young Nigerian ladies to embrace entrepreneurship just like she did and work with their hands instead of using their bodies as a means of getting money. In an interview discussing her project with HipTV, she revealed that through the project, she has assisted young girls between the ages of 16–25 who have great business ideas and are willing to venture into entrepreneurship.
She gave out the sum of N10,000,000 in Phase 1 of the project and has given out more than N30 million naira over the years. On her motivation for the project, Linda is of the opinion that the world is more skewed towards making men more successful than women. So, as someone who has broken the myth, she believes it is her duty to help as many women as possible to succeed. She believes more women are needed to set the pace, head conglomerates, and make an impact. The industrious lady actually seems to be doing pretty well with this project as several young ladies have benefited from this project over the years and are forever grateful for the blessing in form of Linda Ikeji.