The beloved animated American television series SpongeBob SquarePants has been entertaining children and adults alike for quite a number of years now. The title character SpongeBob SquarePants has become a regular in memes on Twitter and has been used in a series of pop culture scenarios. The show was created by Stephen Hillenburg for Nickelodeon and since conception, has steadily climbed the ranks to become one of the highest rated series to ever air on Nickelodeon.
Spongebob Squarepants has pulled in an amazing $13 billion in merchandising revenue for its home channel Nickelodeon as its beloved characters who live in the fictional underwater city called Bikini Bottom have endeared themselves to people all over the world.
SpongeBob SquarePants Cast
A lot of shows rise and fall on the strength of their cast and SpongeBob SquarePants seems to have gotten the better end of that deal. The show features the voices of Tom Kenny, Bill Fagerbakke, Clancy Brown, Carolyn Lawrence, Mary Jo Catlett, Mr. Lawrence, Jill Talley, Lori Alan and Rodger Bumpass.
There are also some one-off background characters voiced by Sirena Irwin, Bob Jones, Thomas F. Wilson, Dee Bradley Baker and Mark Fite. With the show's popularity, it is also not unusual to have celebrities from different fields voicing some guest characters.
Episodes and Characters
Spongebob Squarepants debuted with its first episode on the 1st of May 1999. It was well received and has gone on to broadcast a total of 234 episodes. Its eleventh season began airing on the 24th of June 2017. The show celebrated its tenth anniversary in 2009 with an episode dubbed Square Roots: The Story of SpongeBob SquarePants and SpongeBob's Truth or Square.
As one would expect, the success of the show has also given rise to a feature-length film called The SpongeBob SquarePants Movie (2004), which led to a stand-alone sequel in 2015, titled The SpongeBob Movie: Sponge Out of Water.
SpongeBob episodes have received nominations for several awards over the years. The show has gotten 17 Annie Award nominations out of which it has won six, 15 Emmy Award nominations, 17 Golden Reel Award nominations and 13 Kids' Choice Award nominations.
The characters are so well crafted that they continue to receive a positive response from fans to the extent of even making appearances outside the world of the show. Below we feature the main characters of SpongeBob SquarePants.
SpongeBob SquarePants
The title character SpongeBob is voiced by Tom Kenny and can be described simply as a yellow anthropomorphic sea sponge. He is ordinarily framed as a rectangular cleaning sponge that wears brown short pants with a white collared shirt and a standard red tie.
SpongeBob lives in a pineapple under the sea, is employed at the Krusty Krab (a fast food restaurant) and has a running gag of never being able to get a driver's license despite his diligent attendance of Mrs. Puff's Boating School. SpongeBob is bubbly and enthusiastic with an optimism that he applies towards everything.
Patrick Star
Patrick Star is a starfish voiced by Bill Fagerbakke. He is pink, wears flowered swim trunks and lives under a rock. The character is SpongeBob's best friend and is known for being quite unintelligent. He can sometimes get quite aggressive but is generally easy going and slow as a rule.
Squidward
The character of Squidward, full name Squidward Tentacles is voiced by Rodger Bumpass. He is an octopus with the distinct feature of a rather large nose. Squidward also works at the Krusty Krab as a cashier and is neighbors with SpongeBob who irritates him to no end although both SpongeBob and Patrick consider him a rather close friend.
Mr. Krabs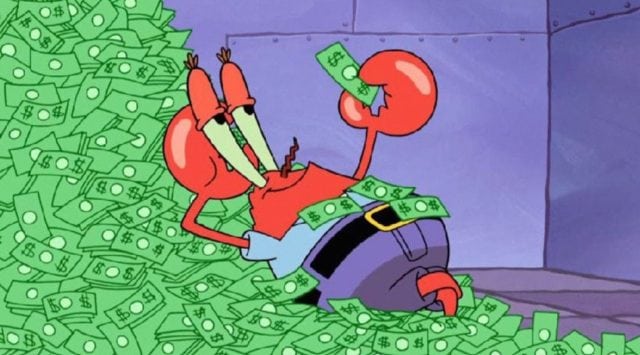 Mr. Krab, the owner of Krusty Krab and therefore boss to SpongeBob and Squidward is voiced by Clancy Brown and is a red crab. Krabs loves money and is cunning, his daughter Pearl who is a whale lives together with him in an anchor and he will do practically anything to make her happy despite disliking the thought of spending money.
Plankton and Karen
Sheldon Plankton a small planktonic copepod voiced by Mr. Lawrence is the creator of Karen Plankton voiced by Jill Talley. Karen is a talking supercomputer who is also Plankton's wife and helps him with his ultimate goal – stealing Mr. Krabs secret recipe for Krabby Patties. Plankton considers Mr. Krabs his archenemy as he runs the Chum Bucket, an unsuccessful restaurant that is a commercial failure due to the terrible food that they sell made from chum.
Sandy Cheeks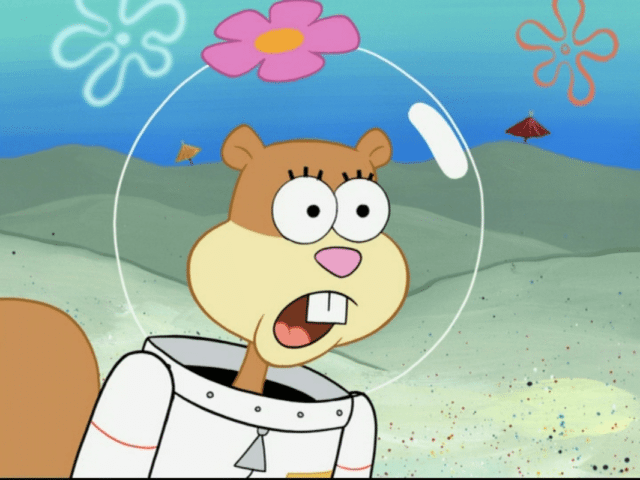 Sand Cheeks is a squirrel from Texas and, is voiced by Carolyn Lawrence. She has to wear a diving suit to breathe underwater and lives in an air-filled glass dome. Sandy is a scientist, explorer, inventor, and also a rodeo champion with many athletic interests.
Mrs. Puff
Mrs. Puff is voiced by Mary Jo Catlett and is a pufferfish who is the teacher at SpongeBob's boating school. The school is made from a submerged lighthouse and Mrs. Puff wears a sailor suit. When she is scared or injured she puff up into a ball.
Pearl Krabs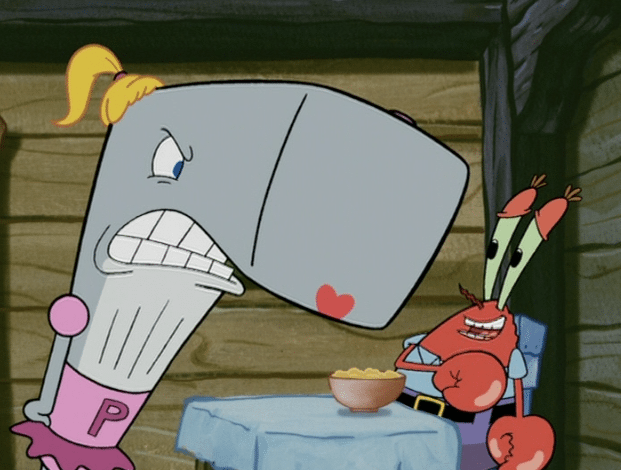 Pearl Krabs, Mr. Krabs' daughter is voiced by Lori Alan and is a teenage sperm whale. She finds it hard to fit in with her fish mates due to her size (a characteristic of her species). Pearl is in line to inherit the Krusty Krab from her father but is still in high school and so works at the Bikini Bottom mall while helping her father spend his money.
Gary the Snail
The character of Gary the Snail is voiced by Tom Kenny. Gary is SpongeBob's pet sea snail who lives with him and expresses himself like a cat through meows. However, other characters can understand and talk to Gary and he often serves as SpongeBob's voice of reason, helping his owner to solve problems.
See Also: Showmars Restaurants, Menu and How to Locate One Nearest To You
Is SpongeBob SquarePants Getting Cancelled?
SpongeBob SquarePants was renewed for a thirteenth season. The twelfth season contains 26 episodes which started airing in 2019. Despite this confirmation, a viral tweet from a fake SpongeBob Twitter account raised fears that the show's end was near with a tweet that appreciated viewers while showing an end date and using a screengrab of a teary-eyed SpongeBob
The account was, however, disproven as the real Twitter account for SpongeBob and the rumor of an end to the beloved show can be laid to rest.