Since she launched her eponymously named channel in 2013, Sssniperwolf has been on the rise when it comes to video game influencers. She is one of the biggest names in the online gaming subgenre of YouTube videos. Real name Lia Shelesh, she started with Call of Duty: Black Ops II but has diversified with other games like Fortnite and Minecraft.
For all the success of her career, Sssniperwolf has her family to thank, and she does appreciate them, so much that they are prominent components of her online stardom. In turn, there has been increased interest in her family members, along with other details about her personal life.
Sssniperwolf was Born into a Family of Five
Sssniperwolf, whose real name is Alia "Lia" Shelesh, was born on October 22, 1992, England, UK. She is the first child born to her parents, with her siblings being two brothers and a sister. The family relocated to Arizona when she was six years old, becoming a US citizen after spending more than 22 years in the country.
While she might be an English-American, ethnically, Sssniperwolf is Greek-Turkish, explaining her exotic look. Her name, however, is of Iraqi origin, and she speaks Arabic. Interestingly, her ethnicity has played a minimal role in her ascent as an online gamer.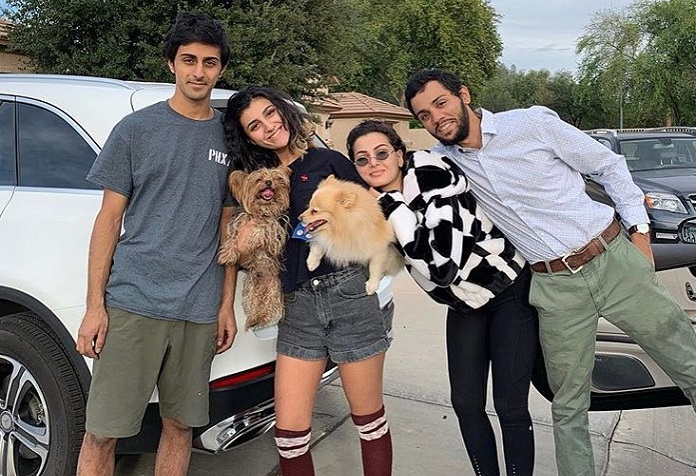 Not uncommon for those with her ethnic background, Lia grew up in a conservative family, with parents who wanted to live a conventional life, but a parental decision at the age of six ensured the YouTuber was heading on a different path.
What We Know About Her Family Members
Over the years, since she began her channel in 2013, Sssniperwolf has grown her online fame by incorporating personalities in her personal life into her videos. Her family members, including her parents and siblings, have featured in several of her videos. Here is everything we know about each member of the Shelesh family.
Mr. Shelesh Sparked Her Gaming Career
It seems unfortunate that the name of the man responsible for her passion for video games remains undisclosed. But for all their appearances on her channels, the rest of the Shelesh family prefers to keep things private.
Still, whatever is unknown about Mr. Shelesh, is more than made up for by the fact he bought Lia her first console, the Sony PlayStation.
In an attempt to curb the constant fights between Alia and her brothers, her father decided to buy her a PlayStation, putting an end to the siblings' rivalry. The decision her father made to curb the fights turned out to be a career pathway for his daughter.
She got her online moniker Sssniperwolf from a game character in one of her favorite gaming series called Metal Gear Solid. In turn, in appreciation of his support, Sssniperwolf bought a car for her father.
Sssniperwolf's Mother is Her Biggest Fan
With over 21 million subscribers and several billion views, Sssniperwolf does not lack huge fans, but none is quite as big or personal as her mother. Like her father, Mrs. Shelesh keeps her identity away from the broader public, but she has appeared in some of her videos and social media photos.
Her mother, like any good parent, wanted her to focus on a proven career path, like pharmaceutics. She enrolled in a local community college but later dropped out over incessant passes from men, teachers, and a lack of friends.
Sssniperwolf then transferred to a university but became unhappy with her chemistry classes and the idea of life as a pharmacist. As a result, she switched her major to nursing, but also became dissatisfied with the process, despite completing the prerequisites.
Finally, Sssniperwolf decided to take a year off college, and her mother supported her. That support and decision proved invaluable. Within the year, her YouTube status improved, reaching one million subscribers in January 2015, before the year was over, she added one million subscribers.
Throughout her climb to A-list YouTube status, Lia's mother remained supportive. She has even appeared in some of her videos, to the delight of her audience.
Lia has returned this support. In 2014, when her mother fell ill, she convinced her to quit her job, taking up the responsibility of providing for her.
When Sssniperwolf moved out of the house, she relocated to one not so far from her mother, and just as she did for her father, she bought her mom a car.
Sssniperwolf's Has a Close Bond with Her Siblings
Sssniperwolf has three siblings, her only sister, Ranya Shelesh, and two brothers – Paul and Bakir Shelesh. Publicly, at least, the YouTuber has a solid relationship with her siblings. She reportedly has a close bond with her sister, Ranya, who is a prominent face on her channels.
Ranya, who goes by the online nickname, Optimus Prime Alligator, was born eight years after Lia's birth. They have filmed each other going on shopping trips, having dancing challenges, and playing Twister.
Ranya, with the rest of the family, lived in Glendale, Arizona, and worked at Glendale Water'n Ice company. She is also a YouTuber, with a channel focused on gaming and lifestyle content.
Compared to the two women, Sssniperwolf's brothers are a lot more reserved. Paul, the older of the two brothers, is a devoted guitar player and car lover. He was born a year after Lia in 1993. As for Bakir, not much is known about him, but we do know he was a victim of Lia's console dictatorship when they were children.
She Has Been in a Complicated Relationship with Evan Sausage since 2013
Sssniperwolf/Alia Lia Shelesh has been in an open relationship with another YouTuber named Evan Sausage. Their relationship started online after Sssniperwolf uploaded a video that Sausage found interesting. He slid into her inbox and sent her a message that made her laugh.
Evan Sausage, to the uninitiated, is a gamer and vlogger YouTuber with more than 330,000 subscribers. He is famous for his relationship with Lia as well as his skills at games like Grand Theft Auto, Call of Duty and Metal Gear Solid. Like Lia, he is also a native of Arizona.
They began texting and Skyping daily, striking up a relationship in the process. A few months after, in 2013, they met and bought a house together. What seemed to be the start of happily-ever-after has been the source of numerous controversies. They have been through breakups, arrests, and shockingly, armed robbery, all documented on their channels.
However, in recent years, things have been a lot quieter. The couple has settled into a regular lifestyle, posting photos of each other on their respective social media pages.