Across all its branches in Nigeria, Standard Chartered Bank has left lots of customers happy and satisfied. Its current customer base is growing daily with many people expressing admiration for the excellent customer care services they receive from the bank. They never get enough of this quintessential bank and keep coming back for more. Below is everything you should know about Standard Chartered Bank Nigeria customer care and the bank's various branches spread across the 36 states of the federation.
Standard Chartered Bank Has Dedicated Customer Care Units
Staying true to being here for good, Standard Chartered Bank established a dedicated and responsive customer care unit called Client Care. This team is in charge of the bank's Contact Center which is open 24/7. Whether you need to make an inquiry or get direction on how to solve an issue, Client Care is always available. The customer service agents at the Contact Center are well-trained and mannered. They are also prompt in proferring solutions to problems. They can be reached through a variety of means and for different reasons.
Personal Banking
Phone numbers: +234 1 270 4611 – 4, +234 800 123 5000 (Toll Free)
Email: clientcare.ng@sc.com.
Corporate, Institutional, and Commercial Banking
Phone numbers: +234 1 2368220 – 4, +234 1 2368344, +234 1 236 8800 (Business hours Monday – Friday)
Email: clientcare.ng@sc.com.
Standard Chartered Priority Banking Centers/International Service Desks
Phone number: +234 1 2772514.
Email: prioritybanking.ng@sc.com or clientcare.ng@sc.com
You can also reach out to Client Care by filling an online form at the Contact Us Page of the website. You would get a prompt response on submitting your email address.
Standard Chartered Bank Nigeria Customer Care Twitter Handle
Standard Chartered Bank Nigeria maintains a very good presence on Twitter. Being one of the largest social networks, Twitter remains a place to engage existing and potential customers. Standard Chartered Bank, having recognized this, uses Twitter effectively.
Its Twitter page is awash with promotional activities, recent updates, and opportunities in the country. If you intend to connect with Standard Chartered Bank Nigeria on Twitter, go to its handle – @StanChart. The handlers respond promptly.
Standard Chartered Also Maintains Presence on Other Social Media Platforms
Standard Chartered uses social media to the fullest. This bank is present and active on Facebook, Instagram (@stachartng), and LinkedIn. On these platforms, their handlers share a variety of content that reflects their organizational goals and visions. It is also an avenue to respond to customers' queries. If you have any issue you intend to resolve and can't make that call now or send a mail, turn to social media and get it trashed out almost immediately.
How Effective Is The Standard Chartered Bank Customer Care Email Address?
Prompt response to queries remains a metric used in assessing an organization's customer care and support capabilities. Standard Chartered Bank Nigeria's customer care has its primary email as clientcare.ng@sc.com. Any mail sent to this address gets a response in due time, whether during or after working hours. This is the main email address of Client Care, the bank's customer service unit.
Other mails include prioritybanking.ng@sc.com, CABM_NG@sc.com, and Nigeria.DPO@SC.com. These are emails to write to for Priority Banking, to learn about their approach to disability, and to contact the data protection service respectively. How promptly you get a response here depends on the time you sent the mail and the number of customers waiting for a response.
Where Is The Headquarters of Standard Chartered Bank In Nigeria?
Standard Chartered Bank has its headquarters in Lagos, the Center of Excellence, and the economic capital of Nigeria. The bank's magnificent headquarter complex is situated at 142 Ahmadu Bello Way, Victoria Island, Lagos, Nigeria. This ultra-modern complex was opened in 2014 and is fitted with state-of-the-art technologies for successful banking operations and growth.
From the headquarters, Standard Chartered Bank Nigeria (SCBN) Ltd coordinates banking activities and financial transactions across 42 branches spread across Nigeria. Its over 900 staff members are well-trained, dedicated, and motivated to deliver quality service to all customers, no matter their location in the country. With the advent of digital banking, customers can bank at their convenience and this is one area Standard Chartered has done exceptionally well.
Standard Chartered Has 42 Branches Across Various Locations in Nigeria
Aside from its headquarters in Victoria Island, Lagos, Standard Chartered Bank Nigeria (SCBN) has 42 branches across the federation. This is a huge success considering how the bank started with 3 branches in 1999. This massive rise is due to its doggedness to excel in the Nigerian market. What the bank lacks in physical branches, it makes up in digital banking and topnotch services. To locate the nearest branch to you, log on to the bank's website. You will be directed to the closest branch based on your GPS location. Below is a list of Standard Chartered Bank Nigeria (SCBN) branches in Nigeria.
Lagos State
No. 142, Ahmadu Bello Way, Victoria Island, Lagos (Head Office)
Plot 105B, Ajose Adeogun Street, Victoria Island, Lagos
No. 40, Warehouse Road, Apapa, Lagos
No. 30, Aromire Street, Ikeja, Lagos
Shop 37A, The Palms Mall, Lekki Peninsular, Lagos
Plot 1681 Sanusi Fafunwa Street, Victoria Island, Lagos
Plot 122/132 Apapa-Oshodi Expressway, Isolo – Afprint Isolo, Lagos
No. 138, Broad Street, Lagos
Suite K23 Ikota Shopping Complex, Lekki-Epe Expressway, Lagos
No. 184, Awolowo Road, Ikoyi, Lagos
No. 56, Town Planning Way, Ilupeju, Lagos
No. 47, Isaac John Street, GRA Ikeja, Lagos
No. 35 Opebi Road, Ikeja, Lagos
Shop G2 and G3, City Mall, Onikan, Lagos
Plot 94, Block 24, Lekki Scheme Phase 1, Eti-Osa LGA, Lekki, Lagos
Ground & First Floor, Surulere Leisure Centre, Adeniran Ogunsanya Street, Lagos
Plot 72A, Adetokunbo Ademola, Victoria Island, Lagos
Polysonic Plaza, 1B Point Road Apapa, Lagos
No. 21/22 Marina, Lagos
Plot 6/7, 1st Avenue, Festac Town, Lagos
Plot 42 Acme Road/34 Lateef Jakande Street, Agidingbi, Lagos
279, Herbert Macaulay, Yaba
Ibadan, Oyo State
102, Moshood Abiola Way Ring-Road, Ibadan, Oyo state.
Ota, Ogun State
Km 3, Idi-Iroko Road, Otta , Ogun State.
Akure, Ondo State
Sovereign Trust House, Alabaka Junction, Akure, Ondo State.
Abuja
Plot 3174 Adetokunbo Ademola Crescent, Wuse II, Abuja
D'alibro Shopping Mall, Suite G13, 32 A.E. Ekukinam Street, Utako District, Abuja
Tswanya Centre; Plot 1517/1518 Mohammadu Buhari Way, CBD, Garki, Abuja
Zamani Complex; 1 Zambezi Crescent; 1405 Cadastral Zone A05, off Aguiyi Ironsi Street, Maitama, Abuja
84 Kwame Nkrumah Crescent, Asokoro, Abuja
NNPC Towers, Herbert Macaulay Way, Central Business District, Abuja.
Silverbird Galleria, Plot 1161, Memorial Drive, Central Business District
Kaduna State
Plot 1 & 2C Kachia Road, Kaduna, Kaduna State.
Kano State
8C Murtala Mohammed Way, Kano, Kano State.
Maiduguri, Borno State
Kashim Ibrahim way, Maiduguri, Borno State.
Rivers State
No. 143, Aba Road, Port-Harcourt, Rivers
Plot 7, Trans-Amadi Industrial Layout, Port-Harcourt, Rivers
Shell RA, 420 Aba Road Opposite Shell RA Port Harcourt Rivers State
Onne: Free Trade Zone, Intels Compound, Onne, Port-Harcourt, Rivers
Cross River, Calabar
Murtala Mohammed Way, Calabar, Cross River State.
South-Eastern Nigeria
Aba, Abia state: 20B, Aba –Owerri Road, Aba, Abia State.
Onitsha, Anambra: New Market Road, Onitsha, Anambra State.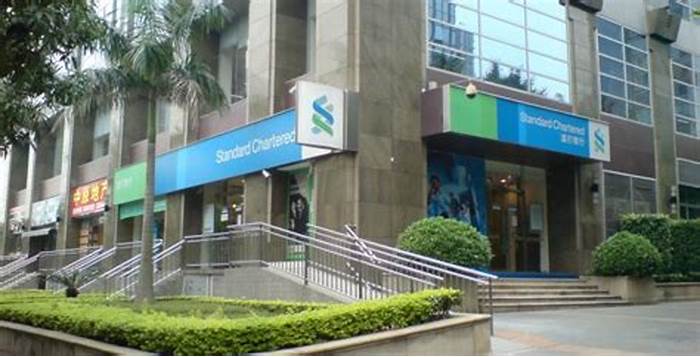 Overview of Standard Chartered Bank Nigeria Formation and Present Ownership
Standard Chartered Bank Nigeria (SCBN) Ltd is one the fastest growing commercial banks in Nigeria. The bank has its origin with a reputable company incorporated in the UK in 1853 with corporate headquarters at 1 Basinghall Avenue, London, EC2V 5DD. From there, Standard Chartered Bank was born. This bank has grown to become one of the most respected financial institutions in many countries in the world and is the parent company of Standard Chartered Bank Nigeria (SCBN) Ltd.
Before its reemergence in 1999, Standard Chartered had already tested the banking waters of the country. Standard Bank of West Africa was formed in 1965 by a merger between Standard Bank of South Africa and the Bank of West Africa. After 4 years, Standard Bank Nigeria came into existence. This bank was later renamed First Bank Nigeria with Standard Chartered holding 38% of its shares till 1996 when the company sold off its shares in the bank.
From September 15th, 1999 to date, Standard Chartered Bank Nigeria has been adding its quota to the economic development of Nigeria through a full range of banking products and services rendered to individuals, corporate organizations, and government institutions with the use of the latest technologies and motivated personnel. These products and services, which are usually in the areas of wealth management; commerce and industry financing; retail; private, digital, corporate, and transaction banking, are aimed at creating and managing wealth, driving commerce, sustaining growth, and making life easier for all in line with their motto "Here for Good."
Today, Standard Chartered Bank stands tall amongst the largest and best banks in Nigeria. It has won lots of awards and international recognition in terms of service delivery, innovation, and customer service. In 2017, the bank won the Best Wealth Management in Nigeria at The Asian Banker Excellence in Retail Financial Services Awards for West Africa and the Best Consumer Digital Bank at Global Finance World Digital Awards in 2017. It also won the Best Customer Experience Award for Technology Solutions and the Best Overall for Cash Management in Nigeria at the Treasury Management Internal Awards and Global Finance respectively in 2018.