StarTimes is a reliable cable TV service that offers local and international news channels, live coverage of major football leagues, and lots of entertainment channels. In Ghana, StarTimes is a competitive cable service with packages that cater to both low and high income earners.
Undoubtedly, as one moves up and down the price scale, there will be tradeoffs in the kind of channels available to you. Regardless, you are bound to get value for money, whatever your viewing needs might be.
StarTimes Ghana Offers Five Subscription Packages
Ghana customers have five subscription packages to choose from if they have a StarTimes decoder. They are all relatively cheap, with a price range from GHS 20 to GHS 100. The packages are StarTimes Nova, Smart, Super, Chinese, and French.
StarTimes Nova
Number of Channels: 29
Price: GHC 20
The Nova package is the cheapest subscription package available to StarTimes customers in Ghana. It comes with 29 channels, and it costs 20cedis. The channel offerings span across entertainment, news, movies, and sports. They include –
TV
Dove TV
Max TV
GTV
GTV Sports Plus
AMC Movies
TVC News
ST Sports Focus and several more.
Pro
The StarTimes Nova package is great for low-income earners who want regular access to the latest news from leading news stations in West Africa. The sports and entertainment channel options are also robust enough to stay up to date, with movies and live matches. It is also fit for students who want a cost-effective means of entertainment.
Con
Cheap as it is, it still missing a lot of major international channels. Cable viewers who want to keep up with American and British news from sources like BBC and Fox News will have to settle for coverage from local options. Sports fans also have limited options when it comes to live sports.
StarTimes Smart
Number of Channels: 33
Price: GHC 45
At 45cedis, StarTimes Smart package is more than double the cost of the Nova. It does justify its price with a good mix of local, regional, and international channels. The Smart package comes with news channels like BBC News, France 24 E, Al Jazeera, and sports channels like ESPN. Others are:
E!
Zee Cinema
National Geographic Wild
ST Naija
Nickelodeon
Emmanuel TV
JimJam
Sunna TV, and more.
Pro
The StarTimes Smart package is suited for customers in Ghana who want to enjoy a substantial array of international stations without paying a premium. Low-income earners who want kid-friendly entertainment for their kids will also find Smart to be a fair compromise.
Con
With 33 channels, it improves on the deficiencies of StarTimes Nova, but not enough to make it negligible. With only BBC, Sky News, Al Jazeera, and ESPN, there is still a lot of limited international content for viewers who enjoy real-time TV.
StarTimes Super
Number of Channels: 39
Price: GHC 75
As the name suggests, Super is the premium channel in the general options category. It costs GHC 75 and offers 39 channels, several of which are international stations. Current affairs aficionados will enjoy Fox News, Bloomberg TV, MSNBC. At the same time, sports fans will get ESPN 2 and all the available ST sports stations. Others available channels under this package are:
Fox
National Geographic
MTV Base
Dreamworks
Star Gold
Zee Magic
TV5 Monde
Ebony Life TV, and several more.
Pro
It is well above the Nova price at GHC 75, but it is undoubtedly worth the cost. If you want an extensive range of major international networks, with access to all the sports programs StarTimes offers, such as the UEFA Nations League and Bundesliga, this is the package for you.
Con
At GHC 75, it hovers just above the average budget of the low-income earner for which StarTimes is targeted. The good news is, for those who can afford it, there is plenty of local and international TV to enjoy.
StarTimes French
Number of Channels: 39 with Super, Sport Plus, Indian Bouquet
Price: GHC 75
If you are in Ghana looking for something more tailored, either because you are studying French, of French or French-speaking nationality, or prefer French culture, this StarTimes French package is for you. It comes with all the bouquet offerings of StarTimes Smart with a plethora of French channels such as –
France 2
France 5
TV5 Monde
SFR Sport 4
CGTN F
France 3
AFOREVO TV
Baby TV
Pro
Others include ST Nollywood F, Africa News, IQRAA, and MCM Top. It costs a steep GHC 75, but it comes with access to several major American and French channels. If you are also a sports fan, you will be able to watch all the premium sports programs offered by StarTimes.
Con
A well-intentioned bouquet that unfortunately costs a lot. With its only distinguishing feature being its array of French content, it is only worth the outlay if you have deep French interests you cannot access anywhere else.
StarTimes Chinese
Number of Channels: 20 with Super, Sport Plus, Indian Bouquet
Price: GHC 100
In a similar vein, the StarTimes Chinese package is targeted at Ghana customers with Chinese interests. Whether you are learning Chinese, of Asian origin, or have a greater affinity for the Eastern country, there are two channels dedicated entirely to cater to your needs. Some of them are –
China Movies Channel
Hunan World
CCTV 4
ST Kungfu
CCTV 13
BTV
CCTV 6
CCTV 5+ and more
Pro
Yes, it is slightly expensive at GHC 100. However, in addition to the dedicated Chinese channels, you will also be getting all 39 channels in the Super package. That way, you can think of it as paying for two packages in one. You will have access to all your Chinese channels with equal access to American stations like MTV Base, Fox News, MSNBC, and native StarTimes's sports stations.
Con
Like StarTimes French, its Chinese channels are not enough justification for the price. Casual observers with minimal Chinese interests can still have their dose of Chinese TV with StarTimes Super with a significantly lower price.
How to Pay for Your StarTimes Packages in Ghana
Once you have identified your preferred StarTimes subscription package, it is time to pay. In Ghana, there are a few options beyond the now-traditional means of paying online. A common method is MTN's Mobile Money, also known as MoMo.
Paying Via MoMo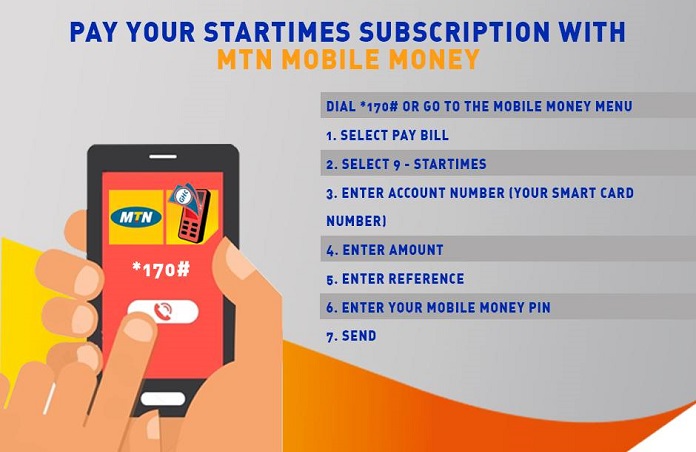 If you choose to pay via MTN's mobile money, you can do so in person or on your phone. Either way, you will need your account number. Once you have the account number, follow these simple steps (if you want to pay via your phone)
Dial *170# and select option 2 – (MoMoPay & Bills)
In the submenu option, select option 2 (Pay Bills) and then enter the account number.
Now select 'TV & Entertainment'- option 2
Now select StarTimes and enter the account number to finish up the process
Finally, enter your mobile money PIN.
If you opt to pay through an agent, simply go with your account number and your StarTimes IUC number. Remember to go with your cash or enough money in your MoMo account to pay for your preferred package.
Pay via StarTimesON
StarTimes Ghana customers can also pay for their packages via the StarTimesON mobile, available on Android and iOS devices. One standout advantage of paying through this method is, you can watch all the channels on your package anywhere you are, without a TV.
On StarTimesON, you can pay for your subscription by downloading the app. Once you have downloaded the app, you need to do two major things before paying via the app.
You must sign-in to the app. You can do this via your Google or Facebook account. There is also an option to create a dedicated StarTimesON account.
Once you have done this, you must link your decoder to the app. To do this, go to the 'Me' tab and select StarTimes Decoder Service. You will see the option to link your decoder. Select it and enter your Smart Card ID and the last 6 digits of your Decoder serial number (S/N).
After linking your decoder to the app, you can now pay for your StarTimes subscription package. To do this –
Go to the 'Me' tab
Select 'StarTimes Decoder Service'
Select the Bouquet option and follow the prompt.