Stephanie Allynne is a multi-talented American actress, writer, and comedienne whose body of works have premiered in the Sundance Film Festival. Some of her notable works include One Mississippi (2016-2017) and In A World (2013) among many others. She also performs with groups like ASSSSCAT and Wild Horses. The latter is a group made up of her friends like Lauren Lapkus, Mary Holland, and Erin Whitehead.
For an actress who has been active since 2009, it is hardly a surprise that she has been credited for at least 60 projects. More than half of that number are television roles and a great deal of the remaining are short film roles. As she has remained relevant in the competitive industry, her personal life has been gaining a lot of attention, especially in terms of her sexuality. Allynne isn't particular about keeping her love life away from the public but she tries to nudge the attention towards her works and what she hopes to accomplish.
She Began Her Career With Upright Citizens Brigade
Stephanie Allynne was born in Claremont, California, on the 16th of September 1986. Even as it is hard to tell what informed her career choice, it is believed that Stephanie knew when she was young that she wanted to be a part of the acting business. She has always been inclined to the arts and it wouldn't be out of place to conclude it was why she pursued and bagged a degree in Literature in English from Howard University.
The actress spent some of her youth in Buffalo, New York before moving to Los Angeles, California when she turned 18 years. In the sunshine state, she joined the theatre drama group known as The Upright Citizen Brigade (UCB), where she honed her acting skills on the stage.
Stephanie Allynne Made Her Screen Debut In 2009
Between 2009 to 2015, Stephanie Allynne appeared as herself in 4 episodes of UCB Comedy Original. After her debut screen role in 2009, the following year marked the beginning of the actress's portrayal of various roles in the Funny or Die web series that lasted until 2015. In 2011, she made appearances in The Back Room and Can't Get Arrested. That was the year she also started featuring in The Midnight Show.
2012 proved to be a busy year for the actress as she was seen in 2 Broke Girls, Key & Peele, Happy Endings, Up All Night, Jimmy Kimmel Live!, and The Aquabats! Super Show!. That same year, she pulled off her first two short films; Tomorrow and Turkey Day. It was also the year she started voicing various characters in Animation Domination High-Def and started playing Stephanie in Comedy Bang! Bang!; both of which lasted until 2015.
What Are Her Most Popular Works?
Since her career took off, a year hasn't gone by without the actress adding more credit to her resume. For short and feature films, her recent works include The Fun Company, Dave Made a Maze, Coda, All Nighter, Pacific Rim Uprising, Please Stand By, Someone you Know, and The Front Runner.
Stephanie Allynne's recent television projects include Animals, Dream Crop, LLC, Twin Peaks, Love, Craig of the Creek, and The L Word: Generation Q.
While she has come to play numerous film and television roles, she is most known for being Kate in One Mississippi and Joey Powell in Dream Crop, LLC. The former is a semi-autobiographical comedy series that she co-wrote and the latter is a black comedy series created for Adult Swim by Daniel Stessen. Her most notable big-screen project had her play Nancy in 2013's In a World…, a comedy film written and directed by Lake Bell.
Allynne has further written a number of scripts that have been turned into movies. They include Tig, Gregory Go Boom, K.I.T (2013), and People Places Things (2015), all of which have made it to the Sundance Film Festival Premiere.
The Truth About Stephanie Allynne's Sexuality
Stephanie Allynne was straight, at least that is what she claims to have been as she had only dated men in the past. This, however, changed after she met and became friends with stand-up comedian and actress Tig Notaro on the set of In A World. Allynne would later say that she had believed she was in love with the men she had dated in the past but being with Tig made her realize she had never been in love.
As her friendship with Tig Notaro grew, so did their chemistry grow stronger and it made Stephanie begin questioning her sexual preference. A year after the movie, Allynne and Notaro ran into each other at Sundance, and it marked the beginning of their life together as it was where they started dating.
In an interview, the actress admitted that it was very difficult for her to accept that she was attracted to Tig. She longed to spend time with her and didn't know how to explain the feeling because she believed she was straight. Nonetheless, it became very easy to pursue a relationship when she resolved to follow her heart.
Allynne and Notaro Are Now Married with Kids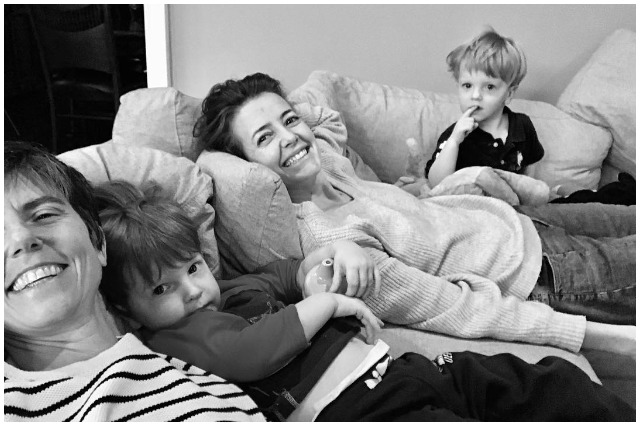 By the 1st of January 2015, Stephanie Allynne and Tig Notaro got engaged and eight months later, they were legally joined in marriage in a quiet ceremony at Tig's native town of Jackson, Mississippi, on the 24th day of October 2015.
The couple has since had twin sons; Max and Finn Notaro, born in June 2016 through surrogacy. They are among a number of people in a same-sex marriage that have proven that one does not necessarily have to be married to the opposite sex to be fulfilled or happy in marriage.
A clear indication of their bond is the fact that Allynne has been very supportive of her partner as she battled cancer. Notaro, who has been a part of many films and television shows like In The Motherhood (2009), Clarence, The Jim Gaffigan Show, New Girl, Instant Family, and Star Trek Discovery, is a breast cancer survivor who has turned her scars into solid inspiring messages. She underwent a double mastectomy and refused to get reconstructive surgery.