Stephanie Allynne is a multi-talented American actress, writer, and comedienne whose body of works have premiered in the Sundance Film Festival. A few of her other notable works include One Mississippi (2016-2017) and In A World (2013) among many others. She also puts up performances on ASSSSCAT and Wild horses, the latter with a group of friends that include Lauren Lapkus, Mary Holland and Erin Whitehead. Find out all there is to know about her career, including the juicy details about childhood and sexuality.
Biography (Childhood)
Stephanie Allynne was born in Claremont, California, on the 16th of September 1986. Like some other celebrities who love to keep things about them private, details about her early life, family background and childhood are hidden away, far from the prying eyes of the press and public. It is, however, known that she was educated at Howard University, where she bagged a degree in Literature in English.
Another fact about her that is very clear is that she spent some of her youth in Buffalo, New York before moving to Los Angeles, California when she turned eighteen years. In the sunshine state, Allynne joined the theatre drama group known as The Upright Citizen Brigade (UCB), where she honed her acting skills on the stage.
Having performed in a few shows in the Upright Citizens Brigade (UCB) Theatre in Los Angeles, Allynne went on to appear in TV series and films like Happy Ending (2011 to 2013), Two Broke Girls (2011 to 2017 ), The Mindy Project (2012), Up All Night (2012), Gregory Go Boom (2013 ), In A World (2013), One Mississippi (2015), Donald and Jess (2015), Twin Peaks (2017), among others.
She has further gone ahead to write a number of scripts that have been turned into movies. They include Tig, Gregory Go Boom, K.I.T (2013), and People Places Things (2015), all of which has made it to the Sundance Film Festival Premiere. The former member of the Groundlings Sunday Company drama group further performed comedy with Wild Horses: The Perspective Podcast, Last Day of School: The Text Message, and ASSSCAT.
In addition, the amiable 5 feet 8 inches tall comic actress, also wrote and performed in the Urban Adjacent theatre show that showcased the lives of suburbia seven inhabitants. By popular demand, its run time in the UCB theatre was elongated.
Stephanie Allynne has not done badly for herself as her net worth has seen an increase over the years. According to multiple sources, her current net worth is pegged a little above $1.5 million.
Is Stephanie Allynne Gay? Who is The Husband or Wife?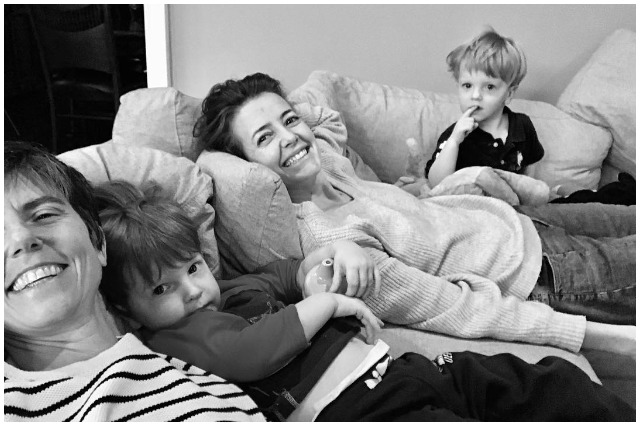 Stephanie Allynne did not originally set out sexually as a gay but as the years wore on, and with her chanced meeting with Tig Notaro, on the set of In A World in 2013, things took a different turn for the beautiful actress.
As her closeness and friendship with Tig Notaro grew so did their chemistry become stronger till Allynne was able to see love in her female companion. By the 1st of January 2015, the pair got engaged and eight months later they were legally joined together in marriage in a quiet ceremony at Tig's native town of Jackson, Mississippi, on the 24th day of October 2015. The couple has twin sons named Max and Finn Notaro, born in June 2016 through surrogacy. They are among a number of people in a same-sex marriage that have proven that one does not necessarily have to be married to the opposite sex to be fulfilled or happy in marriage.
Tig Notaro full birth name is Mathilde Tig O'Callaghan Notaro the Tig in her name was a moniker given to her by her older brother in her childhood days. Like her life partner, she is a stand-up comedienne, actress, and writer, born on 24th day of March 1971, in Jackson, Mississippi, USA.
She has made about thirty-five television shows and eighteen film appearances some of which include; Comedy Central Presents (2004), as Rhoda in 4 episodes of In The Motherhood (2009), 2 episodes of Comedy Bang Bang in 2013 which ran till 2014, Clarence (2015 to 2017), The Jim Gaffigan Show as Gomez in 2016, New Girl, Instant Family, and Star Trek Discovery in 2018 and 2019 respectively.
Beside, Tig Notaro is a Breast cancer warrior and survivor that has over time turned her scars into solid inspiring messages through audio released in 2012 titled Live which became an instant success more than her other works and turned her into an overnight legend in the comedy world.