Stephen Curry is a professional basketball player in the United States of America. He plays for the Golden State Warriors of the National Basketball Association (NBA). He is without a doubt one of the most famous and successful players currently in the NBA and is often put side-by-side, fame-wise, on the level of LeBron James. Stephen is often cast in the light of being an underdog due to his slighter frame which is not so common in the taller is the better world of basketball.
As one of the most liked players in the NBA currently, Stephen Curry is loved for what is considered a unique shooting ability, in fact, he is sometimes considered the greatest shooter in NBA history. To get the upper hand on account of his slighter stature, the professional basketballer perfected a unique jump shot where he gets the ball out of his hands in like half a second because he releases it on the way up. This gives his shots an extra arc, making them extremely difficult to block. He also has an impressive long-range that has enabled him in 2018 to lead the NBA in field goals.
By the last ranking in April 2018 saw Stephen Curry placed in the fourth position in NBA history in career three-point field goal percentage. He continues to retain his fan favourite status with his flashy play and is certainly an inspiration to younger fans of the NBA who can see the possibility of someone with smaller fame attaining such success in basketball. Below we look more into the life of Stephen Curry.
Who Are His Parents?
He was born Wardell Stephen Curry II on March 14, 1988, in Akron Ohio. His parents are Sonya Adams and Dell Curry, who was a basketball player before his son. Dell Curry spent a bulk of his NBA career playing for the Charlotte Hornets and so the younger Curry was raised with his family in Charlotte, North Carolina.
The Curry's had another son whom they named Seth and a daughter who they named Sydel. The two boys would often follow their father to his games and shoot with other members of the Charlotte Hornets during their warm-ups. Dell Curry later moved on to the Raptors and moved his family along with him to Toronto and it was there that he would finish out his basketball career.
See Also: Steve Nash's Love Life, Height, and Net Worth
Stephen Curry, meanwhile, attended the Queensway Christian College and was on the boy's basketball team. He helped lead the team to an undefeated season. At this period, he was also a part of the Toronto 5 – 0 club which played across Ontario. After his father retired, Stephen Curry moved back with his family to Charlotte and enrolled at the Charlotte Christian School. He went on to lead his team to three conference titles and three state playoff appearances after he was named all-conference, all-state. For college, he chose the Davidson College which had been hounding him to join them since the tenth grade.
Details About His Wife & Kids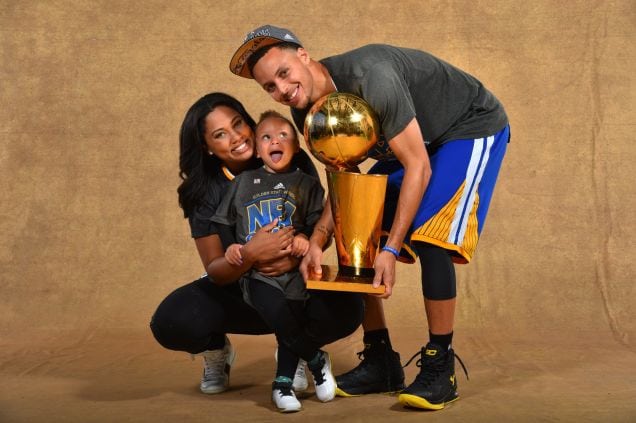 Stephen Curry got married on July 30, 2011, to a woman who had been his girlfriend for such a long time. His wife Ayesha Alexander Curry is a Toronto native and the two got married in Charlotte. Her mother is from Jamaica and so Ayesha Curry has been continuously outspoken about her support for immigration and is involved in many causes along those lines.
Ayesha Curry soon became a mother when they had their first child Riley in 2012 and then a son Ryan in 2015. The family currently lives in Alamo, Califonia and Ayesha who is a chef continues to balance her life as a wife and mother with some entrepreneurial endeavours.
Ayesha Curry owns International Smoke, a restaurant franchise that continues to expand and get high ratings. In 2016, she released a cookbook which she named The Seasoned Life.
Who Is His Brother – Seth Curry?
Stephen Curry's younger brother, Seth Curry, was born on August 23, 1990. His early path was very much like that of his brother's. He graduated from the Charlotte Christian School and also earned all-conference, all-state. He, however, chose to attend Liberty University where he went on to break the Big South Conference single-season scoring record for a freshman. At Liberty, he chose to wear jersey number 30 which was the same number worn by his dad and subsequently his older brother in their own careers. He is currently a member of the Dallas Mavericks of the National Basketball Association (NBA)
Other Facts
We have said a lot about Stephen Curry's slighter frame, for full disclosure, the basketballer stands at 6 feet 3 inches tall (1.91 m) and weighs 190 pounds (86 kg).
He plays at the point guard position.
Through the course of his career, Stephen Curry has managed to average 23.1 points, 6.8 assists, 4.4 rebounds, and 1.8 steals per game.
He has the third-highest career free throw percentage in NBA history – getting over 90% through the 2017–18 season.
He is an outspoken Christian and on some of his "Curry One" basketball shoes, he has a lace loop that carries "4:13" as a reference to Philippians 4:13.
He has a production company named Unanimous Media which signed a deal with Sony Pictures Entertainment as announced by the latter on April 23, 2018.