When it comes to the placekick position, Stephen Gostkowski was one of Bill Belichick's most trusted men. The prolific No. 3 was one of the oldest players in the franchise until the expiration of his contract in 2019. He got drafted during the 4th round of 2006 National Football League (NFL) draft as the 118th pick for the Patriots.
He signed six contracts with the team, spending 13 years with the Patriots. During this period, he recorded several accomplishments, including scoring the goal that gave the New England Patriots three more points and helped them clinch a sixth Super Bowl title in 2018.
His First Contract was Worth $2 Million
Football is generally a lucrative sport for those who make it to the NFL, but some positions pay more than others. The placekick position is one of the least lucrative positions in a football team. However, Stephen Gostkowski's talents helped him secure one of the better contracts as a placekicker when he joined the Patriots in 2006.
He signed a four-year $2.035 million deal with the Detroit team that earned him $275,000 in total salary in his rookie season. In the early weeks of his rookie year, he struggled but found consistency and excellence in the postseason. Stephen made all three field goals in the AFC Divisional Playoffs, including scoring the longest successful kick in Patriots postseason history.
With each passing year, his salary increased, based on the terms of the contract. He made $360,000 in his sophomore season and $445,000 in his third season. After his first contract expired at the end of the 2009 season, the Patriots, impressed with his performances thus far, offered him a $1.759 million deal that made him a restricted free agent.
Stephen Gostkowski Signed His First Major Deal In 2010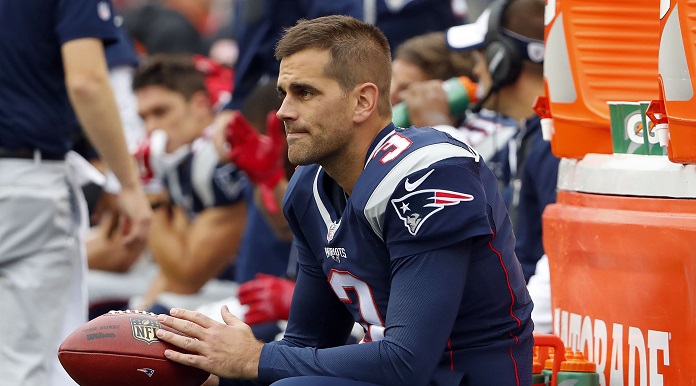 After guaranteeing their interest in him to be a long-term part of the team, the New England Patriots offered Stephen another four-year deal. The contract was worth $14 million, and in addition to the $1.759 million deal, brought his total contract earnings to $15.79 million.
The deal would become the second-biggest contract of his career, with $5 million of it guaranteed. The contract pushed his yearly salary to seven figures, earning $1.1 million in his first year and $4 million signing bonus.
Over the next four years, his salary increased annually, from a low of $1.1 million to a peak of $2.9 million in 2014. In addition to his salary, he also earned a yearly workout bonus of $100,000 from 2011 to 2014.
His earnings were on the rise, and so were his performances. He recorded 76.9% of field goals made in 2010, and it improved yearly, reaching its peak in 2014. His performance in the 2013 and 2014 seasons, where he scored 92.7% and 94.6% of field goals made, earned him a place in the Pro Bowl.
Also, in the 2013 season, he set a franchise record for most field goals in a season, with 38 goals scored out of 41 attempts. He also won his first Super Bowl in the 2014 season, with victory over the Seattle Seahawks.
The Placekicker's Biggest Contract Came Nine Years Into The League
After nine years of toiling in the league, setting records, and helping the Patriots to football dynasty, Stephen Gostkowski signed his largest NFL contract. The four-year deal in July 2015 was worth $17.2 million.
The contract came with $10.1 million guaranteed. In the first year of the deal, Stephen received a signing bonus of $6 million and an additional $1.8 million in salary. Stephen Gostkowski also made $200,000 and $100,000 in roster and workout bonuses, respectively.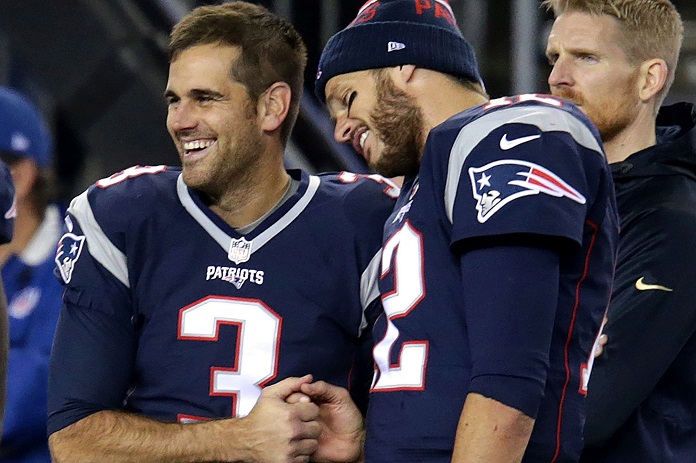 Gostkowski continued to receive roster and workout bonuses throughout his contract, while his yearly salary increased annually from a low of $1.8 million to $3.2 million in 2018. At the end of the third year into the contract, Gostkowski had won his third Super Bowl, having defeated the Atlanta Falcons and Los Angeles Rams in the 2016 and 2018 Bowl.
Final Contract With The Patriots and His Net Worth 
In April 2019, 13 years into his time with the New England Patriots, Stephen Gostkowski signed his last contract with the franchise. He signed a two-year extension worth $8.5 million. Unfortunately, he only earned from the first year of the contract.
He made $2.4 million in signing bonus, $1.1 million as salary, and an additional $187,500 in roster bonus. However, due to a left hip injury, he only managed four games in the season. The Patriots later terminated Stephen's contract in March 2020, after earning $3.6 million of his $8.5 million deal.
Stephen's 14 years as a professional player in the NFL earned him combined career earnings of $38.7 million. Thanks to that, he has a net worth estimated at $15 million. With his wealth, Stephen can afford a lot more luxury living than most people.
However, the player is renowned for living a modest lifestyle, fiscally and socially. As a result, while we do know he refrains from the extravagant lifestyle of some of his peers, we do not know much about how he spends his money.
But then, he and his family bought a $3.1 million house in Franklin, Tennessee. It is a move that both reflects his multimillionaire status as well as a potential move to the Tennessee Titans.
He Is Married to His College Sweetheart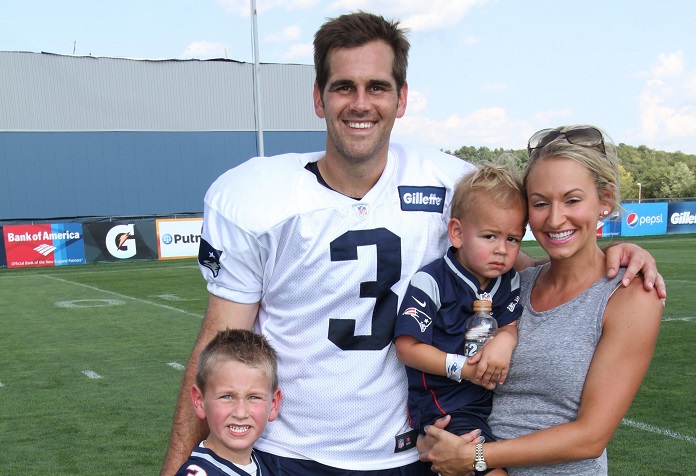 The history-making placekicker is married to the beautiful nurse Hallie Swearingen Gostkowski. Theirs is part of the few romantic relationships that survive from a college love affair, where they met for the first time in an anatomy class. They got engaged in 2007 and signed the marriage register on April 19, 2008.
The quiet beauty hails from Memphis, Tennessee, where she attended the Houston High School in Germantown, Tennessee, and studied Nursing at the University of Memphis. Unlike her husband, who is mostly in the spotlight, she leads a more private life. She did, however, work at Boston hospital, during her husband's days with the Patriots.
Congratulations to Stephen Gostkowski & wife Hallie on the birth of their baby girl. pic.twitter.com/3nXc5Pab9T

— Only In Boston (@OnlyInBOS) June 24, 2016
Since they got married, Stephen and Hallie Gostkowski have given birth to two children. A son, Slayden Kyle, born in December 2010 and a daughter, Gannon William, born in 2016. Before buying their home in Franklin, Tennessee, they lived in Wrentham, Massachusetts.