Steve Mnuchin is a world-class financier, banker, and businessman who has played a key role in developing his country's plan for a dynamic and booming economy. Though he was never particularly involved in politics, nor publicly expressed an interest in public policy over his business career, the banker-cum-Hollywood financier was appointed as the US Treasury Secretary by President Donald Trump. Discover all there is to know about Mnuchin including facts about his personal life and career.
Steve Mnuchin Biography
Steven Terner Mnuchin is a New Yorker born on December 21, 1962. He is the son of Elaine Terner, a former vice president of the International Directors' Council of the Solomon Guggenheim Museum and Robert Mnuchin, a former Goldman Sachs partner turned-upscale art dealer.
A Yale University graduate, Mnuchin was a member of the elite secret society Skull and Bones. After graduation, he landed his first job at Goldman Sachs. For 17 years, he worked with the financial firm and rose through the ranks, finishing off as a partner before he left in 2002.
After his Wall Street career at Goldman Sachs, Steve Mnuchin was hired by billionaire George Soros to run a hedge fund. Mnuchin currently serves as the US Treasury Secretary in the Donald Trump-led administration, after his stint as a hedge fund chief executive.
Family – Wife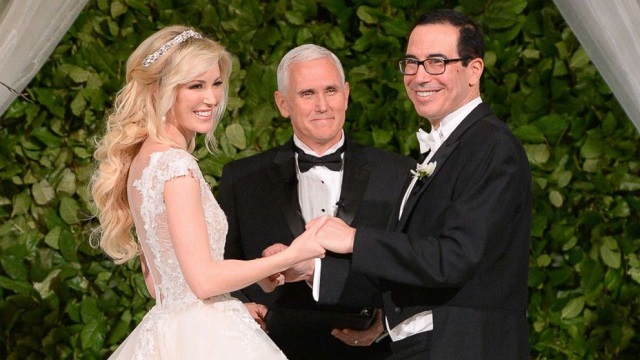 Steve Mnuchin has been married thrice. His first marriage was with Kathryn Leigh McCarver and their union lasted for seven years (1992-1999). Next, he married Heather deForest Crosby in 1999 and they had three children together – two daughters, Emma and Dylan and a son John. However, Steve Mnuchin and Heather parted ways in 2014.
Mnuchin is currently married to Scottish model and actress Louise Linton. The couple who reportedly met through mutual friends at a wedding reception in 2013 were engaged two years later.
The former Goldman Sachs banker and actress tied the knot on June 24, 2017, in an extravagant ceremony officiated by Vice president Mike Pence at Andrew W. Mellon Auditorium in Washington. Other dignitaries who attended the ceremony include President Trump and first lady, Melania, Ivanka Trump, Ben Carson and a host of other cabinet members.
See Also: Prince Harry: Age, Height, Net Worth, Real Father, Brother
An actress and model from Edinburgh, Scotland, Linton first appeared in a short-lived reality show Hopelessly Rich which aired on VH1 in 2003. Thereafter, she debuted as an actor in 2006. Some of her small screen credits include CSI: NY and Cold Case. On the big screen, she has featured in 2007's Lions for Lambs, 2016's Cabin Fever, and Intruder (2016). As a model, she appeared in a 2009 edition for Maxim magazine.
Net Worth
The former Wall Street insider is considered one of the wealthiest members of Trump's cabinet. A world-class financier, banker, and businessman, who has been pivotal in developing in building the country's dynamic, and booming economy, Steve Mnuchin has amassed a huge personal fortune. His net worth is estimated at about $300 million.
Other Interesting Facts
Hollywood actor and producer
In addition to being a banker and financier, the US treasury secretary has successfully carved a niche for himself in Hollywood. In 2016, Steve Mnuchin and his wife Linton made a cameo appearance in Rules Don't Apply.
In partnership with billionaires like George Soros, Mnuchin has financed high-profile movies. Some of his Hollywood investments at 20th Century Fox include Avatar and Suicide Squad which have become one of the highest grossing movies in the industry.
Steve Mnuchin has also partnered with other Hollywood executives to establish a movie production company, RatPac Dune Entertainment which has produced hit movies, such as Mad Max: Fury Road, the X-Men franchise, The Accountant and Sully, amongst others. More so, before Relativity Media went bankrupt, Mnuchin briefly co-chaired the company.
Owned a Failed Mortgage Lender 
In collaboration with other investors in 2009, Steve Mnuchin returned to the banking sector and bought a defunct housing lender IndyMac. The failed bank which became notorious for quickly seizing the homes of defaulting borrowers was later renamed OneWest. In 2015, it was sold off in a lucrative deal to CIT Group.
Work, Business Investments and Suits With Trump
Before their political careers, Trump and Steve Mnuchin previously worked together in a Hawaiian hotel. Again, prior to Donald Trump's election, Mnuchin invested in some of the president's businesses including one in a Hawaiian property, amongst others.
President Donald Trump once sued his own treasury secretary. During the credit crunch, one of Mnuchin's companies – Dune Capital was among a group of lenders who gave loans for the construction of the Trump skyscraper in Chicago. In order to extend the terms of the loan, Trump sued the lenders but the case was later settled.
Though he currently serves under the Trump administration, Steve Mnuchin who believes in supporting the best candidate at a time is not a die-hard Republican. Not only has he donated to Democrats like Hillary Clinton in past elections, but he is also a former business partner to billionaire Democrat George Soros who is anti-Trump.