Steve Mnuchin is a financier, banker, and businessman who has played a key role in developing America's financial policies during the Trump Presidency. He had previously not been particularly involved in politics, nor publicly expressed an interest in public policy over his business career, but after he was appointed national finance chairman for the Trump campaign, his journey into public service began.
Born into a wealthy New York family with a track record of success in the financial service sector, Steve's father was a partner at Goldman Sachs in charge of equity trading. His grandfather was a successful corporate lawyer and businessman, an art collector, and founder of the East Hampton Yacht Club. His paternal great-grandfather was a Russian-born Jewish diamond dealer who moved to the United States in 1916. Coming from a family of such pedigree, it was only natural that Steve pursued a career in investment banking, rising to the top in a matter of years.
Steve Has Had a Stellar Career Working at Some of The Nation's Top Firms
A Yale University graduate, he landed his first full-time job at Goldman Sachs in 1985, at a time when his father was already working there. He joined the mortgage department where he focused on distressed residential and commercial mortgages; he would modify or restructure the loans before selling them, months or years later, at a profit.
After nine years at Goldman Sachs, he became a partner in 1994. For the next four years, he would head the firm's Mortgage Securities Department. In December 1998, he began overseeing Goldman Sachs mortgages, money markets, and municipals at Fixed Income, Currency and Commodities Division. He was elevated to Chief information officer and Executive Vice President in 2001. After 17 years, Steve Mnuchin resigned from Goldman Sachs, amassing $46 million of company stock.
After his Wall Street career at Goldman Sachs came to an end, he served as Vice-chairman of hedge fund ESL Investments and was later hired by billionaire George Soros to run the hedge fund SFM Capital Management.
In collaboration with other investors in 2009, Steve returned to the banking sector and bought a defunct housing lender IndyMac. The failed bank which became notorious for quickly seizing the homes of defaulting borrowers was later renamed OneWest. In 2015, it was sold in a lucrative deal to CIT Group.
He Has Been The Money Bag Behind Some Of Hollywood's Biggest Films
It's fair to say Steve Mnuchin is a man of many parts, and unconventional in many ways. It's not common to find an investment banker who has strong ties with Hollywood and ends up as America's Secretary of the Treasury in one lifetime.
In 2004, while still actively involved in running hedge funds, he set up Dune Entertainment as an entertainment company. He has financed over 100 films and has been the Executive Producer of over 30 films. Through his company, he bankrolled the production of the very successful X-Men film franchise and also the epic science fiction film, Avatar.
Partnering with Warner Bros., Mnuchin financed the 2014 American biographical war drama film, American Sniper. The film directed by Clint Eastwood amassed $547.4 million in worldwide box office earnings. The Warner Bros. partnership also backed the 2015 Australian post-apocalyptic action movie, Mad Max: Fury Road. And in 2016, Steve Mnuchin and his wife made a cameo appearance in Rules Don't Apply.
Joining Donald Trump's Presidential Campaign Marked The Beginning of His Journey Into Politics
Before their political careers, Trump and Steve Mnuchin worked together on some of Trump's construction ventures. Again, prior to Donald Trump's election, Mnuchin invested in some of the president's businesses. When Trump decided to run for President, he tapped up Mnuchin to chair his campaign finance council.
On November 30, 2016, Trump announced that he has nominated Mnuchin as United States Secretary of the Treasury. Following his confirmation, he became one of the President's staunchest allies and the closest to him socially. Always keen to focus on only matters of the economy, he has built a reputation in the administration for his ability to work with Democrats in Congress to push through the President's agenda.
He was crucial to getting the President's COVID-19 palliatives through Congress in a manner that could have been more rancorous if he was one of the more polarizing characters in the administration.
Though he currently serves under the Trump administration, Steve Mnuchin had donated to Democrats like Hillary Clinton in past elections. The former Wall Street insider is considered one of the wealthiest members of Trump's cabinet as his net worth is estimated at about $300 million. He has been pivotal in sustaining the country's dynamic and booming economy.
What We Know About Steve Mnuchin's First Two Marriages
Steve Mnuchin's first marriage was with Kathryn Leigh McCarver and their union lasted for seven years (1992-1999). Next, he married Heather deForest Crosby in 1999 at Cipriani Wall Street in New York. She graduated cum laude from Hobart and William Smith Colleges.
Heather was senior vice president for corporate communications at an internet music company called Launch Media. They had three kids together; two daughters named Emma and Dylan, and a son named John.
Steve Mnuchin and Heather parted ways in 2014.
He Is Now Married to Actress Louise Linton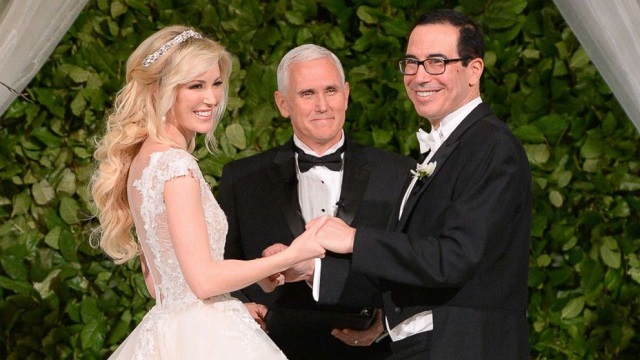 Mnuchin is currently married to the Scottish model and actress, Louise Linton. The couple reportedly met through mutual friends at a wedding reception in 2013. Two years later, they were already engaged.
An actress and model from Edinburgh, Scotland, Linton first appeared in a short-lived reality show titled Hopelessly Rich which aired on VH1 in 2003. Thereafter, she debuted as an actress in 2006. Some of her small-screen credits include CSI: NY and Cold Case. On the big screen, she has featured in 2007's Lions for Lambs, 2016's Cabin Fever and Intruder. As a model, she appeared in a 2009 edition for Maxim magazine.
The former Goldman Sachs banker and actress tied the knot on June 24, 2017, in an extravagant ceremony officiated by vice president Mike Pence at Andrew W. Mellon Auditorium in Washington. Other dignitaries who attended the ceremony include President Trump and first lady Melania, Ivanka Trump, Ben Carson, and a host of other cabinet members.