Steven Seagal is a famous American actor, martial artist, and movie producer. He is well known for his roles in action movies which often showcase his martial arts skills. He has starred in a handful of blockbuster projects such as Above The Law, Hard To Kill, Marked For Death, Out For Justice, and Under Siege. In the new millennium, Seagal moved away from blockbuster projects to focus on direct-to-video productions most of which he produces. He is an environmental and animal rights activist and has used some of his later movies to promote same. Despite his dwindling presence in the spotlight, Seagal's political views, activism as well as the numerous lawsuits and allegations implicating him has increased the interest of many into his life beyond his profession.
Steven Seagal's Interest In Martial Arts Began Quite Early
Steven Frederick Seagal was born on the 10th of April, 1952 in Lansing, Michigan. His mom, Patricia had Dutch, English, and German heritage while his dad, Samuel was the son of a Jewish-Russian who had immigrated to the States. Seagal spent his formative years in California and fell in love with martial arts at an early age. By the time he was 7, he was already training under a professional karate instructor.
He completed his high school education at Buena Park High School before enrolling at Fullerton College. He spent only a year at Fullerton before his passion for martial arts took him to Japan in 1971. Seagal returned to the States in 1974, armed with a first Dan certification in aikido (a style of Japanese martial art). Between 1974 and 1983, he split his time between Japan and California, instructing at various martial arts schools (known as dojo).
Becoming A Hollywood Action Hero
While instructing rich clients in L.A., Steven Seagal caught the eye of a popular Hollywood financier who reasoned that his martial arts skills would make him a perfect fit for action movies, which were in vogue at the time. The financier, Michael Ortiz, gave him a lead role in the 1988 action film, Above The Law. The film was a success and launched Seagal's career as an action film star.
In the next couple of years that followed, Steven Seagal would appear in highly commercially successful movies, they include Hard to Kill (where he played an L.A. detective out to avenge his wife's death, Marked for Death (where he played a former DEA agent battling Jamaican drug lords), and Out for Justice, (an NYPD detective in pursuit of his partner's killers).
Seagal's fame reached a new height with the release of 1992's Under Siege where he played a Navy Seal battling a group of mercenaries. The film where, like his other hits, he also served as the producer, was both a commercial and critical success, grossing $156.6 million against a $35 million budget and receiving two Oscar nods. Under Siege is still widely regarded and Seagal's most successful work. The 1995 sequel, Under Siege 2: Dark Territory though also a commercial hit was less positively received.
Dwindling Success and Direct-to-video works
After about 6 years in Hollywood, Seagal was ready to launch out with his own works and made his directorial debut with 1994's On Deadly Ground a movie that advocated environmental issues, a cause that Seagal has long been passionate about. The movie was poorly received but this did not deter him from making more environmental-focused films which include The Glimmer Man (1996), Fire Down Below (1997), and The Patriot (1998) all of which were released in direct-to-video with some having a minimal theatrical release.
Seagal's next major film was 2001's Exit Wounds which enjoyed commercial success, however, he was unable to follow up with the success as his next films were poorly received. Also a music lover, Seagal plays the guitar and some of his music has been featured in his movies.
Seagal's career has been marred by allegations of sexual harassment dating back to the 1990s. A number of actresses including Portia De Rossi (Ellen's wife) and female employees have accused him of sexual harassment, sexual assault, and even rape. He has denied all the allegations and has not been convicted of any, in some of the proceedings, the accusers have weirdly withdrawn without reasonable explanations.
Steven Seagal continues to produce his own films and occasionally appears in theatrical releases like 2019's Beyond the Law. When he took up a job as a reserve deputy sheriff, Seagal created a reality TV series on A&E Network titled Steven Seagal: Lawman which ran from 2009 to 2014. He produced, wrote, directed, and starred in the TV series True Justice that ran for two seasons from 2011 to 2012.
Seagal Has Utilized Movie-making and other Ventures to Attain Wealth 
Some unconfirmed sources claim that the sales of his DVDs have reached $600 million. However, per Celebrity Net Worth calculations, Seagal is worth $16 million. Seagal no doubt had his most successful years in the early 90s. From the mid-90s, Seagals' acting style was heavily criticized and saw him get several nods from the Golden Raspberry Award which is a parody award honoring poor cinematic works. He won the Worst Director Award for his debut directorial effort.
Seagal has made money from non-movie ventures. He established Seagal Enterprises that marketed an energy drink called Steven Seagal's Lightning Bolt in 2005. The company also sold a range of knives and weapons as well as an aftershave. Seagal has also made money from endorsement deals. He has partnered with a Russian gun maker, ORSIS, both in an ambassadorial and lobbyist capacity. The company also developed a rifle under his name.
In 2020 it was reported that Seagal was promised $250,000 in cash and $750,000 worth of B2G tokens to promote via social media investments in the initial coin offering of Bitcoiin2Gen (B2G). However, this violated the SEC's anti-touting provision and saw him being slapped with a $157,000 penalty.
See Also: Who Are Sylvester Stallone's Daughters, Sons, Wife and Other Family Members
The Actor Has Fathered 7 Children With 4 Women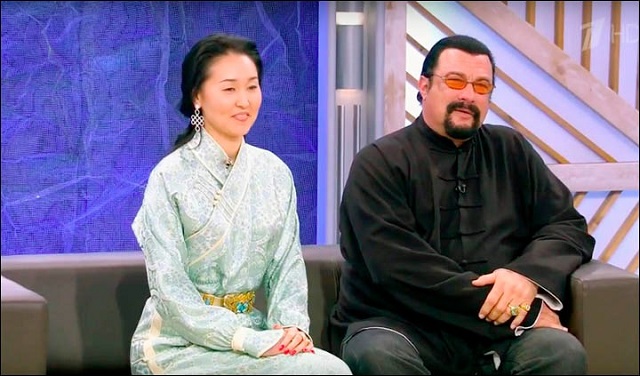 The actor has been married four times. His first marriage was to a Japanese woman, an aikido master named Miyako Fujitani, whom he married in 1975 while in Japan.
The marriage produced two children, son Kentaro and daughter Ayako who is an actress and writer. Ayako chose to bear her mother's maiden name and goes by Ayako Fujitani. She spent a few years as a teenager in Los Angeles studying English and acting. Ayako in 2016 married Spanish screenwriter Javier Gullón and together they share one daughter, making Steven a grandfather. His son Kentaro who is also an actor and model has at least two children. Steven Seagal and Miyako's union ended unofficially in 1986 after he left Japan to return to the United States.
Seagal got married for a second time, to actress Adrienne La Russa, in 1984. At the time, his first marriage had not been dissolved, as such, this second marriage was not legal and thus annulled.
Seagal's third marriage was in September 1987 when he got hitched to his Hard to Kill co-star and on-screen wife, Kelly LeBrock. They had three children together, Annaliza and Arissa (daughters) and Dominic (son). Their marriage lasted nearly a decade but they divorced in 1996.
Seagal is now married to a Mongolian woman, Erdenetuya Batsukh aka Elle whom he first met in 2001 during his visit to Mongolia, she served as his interpreter. She is popular in Mongolia as a professional dancer excelling in ballroom dance, she has won several awards. They have a son named Kunzang born on September 17, 2009.
Seagal's father Samuel who worked as a high school mathematics teacher passed away in 1991 at the age of 63, his mother Patricia was a medical technician. She once shared details of Seagal's early life with People Magazine stating that her son was asthmatic and frail as a child, but fared better after the family moved from his place of birth in Michigan to Fullerton, California. Patricia passed in 2003.
Steven Seagal is known to have a sister named Brenda Seagal who resides in Toronto, Canada. The actor is erroneously assumed to the brother of award-winning actress Katie Sagal. They are not related and their surnames are different in spelling.