Steven Tyler, the frontman of the rock band Aerosmith, has dated quite a number of women in his life. They include Michele Overman (1966-1968 ), Lynn Collins (1969–1971), Maxanne Sartori (1971), Julia Holcomb (1975-1978), Bebe Buell (1975-1976), Carol Miller (late 70s), Jo Jo Laine (80s), Justina Crosslin (2002), Carly Simons (2005), Olga Gomonova (September 2005), Elizabeth Jagger, Erin Brady (2006–2013), and Aimee Preston (2014-present).
Before and in between the above-listed relationships, Steven Tyler was married twice. His first marriage was to Cyrinda Foxe from 1978 to 1987 and then to Teresa Barrick for 17 Years from 1988 to 2006. The American has a total of four children – Liv Tyler, Mia Tyler, Chelsea Tyler, and Taj Tyler.
Michele Overman and Steven Tyler (1966-86)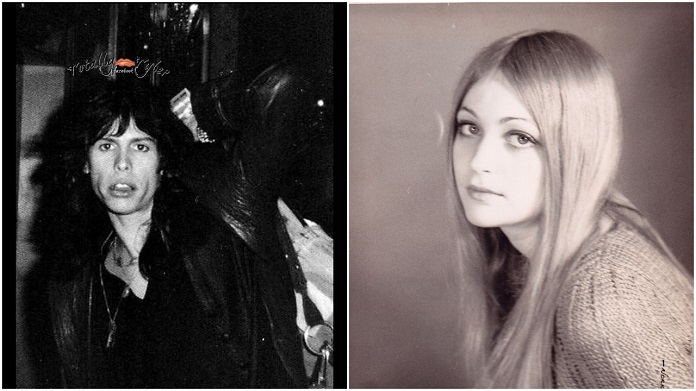 Most of us find the first loves of our lives at school age and Steven Tyler is no different. The musician first found love during his high school days at Roosevelt high school, Yonkers, and the lady was Michele Overman. Overman is a native of Greenwich and worked as a teen model. She began dating Tyler when he was 18 and she – 16. At that time, Aerosmith hadn't yet been formed and her boyfriend was struggling to make it with a group known as Chain Reaction. She nevertheless stuck with him as "he was cute, charming, amazing, and over-the-top-talented". The relationship lasted for two years and Overman went on to date other rock stars such as Robert Plant (of Led Zeppelin) and David Gilmour (of Pink Floyd).
Lynn Collins and Steven Tyler (1969 – 1971)
Funny enough, Michele Overman is not the only girl that Steven Tyler would 'lose' to a Led Zeppelin member. The singer also lost his second girlfriend, Lynn Collins, to another of their members named Jimmy Page. As the story goes, Tyler had been dating Lynn, whom he describes as a genuine, high-class girl about rock'n'roll town, for some time when he went to watch Led Zeppelin perform in Boston in the late 60s. Being a huge fan of the band, he went backstage after the performance to greet them. He however got the shock of his life as he saw Lynn walking out with Page. The singer took this in good faith quipping that if he was gonna lose her, it might as well be to a legend like Page.
Maxanne Sartori (1971)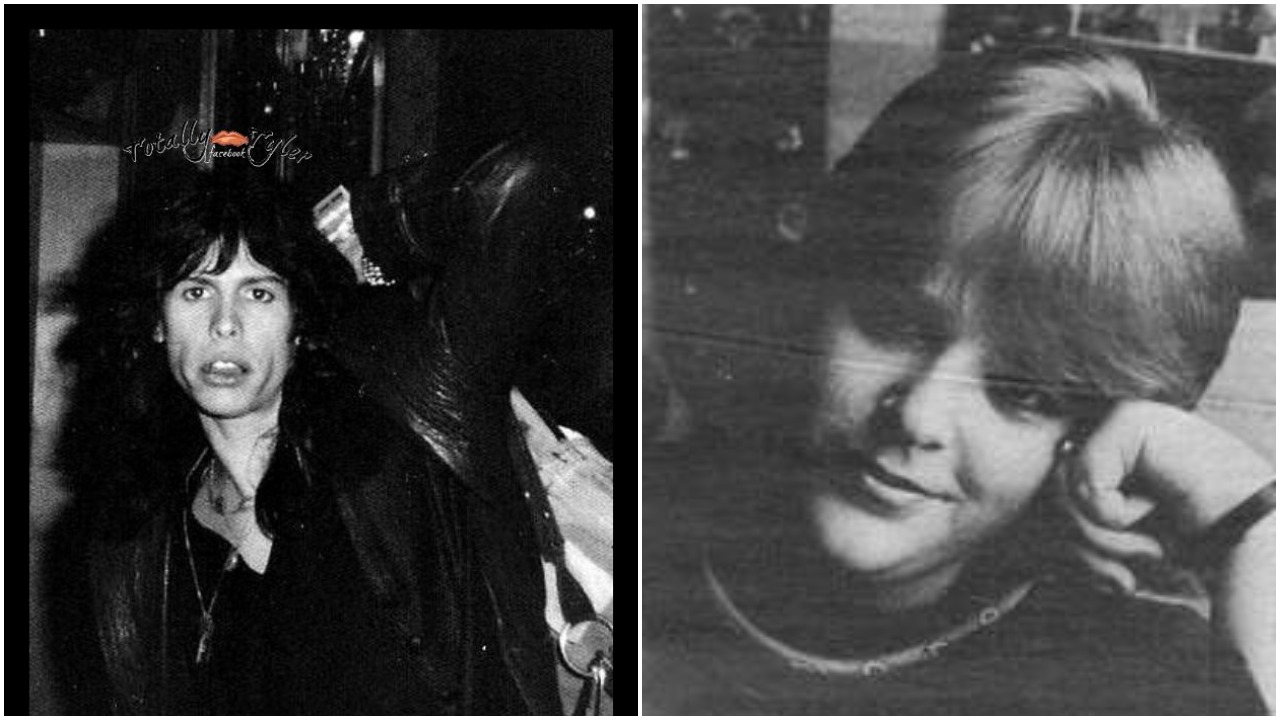 Maxanne Sartori is an accomplished radio disc jockey, record label promoter, and indie promoter. She and Tyler are said to have briefly dated in 1971 but more importantly than this, she actually helped him and his group to get their breakthrough. Maxanne championed Aerosmith to her program director who didn't want to play their music at first. Having managed to convince him, she started playing their records and the extended airplay helped to fuel their rise.
Julia Holcomb and Steven Tyler (1975 – 1978)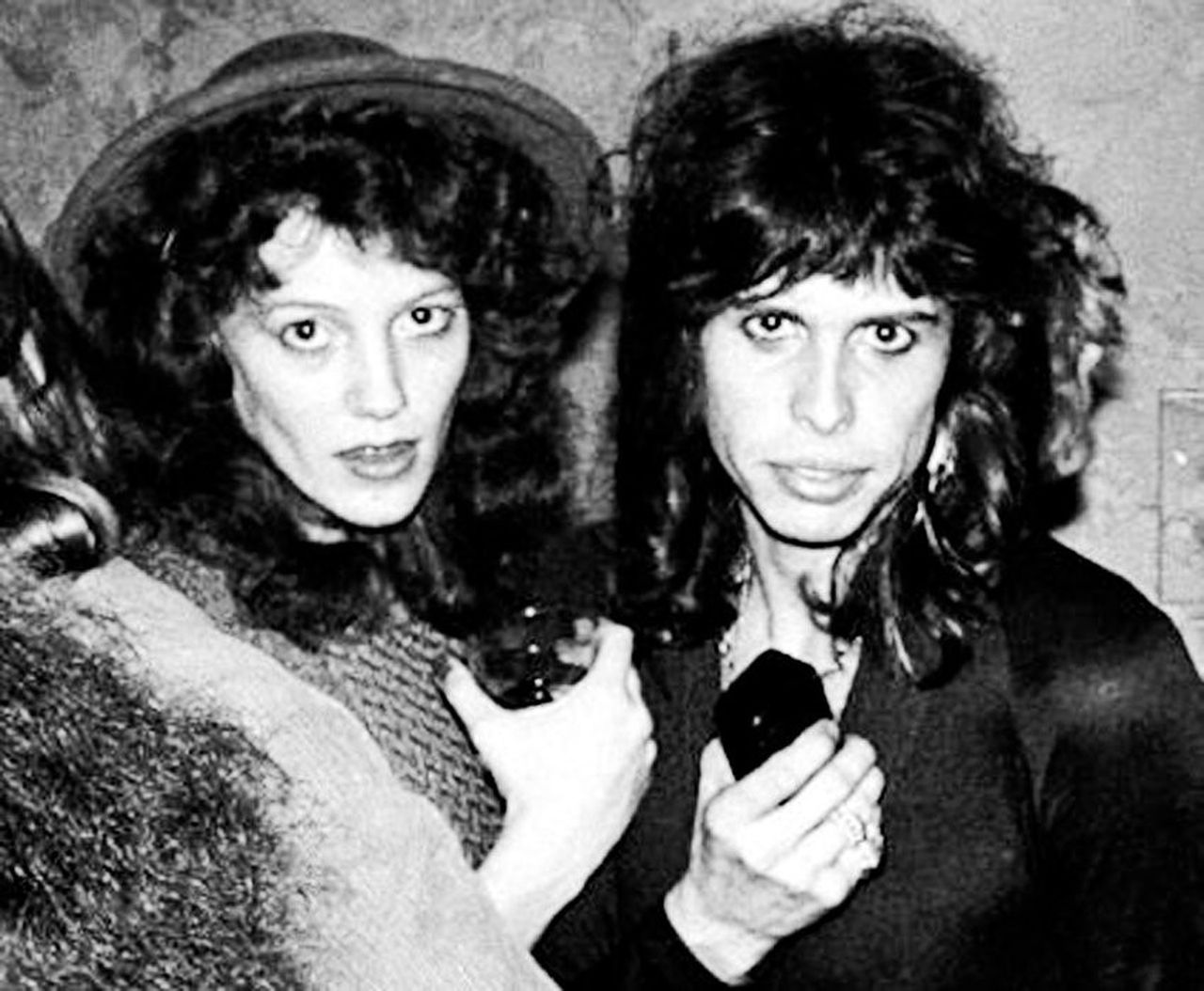 One of the most unforgettable relationships that Tyler has had is with Julia Holcomb. Holcomb became a groupie at an early age and by the age of 16, Tyler asked her parents to make him her legal guardian so that they could live in together. The parents acquiesced and the two moved in together; Tyler was 27 at that time. The two commenced a relationship and the singer told Julia that he wanted to marry her. She agreed but his family objected and the marriage plans were shelved.
Meanwhile, Julia became pregnant and one of Tyler's good friends convinced them to get an abortion. They did so but never recovered from it. Tyler was devastated by what he had done while Julia became suicidal. This marked the end of their relationship. Julia has now moved on with her life and is an active member of the Silent No More Organization. This is a group of women who had regretted their abortions and now speak out on the psychological consequences of it.
Steven Tyler and Bebe Buell (1975 -1976)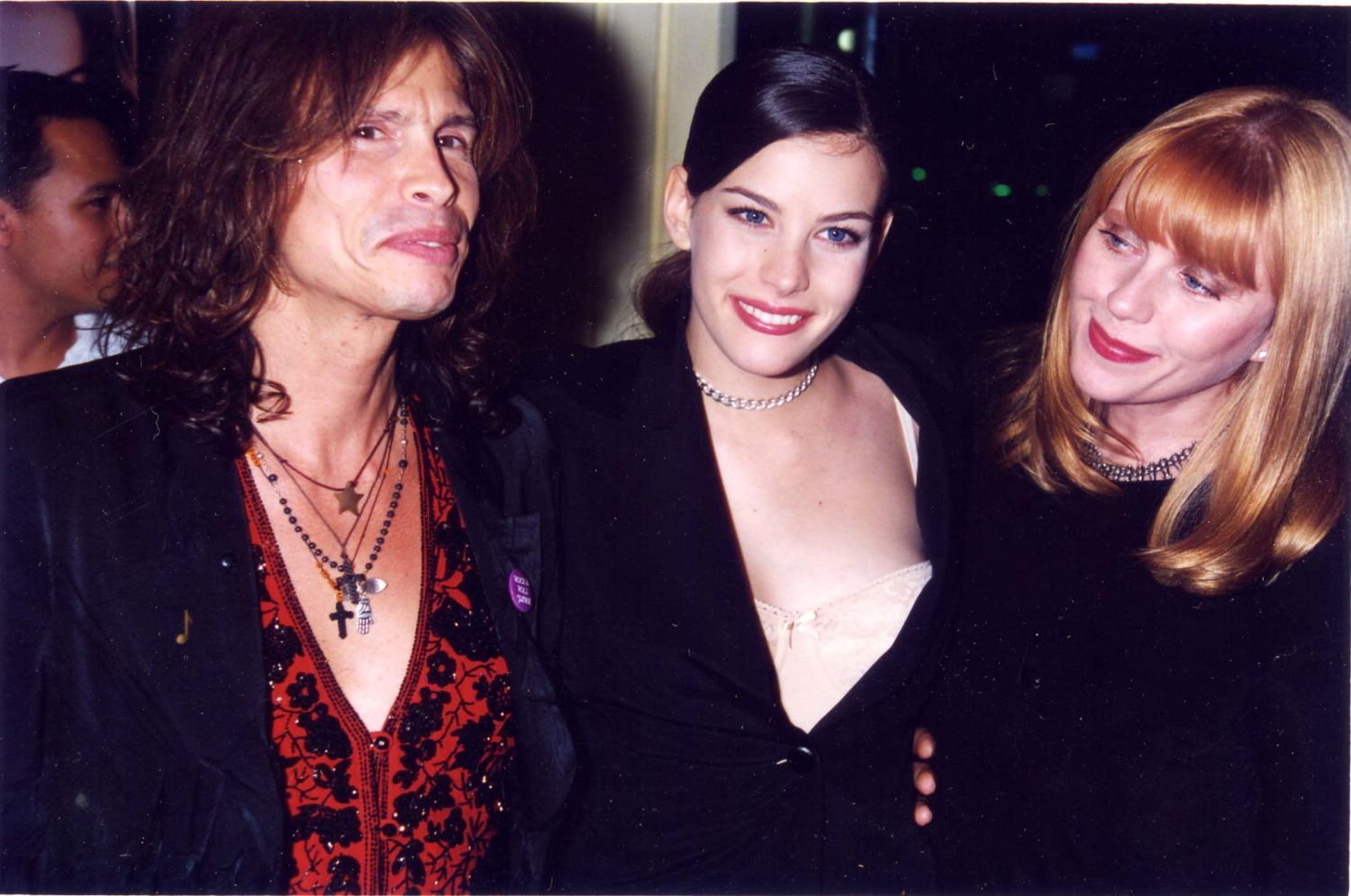 As earlier stated, Julia's abortion left Tyler devastated. He thus sought relief in the arms of Playboy model, singer, as well as famed groupie, Bebe Buell. Buell had also dated other rock stars, such as Iggy Pop, and was in the midst of a long on-and-off relationship with musician, Todd Rundgren, when she and Tyler started dating each other in 1975. She accompanied him on tours and during this period, discovered his dangerous drug habits. The model forged on but once she became pregnant, she knew that she didn't want her baby around drugs. She thus broke up with Tyler and reconciled with Todd. She also got Todd to claim the child, a daughter named Liv, as his own. It would be several years later that the truth about Liv's paternity will be revealed.
Steven Tyler and Carol Miller (late 70s)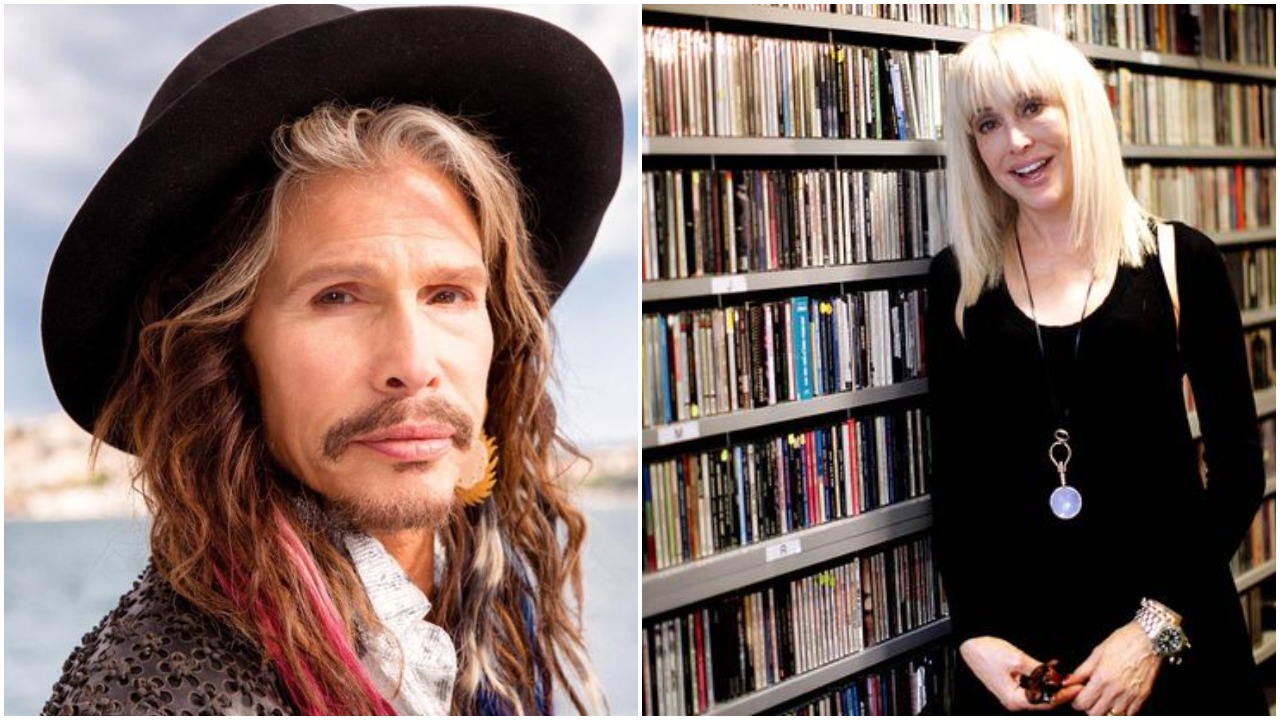 Tyler also had a brief fling with legendary New York DJ, Carol Miller in the late 70s. In her 2012 memoir, Up All Night, Miller recounted that she first got close to Tyler in 1977 after he invited her back to his hotel room to listen to an upcoming album. They became acquaintances and later started dating. During this time, Miller noticed that the singer was no marriage material as a result of his drug usage as well as the fact that he was childlike. She however kept up with the romance for some time until Tyler's lover, Bebe, physically attacked her one day. This made her call off the romance with the singer but they still remain civil and friendly to this day.
Steven Tyler and Jo Jo Laine (80s)
To the 80s now, Steven Tyler is said to have had an affair with model, singer, and actress, Jo Jo Laine. There is no definite confirmation of this affair but it is known that Jo Jo was a famous rock groupie back in the days during which she dated the likes of Jim Morrison, Jimi Hendrix, and Rod Stewart. It is therefore possible that she also tangled up with Tyler at some point. Jo Jo would later marry Denny Lane, guitarist for a band known as The Moody Blues and Wings. She died of liver cancer in November 2006 at the age of 54.
Steven Tyler and Justina Crosslin (2002)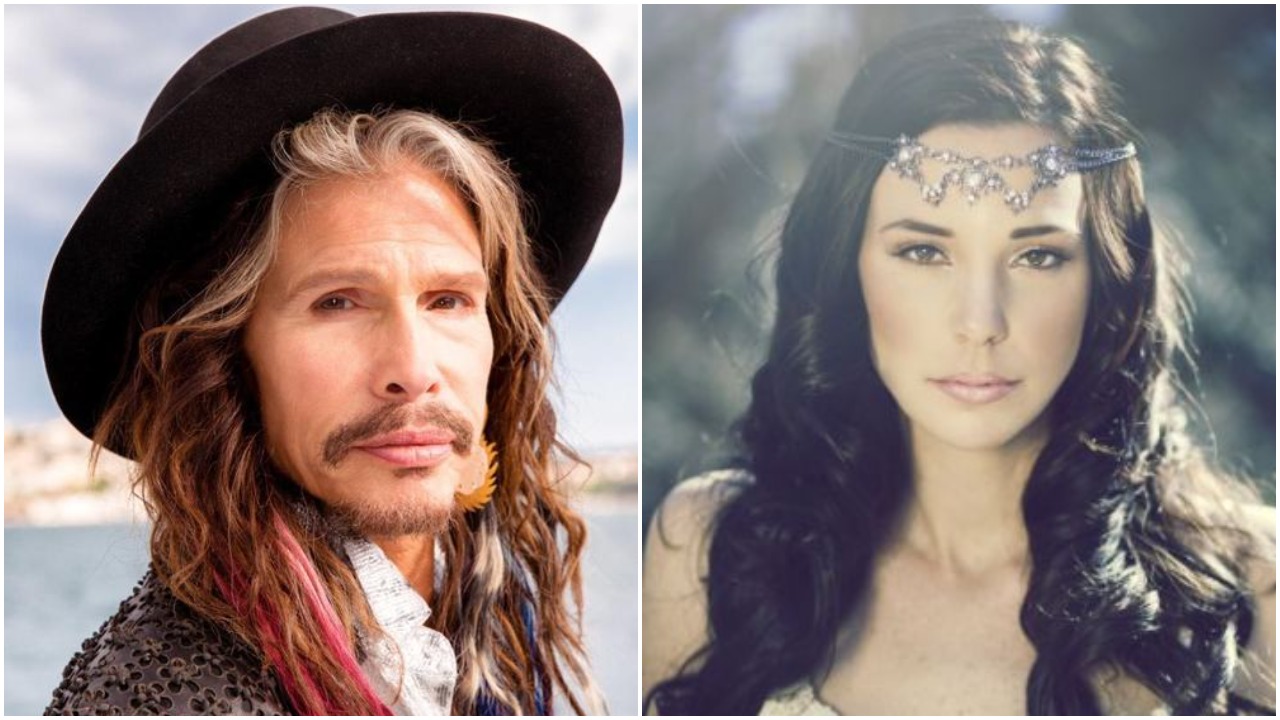 The Aerosmith frontman is also said to have had an encounter with model, Justin Crosslin, in the year 2002. There are not many details about what this encounter was exactly; whether a fling or maybe a hookup. Meanwhile, Crosslin is a model who has appeared in music videos for several musicians including Gary Allan's Watchin' Airplanes and George Ducas' Unloved You.
Steven Tyler and Carly Simons (2005)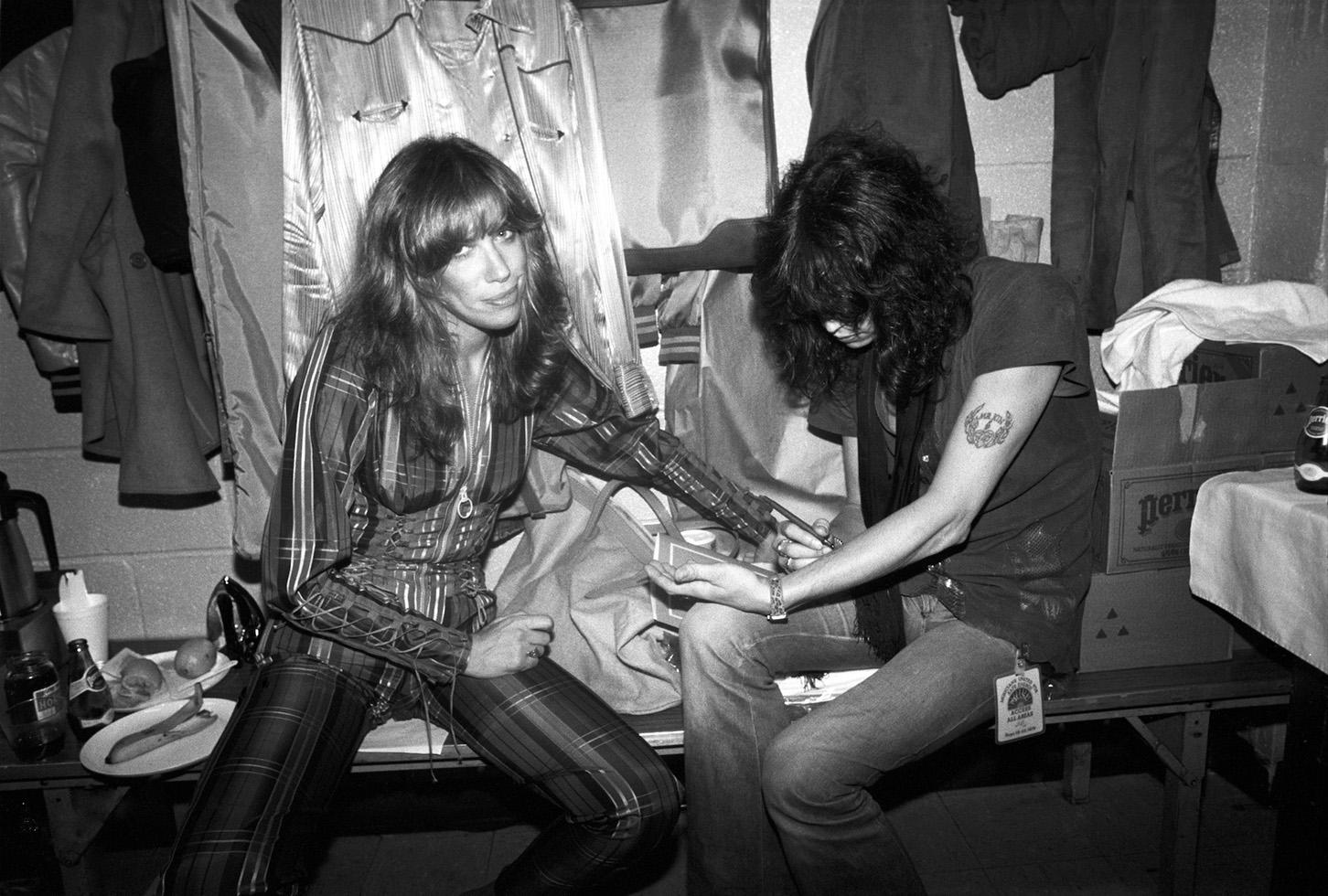 Another personality that Steven Tyler is said to have had an encounter with is Grammy-winning singer and songwriter, Carly Simons. Simons initially started her career as part of a duo with her sister. She later went solo in the 70s and released several hit albums including No Secrets which topped Billboard 200 for five weeks. She also received a slew of awards including two Grammys, one Academy Award, and one Golden Globe Award. Simons bears some uncanny resemblance to Tyler and they are said to have had an encounter in August 2005. Sadly, there is not much proof of this but the two were pictured together in 1979 with Simons writing what seems to be her number on Tyler's palm. Maybe, he did make use of that number later.
Olga Gomonova and Steven Tyler (September 2005)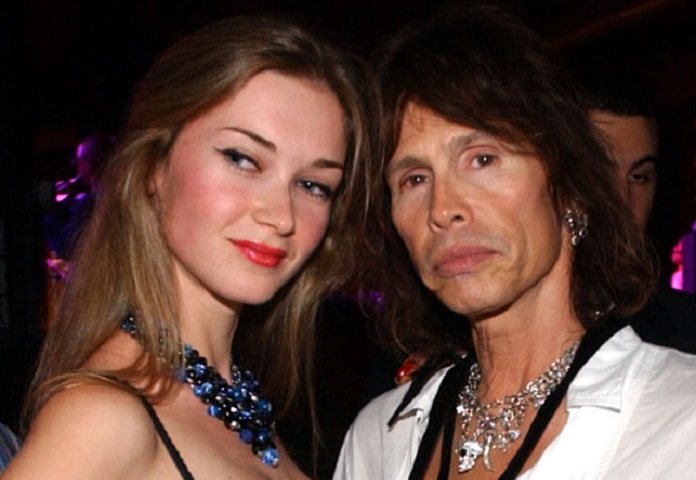 Olga Gomonova is a Russian-born model who began her career in Moscow. She later relocated to the US and worked for the likes of Chanel, Carolina Herrera, and YSL. She is now a graduate of Harvard Business School and co-owns ChicCartel; a girl-power collective/incubator whose purpose is to help women set up their small sustainable fashion business. Gomonova and Tyler are said to have had an encounter in September 2005. These rumors started after they were both spotted together at the launch of Boston Common Magazine in September 2005. This was their only outing thus showing that they may not be much truth to the rumors.
Elizabeth Jaggerand Steven Tyler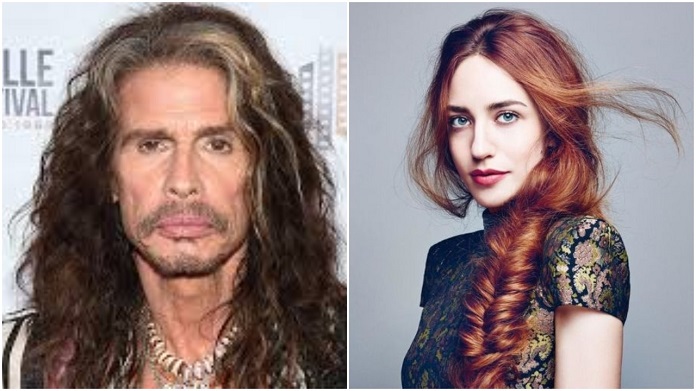 The daughter of rock star, Sir Mick Jagger, Elizabeth grew up in London and went on to become a model and an actress. She has modeled for the likes of Gap, Wrangler Jeans, Mango, LCM, and Tommy Hilfiger. She has also appeared in documentaries based on her famous dad and is a lobbyist as well. Jagger and Tyler are said to have had a brief encounter but there is no time frame specified thus casting doubts on the veracity of these claims.
Erin Brady and Steven Tyler (2006 – 2013)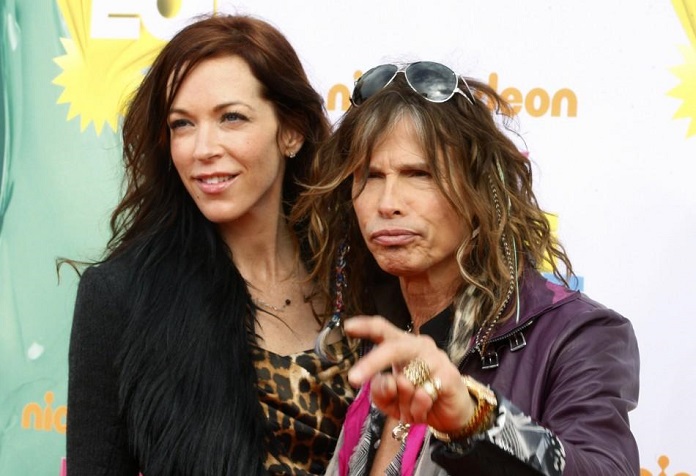 Most of Tyler's relationships up to this moment have been short-lived but he did go the long haul with Erin Brady. He and Erin started dating in 2006 and were together for about seven years. During this period, they encountered some issues but nevertheless stuck together. The couple had a commitment ceremony in Hawaii in 2011. They subsequently got engaged in December 2012 and took part in some sort of pre-wedding blessing ceremony in January 2013. Tyler also gushed about potential wedding destinations, including Hawaii or Thailand, but they sadly broke up in 2013. Anonymous sources attributed the split to the fact that the rock star's family and crew never really accepted Erin.
Steven Tyler Has Been Dating His Assistant, Aimee Preston, Since 2014.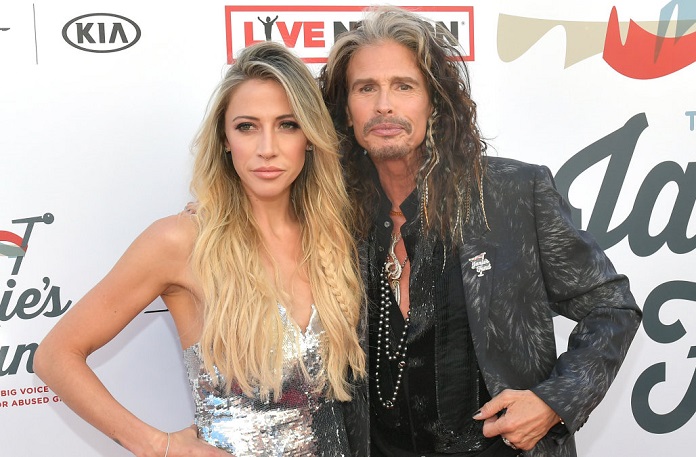 Tyler is presently smitten with his former assistant, Aimee Preston. Preston is a native of Denver and attended the Denver School of The Arts as well as the American Musical and Dramatic Academy. She formerly worked as an assistant for the likes of Victoria Beckham and Marla Maples. She subsequently went on to work for an entertainment company during which she met Tyler and he asked her to become his assistant in 2012.
Working in such close space meant that the pair became quite close with each other and they began a romantic relationship in 2014. They remain together to date and live together in L.A. There is a 40-year-age difference between the couple and this has raised more than a few eyebrows. The couple couldn't care less though and has been photographed at several public ceremonies packing on the PDA with reckless abandon. They are also a regular fixture at industry ceremonies and on the red carpet.
Steven Tyler's First Marriage to Cyrinda Foxe Lasted from 1978 to 1987
Tyler's first marriage was to American actress, model, and publicist, Cyrinda Foxe. Foxe is a native of Santa Monica and was born on the 22nd of February 1952 as Kathleen Victoria Hetzekian. She worked as a publicist for a management company known as Main Man. She also appeared in David Bowie's music video for the Jean Genie and also featured in the 1977 film, Bad
Foxe and Tyler first met each other while she was still married to musician, David Johansen, in 1977. As the story goes, the lady became so attracted to Tyler that she abandoned her husband for him. They began a relationship in earnest and tied the knot in 1978. The union lasted for nine years during which they welcomed a daughter named Mia. Sadly, they had issues with physical and domestic violence as well as affairs and ended up divorcing.
Despite the divorce, Tyler and Foxe remained friends so much so that when she had a stroke in 2001, he paid for her hospital bills. He equally financed her funeral and cleared the remainder of her medical bills following her demise in 2002. In 2018, the singer posted a photo of his late wife on Instagram remembering her on what would have been her 69th birthday.
His Second Marriage to Teresa Barrick Lasted for 17 Years (1988 – 2006)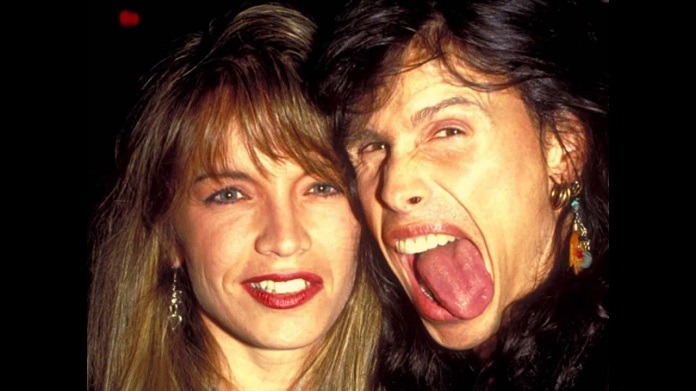 Tyler's second marriage was to clothing and fashion designer, Teresa Barrick. He and Barrick first met each other in 1983 at a club in Hawaii. They did not talk to each other until some years down the line when Teresa scored an invitation to an Aerosmith after-party. The singer was blown away by Teresa's charm and beauty and given that he was in the process of divorce, went after her. She agreed and they started dating. They later got married in 1988.
The couple's marriage lasted for about 17 years during which they welcomed a daughter named Chelsea and a son named Taj. The couple later had some issues including accusations of cheating. Tyler was rumored to have had something with industry peers and even a building contractor working on their home renovation but this was not proven. The couple separated in February 2005 and their divorce was finalized a year later in January 2006. There are no details of what Teresa may have walked away with but one can trust that it must have been substantial.
Steven Tyler  Has Four Children Including Lord of the Rings Star, Liv Tyler
Liv Tyler
Steven Tyler's first child is a daughter named, Liv. Liv is a former model turned actress and producer. She has featured in several movies including Incredible Hulk, Silent Fall, The Strangers, Reign over Me, and Jersey Girl. She also portrayed the role of Arwen in the Lord of the Rings trilogy. Liv's mother, Bebe, gave birth to her on the 1st day of July 1977. At that time, Tyler was having issues with drugs and Bebe resolved to shield her child from that. She, therefore, told everyone that it was her long-term boyfriend, Todd Rundgren, that fathered Liv.
This lie persisted until when Liv was 11 and ran into Tyler at a concert. She immediately deduced that he was her biological father and confronted her mother who confirmed it. This strained the relationship between her and her mom but she maintained good relations with both her biological dad and adoptive dad. Having grown much older now, Liv sees things from her mother's perspectives and has forgiven her. Liv now has three children from two marriages.
Mia Tyler
Tyler's second child is daughter, Mia. Her mother is Cyrinda Foxe and she was born on the 22nd of December 1978. Mia was formerly an actress and plus-size model. She appeared in magazines such as Teen People, Seventeen, and Vogue. She also appeared in a few movies including Rush Hour. Mia is now a photographer and visual artist and deals in explicit art.
Mia Tyler maintains a close relationship with her dad as well as other siblings. Her half-sisters and half-brother all supported her kink exhibit in Miami 2013. They also posted about it on social media as well. Mia has been married and divorced once. She now has a son, Axton, with her boyfriend, Dan Halen.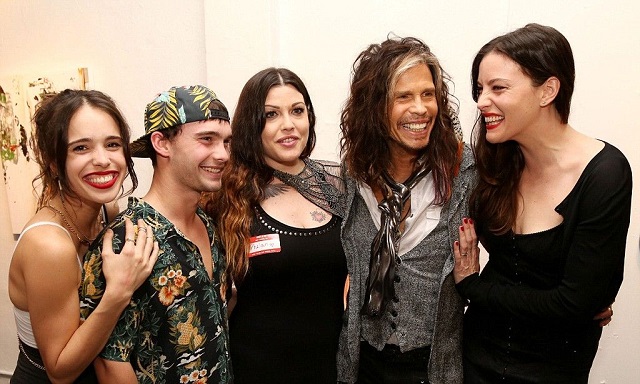 Chelsea Tyler
Tyler's third child is Chelsea. Her mother is Teresa Barrick and she was born in the year 1989. Chelsea is the one person who has followed her father's footsteps into music. She is a member of the bluesy EDM band, Kaneholler, and they have several public performances under their belt. They have also released about three EPs as well as a full-length album titled Lite Brite.
Chelsea may have been inspired to do music by her father but her favored genre is worlds apart from his brand. Despite this, he still gives her and her band guidance on touring and playing live. Chelsea is married to her bandmate, Jon Foster, and they welcomed a son in February 2020. Prior to the birth, her sisters, father, and father's girlfriend, Aimee, all attended a baby shower in her honor.
Taj Tyler
The only son that Steven Tyler has is Taj. Taj's mother is Teresa Barrick and he was born on the 31st day of January 1991. The young man has made some sporadic appearances in his father's band's documentaries. He is also always on hand to support his dad or sisters at industry events. Taj is yet to make his own endeavors but we are sure that it would be an exciting one.
Steven Tyler's Grandkids Refer to Him as Papa Stevie
Even though he may not act like it, Steven Tyler is a grandfather. The Aerosmith frontman has about 5 grandkids courtesy of his children. They are Milo William, Sailor Gene, and Lula Rose (whose mom is first child, Liv). There is also Axton Joseph (born by Mia) and Vincent Frank (born by Chelsea).
Steven is quite besotted with his grandkids and was even there when daughter, Mia, gave birth to her son in May 2017. The rock star enjoys spending time with the little ones and often shows them off on social media. He has also constructed a pool for them and their favorite thing is swimming with granddad. The kids don't care how famous Tyler is and lovingly refer to him as Papa Stevie. Tyler cherishes them and has revealed that he tries to get everyone together for Christmas.