Steven Tyler is your quintessential rock star. In a career spanning five decades, the singer has dropped several multi-platinum albums as part of the famous rock band – Aerosmith. Tyler has also had a well-documented struggle with alcohol and drug addiction but has overcome his demons in order to become one of the greatest rock musicians ever. Discover more personal details about the rock icon here including facts about his family.
Steven Tyler's Bio
Steven Victor Tallarico was born on the 26th of March 1948 in Manhattan New York. He grew up in places such as the Bronx and Yonkers and completed his diploma at the Quintano's School for Young Professionals. Tyler thereafter delved into the music industry and by 1970, founded the rock band Aerosmith. Since then, the hugely successful band has dropped 15 studio albums, 5 live albums, 12 compilation albums, and 2 Eps. The band has scored numerous awards and 12 of their albums have been certified multiple-platinum.
Aerosmith has been also been inducted into the Rock and Roll Hall of Fame and was named on Rolling Stones' list of the 100 greatest artists of all times. It has however not been all smooth sailing for Steven Tyler. The New York native has struggled with drug and alcohol addiction for years, and this nearly ruined his career.
Steven Tyler's Family
Steven Tyler hails from a family of four. His father's name is Victor Alphonso Tallarico and he was of German and Italian descent. His mother's name is Susan Ray and she had English, Ukrainian and Polish ancestry. Tyler's dad was an accomplished classical pianist and high school music teacher while his mom was a painter as well as a secretary.
The legendary rock star also has an older sister named Lynda Hasz Tallarico. Lynda is a retired school teacher and has a daughter. Tyler and his father are not the only accomplished musicians in their family background, the singer's paternal grandmother, Constance, was a music teacher while his paternal grandmother, Giovanni Blancha, was a mandolin prodigy and was affiliated with the Royal Conservatory of Music in Naples.
See Also:  Jon Bon Jovi Net Worth, Wife, Parents, Is He Dead? Here Are The Facts
Steven Tyler's Wife
The Aerosmith frontman has had an interesting love life over the years. He first dated a groupie, named Julia, in the mid-70s. The relationship lasted for three years and the couple even got engaged. They, however, broke up due to several reasons, including mutual drug abuse as well as an unplanned pregnancy. In 1977, Steven Tyler had a brief fling with model, singer and famous groupie, Bebe Buell. Buell had dated other rock stars such as David Bowie, Iggy Pop, Elvis Costello, and Mick Jagger, and the fling lasted for just a short time.
Tyler got married for the first time in 1978; tying the knot with publicist, model and actress, Cyrinda Foxe. The union lasted for nine years and the couple divorced in 1987. Tyler got married for the second time in 1988; this time to fashion designer, Teresa Barrick. Their marriage lasted for 17 years before they called it quits in 2005. Since then, the Aerosmith singer has not remarried. He however dated model, Erin Brady, from 2006 to 2013. They even got engaged but never made it down the aisle as they broke up in January 2013.
Children (Daughters)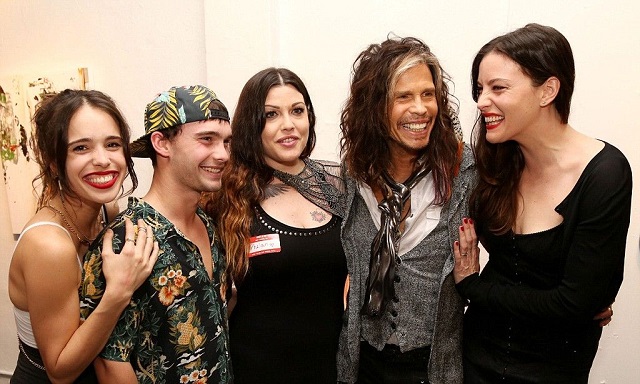 Steven Tyler has a total of four children. His first child is Liv Rundgren Tyler, born by Bebe Buell, in July 1977. Tyler initially didn't know that Liv was his daughter as her mother claimed that musician, Todd Rundgren, was her father. The truth, however, became known in 1991, and Tyler and Liv have since developed a close relationship.
Liv Tyler is an actress and model. She has appeared in movies such as The Lord of the Rings trilogy, Armageddon, The Incredible Hulk, and One Night at Mc Cool's. Liv has a total of three children namely, Milo William, Sailor Gene, and Lula Rose. The first child is from her marriage to British musician, Royston Langdon. Her second and third child is from her long-term relationship with British sports and entertainment manager, David Gardener.
Steven Tyler's second child is Mia Tyler, born by his first wife – Cyrinda Foxe. Mia is quite multi-talented as she is an actress, model, author, visual artist, fashion designer, and talent manager. She also has a son named Axton with her boyfriend, Dan Halen.
Steven Tyler also has a daughter, named Chelsea, and a son, named Taj, from his second marriage to Teresa Barrick. Chelsea is a budding musician and sings with the bluesy EDM band, Badbad, while Taj is a retired actor. All four Tyler children maintain a close relationship despite their complicated genealogy.