Stevie Wonder is the only artist to have won the Grammy Album of the Year award with three consecutive album releases. A child prodigy, Stevie started singing from his local choir at a young age. The iconic musician was born prematurely which led to his visual impairment; however, he has not allowed his condition to deter him from inspiring many to follow their dreams with his multi-decade career. An integral part of Stevie Wonder's balance and success is his loving, ever-supportive family especially his songwriter mother and his siblings.
While Stevie Wonder's parents had other children, his siblings are not as famous as he is. Below are the names of his siblings as well as where they may be currently.
Who Are Stevie Wonder's Siblings?
The union of Lula Mae Hardaway to Calvin Judkins, who was 30 years older, produced three sons. As such, Stevland Hardaway Morris – better known by his stage name, Stevie Wonder – has two siblings; an older brother named Calvin Hardaway Judkins and a younger brother known as Larry Hardaway.
However, he also has three maternal half-siblings named Milton, Timothy, and a sister – Renee Hardaway, all of whom his mother had for two different men. Two of Stevie Wonder's half-siblings were from his mother's second marriage in 1962 to Elverne Paul Lynch.
The first child of Stevie Wonder's mother, Lula Mae, is Milton who was born in 1948 prior to her marriage to Calvin Judkins. Milton was there to help his famous brother, Stevie, during his early years in the music industry. Stevie Wonder's second older sibling is his immediate older brother, Calvin Judkins Hardaway who was born sometime in 1949. Calvin is one of Wonder's support systems who held the hands of the young Stevie as he gradually made his ascent into the music industry. A fellow musician, he also released his own songs.
The legend's younger brother, Larry, was born four years after him in 1954; sadly, Larry Judkins passed away at the age of forty-eight in September 2002, four years before his mother died in May 2006.
Next, among the siblings of the legendary musician is his half-brother, Timothy, and half-sister, Renee Hardaway who were both born sometime in 1959 and 1962 respectively. Although not much has been revealed about his half-siblings, there is little doubt that they were part of his business team. During an early morning interview with CBS This Morning in August 2018, Stevie Wonder stated that Renee Hardaway passed away months before he lost his musical inspiration and collaborator, Aretha Franklin, to pancreatic cancer in August 2018. He was very close with the late Queen of Soul and was at the hospital to visit her few days before she passed on.
The crooner of I Just Called to Say I Love has no doubt left his mark in the sands of time in the music industry. He achieved his first milestone in the highly competitive industry as a child of thirteen, recording his first hit song, Fingertips, which made its way into the Billboard 100. The song's success announced how gifted the child prodigy was.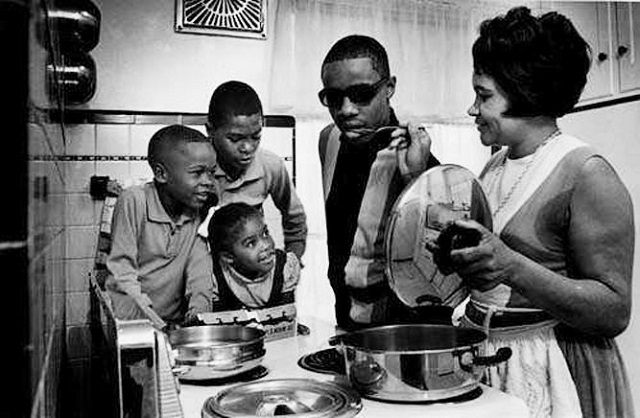 See Also: John Legend Ethnicity, Height, Wife, Daughter, Son, Parents, Bio
Where Are Stevie Wonder's Siblings Now?
Where exactly are the siblings of Stevie Wonder now? Well, at the time of the death of Lula Mae Hardaway, it was revealed that she was survived by 20 grandchildren, nine of which are Stevie Wonders'; therefore, the eleven other grandchildren are from Stevie Wonder's other five siblings; Milton, Calvin, Timothy, late Larry, and Renee Hardaway. Although not much is known about their marital lives as they led private lives.
While supporting the endeavors of their famous brother, Stevie Wonder's siblings shared a strong and special bond with the iconic musician. Some of them were either directly or indirectly involved in his music career while others like his late sister, Renee, was a backup vocalist for her brother during his studio recording or tours.
Stevie Wonder has also, over the years, shown that he is family-oriented. He bought a house for his mother in San Fernando Valley, where he, his siblings and children gathered together for family events. Apart from two deceased siblings (Larry, who passed away sometime in 2002, and Renee, who died in 2018), Steve Wonder's other siblings are very much alive living quietly out of the spotlight.