In every sport, there is always a debate as to which player is the greatest, and when it comes to the UFC heavyweight division, one name that is usually thrown up is none other than that of Stipe Miocic. Son of immigrant Croatian parents, Miocic navigated a circuitous path before he could make it to the UFC and now that he has gotten there, he has proven that he is right at home.
The Ohio native has won multiple bouts and has notched at least two heavyweight belts. He has also set several records, including most consecutive successful title defenses in the UFC heavyweight division, and is now touted as the greatest in his division. Despite all these accomplishments, Miocic remains level headed and this admirable trait has made him a fan favorite.
Stipe's Passion for Combat Sports Dates Back to High School
Stipe Miocic was born on the 19th of September 1982 in Euclid, Ohio. He is the son of immigrant Croatian parents, Kathy and Bojan Miocic, who divorced while he was still in his infancy. As a result of this development, the young Stipe and his mother spent some years sharing a duplex with his maternal grandparents. They later moved out with his mother subsequently remarrying.
Throughout this period, Stipe's mom tried to ensure that he had a normal and happy childhood. She encouraged his love for physical activities such as baseball, basketball, football, and signed him up for any little league she could find. The young lad thus grew up honing his skills in different sports and lettered in football, baseball, and wrestling during his days at North High School.
As a high schooler, Miocic was particularly keen on wrestling but he struggled with being underweight. He, therefore, decided to focus on baseball and went on to play the sport during his college days at Cleveland State University and Trevecca Nazarene University. He particularly stood out at Trevecca, making .344 batting average with seven home runs as he led the Trojans to win the TranSouth Athletic Conference in 2005.
The Journey That Led To His MMA Debut
The success that Stipe Miocic achieved in his senior year at Trevecca piqued the interest of several MLB scouts. It however failed to result in any tangible offers and the young man decided to move on with his life. Being someone that had always loved helping people in need, he decided to become a firefighter. He joined the local firefighting department in his town and also enrolled at a local community college in Cuyahoga to train as a paramedic.
These classes didn't come cheap and in order not to unduly burden his mom and stepfather, Miocic picked up extra work as a trainer at Elite Fitness Gym in Bainbridge. His earlier background in wrestling helped him to excel in this task and soon, the gym owner asked him to spar with a UFC fighter, Dan Bobish, who utilized their facilities. During these training sessions, Miocic stood out with his speed, strength, and athleticism, and one of his training mates told him that he could excel as an MMA fighter.
The fellow advised him to take up some amateur boxing and he went back to his alma mater, Cleveland State, and joined their boxing team. In just a year, Miocic defeated several more experienced boxers and also made it to the National Golden Gloves tournament.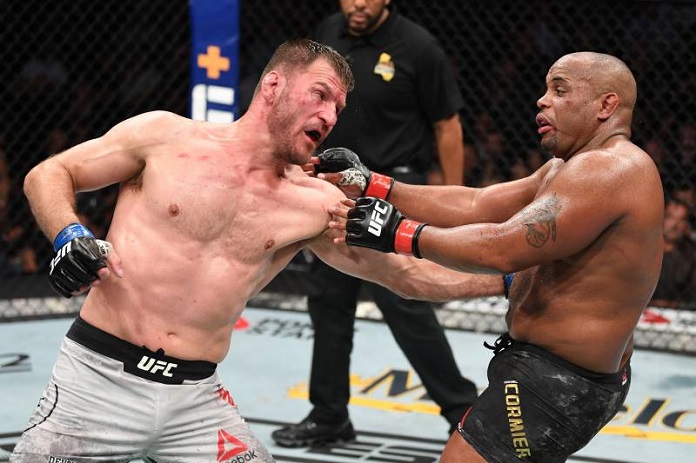 He subsequently joined a local MMA circuit in Ohio, known as North American Allied Fight Series (NAAFS), and won his first six fights on his way to clinching the Heavyweight Championship belt. This attracted the attention of the UFC and in 2011, he penned his first contract with them.
Emergence as UFC Heavyweight Champion
Stipe Miocic made his UFC debut on the 8th day of October 2011 in a bout against fellow American fighter, Joey Beltran. He defeated Beltran via a unanimous decision, thus proving that his NAAFS exploits were no fluke. Following that victorious debut, Miocic went on to participate in nine other fights out of which he won seven. This set him up to challenge for the UFC heavyweight championship and he went on to defeat highly-decorated Brazilian MMA star, Fabricio Werdum, via unanimous decision to emerge UFC heavyweight champion at UFC 198 in May 2016.
This stunning victory fetched Miocic widespread fame and accolades but it also painted a target on his back as many of his fellow fighters lined up to retrieve the title from him. The Ohio native however remained resolute and was able to defeat the likes of Alistair Overeem, Junior Dos Santos II, and Francis Ngannou to retain his title from 2016 up until 2018. This achievement saw him make history for most successful consecutive title defenses in UFC heavyweight division.
It is often said that all good things must come to an end and so it happened for Stipe Miocic as he lost his heavyweight belt to revered American fighter, Daniel Cormier, at UFC 226 in July 2018. The Ohio native however quickly regrouped and retrieved his title from Cormier; this happened nearly a year later, during their next matchup at UFC 241 in August 2019. Miocic retains his belt to date but he and Cormier will have another go at each other in a highly-anticipated trilogy bout in August 2020.
A Look at The UFC Fighter's Earning Power
All the years of hard work and difficult training that Stipe Miocic invested in his career have not been in vain as he now has a net worth of about $4 million.
His primary source of wealth is his prize earnings from the UFC. For example, after defeating Daniel Cormier at UFC 241 to regain his heavyweight title, Miocic pocketed an outright cheque of $750,000 for his performance. He also got an additional $50,000 as his bonus for the performance of the night award.
This is my life outside of the ring! #GetToTheYard @PlayersTribune @ScottsLawn #ScottsPartner https://t.co/FTO5oFpHwd pic.twitter.com/QaZFDB3fST

— Stipe Miocic (@stipemiocic) May 12, 2020
UFC 241 was not the first time Miocic pocketed such a bonus which is awarded by the UFC to the fight deemed to be most stunning on each night. In fact, the heavyweight champ holds the record for having accumulated the most performance of the night bonuses in the UFC (9), meaning that he has made about $450,000 from this avenue alone.
Stipe Miocic Doesn't Live a Lavish Lifestyle
Concerning his lifestyle, Stipe Miocic has never been one to live it up for the cameras. He avoids copying the lavish lifestyles of other renowned UFC stars such as Connor McGregor.
The heavyweight champ shares a gorgeous home with his family in the North Royalton area of Cleveland, Ohio. The house measures 8400 square feet and boasts of massive lawns and yard. It also has a total of four bedrooms and four baths as well as other impressive features.
Welcoming a Daughter With The Love of His Life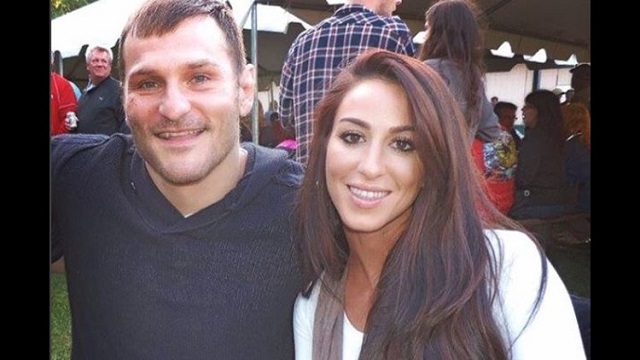 While working with UFC, Stipe Miocic uses his spare time to serves as a firefighter and a paramedic with the Village of Valley View Fire Department. It was during one of these days of salvaging a situation that he met his heartthrob, Ryan Marie Carney. Ryan and Stipe decided to feed their feelings and kicked off a relationship in 2012. The two dated for four years before tying the knot in Kirtland, Ohio at the Divine World Catholic Church.
My true motivation #SM pic.twitter.com/5BpNdSsATd

— Stipe Miocic (@stipemiocic) August 16, 2019
The couple has been together since then and their union has been blessed with a daughter named Meelah Claire Miocic who was born on July 25, 2018.
Parenting has been an absolute joy for Miocic and he has revealed that he has never been prouder of creating anything in his life as he is of his daughter. He has also vowed to keep on winning to have a good story to share with her one day.