Stipe Miocic is popularly revered as a professional mixed martial artist fighting for the Ultimate Fighting Championship (UFC). He also renders his services as a fireman. Ever since he joined the UFC, he has made a lot of wins and claimed a few titles. Discover more about this professional fighter and his family
Stipe Miocic Bio
Having been raised solely by his mother after his parent's divorce, Stipe Miocic has found an attachment with his mother. She was very supportive right from the very day, he decided to tread the part of a sportsman, helping him realize his dreams by aligning them on the right path. Stipe was born on the 19th of September 1982 in Euclid Ohio.
Growing up in the suburbs of Euclid city with his grannies before eventually living with his mom, the UFC champ was a lover of all kinds of sports. He played baseball, football and wrestled while as a high school student at Eastlake North High School. Stipe received several MLB offers during his college days at Cleveland State University and Trevecca Nazarene University. He passed out from CSU with a degree in marketing and communication.
During his days at Trevecca, he was regarded as one of the favourite students who majored in communication studies. Also, he was an active player with the Forehand baseball team and made .344 with seven home runs during his senior year. He led the Trojans to a win at the TranSouth Athletic Conference in 2005.
While paving waves in baseball and football, Stipe also excelled in wrestling. During his time as a student, he wrestled with Dan Bobish as his training partner and learned the nooks and crannies involved in the wrestling game. Meanwhile, he subsequently, trained as a martial art fighter before diverting to wrestling. His coach as at that time testified that Stipe was quite fast at learning the sports and was already beating most of his senior colleagues in the game, just within seven months of his training.
With his training at Cleveland Golden Gloves boxing champion and NCAA Division I wrestler at Cleveland State, Stipe Miocic ventured into his MMA career after winning his first six fights by Knockout. The Euclid born fought for NAAFS and won the Heavyweight Championship.
Subsequently, Stipe joined the UFC after he signed a multi-fight deal with them on June 14, 2011. He made his UFC debut in a win against Joey Beltran and followed his exploits winning the Knockout of The Night award after beating up Phil De Fries. In his win against Shane del Rosario, he won via TKO in the second round. He subsequently had a tussle rumble with Stefan Struve, lost but won the Fight of the Night honours. Stipe Miocic has gone ahead to win lots of his fights and has claimed a few UFC championship awards.
Net Worth
It is quite evident that Stipe Moccio drives with the success syndrome. He has claimed a few championship titles and has even gone ahead to hold the longest title reign in UFC championship history but radically lost to Daniel Cormier at UFC 226 on July 7, 2018. He has amassed a reasonable amount of wealth from his fighting deals and is said to be worth $15 million.
Family – Wife
While working with UFC, Stipe Micco in his spare time renders his serves as a firefighter and a paramedic with the Village of Valley View Fire Department. It was during one of these days of salvaging a situation that he met his heart rob, Ryan Marie Carney.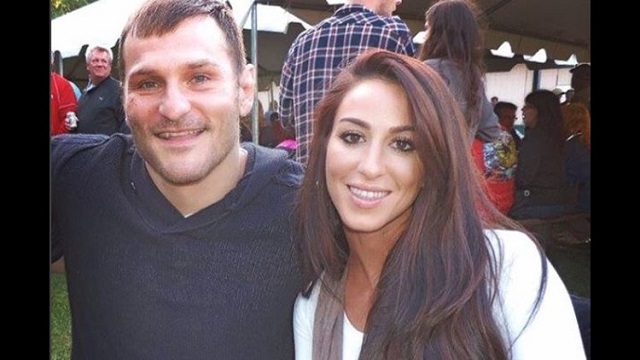 Ryan and Stipe decided to feed their feelings and kicked off a relationship. The two dated for a while before tying the knots in Kirtland, Ohio at the Divine World Catholic Church. Their union is blessed with a baby girl named Meelah Claire.
Height, Weight and Other Facts
• At 6 feet 4 inches, the UFC champ whom his colleagues describe as boisterous, calm, hilarious, heady and youthful is quite a tall man.
• He has managed to maintain a weight of 110 Kg ever since his involvement with UFC.
• Stipe Miocic married a woman who loves to be in the hideouts. He is loud-mouthed and often times publicizes every detail pertaining to his family, unlike his wife who loves being away from the spotlight.
See Also: Nancy Putkoski – Biography and Facts About Anthony Bourdain's First Wife
• Stipe has publicly stated that he is no man who would love to do desk jobs. That he would prefer helping people than being all dressed up sitting behind the desks. For this reason, he joined the firefighters in Village of Valley View Fire Department