Sylvester Stallone gained a spot on Hollywood best-list in the 1970s, so you can tell it has been quite a journey for the star who began by starring in a softcore porn movie before changing his gaze to focus on mainstream acting, screenwriting, producing and directing. Although it has not been such a blissful cruise for the talented actor who has had to deal with some drawbacks, Stallone has been able to create a fantastic image for himself in the Hollywood action films industry. The actor has driven his films to box office breakthrough on his own on different instances and has continued to do so over the years.
More impressively, he has also successfully stretched his engagements to include voicing, soundtrack provision, and all of these have had a direct, yet positive impact on his growing net worth. Here are some facts you should know about the star popularly known as Rocky Balboa for his heroic role in film Rocky.
Sylvester Stallone Mini Bio & Age
Sylvester Stallone was born on July 6, 1946, in New York. He had his early education in Notre Dame Academy, and later joined Lincoln High School and Charlotte Hall Military Academy. He furthered his academics at Miami Dade College and finally at the University of Miami. The iconic actor had a somewhat distressing childhood given that his parents separated when he was nine and he had to spend some of his early life in a foster home.
Faced with fatal hardship as a teen, he dropped out of the University and moved to New York in search of green pastures and better prospects for his acting career. While he waited and hoped for a breakthrough, he took side jobs, including working as a zookeeper and a theatre user.
The moment came when he was offered to star in pornography. Stallone didn't waste time to debut in the soft porn titled Party at Kitty and Stud's in 1970. He also did another erotic role but this on the stage before he started receiving small roles in different films in the 1990s. Doors swung open for him, however, when he appeared in Rocky in the famous series between 1976 and 2015.
The actor also starred as soldier John Rambo in the four Rambo films released between 1982 and 2008. His army of fans expanded all the more when he played Barney Ross in the three Expendables films between 2010 and 2014. More admirable is the fact that his films achieved so much in the box-office through his singular effort having written, co-written and directed a bigger number out of the 14 films in all three of these franchises.
In 2006, his sixth instalment of the film Rocky grossed $70.3 million in the domestic box office and $155.7 million worldwide which was what played a huge part in growing his net worth. Amid his numerous accomplishments in Hollywood, the actor has a fair share of life challenges.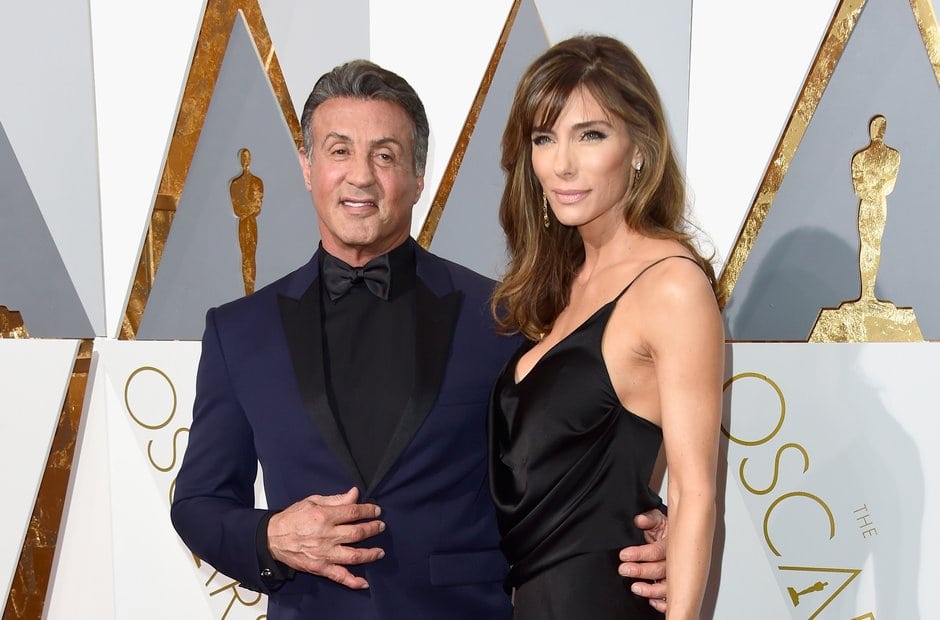 He has been married not once but thrice. He had five children; two sons and three daughters. But he lost his first son to heart disease in 2012, the same year he lost his half-sister to lung cancer. Apart from the tragedies and divorces, Stallone has had to go through, life has been good to him considering his net worth, honours and numerous other achievements he has reached in the industry.
Read Also: Who is Laurence Fishburne's Daughter, Wife? His Age, Height, Bio
Is He Dead?
As common with action film actors such as Jackie Chan, and Dwayne Johnson, Stallone has died and risen on the internet. It all started with a post and pictures showing the last days of Stallone which were shared overnight on the internet. By morning, people most of whom are loving fans were already sympathizing with Stallone. However, it turned out that he didn't die, not then, not now.
Stallone through his social media debunked the death hoax saying that he is alive, healthy and still punching. So the answer to the death question is no. Stallone is alive and ready to do more of what he knows how to do.
What Is His Net Worth?
As an actor who goes all out to direct, produce, write and even sing in the background of films, Stallone has generated a huge amount of money and is known as one of the richest actors of Hollywood. And you can call him that kind of millionaire who develops his wealth from almost nothing as his seemingly zero bank account in the 1970s has now grown to $400 million which is his current net worth.
His Height and Other Facts
1. He is a baptized Catholic and although his faith dwindled at some point in his career, he found the face of God once again in 1996 when his daughter was born sick.
2. His dad gave people beauty treatment and had a beauty school. His mom owned a gymnasium called Barbella, which she opened in 1954.
3. Stallone's most heart-rending moments could be in 2012 when he lost his son to heart disease and also his half-sister six weeks after the incident to lung cancer.
4. Stallone has suffered real injuries from some stunts he played for his films.
5. He was once engaged to his former partner, Janice Dickson but they officially ended their engagement after the actor found out that she was cheating on him. As a matter of fact, he found out that her daughter wasn't his although she at the time of her birth was given his surname.
5. Stallone may not be the brightest students at the University of Miami. He had some outstanding that prevented him from graduating but urged the school to use his life and experience to complete the remaining required college credits needed for his graduation. The school later granted his request with a degree in 1999.
6. He has faced accusations of sexual assault by different women. First, was in 2016 when a 16-year-old claimed she was forced by the actor who was 40 then to perform threesome. The second time was a year later by another woman who said the abuse happened at his Santa Monica office in the early 1990s. None of the claims has been proven and Stallone has denied all the allegations.
7. The actor has a reasonable height. He is 5 ft 9 in which is about 175.3 cm. Sometime in the past, while travelling to Australia, he was caught with 48 vials of a human growth hormone known as Jintropin. Nobody is sure if they contributed to his growth but obviously, he may not be the tallest but has got an "okay" height for a man.
8. Stallone suffered facial nerve injury caused by a forceps accident that happened during his birth. As a result, some parts of his lips, tongue, and chin got disabled.