One of the most endowed, handsome and phenomenal Hollywood stars, Tom Cruise has been an A-list heartthrob for over three decades. Since he launched his career at age 19, Tom's star power hasn't waned as he continues to grace the silver screen with his iconic roles and unique skills.
Being one of Hollywood's most celebrated actors and filmmakers, it is no surprise that Cruise has been the subject of endless speculation. From his involvement with the Church of Scientology to his failed marriages and even the debate about his remarkable smile (whether it is natural or superficial), we explore some of the links that have made the Mission Impossible star appear increasingly endearing and bizarre to fans.
How Tall Is Tom Cruise?
Being one of the most handsome Hollywood stars, Tom Cruise's height has been a topic of debate among both fans and critics alike. Presumably because of the psychic notion that tall equals sexy, many Tom Cruise fans actually find it hard to believe that the sexy star is only 5 feet 7 inches (172cm) tall. To further contend with the speculation about Tom's actual height, a more interesting fact to note is that all of Tom's three wives were taller than him.
However, with the power of technology, the Scientology devotee has tried to create a fictional height for himself and make his real height seem possibly unapparent through his career. While Tom's unconventional body type isn't typical for superhero roles, the astute actor has always chosen to embrace the public perception of his appearance which has been a key driver for his career success.
What Happened To His Teeth?
One of the hottest actors in showbiz, Tom Cruise is known for his signature teeth and smile which features a rather odd middle tooth. It's hard not to notice that he has a seemingly perfect dental alignment. His famous teeth are amazingly pearly white with one tooth that's just a bit out of place. A closer look at the Mission Impossible star's dental alignment reveals that his front right tooth seems to be in the center of his face. In other words, his right incisor lines up with his nose.
Tom Cruise began his acting career with awkwardly discolored and unaligned teeth. Many especially his younger generation fans may not know that the actor once had a horrible mono-tooth or unitooth positioned exactly at the center of his face. While many speculate that the star was born with a poor teeth alignment, history has it that Cruise damaged his front teeth while playing hockey. In his memoir, The Time of My Life, it was revealed that Cruise initially had insecurities about his teeth and was a quick fan of adult braces which he only removed when shooting movies. More so, sources reveal that in one of his earlier career roles as Steve Randle in The Outsiders (1983), a young Cruise voluntarily removed the cap from his already chipped front tooth.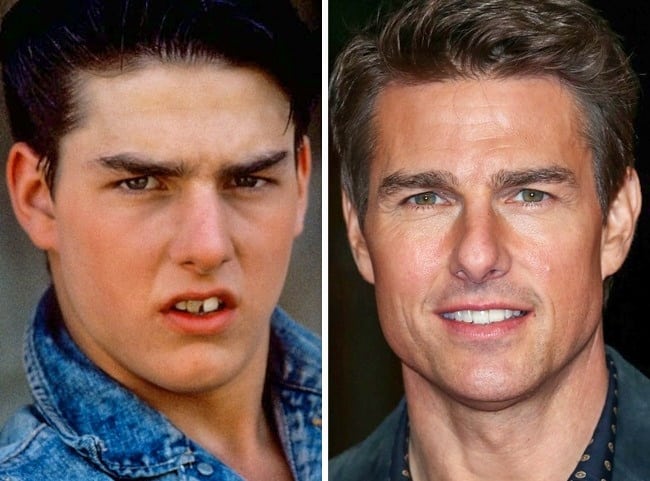 It, therefore, wouldn't be out of place to say that Cruise is one of those A-list celebrities who decided to fix their physical flaws by getting an oral makeover. It certainly cost Tom time and effort to achieve the breathtaking celeb super-smile which has become one of his famous career quirks. Early in his career, the star reportedly underwent the painful process of cosmetic dentistry and wore braces to fix his overbite and misalignment problems which have given him the perfect smile. More so, there is a general belief that Tom has had so much dental surgery which has left his entire top row teeth slightly off-center.
Despite this slight dental imperfection, the Mission Impossible star always wears his remarkable smile with such confidence that makes him unbearably irresistible and a ladies' man. Since after he fixed his dental problems, Tom who credits his success to his quality smile and great dental alignment, has never shied away from flaunting his less-than-perfect smile.
Is He Gay?
Tom Cruise's love life took off almost as fast as his Hollywood career and since then, his sexuality has always kept the media buzzing. Cruise and fellow veteran actor John Travolta once made headlines at some point for the wrong reasons after rumors emerged that the duo shared a secret gay romance that lasted for three decades. It was further speculated that the veteran actors' bonding was aimed at helping Travolta convert to Scientology.
But Cruise's actions over the years are solid proofs that should silence the persistent rumors that he is secretly gay. In fact, the actor has at various times, sued two publications and a porn star for gay claims against him. Nonetheless, if that is not enough evidence to prove that Cruise is NOT gay but a core heterosexual, a walk down the history lane of his love life should be a strong pointer towards the obvious.
See Also: Adam Sandler Net Worth, Wife, Age, Height And Other Facts You Need To Know
Though the veteran actor loves to keep details of his personal life a guarded secret, details of his love life has hardly gone unnoticed in the media. Cruise has been married three times and also romantically linked to some of Hollywood's sexiest women.
His first wife is actress Mimi Rogers. The pair tied the knot on May 9, 1987, in a quiet ceremony in New York, but split in 1989. His second spouse is Australian actress Nicole Kidman whom he wedded on Christmas Eve in 1990. Kidman and Cruise adopted two children together Isabella and Connor but in February 2001, they officially went their separate ways. He married actress Katie Holmes on Nov. 18, 2006, in Italy and together they had a daughter Suri born in April 2006. TomKat's union was also shortlived as they divorced in June 2012.
Besides his three marriages, Cruise has had various girlfriends including actual and rumored love interests. Notably, he has at various times been linked to high-profile women such as Melissa Gilbert, Heather Locklear, Rebecca De Mornay, Cher, Penelope Cruz, Sofia Vergara, Scarlett Johansson, Nazanin Boniadi, Cameron Diaz, Laura Prepon, and Vanessa Kirby, among others.