Surely, it takes a great measure of hard work and dedication to combine a career on TV and singing the way Tamar Braxton successfully does. She has been able to create a niche for herself in show business without being overshadowed by her sister Toni Braxton's glittering success. Today, Tamar is celebrated among those with great influence in the entertainment industry.
Also known as part of the R&B group, The Braxtons (made up of the Braxton sisters), Tamar may not have enjoyed huge success in a solo singing career but she has done quite well for herself so far and even better in her TV career, having starred in her own reality television series while also becoming a TV personality. She is a former co-host of The Real talk show and has even ventured into business, launching Tamar Collection, ready-to-wear clothing, and a shoe line.
However, amidst her career achievements, the star has made the headlines for reasons mostly concerning her marriage but despite all her challenges, she has been able to pull through, not allowing them to affect her career.
Dissecting Braxon's Failed Marriages
Tamar Braxton is one actress who has never shied away from the public eye and has largely been an open book when it comes to her personal life. Amidst her struggles to strike a balance between her career and personal life, the actress sadly remains saddened by what she has so far encountered in her married life.
Braxton has been married twice and unfortunately, they've never brought her the happily ever after she's always wanted. She claimed that physical violence was a part of all of her relationships except for Vince her latest estranged husband. While she is yet to mention who among her previous husbands was really abusive to her, let's find out what actually led to her various failed marriages.
Who Was Tamar Braxton's First Husband And Why Did They Divorce?
Tamar Braxton's first marriage was to music producer Darrell "Delite" Allamby. The marriage lasted for two years (2001-2003). While details of their union were not made public as Tamar has never spoken about it, it is known that she met the American composer/producer, while working on her debut album.
Surprisingly, the marriage crashed after two years with neither of the artists giving any reason why. However, Tamar, during an interview, mentioned being in an abusive relationship before meeting her second husband, Vincent Herbert, but she failed to state if she was referring to her union with Allamby.
Tamar Braxton And Vincent Herbert's Relationship Kicked Off Shortly After Her First Divorce
In 2003, the same year she divorced her husband, Tamar began seeing another music producer and record executive, Vincent Herbert. The couple first met while Vince was managing Tamar's older sister, superstar singer Toni Braxton.
Dating started the same year and for five years, they stuck to each other before exchanging vows in 2008. Their union went public for the first time on the first season of Tamar's family reality show, Braxton Family Values.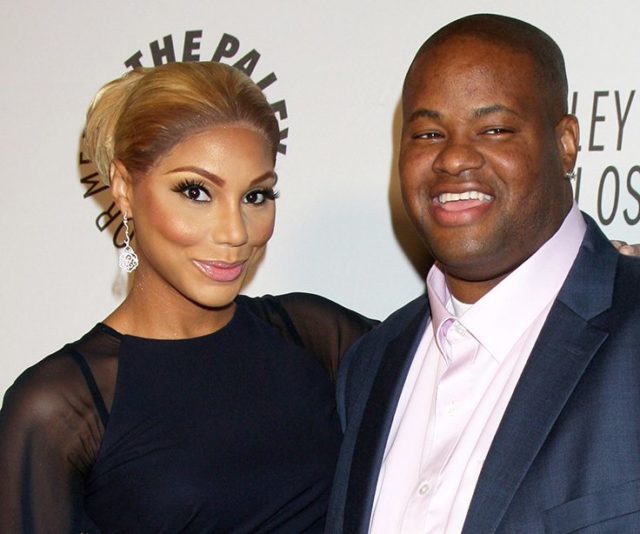 Known for working with the likes of Lady Gaga and Mindless Behavior, Vince was a popular record executive, and when he consented to manage his wife's career, Tamar's vocation received a fresh breakthrough. Their spinoff show, Tamar & Vince, which documented their lavish lifestyle while they tried to balance marriage and work further brought Tamar and Vince to the spotlight.
The couple welcomed a son, Logan Vincent Herbert, in 2013. Shortly after the birth of their son, Braxton and Vince tried for another baby. They were successful, but Tamar later miscarried.
Why Braxton Broke Up With Vince
With their career success came trouble in their family. Instead of bonding them further together, working together for the couple caused too much stress on their relationship and their private affairs soon became a topic of public discussion as rumours continued to spread of Vince's mounting financial challenges, bad business deals, domestic violence and cheating.
Tamar even opened up about adjusting her career life to pay more attention to her marriage. While all efforts to salvage her marriage failed, she filed for divorce in 2017, just ahead of the season five premiere of their reality show, Tamar & Vince. The pair were married for nine years.
Speaking further on the reasons behind her second failed marriage, Tamar revealed how much her marriage with Vince was not so real as many would think it to be. She confessed to going as far as changing her lifestyle and looks just to satisfy her husband's desires.
Who Is Tamar's New Boyfriend?
After a drawn-out divorce with music executive, Vincent Herbert, Baxton appears strong enough to take charge of her life and career once again. She has found a new love interest, his name is David Adeyemi Adefeso, a Nigerian-born certified Public Accountant and Harvard Business School trained wealth management adviser.
He owns Sootchy Inc, a company that finds solutions to one of America's most intractable problems, Student Loans. Adefeso is also the Chief Executive Officer of The Pacific Group, an investment advisory, asset management and financial services firm that specializes in corporate services like risk management and personal finance.
In September 2018, during The Wendy Williams Show, which Tamar appeared in, she announced that she had been dating David Adefeso for three months, since meeting him at a friend's birthday party. The pair has since become a topic of media gossip and Adefeso has taken advantage of the attention to increase his social media visibility.
In August 2019, Tamar travelled with her boyfriend to Nigeria where she joined to celebrate his mother's birthday. A recent post where the music star referred to her new boyfriend as her husband while replying one of his Instagram posts has equally sparked rumours about the two being married secretly. Adefeso has also appeared in Tamar's latest music video, "Crazy Kind of Love".
Tamar Braxton's Musical Influence – How She Started
Tamar Braxton was born Tamar Estine Braxton on March 17, 1977, as the youngest of six children to Evelyn Jackson and Micheal Conrad Braxton Sr. in Severn, Maryland, United States. Her father was a pastor in their local church but also worked in a power company while her mother was an amateur opera singer and cosmetologist.
Tamar began exploring her talent in music as a toddler, following in her mother and sisters' footsteps. Also, like her sisters, she joined the choir of her local church where her father ministered. It was there that the Braxton girls began to gain popularity and started to perform together as The Braxtons.
In 1989, they were collectively signed to Arista Records, releasing their first single titled 'Good Life' a year later. The song was a commercial failure and led to them being dropped. It, however, helped in launching her older sister, Toni's career. Tamar became a backup singer for her sister and appeared with her in music videos.
In 1996, Atlantic Records offered the group, which this time did not include Toni and Traci, a record deal. That year they released the album 'So Many Ways' which featured a single of the same name. The album did better than their first collaborative project, peaking at No. 26 on the Billboard R&B/Hip-Hop Albums chart. A world tour with Toni Braxton where they served as opening acts followed before the group disbanded after Tamar opted to pursue a solo career.
Braxton's Best Hits
In her bid to build a career outside the shadows of her sister, Tamar tried to work on her musical career as a solo artist. Taking advantage of her unmatched five-octave coloratura soprano vocal range, the kind you would only find in fellow singer Mariah Carey, Tamar hoped to have a far better musical career as a soloist. She released a self-titled album in 2000 after getting signed to DreamWorks Records that same year. The album featured production work from Missy Elliot and Jermaine Dupri but still failed to receive radio play which led to her being dropped. She unsuccessfully tried to release another album in 2004 after signing with Casablanca Records. Only two singles were released to the public.
After a six-year hiatus, Tamar's music was included on the 'Adidas 2: The Music Compilation'. That same year she reunited with her sisters and mother for a reality television series on WE TV titled Braxton Family Values. The success of the reality series led to a spin-off series with her and Vincent Herbert which focused on their married life, as well as her solo career.
In 2013, after about a thirteen-year break from her musical career, Tamar secured a record deal from Epic Records and officially released her second album titled 'Love and War'. The album hit the shelves on September 3, 2013, and sold 114,000 copies in the first week. Its singles featured on top of the charts, with the title track itself peaking at No 1 on the Adult R&B Songs chart and staying there for nine weeks. On May 27, 2015, Braxton's song "If I Don't Have You" was released and it peaked at number 6 on the US Adult R&B Songs chart. The same year, she was able to release her new album, Calling All Lovers, it peaked at number 2 on the US Top R&B/Hip-Hop Albums.
Since 2015, Braxton'musical career has only continued to soar higher, availing her more opportunities with other well-celebrated singers. Not only was she featured on the Bless1's No Choice, from his album Blessing Or Curse, she also had the opportunity to work with other music stars. Her fourth album, Bluebird of Happiness (2017), topped the Billboard Independent chart. Her latest song Crazy Kind of Love was officially released on March 20, 2020, and like the rest, it is performing well on music charts.
How Much Has She Made From Her Career?
Tamar Braxton's net worth is said to be around $7 million. This figure was calculated through her earnings as a television personality, singer, reality TV show actress, as well as her other business ventures which include a shoe and clothing line.
So far, she has produced top-selling albums, toured worldwide, and appeared on many reality shows, setting herself apart from the rest of the family. She is the only Braxton that has achieved great financial success, aside from her sister Toni whose net worth is placed around $10 million.